March 18, 2023
Reading Time:
5
min
Invest505 Review: Reasons You Should Not Trust This Broker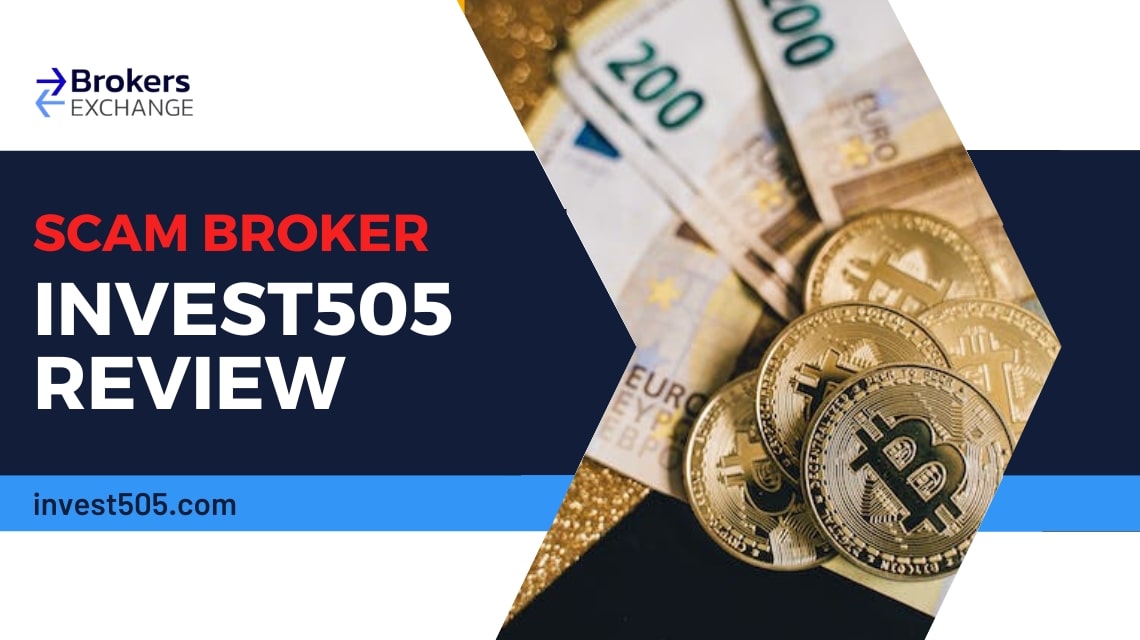 Where do we start with this one? The Marshall Islands are already known for being a poorly regulated brokerage zone. But Invest505 takes the whole monkey business of a brokerage to another level. Usually, you'll find fake brokers who at least make an effort to sound credible. This pretentious business is straight-up ruthless and plain about its intentions of defrauding you. 
Besides the overly expensive account types, useless trading software, and no license in sight, Invest505 basically forces traders to accept being robbed. If you take a look at the Terms and Conditions you'll find some disturbing details. 
Invest505 says that by opening an account with them you acknowledge the company having the right not to follow the market trading rules, to transmit orders on your behalf, and deduct funds from your account. Pretty insane, right? Our Invest505 review has a lot more to show you about this untrustworthy joke of a broker, so read on. 
| | |
| --- | --- |
| Company | Invest505 |
| Website | Invest505.Com |
| Address | Marshall Islands |
| Email | N/A |
| Phone | +447 3605 175 77 |
| Minimum Deposit | $250 |
| Leverage | 1:400 |
| Bonuses | N/A |
| Regulation | Unregulated |
| Warning | N/A |
License for Invest505 and Security of Funds
The single claim about any sort of license that Invest505 makes is in the ''Avoid scam'' section on their site. Ironically enough, the fraudster tries to convince you they are fully registered and legitimate by mentioning some license number. 
Since this is very easy to confirm or deny, we simply checked the GLOFSA register and found this to be an outright lie. This is an unbeatable red flag in our eyes, but we continued with the research. 
Before making any final conclusions, the next right move was to check with other regulators if Invest505 was acknowledged as a proper financial services provider. FCA, CySEC, ASIC, NFA, IIROC, CNMV, CONSOB, and FINRA have no data on this anonymous offshore con. This is no wonder, because to be granted a permission to conduct such a serious business, Invest505 would first have to meet certain criteria. 
Depending on the jurisdictional regulator, brokers have to invest an astonishing amount of cash in their brokerage projects. In the US that amount goes up to $20 000 000. In EU and other zones, this requirement is lower, but still in force. The most important method of safe-keeping the clients' deposits is through segregated bank accounts. 
With risk-reducing methods and compensation funds, clients are able to trade more safely and with less of a chance of suddenly losing huge amounts of cash. This is the exact opposite of what Invest505 is trying to achieve. It is only natural for them not to respect a single aspect of the obligatory regulation rules.  
Trading Platform Available at
Invest505
Nothing screams scam like an inoperative trading platform. The catch with Invest505 is that you have to deposit real cash to be able to do anything at all. While you can register an account and enter the client area seamlessly, you can hardly do anything else but the deposit. Until you've made that initial deposit, your account at Invest505 is useless. 
What was first advertised as an award-winning super-advanced technological solution turned out to be a flop. This failure of a trading terminal slightly resembles the famous MT4 distribution but is just a far cry compared to the most famous software.
Although some basic functions exist, you can't test them because a demo account isn't available. You have to first make a deposit. This is not something a regulated brokerage would do, only an unscrupulous gang behind Invest505.
Options for Deposit/Withdrawal
We weren't surprised in the least to see that the only method for depositing at Invest505 was crypto. Widely preferred by scammers, these transactions are least transparent and therefore allow the fraudsters to remain anonymous. The invaluable anonymity protects them from the dangers of legal prosecution. 
Invest505, much like any other financial swindler, tries to get as much of your personal info as possible. To deposit anything, you will first have to go buying crypto coins using your credit card. Entering your card info on suspicious websites basically calls for cyber theft. Gaining access to your sensitive data enables the robber to misuse it however they wish and simply drain your bank account in a matter of minutes.
Otherwise, Invest505 claims to process all withdrawals quickly and seamlessly in a period of up to 7 business days. Would you trust the information that came from a straightforward liar? We wouldn't recommend it. The withdrawal policy lists some fees that occur during withdrawals and they get up to 4.5% for wire transfers. 
Invest505 Account Types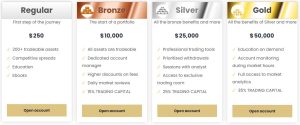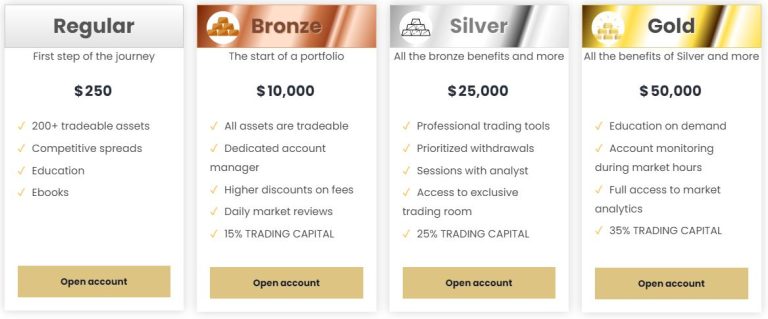 Invest505 has a jokingly expensive offer of account types that hardly offer anything at all for the amount of deposit they require
Regular – $250

Bronze – $10 000

Silver – $25 000

Gold – $50 000

Platinum – $100 000

Diamond – $250 000

Vip – $500 000

PRO – $1 000 000
The description of each account type is so shallow and insufficient that it's beyond us why anyone would ever be attracted to open an account with Invest505. You basically don't know what you're buying but you know it's hell of a pricey investment. Some percentages supposedly note how much of the deposit returns to the investor and it's pretty unrealistic but it goes up with the account price.
How the Scam Is Executed
In the sea of scammers Invest505 is just another drop that doesn't stand out with anything in particular. The missing regulation and mediocre website, as well as an unfunctional software are covered by the illusions of the brokers greatness and huge profit. It is, after all, what most bogus brokers focus on to get their victim's trust. 
It is obvious in the account types section that the fake broker dealer promises huge returns based on how much you invest. These numbers are completely impossible and irrational but it is, sadly, what works the best with less experienced traders. 
Needless to say that the profit doesn't happen and the numbers shown in the terminal are fake. Some do not realize that until they attempt their first withdrawal and fail to retrieve the funds they initially invested, let alone what they've earned. 
Invest505
Summary
Invest505 and any other scam of this type are often underestimated. However, their power to deceive and manipulate victims is disturbing and results in people losing massive amounts of capital. Our Invest505 review points at key signs that reveal the scam tendencies of this suspicious company. 
If you are unsure about your choice of broker, do not hesitate to look for professional advice. The only reliable source of help when fighting cybercrime are the institutions in charge. Government authorities can offer you support while we are here when you need more information and advice on how to avoid and prevent scam from happening to you.   
FAQs About
Invest505
Broker
Is My Money Safe with Invest505?
Invest505 is not a safe broker to invest with due to the missing regulations and insufficient security measures.
Is Invest505 a Regulated Broker?
This is not a regulated broker. They do not meet the regulatory standards to obtain a brokerage license and they engage in unscrupulous actions against their customers.
What Is The Invest505 Minimum Deposit Amount?
The minimum amount to deposit with Invest505 before you can open a live trading account is $250.