February 01, 2023
Reading Time:
4
min
Investidea Club Review: Stay Away from Investidea.Club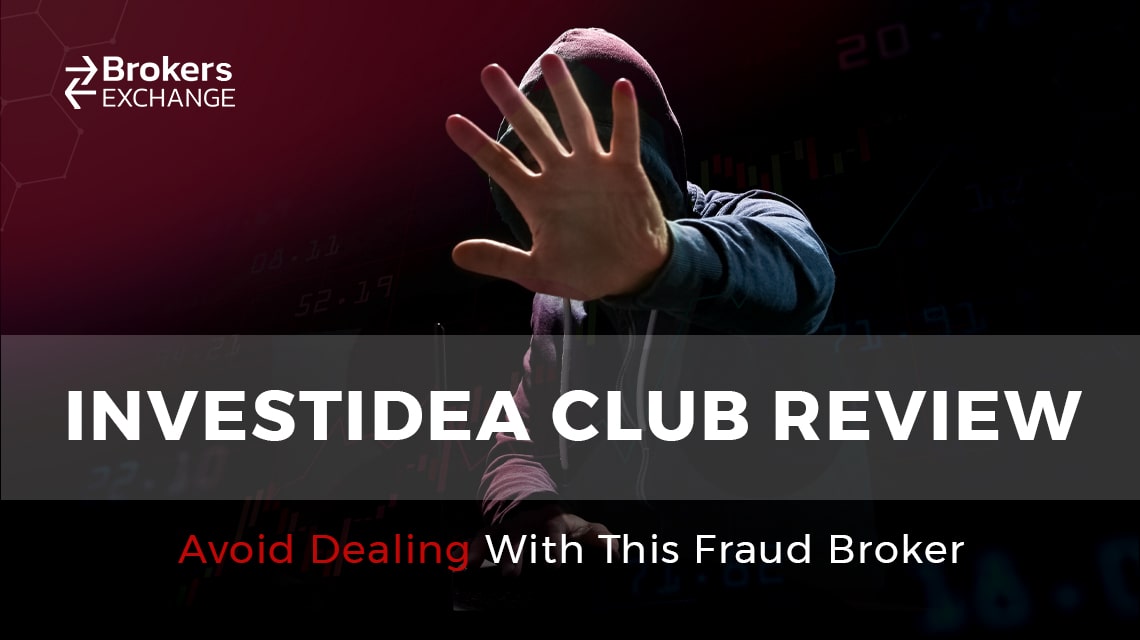 Investidea Club claims to be a UK-based firm that gives its customers the opportunity to invest in forex. However, after just a quick look at their website, it seems obvious that they are nothing more than a scam broker.
Their website seems to have whole segments written in Russian and it is clear they are targeting customers from that area.
They also fail to provide any necessary legal documentation and only accept deposits in Bitcoin. So, it appears they are trying to operate as anonymously as possible.
Here, we will give you an in-depth Investidea Club review so you can get familiar with how they operate and what you can do to avoid investment scams alike.
Likewise, you should avoid doing business with dishonest brokers, such as those listed below Flowxseat, Wilton Option, and Itcoinex.
| | |
| --- | --- |
| Leverage | 1:500 |
| Regulation | Unregulated |
| Headquarters | N/A |
| Minimum Deposit | $5000 |
| Review Rating | 1/5 |
| Broker Type | Forex |
| Platforms | Web |
| Spread | 0.1 |
License and Regulations of Investidea Club
After taking a thorough look at their website, we concluded there is no useful information regarding companies' regulations or licenses.
If they are actually operating from the UK like they are claiming, in order to be authorized they would need to follow regulations set by FCA and there is no mention of it. So, it is safe to say they have no license at all.
That alone tells us that they are nothing more than a cyber fraud just trying to scam its customers out of as much money as possible by providing unauthorized financial services.
Available Trading Platform at Investidea Club
Upon entering their trading platform, we were pleasantly surprised by their legitimate-looking trading software that looks fairly easy to use.
This web-based platform has few charting tools as well as some other common features like Stop Loss/Take Profit. However, this is still nothing compared to the MT5 used by legitimate brokers.
We also came upon many complaints while going through reviews, stating that after they access the platform, there is really nothing to do other than stare at different graphs. They also claim that various features this broker allegedly offers don't do anything as you can't really even click on any of the buttons.
Methods of Deposit and Withdrawal
While browsing through their website we found no trace of any Terms and Conditions, so it cannot for sure be said much about any additional fees you are likely going to face if you were ever to request a refund.
Also, the Investidea Club broker only accepts deposits in Bitcoins. This is not at all common and it is just another sign that they are nothing more than a scam broker. After making a deposit in crypto it's really hard to get any of it back once you suspect they are just trying to scam you.
Nonetheless getting your money back is still possible and we urge you, in case you have ever been a victim, to report it to the local authorities. Many people feel too embarrassed and ultimately decide to give up on their money but scams like these can happen to anyone!
Offshore Brokers Use Deceptive Methods
Scams operating in this manner are not as uncommon as one might think. Many people leave various personal information online and after this or unscrupulous brokers of the same kind get a hold of it, they start harassing people.
They all promise many easy earnings or numerous bonuses if you just go ahead and give them a chance to make you rich overnight.
Well-trained agents will call you almost daily to get you to invest at least the minimum amount.
Investidea Club demands a minimum of $5000 which is very uncommon as legitimate brokers will ask for as little as $10 in order for you to start investing.
Be sure that once this dishonest scam broker gets your money, it will disappear without a trace.
Don't feel ashamed if you ever got scammed by these persuasive agents, after all, they are professional smooth-talkers who scam people for a living.
Always think twice before taking any risks while investing money and never forget to read reviews online to see if there are any withdrawal issues or other complaints people are reporting.
The Best Brokers for Forex
By informing you of Investidea Club scam tactics, we in no way wanted you to give up on investing altogether. This review was conducted to rather just introduce you to financial swindlers of this kind.
Choosing a broker who hasn't violated any terms and conditions will ensure your money isn't going to waste and you can actually make some additional earnings along the way. Here we will give you a table with all the necessary details one may need when it comes to deciding on the right broker to invest with.
| | | | | |
| --- | --- | --- | --- | --- |
| Broker | Country | Rating | Min. Deposit | Website |
| FXTM Broker | Cyprus, UK, Mauritius | 4.5 | $10 | Forextime.Com |
| OctaFX Broker | Cyprus, SVG | 4.4 | $100 | OctaFX.Com |
| FP Markets Broker | Australia, Cyprus | 4.7 | $100 | FpMarkets.Com |
| XM Broker | Cyprus, Belize, Australia | 4.7 | $5 | XM.Com |
| HFM HF Markets Broker | Cyprus, UK, South Africa, UAE, Kenya | 4.3 | $5 | HFM.Com |
| FBS Broker | Cyprus, Belize, Marshall Islands | 4.85 | $100 | FBS.Com |
Investidea Club Summary
In this Investidea Club broker review, we tried to warn you about this online trading scam and the many tactics they use to scam people.
Doing proper research is a must if you are new to the world of trading because many phony brokers pop up overnight. Don't get played by the fairytales they are going to tell you and be careful with making any investments.
Be sure to read as many reviews as possible because there will always be many complaints about the broker if they are untrustworthy.
In case you had any negative experience with this or any other fraudulent broker, we would greatly appreciate it if you could share it with us as we can assist you by reporting your scammer.
FAQs About Investidea Club Broker
Is Investidea Club Regulated?
No, Investidea Club is an unregulated broker operating with the sole purpose to scam people out of their money.
What is The Minimum Deposit for Investidea Club?
They are demanding a minimum deposit of $5000 in order for you to start investing.
Is Investidea Club a Trustworthy Broker?
No, this broker follows no regulations and therefore isn't trustworthy so you should never invest with them.