June 08, 2023
Reading Time:
4
min
Ipgate Trade Review: Who's behind Ipgate Trade Trading Fraud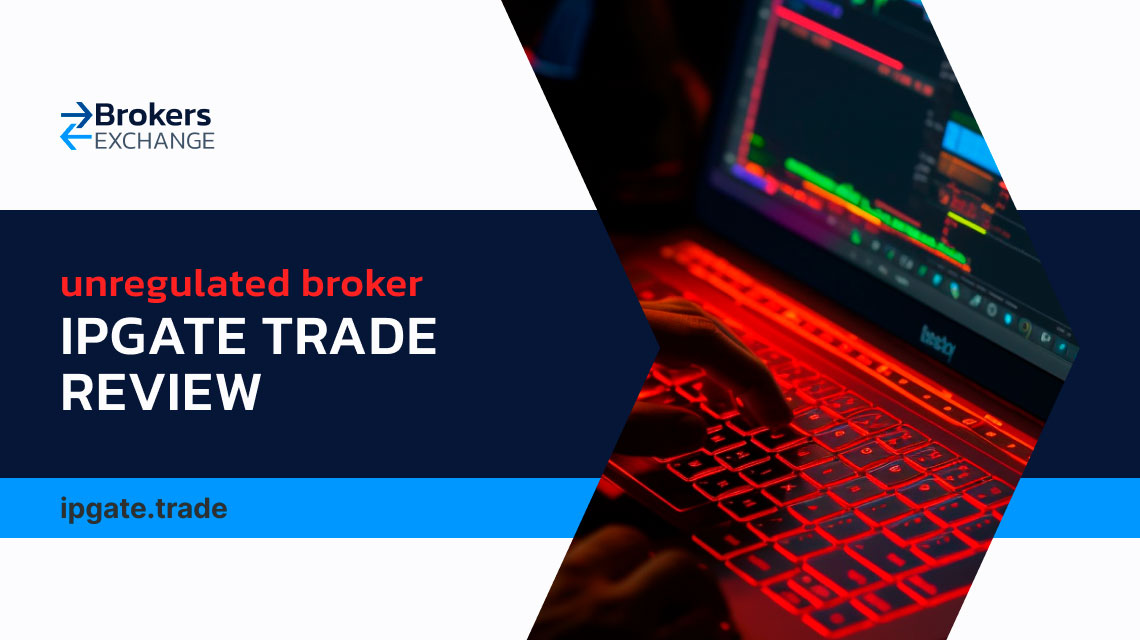 In the realm of online trading, finding a reliable and trustworthy broker is crucial. In this article we will delve deeper into Ipgate Trade, a not so trustworthy option.Here we will discuss regulations, security measures, trading software, account types, and overall summary of Ipgate Trade review. We will also address some frequently asked questions to provide a comprehensive understanding of this brokerage.
| | |
| --- | --- |
| Company | Ipgate Trade |
| Regulation | Unregulated |
| Warning | Forex Trading Scam |
| Website | ipgate.trade |
| Address | N/A |
| Email | [email protected] |
| Phone | N/A |
| Minimum Deposit | $250 |
| Leverage | 1:100 |
| Bonuses | N/A |
Ipgate Trade
Regulation and Security
When choosing a broker, regulatory compliance is of utmost importance. Ipgate is unregulated,which is an immediate indicator of a fraudulent platform.
The company doesn't provide sufficient information regarding the owner or other legal aspects which is always suspicious and a sign of a  potential scam. The Terms and Conditions mention that Polish law governs their operations, indicating the need to explore whether Ipgate Trade is regulated by KNF (Poland's financial regulatory body).
We couldn't fine any results of it being regulated by KNF,furthermore the EU law doesnt allow leverages of more than 1:30 for regular traders,and ipgate provides leverage of 1:100,which indicates that the company is indeed very shady and suspicious.
Trading Software Overview
There is only one Ipgate Trade trading platform, a straightforward WebTrader, which comes as no surprise. This company only provides web-based software that allows for asset overview, pending orders, and a review of trading history.
While their website advertises the platform as a sophisticated tool with numerous built-in indications, this is simply not the case. You should use third-party software like MT4, MT5, or cTrader if you want a wide variety of capabilities. Each of these has a wide range of features, such as social trading and EAs.
Furthermore, unlike the Ipgate Trade platform, each of these offers mobile and desktop apps.
Deposit and Withdrawal Process
When it comes to withdrawing your funds/profit,you can submit a request through Client Area and sign a form,then you can choose one of the following options:
Debit/credit card

Wire transfer
The brokers Withdrawal policy states that the time frame for the request to be processed is 4-7 business days,but the company has stated that they shouldn't be held accountable for any delays,which is a typical defence mechanism for scammers.This also means that even if they didnt process your request you can't really do anything.
Account Types Offered at Ipgate Trade
There are four Ipgate Trade account types available to you:
Newbie – $250

Standard – $2,500

Golden – $7,000

VIP – $30,000 
Ipgate Trade claims that each account provides negative balance protection,meaning that they prevent traders from losing their money and later owing money to the company.
Assessing the variations between the cheapest and most expensive account type we can see that the leverage rises the more expensive the account type is,this means that the supposed 1:1000 leverage is only available to the VIP account holders,and that account requires traders to invest a whooping 30,000$,which is a ridiculous amount of money to be invested all at once,especially into a platform with which one has no earlier experience,also this type of leverage exposes traders to enormous risks and serves as a very clear red flag.
Similarly to all other scammers,IPgate Trade does not offer a demo account,demo accounts are used for practice trading and making sure that the trader knows what the platform is and gives a good example of how the trading and tools available function if one one was to invest real money into the platform.
This lack of a demo account is perfect for scammers because it asks traders to directly invest into them,without even having tried any of the tools that the account promises to have,and clearly does not otherwise a demo account would exist.
How Does the Scam Implement?
All platforms with similar red flags function in very similar ways. They are determined to take your money here and now, which is what they are most focused on.They promise you a lot of innovative tools and safety measures, they tell you about the profit you can make, they make it seem almost unreal, which in the end,it is.
The purpose of all platforms that operate like Ipgate is to profit and make money on you, with minimal regard to your profit.They care about expanding and profiting,and not making sure that you do too.
Always think twice before investing your money anywhere, and remember, even if you do and things go south,it is not irreversible!If you fall victim to such fraud or recognize that a broker is not who they appear to be,you should always take action. This way you can prevent further damage and save potential victims,and you can retrieve the money you lost!
You should always report such scams to the appropriate authorities, and as for retrieving your funds, you can talk to your bank and see the options available.
Ipgate Trade Summary
And lastly, one thing is certain, IPgate Trade is an undeniable scam! It is not worth your time or money. In the end, you are more likely to lose money than make money.This is yet another example of why you should always carefully assess and thoroughly review a broker before taking any action and investing.
Always be sure to check if a broker is regulated, and licensed,if they operate transparently, and of course what kind of experience other traders had with the broker.Steer clear of fraud and good luck with (safe and reliable)trading.
FAQs About Ipgate Trade Broker
Is Ipgate Trade Broker Regulated?
NO! Ipgate Trade is an unregulated broker.NOt only is this broker unregulated,but there are also several warnings issued by authorities,advising people not to invest in them.
Is My Money Safe with Ipgate Trade?
Definitely not.Your money is never safe when dealing with an unregulated broker.Always search for licences and regulations and see if a broker is approved by appropriate authorities before deciding to invest your money!
Does Ipgate Trade Offer a Demo Account?
Ipgate Trade does not offer a Demo Account,this means that you must invest in order to try out the platform,this is a clear indicator of a sketchy/fraudulent broker.