July 24, 2023
Reading Time:
5
min
ITI Capital Review: Exploring Benefits and Drawbacks for Informed Decision-making
ITI Capital was founded in 1994 and now they have offices in the UK, Guernsey as ITI Trade LTD, and in Kazakhstan as ITI Capital Qazaqstan Limited.
Broker name
Reliable Broker Must Have
Legal name:
ITI Capital Limited, ITI Trade LTD, ITI Capital Qazaqstan Limited

Transparently displayed in the disclaimer or legal documents

Regulation:
FCA

Within your legal jurisdiction – local regulator

Registered in:
Level 33 Tower 42, 25 Old Broad Street, London EC2N 1HQ

Your country or the country whose license applies in your legal jurisdiction 

Established:
1994

The older the domain – the higher the possibility the company is trustworthy

Website:

iticapital.com

 

Domain should be from local or international zones, no .xyz etc.

Financial Authorities Warnings:
None

None

Contacts:
UK: +44 (0) 20 7562 8001,

[email protected]

,

[email protected]

 

Phone, email, social media, web form

If a withdrawal is possible:
Yes

Yes

Fees:
Hidden Fees

Transparent fees – list of spread and commissions

If Active on Social Media:
No

Often present on social media

Investor Protection:
Segregated client money, FCA (FSCS)

Compensation fund
Regulation Info
ITI Capital Limited is a registered business in the United Kingdom with the registration number 02926252. They are regulated by FCA (Registration number 171487). It's crucial to remember that recent information points to FCA sanctions and regulatory measures against ITI Capital Limited. The FCA has ordered continued wind-down measures for their retail services, which must be finished by July 31, 2023.
According to the broker's disclaimer, ITI Capital Limited will stop conducting retail transactions on April 30, 2023. Transfers of assets to outside brokers as part of the wind-down procedure might take up to eight weeks. If you currently have investments with ITI Capital Limited and want to move your funds somewhere else, you should consider this period.  ITI Capital contact details are visible and available above for more information or you can simply visit the ITI Capital login page. 
ITI Capital Profile
ITI Capital Limited does business as ITI Markets. ITI Capital Limited is a brokerage firm that deals in foreign exchange, international equities, options, futures, bonds, and ETFs, and offers ITI Investments.
Trading platforms:

Phoenix and Handy Trader

Account types:

N/A

Financial Instruments On Offer:

Stocks

Futures

Options

Bonds

ETFs

Forex

Maximum leverage:

N/A

Minimum Deposit:

N/A

Commissions/bonuses:

N/A

Mobile app:

Yes

Desktop app:

No

Auto trading:

No

Demo account:

No

Education or Extra tools:

Glossary, training videos
Is ITI Capital Safe?
ITI Capital is regrettably anything but secure. With so many complaints and active investigations, we cannot declare a broker secure. The mere fact that a broker is regulated does not guarantee that trading with them is secure and ITI Capital serves as the ideal illustration of that. 
They lack transparency in their fees, account types, deposits, and many other areas even though they are governed by one of the most reputable agencies, the FCA. They also provide few investor education resources and don't provide reliable trading platforms like MT4 or MT5.
ITI Capital is generally not a broker you should use, no matter where you are from. Selecting a broker should be done with caution. You can get in touch with us right away if you require a trustworthy broker. 
ITI Capital Traders Reviews – Sharing Experiences
A startling 78% of the 336 reviews on Trustpilot are unfavorable, with a concentration on withdrawal issues. Many reviews lament the challenges they faced when attempting to withdraw their money. One investor claimed to have lost up to $34,000, while other investors claim that they were ignored when they asked for their money back. 
The comparatively few positive reviews are overshadowed by the vast volume of bad ones, making them less visible. It is critical to weigh the trading experiences when choosing a broker. To ensure a reliable and trustworthy trading journey, reach out to us for a consultation tailored to your needs.
Where do ITI Capital's Clients Come From?
Most of their clients come from the UK, Egypt, and India. ITI Capital may not have specific regulatory permits from the financial authorities in Egypt and India, despite the fact that it is governed by the Financial Conduct Authority (FCA) in the UK.

ITI Capital operates in Egypt and India without being directly regulated by their respective financial regulators because FCA legislation does not apply in those countries. Customers from these nations should thus think carefully about the consequences and hazards of trading on a platform that might not be overseen by national regulatory authorities.
ITI Capital Review: Reasons To Avoid This Broker
ITI Capital benefits from FCA regulation and has a wide range of clients, but there are also some serious negatives to take into account. Due to a lack of local control, customers from Egypt and India should proceed with caution. Concerns about transparency and a sizable amount of negative reviews point to possible problems with the broker's operations.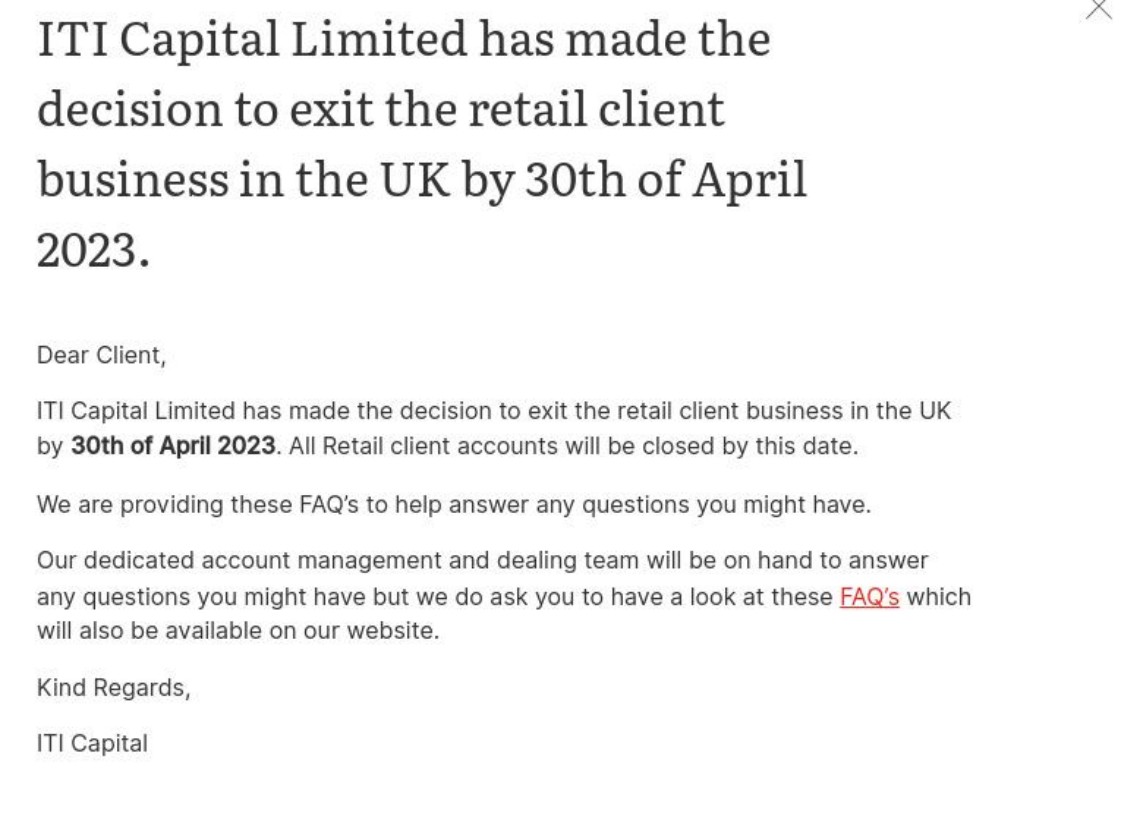 For a more secure trading experience, it is critical for traders to undertake in-depth research and take into account alternative brokers who place a priority on transparency, legal compliance, and client pleasure. You can get in touch with us right immediately, and we'll locate a broker who can meet your trading requirements.
Our Safe Trading Experts' Opinion of ITI Capital Broker
It is important to remember that, even though ITI Capital is regulated, regulation is not the only sign of a secure trading environment. Numerous investor complaints about ITI Capital that may point to problems with their services have been considered by our experts. These grievances have cast doubt on the broker's capacity to deliver a secure trading environment, along with regulatory worries.
Any trustworthy broker must be transparent in order for their clients to have faith in their business dealings. However, the accusations we received have convinced our specialists that ITI Capital lacks transparency. Investors have voiced their unhappiness with the broker's lack of responsiveness, delays in fund withdrawals, and issues accessing information. 
For additional details on trustworthy brokers, get in touch with us right away. 
FAQ Section
Is ITI Capital a Russian company?
Yes, ITI Capital is a Russian company. It was founded in 1994 in Moscow, Russia, and is currently headquartered in London, England.
Is ITI Capital closing?
ITI Capital is due to close its retail services on April 30th, 2023. They won't accept any new clients and you can expect a long delay in withdrawing your funds.
What is the future of ITI in India?
There is no information about ITI Capital closing in India but investors should be cautious since ITI Capital is not regulated by any Indian financial authority.