July 11, 2023
Reading Time:
5
min
Jason Sallman: Crypto Visionary or a Clever Fraudster?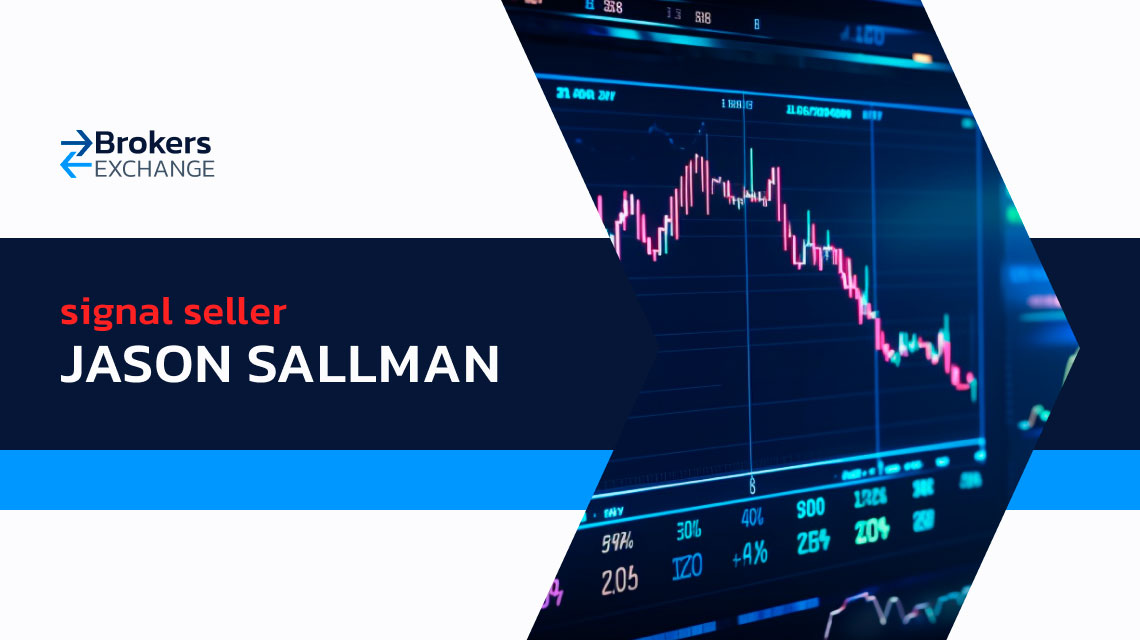 Jason Sallman has drawn notice in the area of cryptocurrency as either a visionary or a possible con artist. This article seeks to clarify the debate by examining diverse viewpoints concerning his engagement in cryptocurrency. Get ready to expose this alleged signal seller with us.
Who is Jason Sallman?
He is a self-proclaimed cryptocurrency consultant. With over 40k followers on Instagram, he became a rather famous individual providing consultations regarding anything crypto.
Unfortunately, none of it is real and the first glance at his website, you will see the lack of transparency and information it offers.
Where is Jason Sallman from?
Jason Sallman traveled to Tampa to attend the University of South Florida where he studied business and entrepreneurship. After leaving his home on Florida's East Coast, he worked for several companies, gaining valuable experience and knowledge along the way.
Since then, he has continued to reside in Tampa and has begun working as a crypto consultant. Or so we're told.
What Do We Know About theredpillisbitcoin.com?
Theredpillisbitcoin.com is a website run by Jason Sallman that features videos about cryptocurrency frauds as well as a course on trading Bitcoin, FX, and options. The website gives traders access to Jason Sallman's experience and direction and has a similar appearance and feel to a broker's website. The website is intended for traders who want to learn about trading cryptocurrencies, forex, and options, with the possibility to get in touch with him.
The application gives traders the tools they need to trade successfully and is made to be accessible to traders of all experience levels. He is posting films on cryptocurrency scams while being a scammer, which we refer to as irony.
People who only work directly with someone are not good since there is no history or proof if something goes wrong. He has no track record of success and genuine reviews. Signals' sources are likewise kept a secret, and Jason Sallman's entire biography is a fabrication.
How does the Jason Sallman fraud scheme work?
Scammers pose as famous persons in stolen celebrity photos to defraud others for their money. Salman has also been impacted by this because the victims of these scams have repeatedly called him and demanded the return of his money. The Jason Sallman Instagram profile reported at least 500 false profiles that impersonate him.
However, Instagram has no real person working on your case, thus the majority of those reports were rejected because there were no breaches according to Instagram. Sallman had already received complaints from numerous victims, and since it's difficult to verify that someone impersonating him is him, he may have been one of the con artists.
Jason Sallman is likely nothing more than an affiliate for IQ Option and not a genuine trader. His primary goal is to lure people into signing up through his referral link, earning commissions for each new user he refers. Additionally, his free Bitcoin campaign where you get a referral code and sign up is just another one of his lies.
Fake Celebrity Life On Instagram
It's typical for people to pose as famous people on Instagram and demand money. Unfortunately, a lot of individuals are still unaware of these scams and could become victims. Instead of just providing your money to a source without doing any investigation, it's crucial to make sure you are dealing with a reliable one.
On the list of phony celebrities is Jason Sallman. While he doesn't copy other people's photographs, to get to where he is now, he did pay for Instagram followers. Jason Sallman hardly has more than 1,000 likes and comments, when somebody with 40k followers should have at least a few thousand. Due to just good comments being displayed, we can be certain that Jason deletes comments. Everyone has critics, thus it is improbable that there were no negative remarks found.
Additionally, everything about his 'famous' existence has been a big giant lie. He is an affiliate for IQ Option while disguising himself as a crypto evangelist and expert trading consultant.
Free Bitcoin From Jason Sallman
Obtaining bitcoins often entails a multi-step procedure that includes activities like buying them via exchanges, computing processes, or earning them through legal means. It's vital to understand that nobody is giving out bitcoins for free because doing so always involves some sort of investment or work.
It's crucial to use caution if someone like Jason Sallman claims to be giving away free bitcoins. On the website, there is a link where you can click to receive $25 by using Jason Sallman's referral code. Even though the advertisement claims to offer a free bitcoin, it appears that if you sign up with the company Crypto.com, you will only receive $25. The Jason Sallman crypto false advertising and clickbait are raising warning signs.
Does His Consulting Really Help Traders?
To find out if Jason Sallman's consultancy benefits individuals, we sneak-peaked at his website and Instagram account. Today, pretending to be an expert is widespread in a variety of fields outside of trading, so you should never put your trust in just anyone. Jason Sallman is not a certified trade consultant, hence his claims are untrue.
After doing extensive study, we concluded that Jason Sallman is merely an IQ Option affiliate. He is the one who receives compensation from others, not the other way around. Because anyone can become a victim of a scam, be cautious about who you trust.
Are There Any True Reviews From Traders about Jason Sallman?
If you search the web for "Jason Sallman scam" you will get the only result about the identity theft by scammers. It is highly unlikely that because of that, we can't find true reviews about him. We found no useful information on Redditt or his Twitter profile either, besides a couple of comments calling him a scammer.
The lack of information on Sallman is concerning since transparency is important in such cases. However, we can't see the sources of signals or any previous interactions with clients, which raises red flags.
Can I Earn Money From Jason Sallman Trap?
Jason Sallman may not be the most dependable alternative for earning money because his priority appears to be profiting off of others. It's awful to note that he is not the only one who behaves in this manner; many others also fool innocent people by posing as specialists.
Before spending your time and money with someone who might not have your best interests in mind, it's crucial to be cautious and conduct your research. The Jason Sallman crypto scam is real so always choose safety over regret. If you are unsure of what to do, contact us and we will help you solve all of your trading problems.
Getting All The Thoughts Together
It appears that Jason Sallman works largely as an affiliate with IQ Option. His primary goal as an affiliate is to bring in new users so that he can profit from the platform's referral scheme. It is crucial to keep in mind, nevertheless, that being an affiliate does not automatically make one a qualified trading consultant. Evidence is frequently needed to back up one's experience to establish yourself as a legitimate professional trading consultant.
In conclusion, important characteristics that a professional trading consultant should have include evidence such as a demonstrated track record, education and certifications, industry experience, knowledge of trading strategies, client testimonials, and open communication.
Finding a trustworthy source or broker can be difficult because the majority of them are not reliable, but we are aware of what you require. If you want to stop worrying about your investments and where to put them, get in touch with us right away.
FAQ Section
Who is Jason Sallman?
Jason Sallman, a self-proclaimed cryptocurrency consultant with over 40k followers on Instagram, is an affiliate for IQ Option posing as a celebrity crypto consultant.
Is Jason Sallman a Scammer?
How To Avoid Trading Scams?
To avoid trading scams, conduct thorough research on brokers or trading platforms, verifying their credentials and licenses. Additionally, be cautious of unsolicited offers and promises of high returns, and never feel pressured to make impulsive investment decisions.