March 17, 2023
Reading Time:
5
min
Kapital Consult Review: Stay Away From KapitalConsult.Com
Kapital Consult Review, Out of many fake brokers we've reviewed, this broker has to be among the least convincing ones. The site is literally the simplest web presentation we've seen. This company reveals zero information about the owning company or its registration. Legal documentation doesn't exist and besides an email and two numbers for WhatsApp and Telegram, we know nothing about the broker. 
Bogus brokers are not something to be taken lightly. Especially if you're a new trader looking to try your luck on the Forex market. In order to protect yourself from something that may look harmless at first, you need to be well-informed. Our Kapital Consult review can help you with that, so keep reading. 
Company

N/A

Website
KapitalConsult.Com
Address

N/A

Email
[email protected]
Phone

+447884461024

+447884463824

Minimum Deposit

$250

Leverage

1:300

Bonuses

Trading bonus

Regulation

Unregulated

Warning

N/A
How Are You Safe at Kapital Consult? Regulation and Security
With an obvious scam like Kapital Consult, there's no doubt if you are safe or not. The real question is how and when will the fraudster attempt to rob you. Since there's no proof of this company having any kind of license or regulation, it was on us to do the necessary research. 
Nothing on the site gives away the swindler's potential location. Not even a made-up address. The random phone numbers didn't help us much either. Since we were given no starting data, we had to start looking through the registers of the most famous regulators.
The licensing standards are most demanding in the UK, EU, US, and AU. These countries have regulatory authorities that have set precise and very strict rules for obtaining a trading certificate. 
How do we know Kapital Consult didn't manage to meet any of the standards? Simply by checking the databases. FCA, ASIC, CySEC, NFA, IIROC, BaFin, FINRA, and CONSOB have no info on Kapital Consult. 
It is no surprise that Kapital Consult doesn't have any valid license for offering its services. The broker doesn't guarantee the safety of funds through segregated bank accounts. No risk-reduction measures could be possibly implemented because the fraud wants you to lose, not protect you. Kapital Consult is also so non-transparent it's deeply disturbing, and we hereby warn you to stay away from this scam. 
An Overview of Trading Software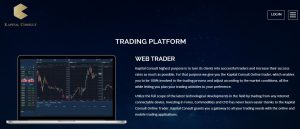 The immediate second red flag after a missing regulation is the inability to register a new account with Kapital Consult. The link leading to the registration page is broken and the page doesn't work. Considering the fact we weren't allowed in the client area, it was impossible to access the trading terminal. 
Kapital Consult isn't like regulated brokers that provide download links to the platform and demo accounts to test the trading environment. This wannabe broker only has a web trader to offer and that is it. As a matter of fact, we cannot confirm this either, since we couldn't access the one software that this company promises. 
All of this has led us to believe that Kapital Consult is a liar without a functional trading terminal at all. 
Account Types Offered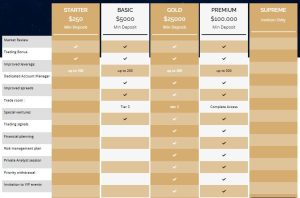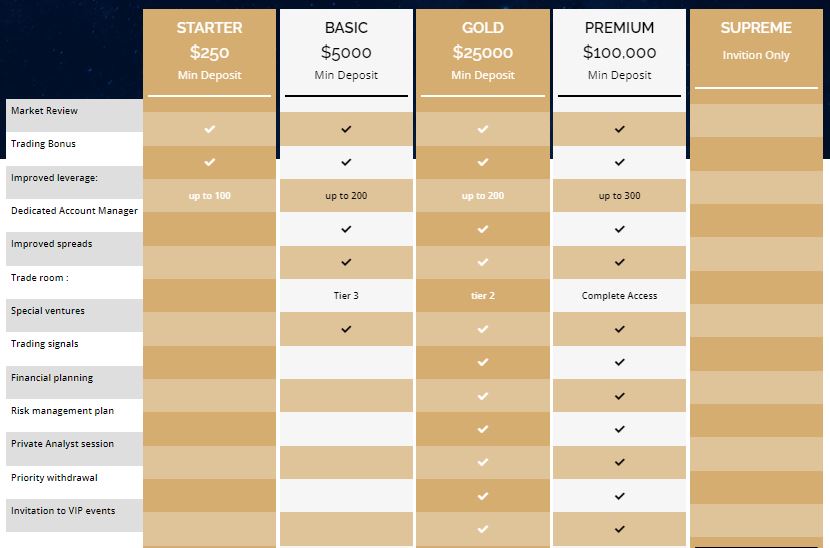 Kapital Consult offers five different account types. Each one is more expensive than the previous one, and they're all supposed to come with their own benefits. Here is what the pricing looks like
Starter – $250

Basic – $5 000

Gold – $25 000

Premium – $100 000

Supreme – invitation only
Starter only offers market review and trading bonuses, while other account types should offer a chance to increase leverage, have a dedicated account manager, trading signals and other features. 
How much of that is true, we can't tell since Kapital Consult is a skilled liar. One thing is for sure: the accounts are overly expensive without revealing the precise trading conditions they bring.
Kapital Consult Trading Bonus
The page that explains the account types mentions a trading bonus that supposedly comes with each account type. Major problem with it is that we could discover nothing more on the subject. 
Kapital Consult didn't allow us to make a new account or access the user area. There were no legal documents that explain how bonuses work. Characteristic of every scammer, these bonuses are usually bait and can be dangerous. 
Every single one of them comes with some conditions and strings attached. So be wary when accepting them. 
Funding Procedure at
Kapital Consult
Sadly, Kapital Consult doesn't share much when it comes to funding methods, either. Account types say that the minimum deposit sum is $250, which is in level with trustworthy brokers. Everything else is foggy and suspicious. 
As secretive as this broker is about most aspects of their conduct, we could expect the same as what we see in other frauds. Of course, we're talking about their preference for crypto transfers. 
We've explained it many times before but we have to warn traders once again. Always go for transparent and safe depositing such as credit cards that allow chargeback. 
Crypto transactions are anonymous and hardly tracked. The unscrupulous service providers will rob you and never answer authorities when no one can trace them.
How is the Scam Carried Out?
Although Kapital Consult looks like an obvious scam to some, this may not be the case with an inexperienced eye. That is why this Kapital Consult review is here to point out some major flaws that this fake broker displays. Deceptive techniques also may differ greatly from one scam to another. 
Broker charges extreme prices for opening an account. These may or may not offer what they describe. The point is to convince the user to invest and become entrapped in the investment loop. 
Your attempt to get out is prevented by the denied withdrawal attempts and additional bonuses with more fees and conditions. All of this is what Kapital Consult does to rob you of your entire investment.  
Kapital Consult
Summar
This broker is an anonymous offshore company that manifests fraudulent tendencies. Our review is our official warning against this scamming website that you should stay away from if you do not plan on being scammed. 
Swindlers don't shy away from any method conceivable when they intend to perform cyber theft. You can still protect yourself though. Knowledge and information is your greatest ally. 
Not trusting anyone that comes along with a suspicious offer is also a way to deflect scams. Eventually, we are also here whenever you need advice and support. 
FAQs About
Zeta Trade
Broker
Is my Money Safe with Kapital Consult?
Kapital Consult is not a trustworthy broker that could offer you safety of funds and secure investing.
Does Kapital Consult Offer Demo Account?
As far as we could figure it out, only live trading accounts are accepted. But the broker doesn't allow registration of new accounts at the moment, so we cannot confirm this.
What Is The Minimum Deposit at Kapital Consult?
The minimum sum to deposit is the price of the cheapest account type - $250.