March 15, 2023
Reading Time:
4
min
Leadtradesfx Review – Facts About This Scam Broker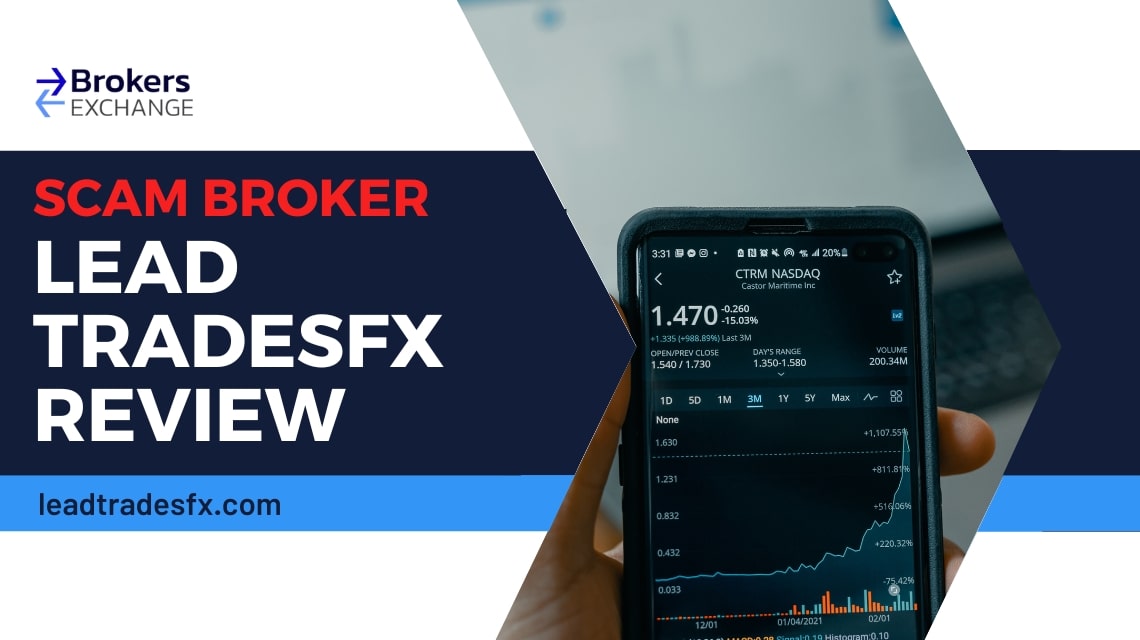 Leadtradesfx and their parent company, Swift Market Options UK Ltd are what the authorities call a "clone company". The UK's main financial regulator, FCA, has issued a warning about this scam, and this is likely the reason why Leadtradesfx is now a non-functional website.
We can see the FCA's warning by following this link: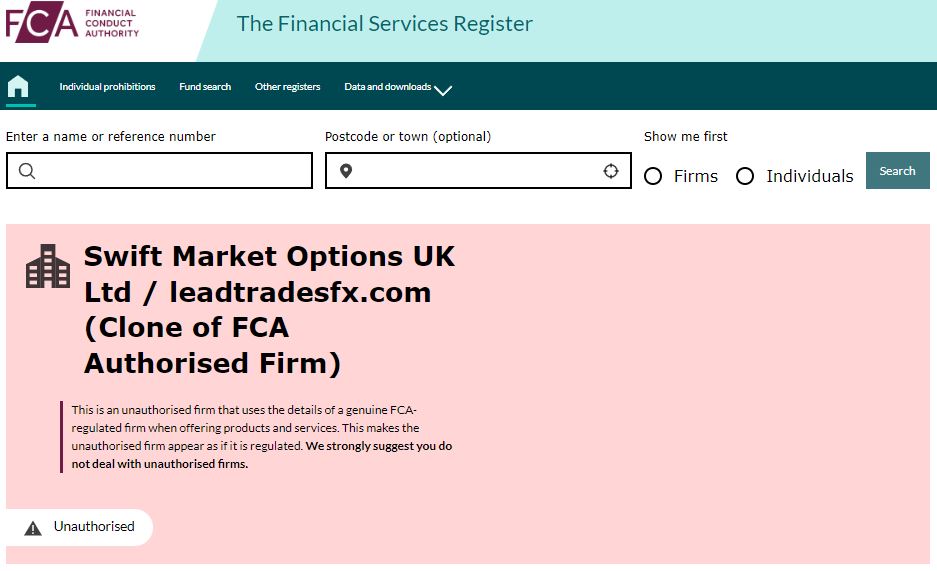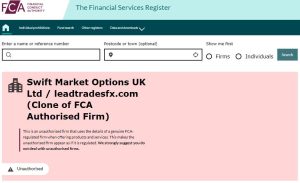 The most commonly used strategy with scam brokers is mimicry. Leadtradesfx brings it one step further, they are using the shed skin of a different animal altogether. This scam broker is using the old trading name and website visuals of a regulated broker that has recently undergone a rebranding.
| | |
| --- | --- |
| Broker Status: | Inactive |
| Regulated by:  | Unregulated |
| Operating Status:  | Non-operational |
| Scammers Websites:  | leadtradesfx.com |
| Blacklisted as a Scam by: | FCA |
| Broker Owner:  | Swift Market Options UK Ltd |
| Headquarters Country: | UK |
| Foundation Year:  | N/A |
| Online Trading Platforms: | MT4, MT5 |
| Mobile Trading:  | No |
| CoinRise Minimum Deposit: | N/A |
| Deposit Bonus:  | Yes |
| Crypto Asset Trading: | No, non-functional platform |
| CFD Trading Option: | No, non-functional platform |
| Available Trading Instruments: | N/A |
| Maximum Leverage: | 1:500 |
| Islamic Account:  | No |
| Free Demo Account:  | No |
| Accepts US clients: | No |
| Warning:  | FCA |
Compliance and Fund Safety at Leadtradesfx
Leadtradesfx is a so-called "clone company". This group has adopted the trading name and website visuals of a regulated broker, Admiral Markets after they have changed their name to Admirals. This scam broker has also appropriated Admirals' licenses and other regulatory information.
Leadtradesfx claimed to have obtained licenses from the UK's FCA, Australian ASIC, CySEC from Cyprus, FSCA of South Africa, Estonian FSA as well as JSC from Jordan. Because Leadtradesfx is based in the UK, it would fall under the jurisdiction of the FCA. This will be a fine starting point when we try to understand how difficult it is to obtain such a wealth of licenses.
A company that wishes to start a broking business in the UK will have to satisfy these rules set by the FCA:
Starting funds of £730,000

Compensation scheme of £85,000

Segregated bank accounts

Negative balance protection

Leverage restricted to 1:30

Transaction transparency

Ban on any bonuses
These conditions are not universal worldwide. Some regulators will have more strict or lax laws pertaining to licensing and authorization. Cyprus and Estonia for instance, have additional rules implemented by the MiFID agreement because they are EU member states.
There were no entries pertaining to Leadtradesfx in the databases of ASIC, CySEC, FSCA, FSA, and JSC, but there was an entry with the FCA… And this entry was a warning about Leadtradesfx's fraudulent activities. This settles it – Leadtradesfx are a bunch of lying snakes that don't care how much they damage the honest company's reputation.
Trading Software Overview
Because of the defunct status of the Leadtradesfx website, it is currently very difficult to say for certain what trading platforms this scam used. By reviewing the history of the site, and knowing how they mimicked a trustworthy broker, we can see that the platforms offered were MT4 and MT5.
With Leadtradesfx there were no links to download this software, and there was no way to access any trading functions prior to creating an account with the scammers. Once a person does create a trading account, they will be met with a cold shower. You see, Leadtradesfx only offers a web-based "platform" that allows no trade whatsoever, only deposits.
Account Types Available at Leadtradesfx
There is no information about how an account is funded or maintained prior to creation on Leadtradesfx. Indeed, to see any trading or billing conditions, you must first make an initial deposit with the frauds. There is no demo account or a swap-free Islamic account.
Reliable licensed brokers will offer a number of different accounts. These will all have different conditions to fill various niches for different trading preferences. Licensed brokers will offer a demo account for risk-free speculation, but this is not the case with Leadtradesfx.
Leadtradesfx
Bonus Offered
We have seen how most financial regulators have placed a ban on bonuses. The notable exceptions to these would be the US's CFTC and Canadian IIROC, but Leadtradesfx makes no mention of these regulators on their site. This is due to the inherent difficulty of regulating such bonuses.
Leadtradesfx does offer bonuses, as a method through which they deny payouts to their victims. There is a clause in the terms and conditions that states that a person can't request a withdrawal before a certain trading volume has been accomplished. This way the scammers "soft lock" you out of a withdrawal.
Methods of Deposit and Withdrawal
You can easily see that something is very wrong when trying to deposit funds to your account. The only payment method available on Leadtradesfx is cryptocurrency transfer. These transfers are untraceable and offer no safety that other electronic payment methods.
We have mentioned how in order to withdraw funds, a victim must satisfy a minimum trade volume condition. There is no way to trade with Leadtradesfx, because there are no actual trading platforms. When the withdrawal does come through, it's subject to a 20% withdrawal fee!
How the Fraud has Carried Out
Leadtradesfx are a trap set for novice traders. If one does not pay enough attention, their website looks the part of a regulated broker. The information given about trading conditions and platforms is fake, and the only way to even see what you're in store for is by depositing some money.
After depositing you will be greeted by a non-functional trading platform. The scammers will soft-lock you out of a withdrawal by claiming that you have not traded enough assets to cover a given bonus. Even if the withdrawal does come through, it's subject to an insanely costly 20% withdrawal fee.
Leadtradesfx
Summary
Leadtradesfx is a dangerous clone company that has an outstanding warning issued by the UK based regulator, FCA. It is an unreliable entity that offers no safety or security whatsoever. It is a scam that's out to take your money!
Deposits are in crypto, and you risk losing your entire investment with these frauds. There is no trading platform to speak of, and accounts are subject to some pricey fees. Indeed, if you even managed to make a trade somehow, it is highly unlikely you can ever withdraw any money from these scammers.
FAQs About
Leadtradesfx
Broker
Is Leadtradesfx a Regulated Broker?
No, Leadtradesfx is a clone company that has taken another company's name and safety licenses, and falsified their information.
Is My Money Safe at Leadtradesfx?
No, Leadtradesfx is an unregulated entity, and there is no safety or security to speak of.
What Is The Minimum Deposit at Leadtradesfx?
There is no information on what a minimum deposit may be with these swindlers. The frauds only deal in cryptocurrency, and on average scammers ask upwards of $10,000.