October 31, 2023
Reading Time:
4
min
Liberty Market Investment Review: Learn More About Lmitrade.com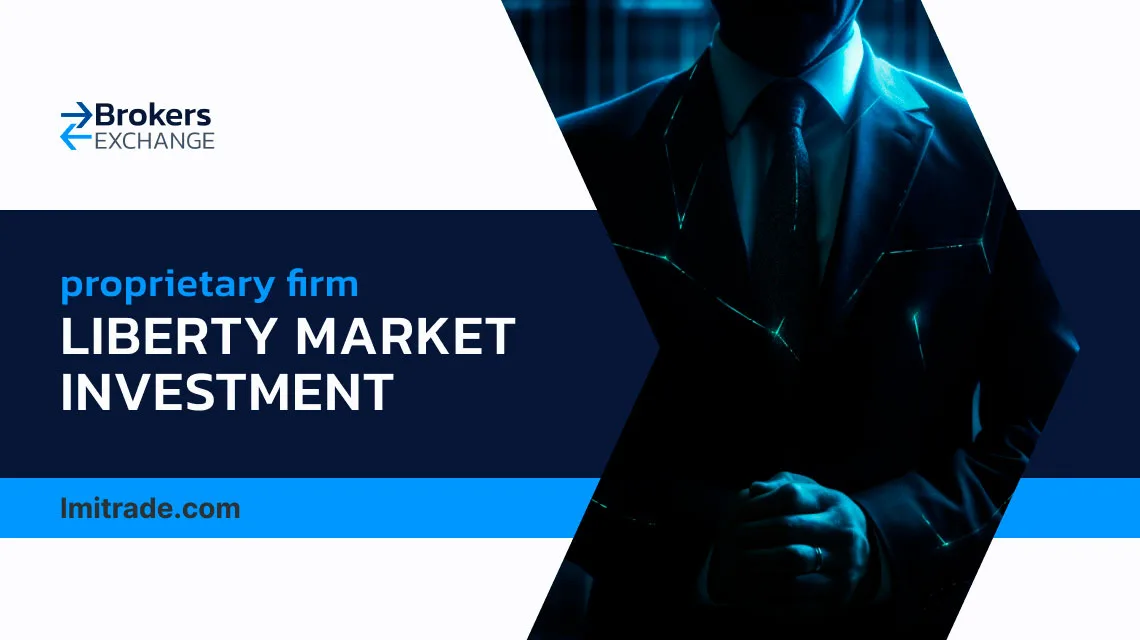 LMI claims to be registered in the UK, however, there is no information about them in the FCA's register or anywhere else. They claim to be a reliable prop firm but our Liberty Market Investment review is here to find out the truth. Keep reading to learn more. 
Meanwhile, don't miss out on the latest information about the Nation FX broker, a regulated and reliable option for traders of all kinds. But before that, delve into our Liberty Market Investment review and learn if this prop firm is the right choice. 
Who Is Liberty Market Investment?
Based in London, United Kingdom, Liberty Market Investment Ltd is the owner and operator of the LMI company. The company was founded to give futures traders of all skill levels a transparent and competitive prop trading service, along with excellent support and the highest profit splits in the industry for traders worldwide.
The firm is not registered in any country but that didn't stop them from claiming they are a UK-based firm. However, a deeper investigation is required before we proclaim this prop firm as safe. So keep reading our Liberty Market Investment review to learn more. 
Company Type
Proprietary Firm
Legal name
Liberty Market Investment Ltd
Regulation
Not expected
Registered in
25 City Road, Epworth House, Office 320, London,

United Kingdom, EC1Y 1AA

Established
2017
Website
lmitrade.com
Financial Authorities Warnings
Contacts
Fees

Restart Cost $50, $80, $90
$140 Small
$155 Medium
$300 Large
$350 Max

If Active on Social Media:
No
Investor Protection:
No
Activity areas
United States, United Kingdom, India, Netherlands, Switzerland
Main threats
Using an unregulated broker
Main perks
High-profit split
Regulation Info
Regulation is not expected with prop firms, however, it's important to choose a firm that is in business with a regulated and reliable broker. Regarding LMI, they are using an unregulated brokerage Volfix, indicating potential issues while trading with the firm. 
Furthermore, the majority of clients come from the US, which requires regulatory oversight by the CFTC. Both LMI and Volfix have 5-star reviews on Trustpilot which are probably fabricated, indicating even more potential issues. Avoid using unregulated brokers like Eukrypto. 
Liberty Market Investment Profile
You can utilize the VolFix platform to the fullest at no cost during the assessment procedure. Monitor your account data with the integrated trade report feature and examine your complete transaction history to enhance your trading. Additionally, you can track your trading, manage the risk, and enjoy a variety of features. 
There are three steps in total for the Trader Evaluation Program. Select an adequate account, show off your trading abilities, and meet your profit targets. Utilize the VolFix terminal to track all of your trading settings in real-time. Prove your capacity to manage risks, trade steadily, and secure funding. Utilize investor funds for a variety of trading products after obtaining funding. 
Trading Platform

VolFix

Account Types

Small 30k, Medium 50k, Large 100k, Max 150k

Financial Instruments On Offer

US Futures
EUREX Futures
CME Equity Futures
CME Foreign Exchange Futures
CME Agricultural Futures
CME CBOT Agricultural Futures
CME COMEX Futures
CME CBOT Equity Futures
CME CBOT Financial/Interest Rate Futures
CME NYMEX Futures

Maximum leverage

N/A

Minimum Deposit

$140

Commissions/Bonuses

N/A

Mobile app

Yes

Desktop app

No

Autotrading

No

Demo account

Free trial period of 14 days

Education or Extra tools

Videos
Is Liberty Market Investment Safe?
Since they are using an unregulated brokerage, we can't proclaim this firm safe. Although they offer a variety of options for futures trading, 90/10 profit split, and a user-friendly platform. Regulation with brokers is very important because you need to know whatever happens, your funds are secure. 
Additionally, some nations have strict regulatory control and trading can become an even greater risk when combined with brokers without a license. Make sure to always deeply investigate the firm you plan on trading with. 
Reasons to Enjoy This Company
One of the few significant drawbacks we can identify is that all trading on LMI is conducted through the VolFix trading platform. This is because some prop firms offer their traders more options and use more widely used platforms, such as MetaTrader5.
Other than that, only futures trading is supported, which is not suitable for investors who want to trade in indices, forex, or any other asset. Overall, there are better alternatives than this prop firm and we would always recommend them instead of LMI. 
Deposits and Refunds
To be funded at LMI, all you have to do is finish the qualifying session successfully. The regulations apply to everyone, regardless of experience level in the financial markets. You can pay for the subscription with your credit/debit card only.
Within 15 days of submitting the order, send an email to seek a refund, return, or exchange for the order you placed with LMI. After receiving your request, the refund will be processed immediately and the rest depends on your bank. 
Weighing the Pros and Cons
Pros
Cons

14-day free trial

Built-in risk management system

90/10 profit split

Variety of options for futures trading

Partnered with an unregulated broker

Only futures trading
Can I Make Money While Trading Online?
To start your profitable trading journey, you must consider a few things. First, educate yourself to better understand the markets. Stay up-to-date because the markets constantly shift. Use risk-management tools and never invest in something you are not prepared to lose. 
These are just a few among many other factors you need to consider before even thinking about trading. Using the right tools can also give you an advantage, and that is where our AI Analysis Bot comes in. With the ability to analyze billions of data points, it can make insightful recommendations. 
To learn more about AI.F, reach out and try it out for 14 days with no commitment. Keep in mind the offer is time-limited and applicable only to the first 100 traders who reach out. So, what are you waiting for? 
FAQ Section
What is LMI?
LMI is a proprietary trading firm located in the United Kingdom.
Is Liberty Market Investment Regulated?
Regulation is not expected with prop firms, however, it's vital to choose one with a regulated broker. LMI is partnered with Volfix, which is unregulated.
Can I Make Money From Proprietary Trading?
Yes, trading financial instruments profitably and sharing in the gains is a viable way to earn money from proprietary trading; however, there are risks involved and a thorough understanding of trading methods and markets is necessary.