February 27, 2023
Reading Time:
4
min
LoyalFXMarkets Review: Is LoyalFXMarkets.Com Legit?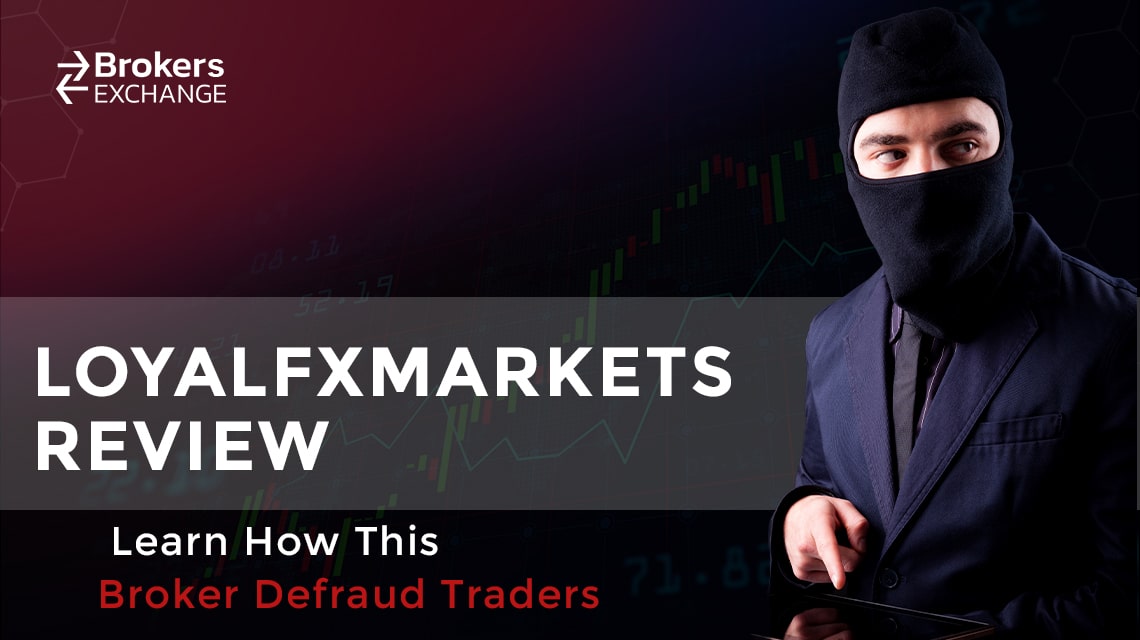 LoyalFXMarkets is a fraudulent organization with an anonymous background. The many licenses, regulations, and awards they claim to have are completely fake. This also means that LoyalFXMarkets has no authorization to sell any product or services.
At first glance, their site looks legitimate, but scratch the surface and you will find out that there are no concrete numbers – only promises of high leverage and tight spreads.
This LoyalFXMarkets review will show you why this is a company you should not trust. Keep reading this article to learn about their devious ways.
| | |
| --- | --- |
| Company | LoyalFXMarkets |
| Website | LoyalFxMarkets.Com |
| Email | [email protected] |
| Phone | +44 115 496 0276+44 161 496 0297 |
| Leverage | 1:200 – 1:1000 |
| Regulation | Unregulated |
| Headquarters | UK |
| Minimum Deposit | $100 |
| Review Rating | 1/5 |
| Broker Type | Forex, Stocks, Crypto, Indices, Commodities, Index |
| Platforms | MT4, MT5, Web Platform |
| Spread | N/A |
| Blacklisted by  | FCA |
LoyalFXMarkets Reliability – Regulation and Security
We can all claim to be something that we aren't, and LoyalFXMarkets does just that. It is a long and arduous process to acquire a license from a regulatory body such as FCA. This organization actively monitors over 50.000 companies for fraudulent behavior. New broking houses need to adhere to these criteria in order to receive a license from FCA:
£730 000 or more in starting capital
Segregated bank accounts for fund protection
No bonuses are allowed
Leverage is restricted to 1:30
Negative balance protection 
Compensation fund
Reporting on any transaction
Regulated brokers all need to follow these strict rules. LoyalFXMarkets is not recognized by the FCA, and this is strong evidence that they are not a legitimate business.
One strong piece of evidence is still not enough to come to a conclusion. Our staff has also checked databases of other worldwide regulators, notably ASIC, CySEC, NFA, IIROC, BaFin, FINMA, and CNMV. LoyalFXMarkets appears nowhere.
LoyalFXMarkets is not only unregulated, but the persons behind the company are lying to you, saying that they are licensed brokers. Not finding any information is a little strange, but finding a warning from a regulator based in the EU is evidence enough – these people are frauds!
Trading Platform Available at LoyalFXMarkets
LoyalFXMarkets claims to be operating on the most popular trading platforms, MT4 and MT5. This is true, but only to a degree. The platform they are offering is a demo version of the program and lacks most of the tools a professional trader would use.
Although the demo version of MT4 and MT5 can be used as a good test for beginners, the LoyalFXMarket's main goal is tricking honest people and stealing their money.
Scammers like LoyalFXMarkets want you to think that you are making profits. All trading platforms today can be programmed to show you anything the swindlers want you to believe. It is just a computer after all, and it will show you whatever it is told. Don't let yourself become a victim by trusting sites like these!
LoyalFXMarkets Deposits and Withdrawals
When it comes to methods of depositing funds, LoyalFXMarkets mimics their legitimate competition. They will accept bank wire transfers, and debit and credit cards such as Visa, MasterCard, and MaestroCard. The fraudster will also accept E-wallet payments like Skrill, Neteller, Load, and WebMoney.
Withdrawals are, however, a different story. Descriptions on how to withdraw money from your account are vague and do not correspond with how legit brokers process withdrawals. It says on the site that the minimum amount to withdraw is $25, but the broker never clarifies any withdrawal fees or other charges.
The problem itself is that none of these can be confirmed without opening an account firsthand. Knowing that LoyalFXMarkets are fraudulent, it would be ill-advised to deposit any amount of money. Remember – these people earn their living by stealing your currency.
How is the Fraud Delivered?
LoyalFXMarkets wants to access your private data and asks for consent to do so in order to begin trading.
They will ask you to send a photograph or a scan of your credit card, for instance. A card needs to have a legible personal signature on it, and it should be coupled with a printed bank account balance sheet. All this information can be used for identity theft.
With this information, they can easily fake your identity and use it to withdraw actual money from your bank account. Extorting more money from their victim also becomes a possibility. The first step to ensuring your security online is to be informed.
For an uninformed rookie trader, the conditions may sound incredible, and they are. If something seems too good to be true, it almost certainly is. Professional con artists will always give you exaggerated and fabricated claims on spreads, leverage, or commission that seems unrivaled by the competition. 
LoyalFXMarkets Summary
We hope that this LoyalFXMarkets review shines some light on the dubious antics of predatory people online. Starting out as a trader is tough, and we aspire to help beginners with their choice of a reliable broker. 
After all the research, it has become clear that LoyalFXMarkets is a dangerous entity that holds no license to offer any of the services they mention.
Their alleged awards, licenses, low commission, and tight spread are all bait to lull you into a false sense of security. Before long, they will use the information you have provided to steal your identity. 
Rather than allowing all of this to happen, consider some of the options we have offered. Try some of them out, or at least visit their website to see how a legitimate broker operates. You will find out just how easy, secure, and even fun trading online can be.
FAQs About LoyalFXMarkets Broker
Is My Money Safe With LoyalFXMarkets?

No, it is quite the opposite. Their scheme to steal your personal information might get you in a position where you might lose more than just your money.
Does LoyalFXMarkets Offer a Demo Account?

LoyalFXMarkets does offer a demo account, and it may be switched to a live trading account. 
Is LoyalFXMarkets a Trustworthy Broker?

LoyalFXMarkets is by no means a trustworthy broker. This company is a front for conning people and is actively trying to find new victims to scam.