March 18, 2023
Reading Time:
6
min
MainTrade Review – Facts About MainTrade.Co Broker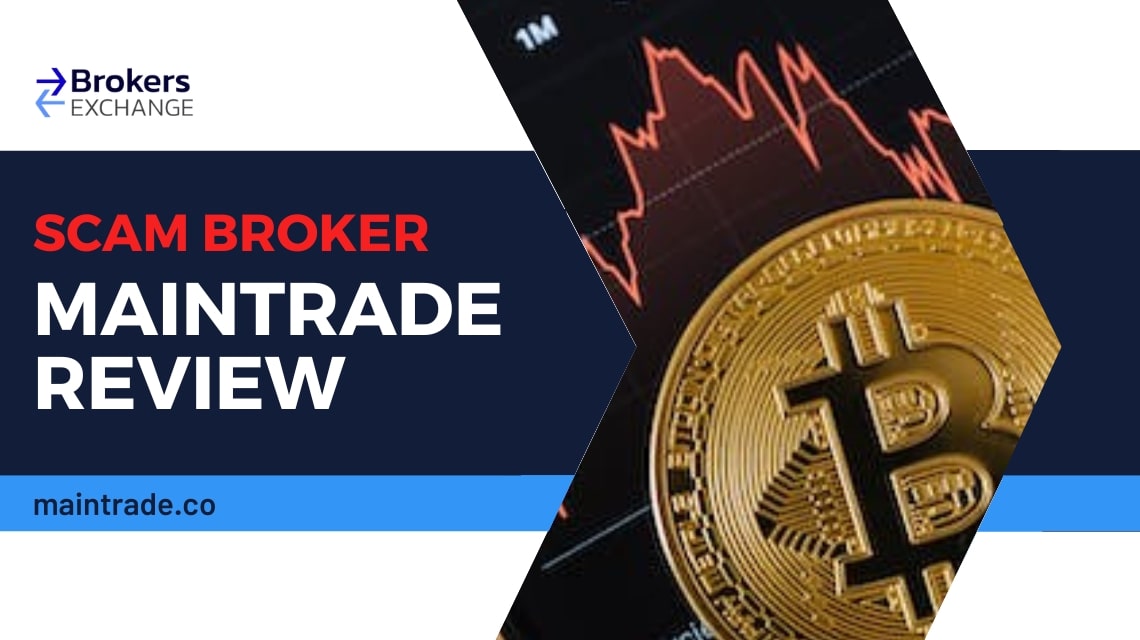 MainTrade claims to be based and registered in the UK, but in fact, it is an unregulated scam broker. Perpetrators of this scam are anonymous, and their actual address is unknown. 
On the website, these swindlers offer trading conditions that seem way better than their legitimate competition. Some of these conditions directly contradict trading laws in some countries where MainTrade offer its services, and thanks to this discrepancy we can do further research into their dubious antics.
On the internet, everybody can claim to be whatever they want to be. For this reason, we can't stress enough how important it is for an online broker to have a trading license. It is a sort of warranty, insurance, or a vouch of safety that a government issues to a company, confirming its legitimacy. This MainTrade Review will try to peel the layers of lies and expose MainTrade for the fraud that they are.
Company

MainTrade

Website
maintrade.co
Address

2nd Jubilee Place,

London E14 5NY,

United Kingdom

Email
[email protected]
Phone

N/A

Minimum Deposit

$250

Leverage

1:500

Bonuses

Up to 100%

Regulation

Unregulated

Warning

None
Compliance and Fund Safety at MainTrade
During our research, we have found out that MainTrade mainly offers their services to citizens of the UK, where the company is allegedly based, and in Germany. This scam is not available in the USA, but all the prices are calculated in US$, rather than GBP or EUR, which seems a bit strange at first glance.
We start our research with the UK's main financial regulator, FCA. Immediately we can see something is amiss, because there is no company registered under the name MainTrade, nor is it authorized to offer any booking services. 
Just to be sure we have also checked with the main German regulator, BaFin, and found out pretty much the same. We can now certainly say that MainTrade is a fraudulent entity that uses deception to lure victims.
It isn't strange for scammers to claim to be authorized by what we call Tier 1 regulators, because of how difficult it is to acquire a trading license from some of these agencies. Before being legally authorized to trade in the UK, a company must satisfy a series of conditions that were imposed to act like a safety mechanism:
Initial capital of at least £730,000

Compensation scheme of £85,000

Maximum leverage restricted to 1:30

Bonuses are banned

Client's funds must have negative balance protection

Segregated bank accounts required

Transaction reporting required
Germany is a part of the EU and has some very similar regulatory requirements for their companies. Compared to the UK's FCA, the German BaFin is even more rigorous, as it complies with additional rules imposed by the MiFID agreement. We can now clearly see how MainTrade breaks the rules by offering illegally high leverage and deposit bonuses.
Available Trading Software at MainTrade
MainTrade keeps spilling lies about every and any little thing on their website. One of these lies is their claim of a reward-winning industry-leading trading platform. There are even tiny trophies drawn on the website with outrageous claims like "Best Crypto and Forex Broker" and such. Who had given them these awards, and on what year is of course never mentioned?
And what is this award-winning world-changing trading application they offer? A Web Trader, a substandard and simple trading tool. It's not that a Web Trader is inherently bad, but legitimate brokers use it only as a backup in case their client can't access the primary trading platform of choice. 
One of the most popular trading platforms, MT4 and MT5 are not supported by MainTrade. This is all by design. We have mentioned that a Web Trader is substandard, and it is for both reasons of security and practicality. 
Web Trader lacks many advanced functions of MT4 and MT5 such as enhanced market analytics, stop signals, and automated trading tool integration, but it also lacks security features. This lack of security makes Web Trader prone to manipulation by scammers, who are all too happy to abuse it.
Account Types Available at MainTrade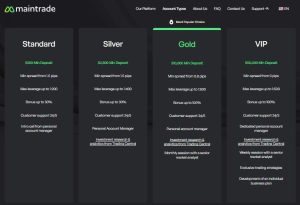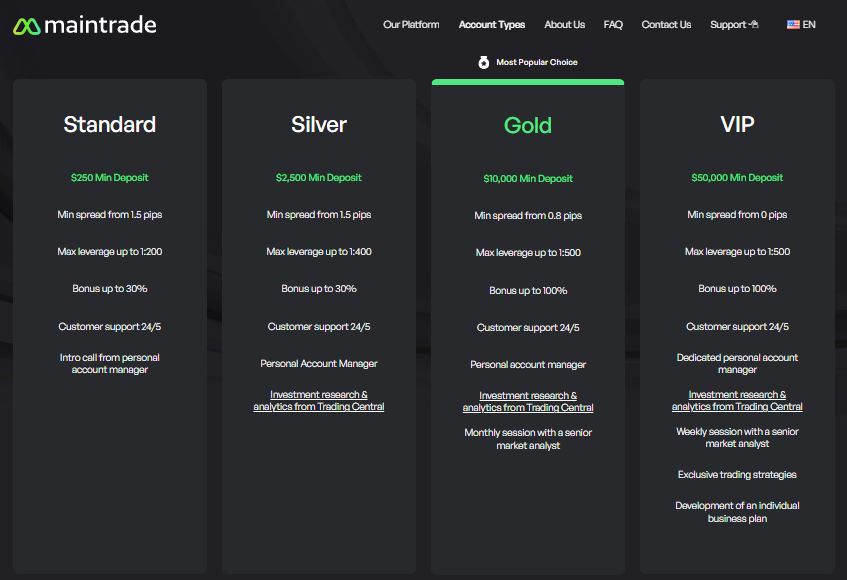 One way to recognize a scam broker is by the absence of a demo account. Reliable brokers always offer demo accounts for the purpose of risk-free analysis and practice.  Scammers like MainTrade don't want their victims to understand what they've gotten themselves into before it's too late.
All accounts on MainTrade are live trading accounts and require a somewhat pricey deposit to be paid upfront before a user can access trading software. Scammers have done their research with this one, and accounts have various parameters like leverage and spread lined out. 
There is a discrepancy between the services they are offering with their accounts and what the law requires in the UK and Germany.
These are the trading account MainTrade is offering:
Standard – deposit US$250, spread of 1.5 pips, leverage up to 1:200, 30% bonus

Silver – deposit US$2,500, the spread of 1.5 pips, leverage up to 1:400, 30% bonus

Gold – deposit US$10,000, the spread of 0.8 pips, leverage up to 1:500, 100% bonus; Scammers say this is the "most popular" account type, and encourage this purchase

VIP – deposit US$50,000, the spread of 0 pips, leverage up to 1:500, 100% bonus
MainTrade Bonus Offered
Many of these bogus brokers like MainTrade offer unrealistically generous bonuses. It stands to reason that they use this strategy to attract victims. Everybody loves free money! Most financial regulators worldwide explicitly forbid bonuses because of how difficult it is to regulate such transactions, the exceptions being Canada and the USA.
With MainTrade bonuses range from 30% up to an unbelievable 100% bonus, which is unprecedented with any legitimate brokers. We have examined how the UK's FCA and German BaFin have banned these bonuses. 
By offering a bonus on the deposit, MainTrade can use different scamming tactics to refuse a withdrawal from their client's accounts. For instance, they can claim that the client has not made enough profits to cover the bonus they have been issued.
Methods of Deposit and Withdrawal
MainTrade advertises different methods when it comes to account updates, like Bank Cards, Bank Wire Transfers, and Bitcoin. New accounts are not accepted at this time so there is no way to check whether this is true, but we can make an educated assumption that only Bitcoin transfers are available. Crypto payments are impossible to track and there is no chargeback option like with Bank Cards, which makes it the most popular method used by frauds.
Withdrawals are made difficult by the presence of large bonuses, and hidden fees. These fees include a $100 admission fee for a new account, as well as a $50 inactivity fee. Other hurdles are presented by some insane requirements when it comes to authorizing a withdrawal. A client must prove their identity by presenting MainTrade with a scan of a personal ID, and a scan of a utility bill from the place of residence.
How the Fraud is Carried Out
The MainTrade broker scam uses some common fraudulent strategies. They will lull their victims into a false sense of security by claiming that they are a registered company, and offer unheard-of bonuses on deposits.
The swindlers will then manipulate trading information in their Web Trader, the only trading platform they offer. Thanks to the high leverage, this will hemorrhage money quickly from the client's account, encouraging further spending.
When a victim wishes to withdraw their funds for any reason, the scammer will refuse to pay out, claiming that the bonus has not been paid for. They will also require personal identification and other information which they can use to extort their victims further or commit identity theft. The scammers may even sell this personal information to a 3rd party!
MainTrade
Summary
MainTrade is an unregulated scam broker that uses lies and deception to attract their victims. Promises of high leverage, good spreads, and high-quality trading platforms are all just shams, and under the shiny facade hides a heart of darkness.
The swindlers will offer generous bonuses but require pricey initial deposits before allowing any access to a trading platform. 
There is no demo account, and every trade is costly and final. With the way, withdrawals are handled, and because all deposits are only accepted in crypto, every investment with this faux company is an instant financial loss. The risk is not only financial, as the frauds will try to coerce personal information from the victims!
FAQs About
MainTrade
Broker
Is MainTrade a Regulated Broker?
No, MainTrade is an unregulated, unregistered broker that has no authorization to offer their services to the public.
Is My Money Safe at MainTrade?
No, MainTrade adheres to no safety measures or regulations. From day one, your finances are at risk with this fraudulent entity!
What Is The Minimum Deposit at MainTrade?
Minimum deposit with MainTrade is $250, but ranges up to $50,000 depending on your choice of an account.