April 24, 2023
Reading Time:
5
min
MigoTrade Review: Do Not Deal With This Broker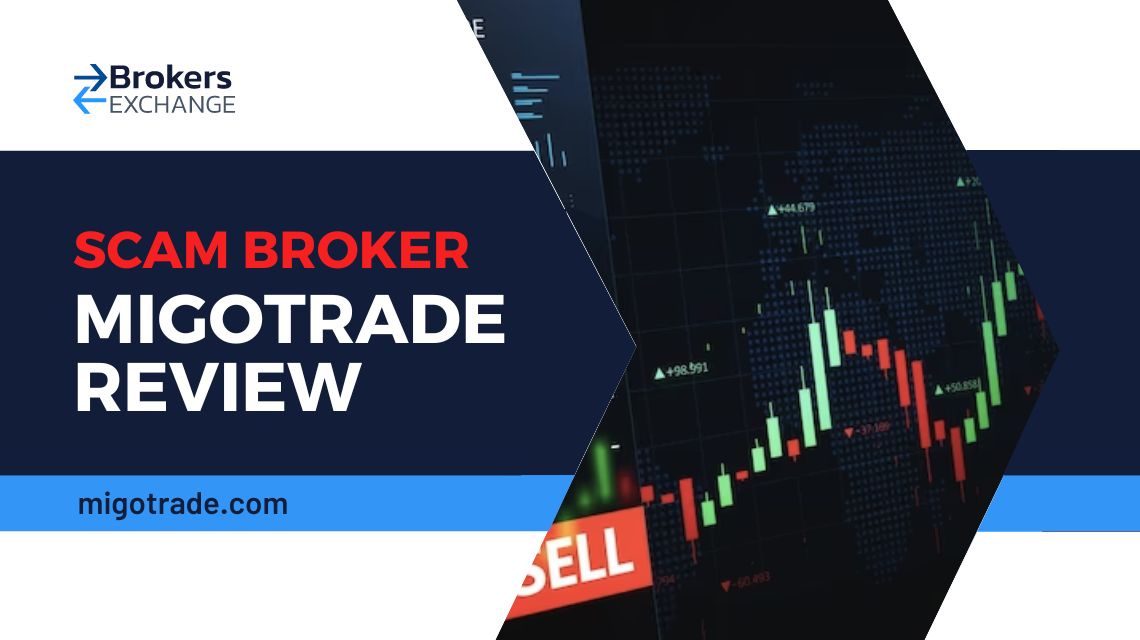 MigoTrade Review, It would be every trader's dream come true if this company was what they claim to be. This faux broker assures you that you can benefit greatly from their expertise, experience, and trading tools. 
You could trade like a pro and develop an ultimate trading methodology that will ensure your wealth and quick profit. Of course, none of it is actually plausible, for several reasons. We will discuss them in detail in this MigoTrade review. 
The first one we'd like you to pay attention to is the broker's registration in SVG. Secondly, they show zero transparency pertaining to funding and payouts. Lastly and most importantly, they've been blacklisted so many times you can easily lose count! These are the warnings:
FCA (UK):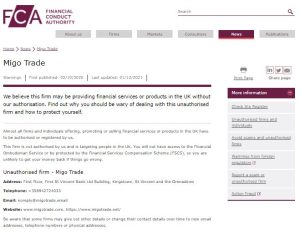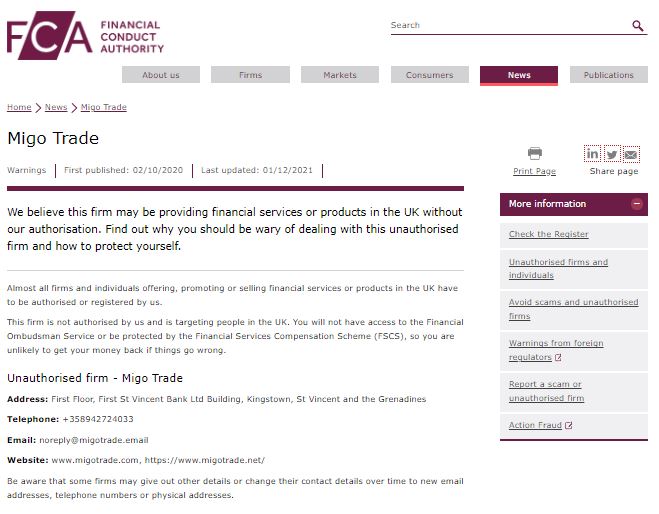 FSMA (Belgium):

AFM (Netherlands):


Furthermore, we highly recommend that you avoid the scam brokers Options Trade Fx and Beurax.
Company

Smart iSolutions LLC

Website
MigoTrade.Com

MigoTrade.Net

Address
SVG
Email
N/A
Phone
N/A
Minimum Deposit
N/A
Leverage
1:200
Bonuses
No
Regulation
Unregulated
Warning

FCA, FSMA, AFM, Financial Commission
MigoTrade Regulation and Fund Security 
MigoTrade doesn't even refer to the regulations and licenses at any point on their website. It's like it's a completely irrelevant aspect of the business. Their Terms and Conditions doc mentions that clients are protected by the European Union laws and regulations. Yet, they provide zero proof for the claim. 
That's no wonder since they're not regulated anywhere. Starting from that claim and the address of the company being SVG, MigoTrade would have to be licensed elsewhere. That is, if they intend on offering their services to EU customers like they do. When we started checking the major databases of brokers with licenses, we found what we feared the most. 
Not only is MigoTrade not authorized by any regulatory body, but they've been blacklisted multiple times! Direct links to the warnings are in the intro of this company review. The lack of transparency, cyber theft, shady monetary transactions, and unacceptable trading conditions and environment have got them shut down eventually.
In accordance with the Tier 1 regulatory standards in the UK and EU, MigoTrade would have to provide segregated bank accounts for the safe-keeping of deposits.
The risk of loss is reduced with the leverage cap of 1:30, while MigoTrade offers theirs at 1:200 max! There's no negative balance protection or compensation fund provided at MigoTrade. You won't even know what prices and fees await you as they're so obviously untransparent and anonymous. 
MigoTrade Trading Software Overview 
A unique trading tool introduced by MigoTrade and equipped to bring the ultimate trading performance is what Sirix should be. The broker also compliments the incredibly simplified interface for efficient trading on the go. 
A little too simplified if you ask us. Buy and sell are the only available actions. No chart customizing, no complex technical analysis, nothing. The left side of the distribution shows the poor choice of financial products available. A platform that doesn't provide any of the baseline features of most advanced trading terminals should never be your software of choice. 
Trading Instrument
An array of tradable asset groups, what we're usually seeing on regulated sites, is not something you will find at this company. These are the only groups of financial instruments available:
Forex (EUR/USD, GBP/USD, EUR/GBP, USD/JPY, USD/CAD, USD/CHF)

Stocks (Amazon, Netflix, Aurora Cannabis, Microsoft, Visa, PayPal)

Indices (NSDQ, DOW, SP500, DAX, FTSE, NIKKEI)

Commodities (Aluminum, Crude Oil, Silver, Gold, Cotton, Cocoa)

Crypto (Bitcoin, Ethereum, Ripple, Bitcoin Cash, Litecoin)
Account Types Offered
Unflattering and all too common account names is something almost every scammer features. The same awaits you at MigoTrade. Along with no disclosure of expected deposits, MigoTrade remains completely vague about all the features. Some are mentioned, but these are standard with regulated brokers, so you have no reason to invest here. Starting from Bronze and all the way up to Diamond, the 4 account types at MigoTrade are described as realistic as a fairy tale. 
Deposits and Withdrawals Procedure
If you thought account types are what MigoTrade is mostly shady with, let us prove you wrong. Deposits and withdrawals are a complete mystery. The client area allows choosing between Visa, MasterCard, and Migopay. Nowhere does it say what the minimum deposit is or what the minimum withdrawal amount is allowed? 
The withdrawal procedure is not explained either. But the fees do come with it. The base ones are between 25 and 50 EUR for any payout request. Aside from the fixed fees, MigoTrade reserves the right to charge additional ones, without any prior notice. 
How Is Fraud Carried Out?
Some fraudulent brokers allow you to choose if you'd like to receive a bonus or not. MigoTrade doesn't bother asking. In order to turn you into their financial hostage, they immediately slap a bonus on your deposited sum. This binds your entire investment and this company will not allow you to withdraw a single penny. How?
After you've been credited with a bonus, you will have to meet certain criteria before withdrawing anything. MigoTrade will demand additional documentation, verifying, and fees paid. Also, you will meet another obstacle, called the trading volume requirement. It all leads to the same outcome: MigoTrade gets rich and you are discarded and ignored after you've given all you can give. 
MigoTrade
Summary
You don't have to take this MigoTrade review as an ultimate guide to avoiding scam or an eye-opener. Simply use it as a reminder of what cyber criminals resort to just to extort cash from honest traders. The warnings published against this sophisticated scheme are proof enough of them not being worth your time and money. 
If you've already been a victim of this or any other fraudsters, you can share your experience and help us warn more traders. Many beginners get burned and then drop Forex entirely. Let's make trading more enjoyable and safe by helping others and battling scams. 
FAQs About
MigoTrade
Broker
How Secure is the MigoTrade Trading Platform?
The migoTrade platform is not secure and does not respect any regulatory demands and conditions established by major financial watchdogs.
Does MigoTrade offer a Demo Account?
No, the only way to be able to trade here is by opening a live trading account, which you won't know how much deposit it demands.
Are Payouts Subject to Taxes at MigoTrade?
Yes, besides a fixed withdrawal fee, MigoTrade also warns of sudden and undisclosed charges and commissions, so beware.