June 08, 2023
Reading Time:
5
min
MobaTrade Review:The truth behind the Unlicenced Forex Provider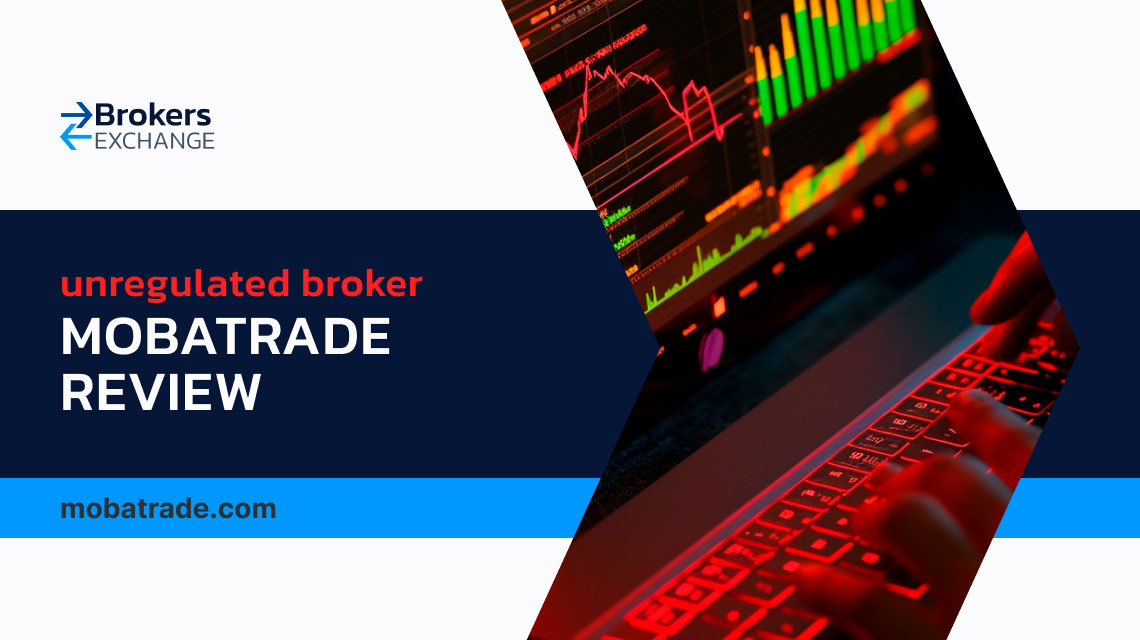 Online trading platforms are becoming an increasingly popular way of making financial means and profits from the comfort of your own home,but there are many platforms to choose from so how do you know which one to trust?In this article we will look into the Mobatrade platform,its regulations,platforms,reviews and more,to provide you with a comprehensive understanding and all information you need to be sure that they should not be your choice.
| | |
| --- | --- |
| Company | MobaTrade |
| Regulation | Unregulated Broker |
| Warning | N/A |
| Website | Mobatrade.com |
| Address | 1 Cabot Square, London E14 4QJ, United Kingdom |
| Email | N/A |
| Phone | +442030052931 |
| Minimum Deposit | 250 euros |
| Leverage | N/A |
| Bonuses | N/A |
Is MobaTrade Legit? Regulation and Safety of Funds 
One significant concern regarding MobaTrade is its unlicensed status as a brokerage. MobaTrade operates as an unlicensed forex provider, which raises doubts about its legitimacy and adherence to industry regulations. The absence of a valid license from reputable financial regulators is a red flag for traders seeking a secure and regulated trading environment.
MobaTrade openly admits that they are unregulated, stating that they are in the process of obtaining their regulation while encouraging traders to invest in their services that are not legally approved or executed.
The company is very anonymous with its operation.On their website, they provide an alleged UK address as their headquarters, but that is the only information they disclosed.While the anonymity of a broker can seem as a good way to protect one's assets and trading,it prevents its users to do their due diligence before deciding to invest, this information alone is enough for you to see that this company is fraudulent and not a secure choice for investing
Trading Platform Overview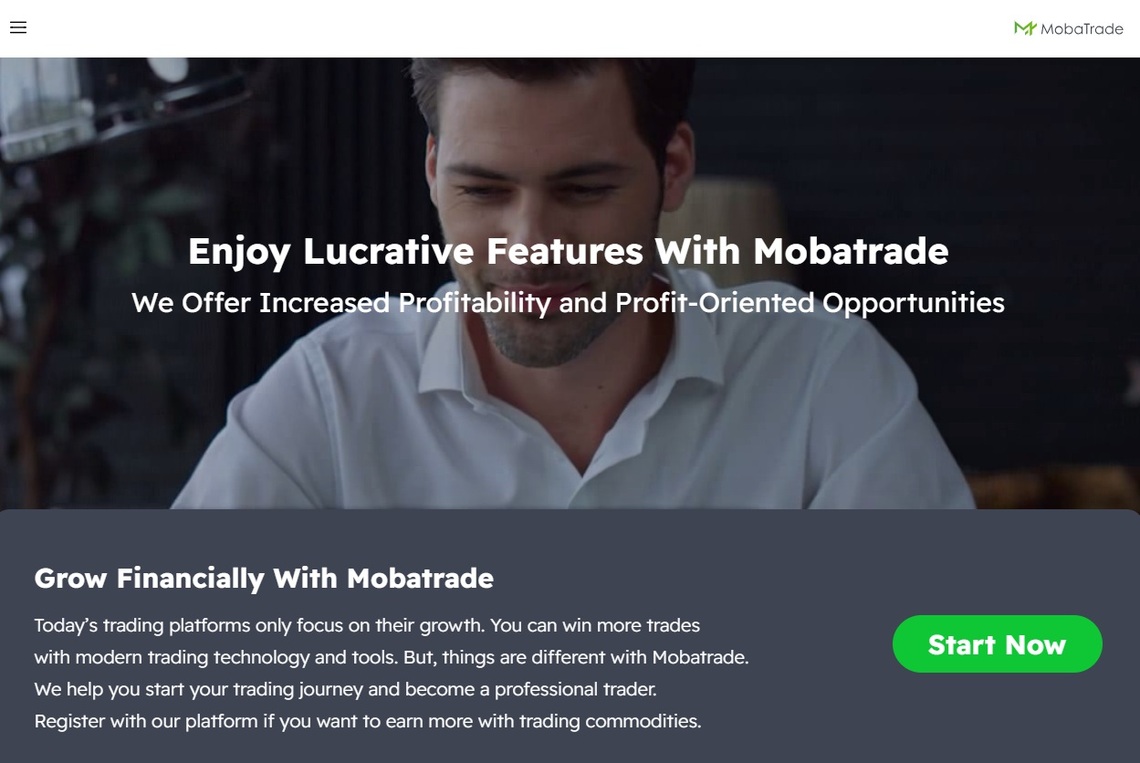 If you make the decision to invest with MobaTrade, although we strongly advise against it, you will only have access to their WebTrader platform. The company attempts to deceive investors by promoting browser-based software as the ideal solution, despite the lack of evidence to support this claim, they do not provide traders with a mobile phone platform, which is very typical for any reputable trading company.
 Legitimate firms, confident in their offerings, typically provide open access to allow potential users to explore and evaluate their services, they achieve this by providing users with demo accounts, where they can try a simulation of trading before actually investing.MobaTrade provides no such thing which is concerning,they won't let users try out their service and this is a clear as-day indicator that their services are not trustworthy.
Account types offered at MobaTrade
At MobaTrade, prospective investors have the option to select from four different types of accounts:
Vip

Bronze

Silver

Gold

Platinum

Diamond

Premium
The minimum deposit requirement increases significantly as you progress from a Vip to a Premium account at MobaTrade.While you can start with a minimum investment of  $1,000 , opting for the highest-tier option would entail a substantial deposit of $50,000.0.
Furthermore,The company states that the minimum deposit amount for their platform is 250$,yet the most basic account package requires a $1,000  investment,so this means that you can't actually do any trading with the initial deposit of $250 instead you have to invest another $750 before you can actually do any real trading on the platform.
This misleading and false information on the funds required is yet another indicator of the company's fraudulent operations.
MobaTrade Funding Method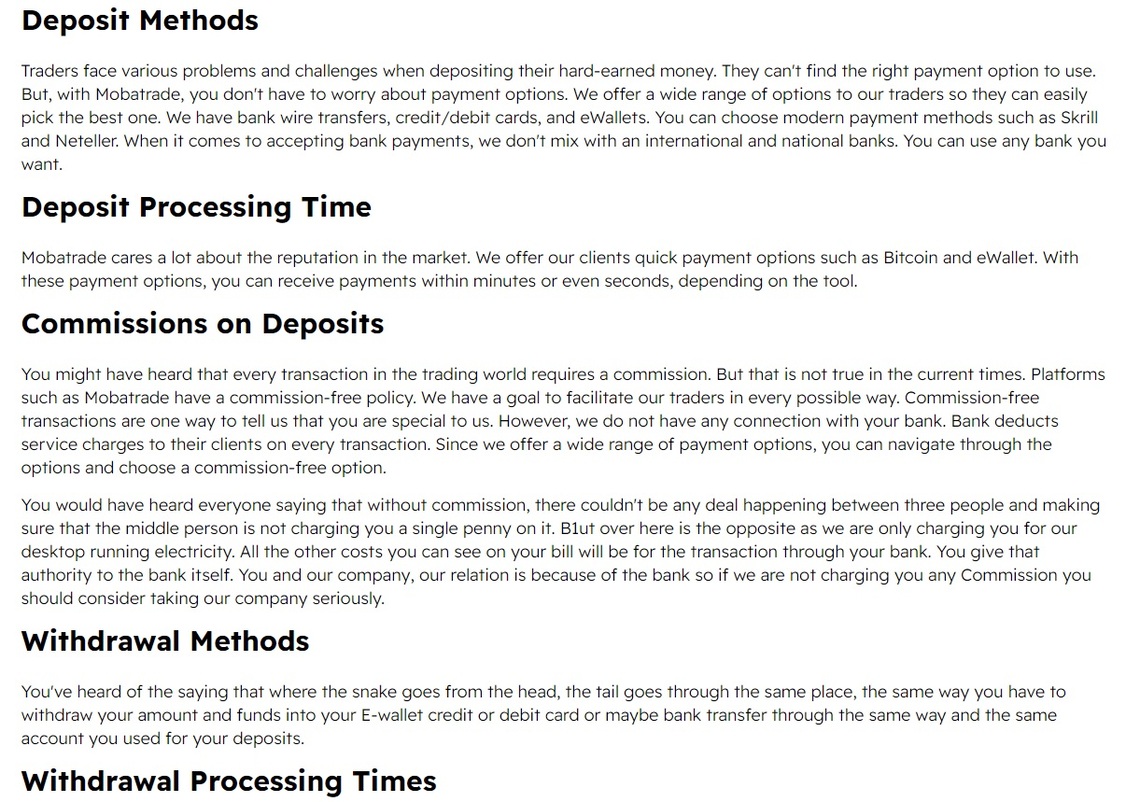 A list of acceptable payment options from MobaTrade is available, and it includes :
E-wallets

debit/credit cards

Wire transfers
However, important details about the withdrawal procedure are still kept a secret. It is unknown whether there are any restrictions on bonuses, what the minimum withdrawal amount is, and how long it takes for money to be deposited to your account. Potential investors know very little about the withdrawal processes and related terms due to the lack of transparency.
The minimum deposit of $250 looks tempting to investors,but as previously mentioned you can't do anything on the platform without investing even more money,so this information about the deposit amount serves only to captivate  potential investors.
How is the Fraud Orchestrated?
Scammers similar to MobaTrade use mostly the same tactics as any other scammer platform.They lure you into investing on their platform,with different strategies,by for example low minimum deposit amounts,large bonuses and great customer support.They are determined to make you believe that they are trustworthy and safe by using these methods,but with their profit in mind and not yours as they make it seem in the beginning.
Keep this in mind,if a platform seems perfect and unflawed,thoroughly thought through and magnificently executed,it is very likely that it is a scam.Nothing in life is perfect so it is hard to believe that a business with high risk potential actually is not risky at all,which is how these companies make it seem.
If you come across fraudulent platforms or get scammed by such,do not hesitate to go against them.By doing so you could help other people who are in danger of getting scammed and being victims of fraud.You should always inform the appropriate authorities and suggest a course of action,this way you can protect others and also get your funds back.
There are numerous ways for you to retrieve your funds,you can ask your bank provider for a chargeback,contact crypto tracers and ask them for help or talk to the authorities and file a financial fraud report.
MobaTrade Summary
As we approach the end of this summary,we can with the utmost certainty say that this broker is a fraud and a scam.But fear not,this article is just here to help you avoid such scams in the future and teach you to always think before you act.
Never invest into a brokerage without having thoroughly investigated them beforehand.
Always check if the broker is regulated and licensed,if they are approved by authorities and of course read through customer reviews.You can learn from others mistakes and steer clear of trouble by simply informing yourself about the broker you are thinking about investing in.
We wish you happy, and most importantly safe trading!
FAQs About MobaTrade Broker
What Can I Trade with a MobaTrade?
You can trade with a wide range of financial instruments, including Forex, commodities, indices, shares, and cryptocurrencies.
What are the Available Methods of Withdrawal?
The available methods of withdrawal are bank transfers,e-wallets and credit/debit card withdrawals.The same methods used to deposit the money in the first place.
Is MobaTrade Broker Regulated?
MobaTrade is NOT a regulated broker.They very openly state on their website that they are currently not regulated by authorities.