March 05, 2023
Reading Time:
5
min
MorganFinance Review – Scam Lies Behind This Broker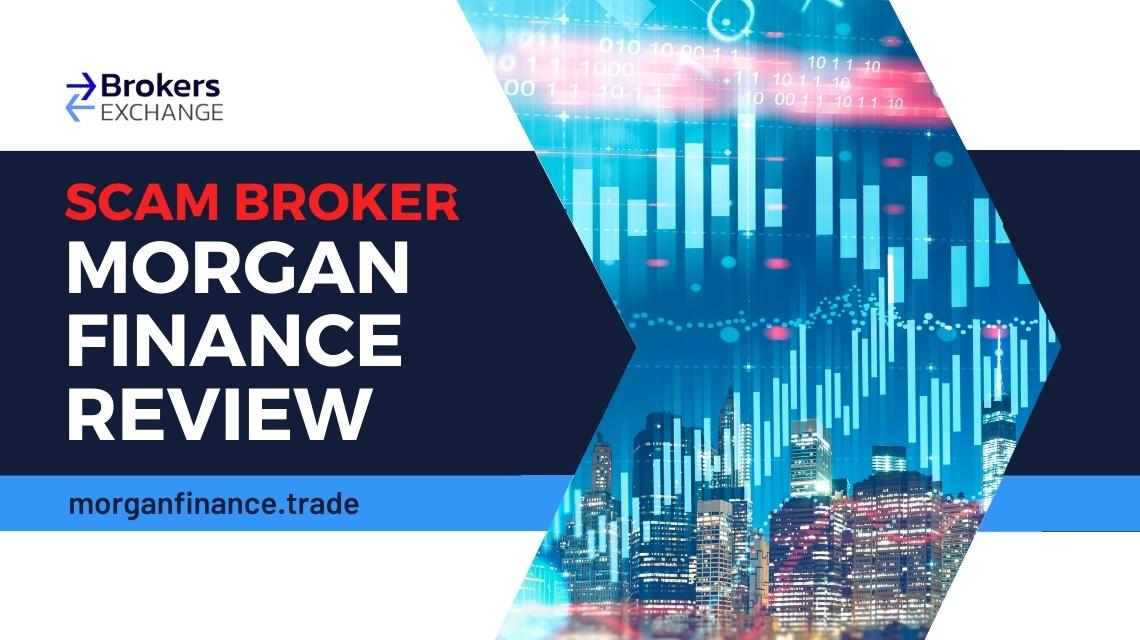 Effervescent Group LTD from a completely made-up, generic address in the SVG apparently operates and controls the MorganFinance website. By now, our readers must be very well acquainted with Saint Vincent and the Grenadines and their place and status in the online financial world. More on that later in this MorganFinance review.
For now, MorganFinance remains highly suspicious and not in any way trustworthy. Despite the decent-looking website and somewhat attractive offer, MorganFinance is still unregulated and a form of scam. When the broker lacks a legal directive, regulatory framework, and transparency, a shiny website doesn't help much.
| | |
| --- | --- |
| Company | Effervescent Group LTD |
| Website | MorganFinance.Trade |
| Address | SVG |
| Email | [email protected] |
| Phone | +447418358180+447418357950 |
| Minimum Deposit | $250 |
| Leverage | Up to 1:300 |
| Bonuses | N/A |
| Regulation | Unregulated |
| Warning | N/A |
Is MorganFinance Trustworthy? Regulation and Security
To say the least, MorganFinance is not in any way trustworthy or safe. The chance of you losing your entire investment with this fraud is 100%. Why is it so? The answer to that lies in the following lines of this MorganFinance review.
First and foremost, having a license for online trading services in SVG is not mandatory. The leading financial institution in this country doesn't concern itself with brokerage activity. Therefore, all the broker agencies registered here have to obtain a license from another regulatory entity to offer their services.
Depending on the jurisdiction, licensing agencies can have more or less similar regulatory standards. FCA (UK), CFTC and NFA (US), ASIC (AU), and EEA financial authorities have the strictest licensing standards in the world.
Starting a legal brokerage business is not at all cheap. In the US, future broker-dealers have to first invest at least $20.000.000 as proof of their intentions of running a sustainable business. The investment requirement is somewhat lower in the other zones, but all brokers have to provide the best safety and security of funds. This is mainly done through segregated bank accounts for all clients' deposits.
Apart from that, companies have to limit the leverage to 1:30 or 1:50 at most, and introduce negative balance protection. Different areas may or may not allow bonuses but another obligatory rule is full transparency. In the EU, ESMA enforces MiFID directives to prevent money laundering attempts and provide maximum customer security.
Since our team did check the databases of the mentioned regulators, including several more like BaFin, CySEC, FINRA, CONSOB and CNMV, the results we came to were frightening. MorganFinance is not known to any of the authorities! This broker doesn't hold any trading license or certificate and their business is completely illegal!
MorganFinance Trading Software Overview
At first welcomed by promises of trading on MetaTrader, we quickly discovered the factual state behind the lies. MorganFinance goes on and on about the excellent trading environment on their site thanks to the implementation of the latest technological advances. The unrealistic picture of lucrative returns soon shatters, as we face the only trading software that MorganFinance actually has: a simple web-based terminal.
Evidently, the single purpose of a defective software like this one is to be manipulated. The scammers modify the data shown to traders to deceive them into believing their funds are traded. Reality of it is that the investments are not moving and have already transferred to the scammer's wallet.
Instead of losing your nerves and whole investments, make sure you pick a broker that offers popular, fast, and flexible software. These are, of course, MetaTrader 4 and MetaTrader 5.
Deposit and Withdrawal Method
Whatever way of money transactions the broker may support, if they're a fraud, investing is nothing but a loss. MorganFinance offers credit and debit cards as well as crypto currencies as methods of depositing. The accent if, naturally, on buying digital currencies as E-wallets are hardly traceable and swindlers may keep their anonymity and immunity to law.
On the other hand, leaving your credit card vital data on a scammer's website is a dangerous game to play. Once they have access to your personal information, they can drain your bank account in a matter of minutes.
However, transactions via credit cards allow chargeback during the first 540 days since the deposit was first made. That first deposit has to be at least $250, so you could join the site with a live trading account.
According to the Deposit and Withdrawal Policy, clients have to be patient during a period of 4 to 7 business days for their withdrawal to process. Denying any responsibility for the incurring fees, MorganFinance blames all the possible charges following transactions on the client's bank. Apart from mentioning an inactivity fee, MorganFinance doesn't include how much it costs.
How the Scam Was Performed
MorganFinance website is decent-looking and confident enough in its claims to spark the interest of the potential victims. Once you leave your contact info for the vultures behind MorganFinance, expect to receive numerous calls and emails.
Advertising the breathtakingly profitable environment and safety, MorganFinance agents quickly bypass the formalities and get you to invest.
Depositing is taken lightly, along with the prices and fees imposed by MorganFinance when the promises of wealth overwhelm you. Clouded judgment doesn't allow you to see through the lies until you make your first withdrawal attempt and it gets denied.
To drag it on and extort more money, MorganFinance apparently applies the trading volume requirement. A method like this is useful to keep you stuck in a trading and investing loop.
MorganFinance requires a turnover that is 25 times bigger than the deposit and bonus combined. In short, it's completely impossible to reach it and the con will always have a reason to reject your withdrawal request.
Forex Brokers Suggested
The ever-dynamic Forex market is indeed fickle and changes as the wind blows. Enormous amounts of cash are gained and lost at any moment. However, while it may bear risks, the Forex market is a solid way of multiplying your savings. Although for that you need a prestigious brokerage house you can rely on.
MorganFinance is definitely not one of the trustworthy brokers you can count on to keep your deposits safe and help you grow as a trader. Because of that, we have decided to help you spare some time so we did the necessary research. The results for the recommended brokers are visible in the table below:
| | | | | |
| --- | --- | --- | --- | --- |
| Broker | Country | Rating | Min. Deposit | Website |
| FXTM Broker | Cyprus, UK, Mauritius | 4.5 | $10 | Forextime.Com |
| OctaFX Broker | Cyprus, SVG | 4.4 | $100 | OctaFX.Com |
| FP Markets Broker | Australia, Cyprus | 4.7 | $100 | FpMarkets.Com |
| XM Broker | Cyprus, Belize, Australia | 4.7 | $5 | XM.Com |
| HFM HF Markets Broker | Cyprus, UK, South Africa, UAE, Kenya | 4.3 | $5 | HFM.Com |
| FBS Broker | Cyprus, Belize, Marshall Islands | 4.85 | $100 | FBS.Com |
MorganFinance Summary
Financial swindlers may take on many shapes and forms. The Forex market is swarming with them ever since online trading gained increased popularity. The most efficient way of lowering the risks of getting robbed is by picking an honest broker.
It may not always be so easy, especially depending on your expectations, trading needs, and experience. What you certainly should keep in your mind during the process of choosing a good site for investing is if they're properly licensed. If they aren't or if you have doubts about it, check with the jurisdictional regulatory entity and stay away from even slightly suspicious ones.
We're always at your disposal when you feel the need to share your trading experience, especially if related to MorganFinance.
FAQs About MorganFinance Broker
Is My Money Safe with MorganFinance?

MorganFinance doesn't keep clients' investments safe. As a con and a swindler, they aim to rob you, not help you grow, learn and earn.
Does MorganFinance Offer a Demo Account?

The only account you can open with MorganFinance is the live trading account. The cheapest one type costs $250.
How Long Does it Take to Withdraw from MorganFinance?

It shouldn't take more than 4 to 7 business days for MorganFinance to process your withdrawal. We don't doubt that you won't be able to withdraw a single penny, since this is a scammer we're talking about.