May 28, 2023
Reading Time:
4
min
MountainWolf Review: All the Facts Why to Avoid Them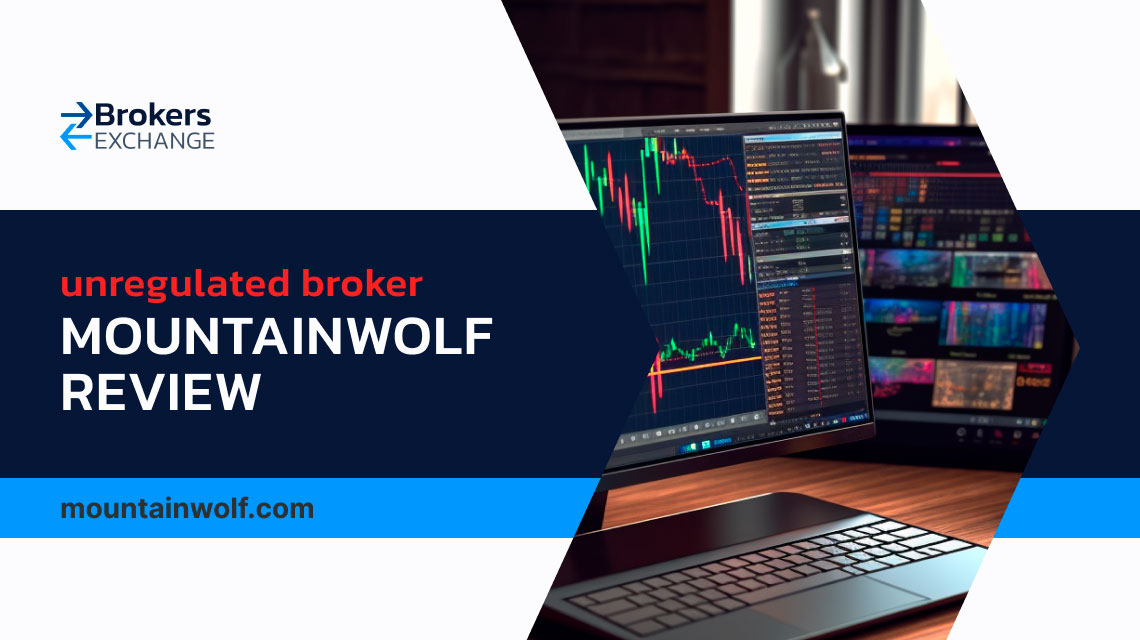 In the true meaning of shady and anonymous, comes MountainWolf. This broker has failed to mention basic details such as address details, contact information, minimum deposit, and many other things. The only thing we did actually manage to dig out about the MountainWolf is that they are based in Kazakhstan, allegedly. 
Besides their cool name, which they took from Mortal Kombat, there isn't much to find about this broker. From their complete anonymity to not holding any license or regulation, there is a lot to cover here so let's begin.

Let's start this MountainWolf review to find all the details surrounding this scammer and also to learn how to avoid getting scammed by many similar ones. 
| | |
| --- | --- |
| Company | N/A |
| Regulation | Unregulated |
| Warning | FMA, CONSOB, CNMV |
| Website | mountainwolf.com |
| Address | Kazakhstan  |
| Email | N/A |
| Phone | N/A |
| Minimum Deposit | N/A |
| Leverage | N/A |
| Bonuses | N/A |
MountainWolf Funds Safety and Regulation
As previously mentioned, MountainWolf is a completely anonymous and shady broker. There is not much information about them on their website so we had to dig deep. Really deep.
On their website, we saw that MountainWolf is claiming to be a world-renowned crypto exchange broker that holds a lot of awards. Over-exaggerating if you ask us. And of course, that kind of claim needs to be checked and that's exactly what we did.

We checked all the Tier 1 regulatory registrars, such as FCA, CONSOB, BaFin and many others, and we weren't able to find MountainWolf to be regulated anywhere.

Surprise, surprise, we saw that MountainWolf is not only unregulated but they also have a lot of warnings issued against them. Not one but three regulatory bodies have issued official warnings against them and those include FMA, CONSOB and CNMV.

More than enough to stay far away from them if you ask us. So to sum it all up, MountainWolf is nothing more than another scammer that holds no regulation and you should stay away from them.

Additionally, we want to warn you about Options Trade Fx, as they also have no regulation and pose a big threat.

Trading Platform Overview
As we have mentioned, MountainWolf is really an anonymous broker that hasn't put anything on their website. That is why, we were unable to find any mention of the trading platform, let alone one.  We did, however, see ads that this scammer advertises their trading platform as an "easy trading tool". Unfortunately, we can't confirm this.

All in all, we are left in the dark when it comes to the trading platform and what kind it is. We do advise you to find a legitimate broker that offers both industry standards MetaTrader4 and MetaTrader5.

Account Types Offered
Another shot in the dark when it comes to the trading account types that MountainWolf offers. Trust us when we say that there is nothing on their website. Many scam brokers in their attempt to pass as legitimate usually at least put some different types of accounts with different minimum deposit requirements, but yet again, MountainWolf just decided not to do that.

Since there is no mention of trading account types, we also weren't surprised that they also don't offer any Demo accounts. This is a standard tactic many fraudulent brokers use since they want to push you to open a real account on the spot so they can take your money.

Additionally, there isn't any mention of the leverage anywhere on their website, which is another red flag. Usually scam brokers like to set it too high so they can get you to invest more.

MountainWolf Funding Methods
MountainWolf doesn't even have listed deposit methods. We managed to see them at the bottom of their website. Those funding methods include the following ones: 
Visa or Master credit or debit card 

Wire transfers 

Crypto
Since they couldn't even put a real deposit menu, we can't confirm that these funding methods are actually available.

As for the withdrawals, we can't say anything about them, since again, there is no information. This just leaves us to believe they don't even allow them, so be very careful.

Unregulated Brokerage Techniques
As you can probably guess by now, trading scams basically have the same principle that is being performed through different sites and by different agents.
The broker first makes an effort to get your personal information if you have left it on some sketchy sites and then they will try to reach you either by email, but more likely by phone. Keep in mind that the agents calling you are persuasive professionals who scam people for a living, so you can't just assume you will be immune to their stories. 
Even after you say no, they will continue to call you until you agree to make an initial deposit. Their end goal is to make you invest at least once, and after you may suspect they are no more than a scam the trap is fully shut and they will do anything to keep your money.  
MountainWolf
Summary
In our MountainWolf review, we tried our best to warn you against this scam broker that is trying so hard to remain anonymous. Even though they allegedly offer their customers an opportunity to invest in crypto, we are sure no trading will take place on their non-existent platform.
Something as basic as the info about their account types or even minimum deposit is nowhere to be found on their website, which is a huge red flag.
In addition to this, MountainWolf has multiple warnings issued to them by some of the biggest regulatory bodies including CNMV, CONSOB and FMA.
We advise you to start trading with the recommended brokers we gave you so you don't fall victim to lousy scams similar to MountainWolf. 
FAQs About
MountainWolf
Broker
Is MountainWolf Legally Registered?
No, MountainWolf is not a legally registered broker you can trust so we advise you to avoid them.
How Secure is MountainWolf Broker?
This scam broker that is trying so hard to remain anonymous is not at a secure place for you or your money.
Does MountainWolf Have Hidden Fees for Withdrawal?
Since there is no mention of anything on their website, we are unsure about this.