July 29, 2023
Reading Time:
6
min
National Trade Center Review: The Real Truth Behind the Broker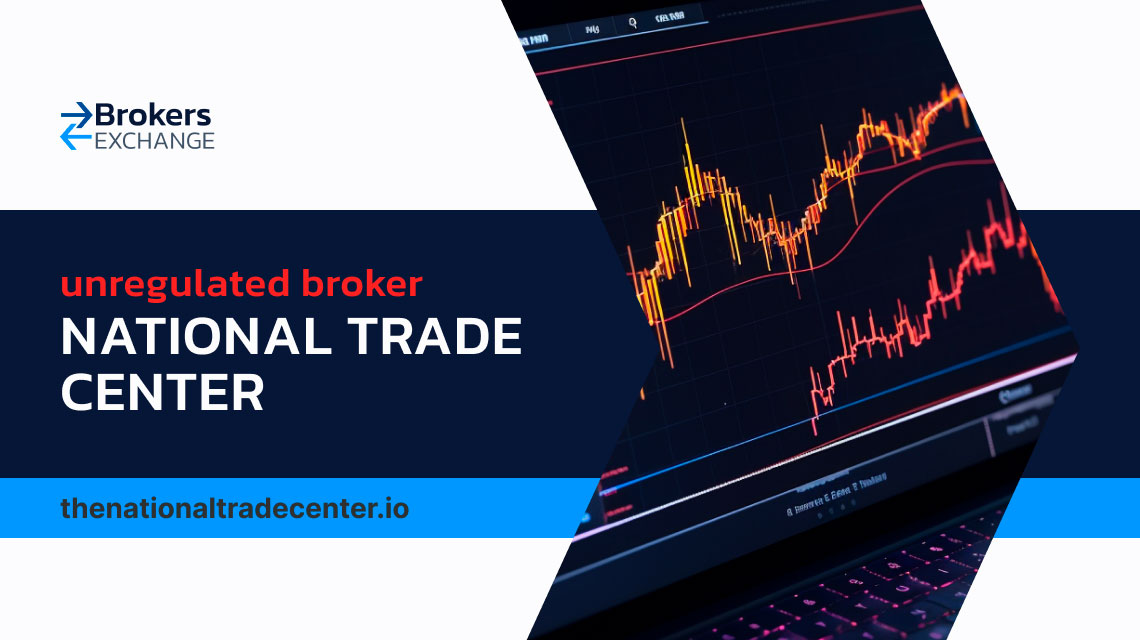 Explore our National Trade Center review in-depth to learn more about the brokers' account kinds, the traders they support, a close examination of their profiles, and much more. Discover why you ought to avoid the National Trade Center and its platform by reading on. 
Unfortunately, there are other bogus brokers besides the National Trade Center, so check our reviews of Genesis Blockchain and Glenrocks to keep informed and stay away from them. 
Who Is National Trade Center? All About thenationaltradecenter io
National Trade Center is a brokerage company based in Suit 305 Griffith Corporation Center, Kingstown, St. Vincent and the Grenadines. They also go by WTC Group Limited registered at 26224, Samou 8 Street, 1086 Nicosia.
National Trade Center

Reliable Broker Must Have

Legal name:

WTC Group Limited

Transparently displayed in the disclaimer or legal documents

Regulation:

Not regulated

Within your legal jurisdiction – local regulator

Registered at:

Suit 305 Griffith Corporation Center, Kingstown

St. Vincent and the Grenadines

Your country or the country whose license applies in your legal jurisdiction 

Established:

N/A

The older the domain – the higher the possibility the company is trustworthy

Website:

thenationaltradecenter.io

Domain should be from local or international zones, no .xyz etc.

Financial Authorities Warnings:

FCA

None

Contacts:

+44-1669220639

+61-870936058

+35-722-032-567

Web Form and Live Chat

Phone, email, social media, web form

Is a withdrawal possible:

Highly unlikely

Yes

Fees:

Rollover fee, Hidden fees

Transparent fees – list of spread and commissions

If Active on Social Media:

No

Often present on social media

Investor Protection:

None

Compensation fund
Regulation Info
We were certain the National Trade Center is not regulated even before glancing at their disclaimer. But even so, we do comprehensive research for our reviews, so a deeper look at the Privacy Policy and Terms & Conditions confirmed that they aren't regulated. What we did find is a warning and that alone should be enough for you not to trade with them. 
The Federal Conduct Activity (FCA) published a warning against National Trade Center, accusing them of trading in the UK without their regulation. Anyone conducting trading business in the UK must be regulated by FCA.  
It's also important to note that the National Trade Center is not regulated by the Australian Securities and Investments Commission (ASIC) in Australia, the Securities and Exchange Board of India (SEBI), the Securities and Exchange Commission (SEC) in the US, or the Securities Board of Nepal, where it operates from.
National Trade Center Broker Profile
National Trade Center offers trading in more than 200 instruments, including forex and cryptocurrencies. They are using the MT4 trading platform that is available as a web trader or a desktop app. 
Trading platforms:

MT4 Web Trader Classic, Web Trader 2.0 

Account types:

Micro, Basic, Gold, Platinum, Vip

Financial Instruments On Offer:

Index

(S&P 500, FTSE 100, NASDAQ 100)

Commodities

(Oil, Natural Gas, Gold)

Cryptocurrency

(Bitcoin, Ethereum, Ripple)

Maximum leverage:

1:500

Minimum Deposit:

250 USD / GBP/ EUR

Commissions/bonuses:

N/A

Mobile app:

No

Desktop app:

No

Autotrading:

Yes

Demo account:

No

Education or Extra tools:

Glossary, Technical Analysis, Fundamental Analysis, Economic Calendar
National Trade Center Account Types
Each account type has a different deposit amount and offers more 'benefits'. Unfortunately, in reality, you have to pay more money for each account type while receiving nothing beneficial.  The deposit can be done in only 3 currencies which are GBP, EUR, and USD. There are five account types available in total, which are: 
Micro (250)

Basic (5,000)

Gold (10,000)

Platinum (50,000)

VIP (Invitation Only)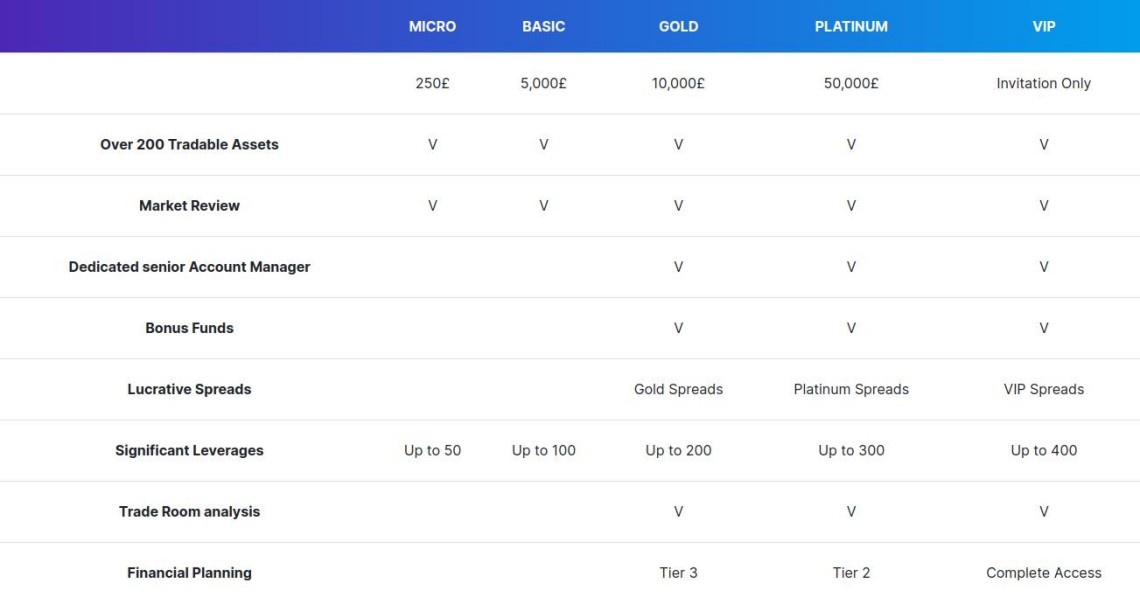 Is National Trade Center Safe To Trade With?
National Trade Center is anything but safe, as evidenced by the numerous warning signs and a caution from a reliable regulator FCA. National Trade Center is simply one of several scam brokers that will likely grab your money and go with it due to their lack of regulation and transparency. Without an open and accessible list of fees and rules, no broker is reliable and secure. 
Trades should proceed cautiously, and if you have money invested, you should request a withdrawal right away. Even though it is extremely improbable that it will be accepted, you could still get your money back by requesting a chargeback on your card.
National Trade Center Review: Traders' Thoughts and Opinions
The Trustpilot reviews for the National Trade Center are anything but positive.  21 reviewers in all shared their thoughts on the broker and their platform. More than 50% of the reviews are unfavorable, and we discovered that the majority of them center on withdrawal issues. One trader even remarked, quote: "They are the biggest liars, cowards, and thieves. They will try to get as much money out of you as possible and then when you try to draw some out they will not release it. Tried to contact them and they just ignore you. My 2 friends lost $77000 and $34000 respectively. "
The National Trade Center's reviews on Sitejabber are a different story. With over 90 reviewers in total, they have an overall score of 4.02, which is good for a scam broker. After a detailed analysis of some of the reviews, we did come across a trader with photo evidence that clearly shows how many times the withdrawal has been canceled. 
A Look at National Trade Center's Traders They Serve
The reputable and necessary regulatory agencies that should be monitoring the broker and safeguarding the investments of the traders they serve are absent. Global traders are urged to tread cautiously and stay away from this broker at all costs. This scammer broker is operating from:
Australia

United Kingdom

India

United States

Nepal
It's only a matter of time before another trustworthy regulatory agency follows the FCA's lead and issues a warning and advice to traders to avoid this fraud. If you want to have a successful trading experience, you absolutely must trade with a regulated broker. Contact us for a free consultation if you need trade counsel or are having problems finding one. 
Deposits and Withdrawal Methods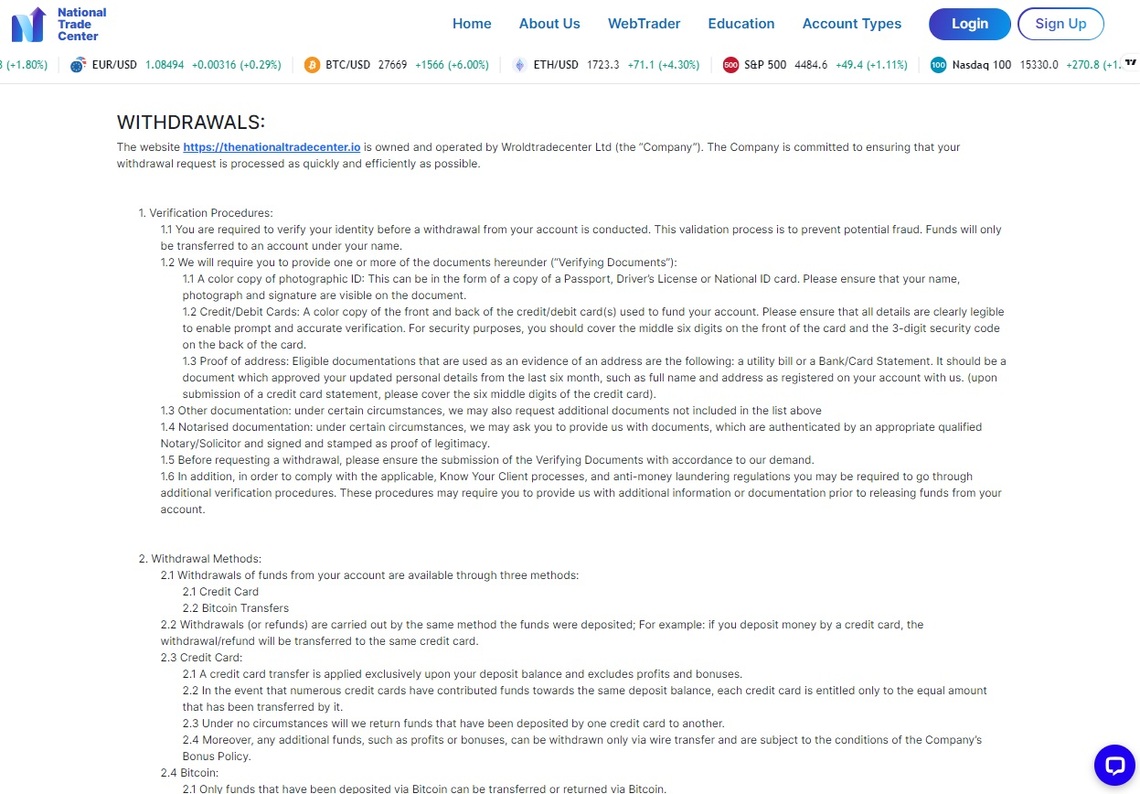 The only deposit and withdrawal methods available are Credit cards and cryptocurrencies. This is not only suspicious but also bad compared to other brokers. In addition to a withdrawal, there is also an option to refund your funds in case you dislike their trading platform, although we believe it is highly unlikely to receive either of them. 
It is stated on their websites that the deposits are final and non-refundable once completed. Their entire deposit and withdrawal scheme is suspicious and raises red flags. Fees regarding deposits and withdrawals are hidden, which is yet another warning sign to stay away from National Trade Center. 
National Trade Center Pros and Cons
Pros
Cons

None applicable

Unregulated

Lack of transparency

Suspicious withdrawal method

Only 2 payment methods

Hidden fees

FCA warning
Insights from Our Trading Experts
So far, it has been quite evident that National Trade Center is just another con, and you should avoid using the broker. They lack transparency, are unregulated, demand enormous deposits for each type of account without providing any benefits, and don't offer a sample account so you may try them out. UK citizens were advised not to deal with National Trade Center after FCA published a warning about this rogue broker. The National Trade Center has no advantages that we could point out, although even unregulated brokers typically have a few. 
Selecting a transparent, licensed broker with whom you can get in touch when necessary is essential to having a successful trading experience. Trading is already a risky business, but the risk increases when using brokers like this one. Contact us for assistance whether you require trading guidance or if you merely need assistance in locating a broker who can meet your needs. 
FAQ Section
What Is NATIONAL TRADE CENTER?
National Trade Center is a brokerage company operating without a license, registered at Suit 305 Griffith Corporation Center, Kingstown, St. Vincent and the Grenadines.
Is the NATIONAL TRADE CENTER Regulated?
No, the National Trade Center is not a regulated broker. The majority of their clients come from the UK, so FCA even published a warning, advising traders to stay away from this broker, as all brokers operating in the UK must hold a FCA license.
What Is NATIONAL TRADE CENTER Trading Software?
The MT4 platform, which is accessible through desktop software and a web trader, is used by National Trade Center. Although MT4 is thought to be a secure platform, traders are encouraged to exercise caution because it can still be readily manipulated