March 18, 2023
Reading Time:
5
min
Networkfsi Review: Learn More About This Scam Broker
Networkfsi is the name of a now-defunct bogus broker that claimed to be based in Estonia, with additional regional offices in the UK, Belgium, and Canada. In 2022 a warning was issued by Spanish authorities pertaining to the fraudulent activities committed by this group. This is the most likely reason for the website's shutdown.
You may view the warning issued by the Spanish financial regulator CMNV by following these links: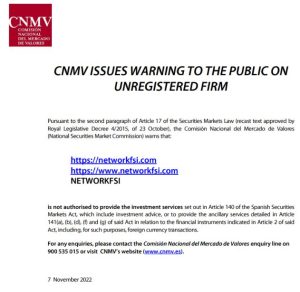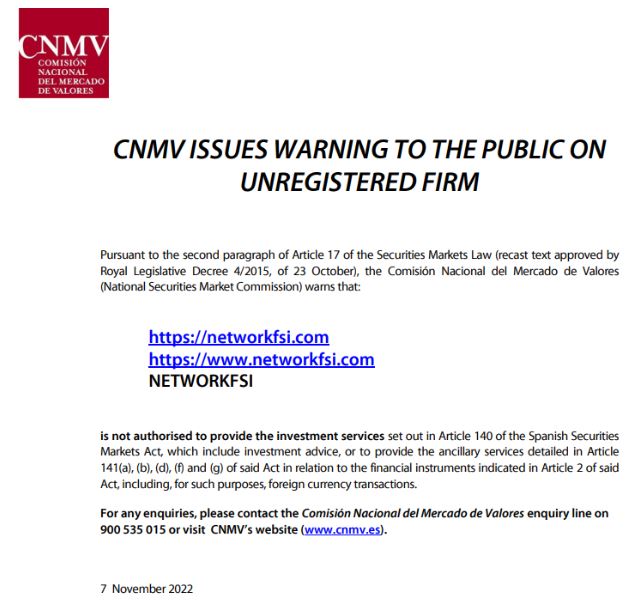 Any market speculation is serious business, and online broking is no different. Each day, trillions of dollars change the hands of tens of thousands of traders worldwide in the Forex market alone. One can see why this market would be a prime target for scammers, as the internet offers them a layer of anonymity.
This does not mean they are immune to scrutiny, however. It is the goal of this Networkfsi Review to inform the public about these frauds' antics, and in doing so give new and seasoned traders a good reminder of what to pay attention to when selecting a broker for their business.
Company

Networkfsi

Website
Networkfsi.Com
Address

25 Basinghall St, London EC2V 5HA United Kingdom

175 Bloor Street East South, Tower, Toronto

ON M4W 3R8, Canada

Av. Louise 326, 1050 Bruxelles, Belgium

Email
[email protected]
Phone

+442080976007

+16474839770

+3223206263

Minimum Deposit

€5,000

Leverage

1:200

Bonuses

Yes

Regulation

Unregulated

Warning

CMNV
Networkfsi
Regulation and Security
One of the main means by which we can appraise the legality of an online broker is by examining their trading licenses. Depending on the nation and region where the company is established we can expect different licensing conditions.
Networkfsi claims to be based in Estonia, with additional regional offices present in Canada, Belgium, and the UK. All of these countries have very strict financial regulators. Estonia, as well as Belgium, are member states of the EU. In order to start a broking business in one of the EU member states, a broker must satisfy the following conditions:
Starting capital of €730,000

Compensation scheme of €20,000

Segregated bank accounts

Negative balance protection on client's accounts

Leverage restriction of 1:30

Bonuses are not allowed

Transaction transparency is required
As Estonia and Belgium are in the EU, additional MiFID rules and regulations also apply before a license can be issued. When it comes to regulatory conditions, there are some minor differences between the UK and Canada. In Canada, for instance, bonuses are allowed.
We can immediately see how Networkfsi breaks a number of these rules, which makes it unlikely that this fraudulent broker has a license in any of the countries we mentioned. For starters, Networkfsi offers a leverage of 1:200, which is much higher than what is allowed in the EU, the UK, or Canada. They also offer bonuses which are illegal everywhere besides Canada.
We can also easily check our suspicions while searching the registry of actual regulatory agencies. After inquiring with Estonian FI, Belgian FSMA, the UK's FCA and Canadian IIROC, we have found no entries named Networkfsi. 
Broker's Trading Software Overview
Unlike many other scam brokers who usually offer only the simplest Web Trader as part of their "services", Networkfsi also offers MetaTrader 4. On paper, that is. Their Web Trader is barely functional, and their Metatrader 4 distribution is even less so. 
This is all by design, of course. By limiting functionality in Metatrader 4, swindlers will make their clients rely heavily on a Web Trader, which is prone to external manipulation.
Regulated brokers will maximize their profits through the successful business of their clients. To allow for a profitable trade, these companies will do their utmost to bring only the best in trading software and tools to their investors. 
The most popular software that is in use today includes Metatrader 4 and Metatrader 5, and some brokers also offer their own custom solutions. Lately, thanks to the rapid advances in AI technology, trading automation software has become more widespread as well.
We have learned how Networkfsi is not a regulated broker, but a fraud, so their main means of raising a profit is by stealing from their clients. For this, they don't need good trading software, they just need something that looks the part enough to lull their victims into a false sense of security.
Deposit and Withdrawal Process
Currently, it is impossible to tell how the accounts at Networkfsi are funded. By comparing them to other fraudulent brokers, we can make an educated assumption that the main method of funding is cryptocurrency transfer. 
This makes the cash flow nearly untraceable, which allows the swindlers to hide more easily. First deposits also allow for bonuses, but the amount of these bonuses is not disclosed.
In their terms and conditions, a pseudo-legal document that outlines rules of withdrawals amongst other things, there is a clause that states that bonuses and client-generated profit do not belong to the client, and therefore are not subject to withdrawals. The client may only withdraw their initial deposited sum, but only after paying an undisclosed amount in different fees. 
Account Types at Networkfsi
Many regulated brokers today will offer a selection of different accounts. These would be based on the different ways a broker charges for their services. For instance, there are different account types based on spreads, different fees, swaps, and so on. Nearly all reputable brokers also offer a demo account.
Networkfsi offers only a single type of account, and there is virtually no information on it. The only way to determine how different parameters are charged is by creating an account and making a deposit, but this is currently impossible due to the site being non-functional. 
Thanks to our past experience reviewing fraud brokers, we can say that there most likely isn't any demo account, and there are hidden fees included in the one single type of live account on offer.
How is the Scam Implemented?
Networkfsi lies to its potential clients by pretending to be a well-established company that has a number of regional offices in some of the most strict regulatory jurisdictions. They do not care about their client's ability to trade and have made provisions on only the most basic trading software available today.
Once the money has been deposited it is basically forfeited by the client. You see, there is a clause in their Terms and Conditions that clearly states that Networkfsi does not consider any funds other than initial investment to belong to the client. 
Bonuses and profits are thus not subject to withdrawals, and only the initial deposit may be withdrawn. When a client decides to withdraw their initial deposit, this amount will be further diminished by hidden fees and charges. 
Networkfsi
Summary
Networkfsi is an unlicensed, unregulated, and unauthorized scam broker that steals their investor's money. Their predatory practices have fallen under the watchful eye of Spanish financial regulator CMNV, who has since issued a warning pertaining to Networkfsi's illegitimate business.
The scam website is currently non-functional but that doesn't mean the danger is over yet. Swindlers like these are known to make a comeback like some strange illness with complicated side effects. Stay informed and stay protected by following our reviews regularly. Forewarned is forearmed, as they say.
FAQs About
Networkfsi
Broker
Is Networkfsi Broker Regulated?
No, Networkfsi is a scam, and has no authorization to provide the services they are offering.
Is my Money Safe with Networks?
No. You run the risk of losing all your money by depositing it to this fraudulent group.
Does Networkfsi Offer a Demo Account?
Currently there is no information on this as the site has been rendered non-functional. Knowing that Networkfsi is a fraudulent entity we can be somewhat certain that no demo accounts are provided.