January 06, 2023
Reading Time:
4
min
Northern Bits Review – Stay Away From Northern-Bits.Com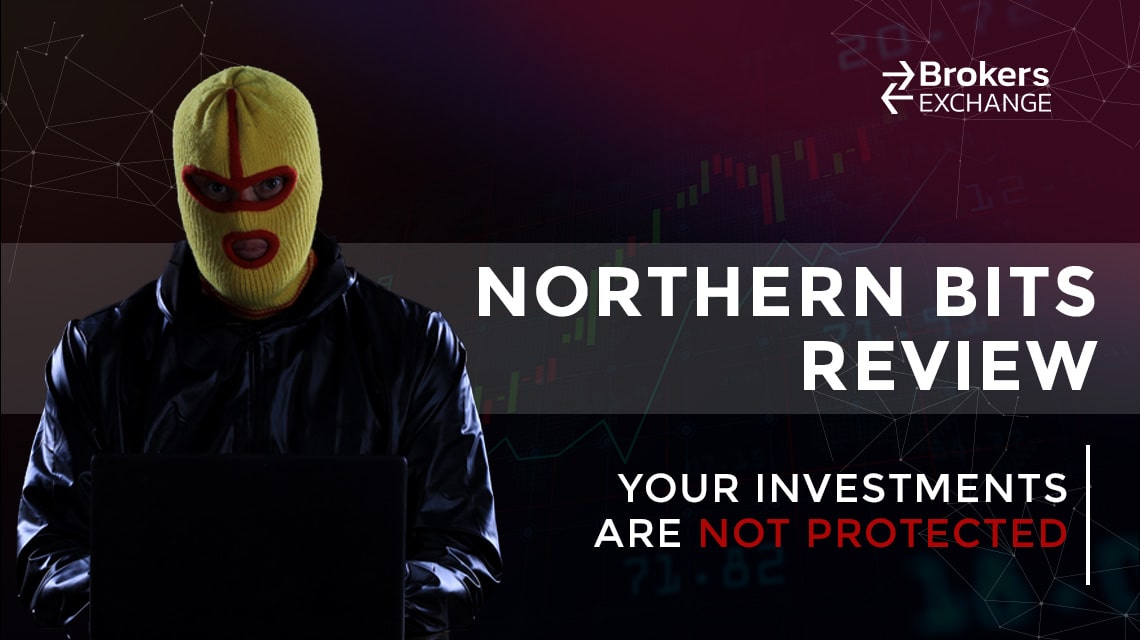 Northern Bits is a well-designed website, which at first glance may seem professional to many, especially to people who are new to this world and who are not familiar with the information they should have before investing. 
That's why the Northern Bits company invests a lot in its presentation on the site while skimping on the most important information, such as regulations and company headquarters. 
Fraudulent brokers often provide a lot of false information in order to attract new clients, and sometimes they simply leave out important details. Inexperienced traders who just want to invest, often don't know all the pertinent details about the company's operations and are thus easily deceived. 
We do not recommend Northern Bits company, because it is a scam broker. If you are interested in learning what a scam investment looks like, read our Northern Bits review to the end.
This also applies to dealing with dishonest brokers like the ones I've named below Oriontero, AltimaTrade, and Fibotraders.
| | |
| --- | --- |
| Company | Northern Bits |
| Website | Northern-Bits.Com |
| Address | Saint Vincent and the Grenadines |
| Email | [email protected] |
| Phone | +12266320702 |
| Minimum Deposit | 250$ |
| Leverage | 1:500 |
| Bonuses | Yes |
| Regulation | Unregulated |
| Warning | N/A |
Is Northern Bits Trustworthy? Regulation and Security
One of the most important things for clients is the reliability of the brokerage house where they will invest their money. In this sense, Northern Bits has remained completely anonymous and therefore poses a danger to its clients. 
In order for a company to be able to enter the market with its financial offer, it must have a license from a regulatory body that imposes business conditions so that both the client and the company are legally safe. 
At the company Northern Bits, we do not find almost any information regarding the regulation and seats. The broker remained virtually anonymous. All we could find was a vague reference in the Terms and Conditions that said the company was registered in St. Vincent and the Grenadines. 
All that is stated in the contract with the client is that the relationship between the parties will be regulated and interpreted in accordance with the laws of St. Vincent and the Grenadines. 
The problem is that, even if Northern Bits is located there, there is no possibility for this company to get a license because the FSA of ​​St. Vincent and the Grenadines does not regulate the forex market. This is a big red flag for Northern Bits brokers and one of the many reasons why we cannot recommend it.
Northern Bits Trading Software Overview
As much as Northern Bits tries to present its trading software as attractive and unique, in reality, it is completely different. It is a simple integrated web trader. In fact, it is a rudimentary platform without additional tools for trading and planning. 
Of course, that is also part of the fraud, because why would fraudsters offer good trading software to their clients, when their only goal is to put the clients' investments in their own pockets? 
You will often recognize fraudulent brokers by the poor quality of their trading platform. That's why it's always better to look for regulated brokers that offer industry standards like MetaTrader4 or MetaTrader5.
Deposit and Withdrawal Method
The information we found on the website regarding depositing and withdrawing money is as follows. The minimum deposit is $250, and the minimum withdrawal amount is $100. Regarding deposit and withdrawal methods, the company accepts 
Credit Cards (Visa, Mastercard)
E-Wallet (APM, EFT) 
Wire Transfer. 
In addition, in legal documents found on the company's website, the company notes that it can change payment and withdrawal methods at any time, without announcing or telling users about these changes. 
Besides the usual fees that you will encounter with regulated brokers, Northern Bits also mentions the presence of additional commissions that remain foreign to us, considering that we have not invested any funds in this brokerage house.
How the Scam Was Performed
Most scam brokers run their scams through a well-built and established scheme. Northern Bits does that too. As we have seen, the company focused on making its website look professional and promising. 
This is an attempt to attract as many inexperienced users as possible who will invest after opening their trading account. Once a client invests, fraudsters no longer deal with the client from that moment on. 
Since it is an unregulated company, the ways in which it will cut the customer off from their investment are endless. The company can disable the withdrawal request with high fees that it will suddenly prescribe, close the client's account, and stop responding to emails or messages sent by clients to technical support. 
As with most bogus brokers, we can expect this fraudulent organization to close its webpage and disappear before reappearing under a new name after some time. 
Northern Bits Summary
Northern Bits is no different from other scam brokers. The biggest problem lies in the fact that there are more and more of them. 
After all the research we have done, we definitely cannot recommend Northern Bits broker, because everything clearly indicates that this broker is just another unscrupulous swindler.
The only thing that is important is that you do not become a victim of this company, because apart from losing money and time, you will probably also lose confidence in this type of business, which would deny you much possible success with other, regulated brokers. So take care and check your brokerage before making any payment.
FAQs About Northern Bits Broker
Is My Money Safe with Northern Bits?

Your money is not safe with Northern Bits broker, because it is an unregulated company.
Does Northern Bits Offer a Demo Account?

Northern Bits broker does not offer Demo Accounts to users.
How Long Does it Take to Withdraw from Northern Bits?

You probably won't get your money back because Northern Bits is a scam broker.