November 23, 2022
Reading Time:
7
min
Oanda Review – What is Oanda?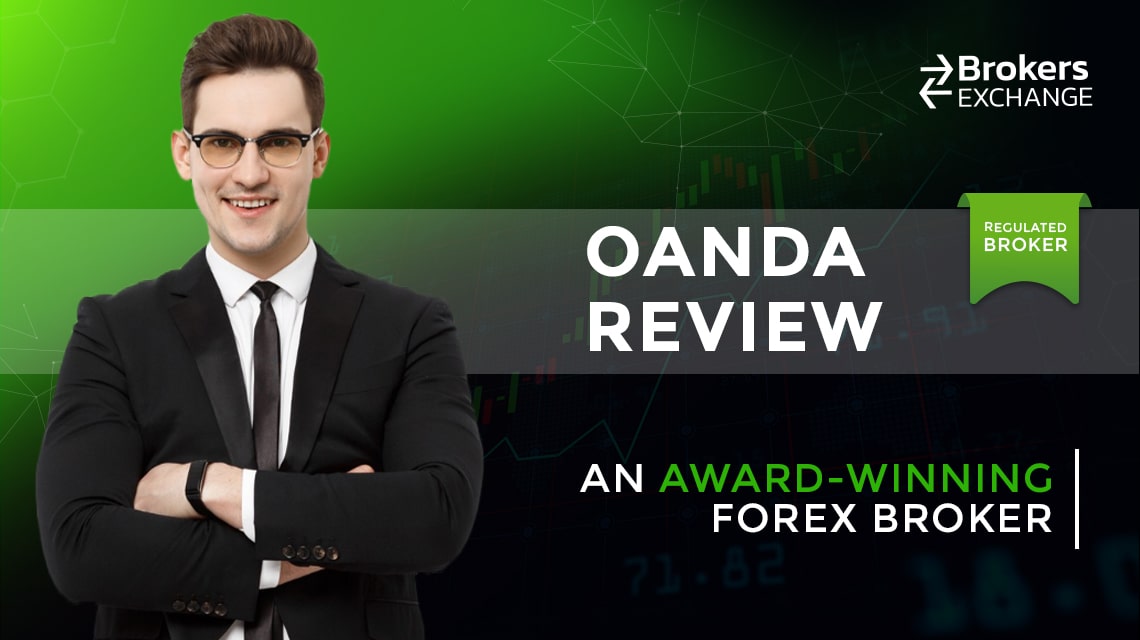 Oanda's website provides trading services online. It is owned by Oanda corporation, situated in the British Virgin Islands. The company was established in 1996 with offices across Asia, Europe, Australia, and America. 
Since it was founded it operates successfully with numerous satisfied customers and top ratings and reviews. It is authorized and regulated by the BVI Financial Services Commission, the National Futures Association (CFTC), US Commodity Trading Futures Commission,  and the UK's Financial Conduct Authority (FCA).
We can't stress enough how important it is for you to make the effort to read this comprehensive analysis of authorized brokers like IQ Option, Rockfort Markets, and TIO Markets.
Is Oanda a Good Broker? Pros and Cons
Pros
Most of the pleased customers would say that the biggest pros this company offers are easy to use and reliable trading platform, fast account making, and security of funds. 
It is very easy to make an account, it takes only 1-3 days, you have an option of opening a demo account and there is no minimum deposit required. 
New clients are able to deposit money via bank card and electronic wallet. All these reasons make Oanda a very user-friendly trader and the conditions mentioned are quite appealing, especially to those new to investing. 
If in case a new user just wants to test the trading process, they can give it a go with a demo account. 
If otherwise, they aren't sure about the initial deposit, they are safe with that too, since there is no required minimum deposit amount to pay. Investors offered decent leverage:
30:1 for forex
20:1 for stock index CFDs
Cons
All the above-mentioned conditions are pretty attractive, but there are certainly some cons too, so let's take a look at those. 
Having a limited product portfolio makes Oanda available only for trading Forex and CFDs. But since it heavily depends on which country the clients are from, they may experience Oanda differently. Considering Fx and CFDs in that sense, users from the US don't have access to CFDs. 
As a private company, without being listed on the stock exchange and without having a banking background, Oanda may leave a bit of an inferior impression in terms of safety aspects. 
Additional fees depend on the entity and the regular inactivity fee charged.
Eventually, customer support service isn't available all 7 days a week but only during work days.
Oanda Overview
Oanda has had a long tradition of providing financial services and trading options to its users for over 25 years. 
During the years and the expansion process, Oanda has established partnerships with some of the leading world brands. 
Some of them are Google, Tesla, FedEx, Airbnb, and many others. This serves as yet another proof of the company's reliability and trustworthiness. 
The company is fully licensed for every region it operates in and has offices across the globe, including America, Asia, the EU, and Australia. 
Full regulation and decades of experience speak volumes of the company's success. 
| | |
| --- | --- |
| Headquarters | USA, Canada, UK, Japan, Singapore, Australia |
| Regulation | CFTC, NFA, FCA, MAS, ASIC, IIROC |
| Instruments | Forex and CFD (more than 100 instruments, including indices, currency pairs, metals, commodities, bonds, etc) |
| Platforms | Oanda trade, MT5 |
| Demo Account | Available |
| Base Currencies | EUR, USD, GBP, AUD, CAD, CHF, HKD, JPY, SGD |
| Minimum Deposit | $0 |
| EUR/USD Spread | 1.2 pips |
| Education | Available |
| Customer Support | 24/5 |
Are We Safe with Oanda? Security and Regulation
What a potential investor wonders about first when choosing a broker to invest with is if their funds are safe. Non-regulated and non-licensed brokerage companies that haven't passed safety regulations cannot offer their clients the security of their investments.
For that reason, jurisdictional regulators represent a set of very strict rules and conditions that a broker has to meet in order to gain an operating license. 
Some of the rules and very demanding conditions are unachievable for fake brokers, for the exact reason not to allow anyone to offer online financial services. 
Always perform a detailed security check by examining the database of a jurisdictional regulator and never trust a broker that isn't on the list of regulated firms. 
If a company is trustworthy and regulated, they provide full transparency and don't hesitate to publish detailed information about its licenses and regulations.
Please refer to the table below for the mentioned info. 
| | |
| --- | --- |
| OANDA Entity | Regulation and License |
| OANDA Corporation | Authorized by CFTC (USA)  and member of the NFA (USA),  registration No: 0325821 |
| OANDA Europe Limited | Authorized by Financial Conduct Authority FCA  (UK) registration no. 542574 |
| OANDA Australia Pty Ltd | Authorized by ASIC (Australia) registration no. ABN 26 152 088 349 |
| OANDA (Canada) Corporation ULC | Authorized by IIROC (Canada) registration no.09-0280 |
| OANDA Asia Pacific Pte Ltd | Authorized by Monetary Authority Singapore (Singapore) registration no. 200704926K |
| OANDA Japan Co., Ltd | Authorized by FFAJ (Japan) |
Account Types Available at Oanda
Generally speaking, there are two account types at Oanda:
Core pricing account
Spread only pricing account
The core account is always the Oanda default account. These two types of accounts offer a variety of features and it all depends on the user's preferences. 
The main differences between the Core pricing account and the Spread only account are:
The pricing model for the Core pricing account includes commission and core spread while it only spread for Spread only accounts.
The lowest minimum spread for the Core pricing account is 0.6 and for the Spread only account 0.1.
The commission charge for the Core pricing account is $3.50 per 100,000 volume and $0 for the Spread-only account.
How to Open an Account
When a user decides to open an account they are taken to the form-filling page and have to provide the following info in order to be allowed to make an account:
Personal details
Home address
Citizenship
Employment 
Verify identity.
Trading Instruments Offered at Oanda?
Oanda offers a huge variety of trading instruments including Forex and CFD trading. There are over 100 instruments, including over 70 major and minor currency pairs with two transparent pricing models, indices, commodities, bonds and metals, futures trading, and commodities. 
It is up to the trader to decide whichever they prefer and what they would most like to invest in.
Oanda Provides Bonuses and Exclusive Offers
Welcome Bonus
One of the first bonuses a client gets offered from Oanda is a welcome bonus. Upon depositing at least $25 you will be qualified for this bonus after 50% of your initial deposit gets credited. Up to a $1000 bonus could be awarded. 
This bonus is only awarded once per account and it can't be used alongside other promotional bonuses. However, you cannot withdraw your bonus on deposit and it depends on your location if you can qualify for one. 
Referral Bonus
Like promoted by many other platforms, this bonus awards the client as many people as they refer to Oanda. For this action, you can be awarded up to $1000 for every person you connect with Oanda. 
What a user has to do is make an account and get verified first. They will get a unique referral link they can promote on their websites and social media. This way, whenever someone joins Oanda through their referral, they will get a bonus.
Oanda Deposits and Withdrawals Methods Available
Deposit Options
Oanda is an acclaimed online trader that tries to make it as easy as possible for users to use the platform. For that purpose, they have enabled quite a few ways of depositing money. 
Credit/debit cards are accepted, bank wire and bank transfer, Skrill, Neteller, and some alternative payment methods like Online/Mobile bank and e-wallet.
Minimum Deposit for OANDA?
No minimum deposit required in order to start trading on Oanda. This is especially important to investors who are beginners and yet unsure how much and if they are able to invest. 
If a user is interested in depositing, they can still do so, as there is no upper limit of how much the deposit can amount to. 
Withdrawal Options
The same methods used for depositing money are used for withdrawals, as well. This means that the money deposited one way has to be withdrawn the same way. 
For example, if a client has deposited funds via a debit card, in case of withdrawal, that money goes to the same debit card. 
Oanda doesn't charge any fees for withdrawing money, nor does it require meeting some special conditions.
Trading Platforms at Oanda – Overview of Trading Platforms
As an acclaimed and licensed brokerage company, Oanda tries to provide its users with a very stable, reliable, and safe trading platform. For that purpose, MT5 is used, as it is very well known to be the top-tier trading platform, preferred by most trading giants of today. 
Web Trading
MT5 is a trading platform provided at Oanda. It gives the user the option of the built-in depth of market, advanced trading tools, and improved charting capabilities. MT5 is a 64-bit, multi-threaded platform which allows access to 21 different chart frames and two additional order types over MT4.
Desktop Trading Platform
Since some users prefer to access the trading platform when they choose and from their desktop devices, Oanda has made it possible for them to download the desktop version of the platform.
Just like web trading, it has a built-in economic calendar, 6 pending order types, technical indicators, analytical objects, etc. 
Mobile Trading Platform
Users can access the FxTrade mobile app using just a single one-key login. It's easily downloadable and compatible with iOS 9.0 or later. Available on iPhone, iPad, and iPod touch. Android 5.0 and up required for Android OS users.
Oanda Provides Research and Education
For every beginner in investing and novice to online financial trading, Oanda has provided useful programs and webinars. These are extremely useful for many traders that are trying to learn the basics of brokerage. 
With the help of  Trading View, those interested can take a look at a full range of trading tools. Meticulously explained and presented, trading options and tools are shown to the learner in their basics and can help them easily understand.   
Customer Support 
Detailed and dedicated when it comes to customer support. Depending on what the user is most comfortable with, few ways of reaching the support service are available. 
Those are multilingual live chat, email, and international lines. The service is efficient and accurate with whatever their clients may have questions about.
The downside to the otherwise remarkable customer support is that it is only available during work days.
Oanda Overall Summary
Long tradition, remarkable service, safety, and affiliation with some of the world's most successful companies make Oanda an attractive choice for all traders.
Whether you are an experienced investor or a beginner in the trading industry, you can rely on Oanda to keep your funds safe and guide you through the learning process. 
Since it is a decades-old company, fully licensed and regulated on all territories it operates on, investors view Oanda as a trustworthy, reliable broker. 
By providing a rich and perfectly functioning trading platform, Oanda offers its clients a user-friendly, genuine experience in trading.
Oanda is, with all its features and services, one of the most recommended brokerage companies. 
So if you are interested in investing, rest assured that you will deal with a professional, regulated broker you can rely on.
FAQs About Oanda Broker
What Trading Instruments Offered at Oanda?

Forex and CFD (more than 100 instruments, including indices, currency pairs, metals, commodities, bonds, etc).
Deposit Options at Oanda?

Available deposit options are credit/debit cards, bank wire, and bank transfer, Skrill, and Neteller.
What is the Minimum Deposit at Oanda?

No minimum deposit amount, without an upper limit.
What Trading Platform Does Oanda Use?

Oanda uses the Oanda trade and MT5.
Is Customer Support Reliable?

Yes, customer support is efficient and reliable. It is available 24/5.