December 05, 2022
Reading Time:
3
min
OliveCryptoTrading Review: Who Is Behind This Broker?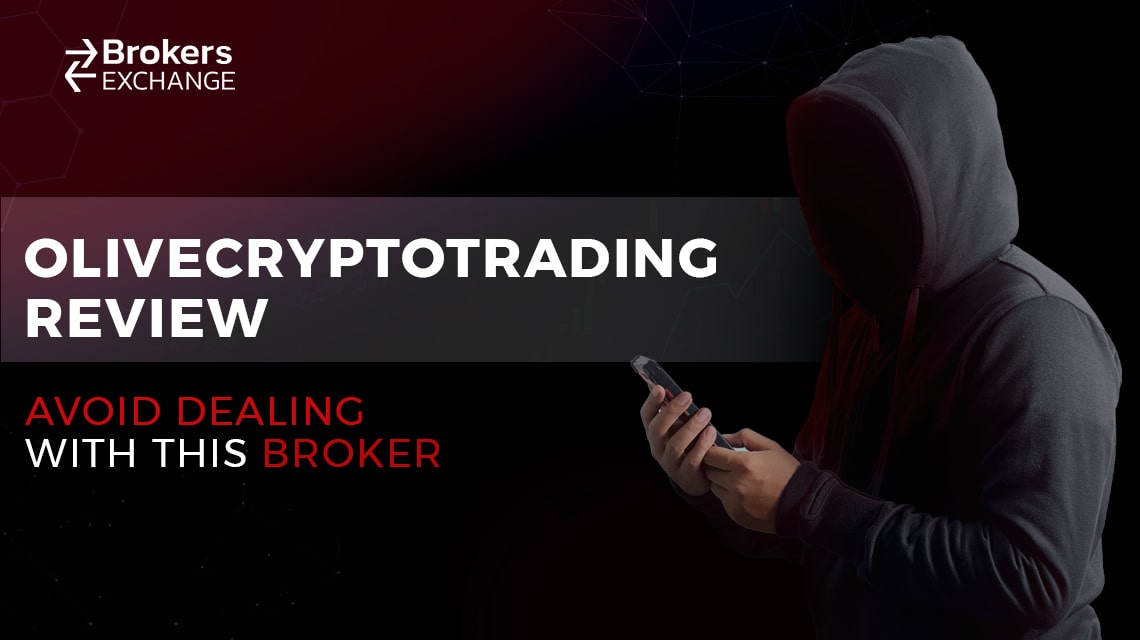 OliveCryptoTrading is owned by OLCT Ltd, with headquarters in Malta. For an inexperienced eye, it can be quite a deceiver. It has a professionally looking website and very convincing advertising of extraordinary trading conditions. It even claims to be regulated and trustworthy. 
Allegedly, OliveCryptoTrading has obtained licenses from MFSA from Malta, BaFin from Germany, CONSOB from Italy, and AMF from France. It would indeed be utmostly admirable if a broker was regulated by all these financial authorities. 
So we did a check of their databases to ensure what the broker says is true. Unfortunately, none of the registers has a broker named OliveCryptoTrading. 
Additionally, we have even found a warning filed against this broker by FCA:  https://www.fca.org.uk/news/warnings/olive-crypto-trading
| | |
| --- | --- |
| Company | OLCT Ltd |
| Website | OliveCryptoTrading.com |
| Address | 168 St Christopher Street, Valletta VLT 1467, MALTA |
| Email | [email protected] |
| Phone | +44 (203) 807-30-24 – London+43 (720) 97-15-93 – Austria+3 (495) 123-03-81 – Spain+356 (80) 06-27-66 – Malta |
| Minimum Deposit | $500 or equivalent in EUR/GBP |
| Trading Platform | MT5 |
| Leverage | 1:100 |
| Bonuses | N/A |
| Regulation | Not regulated |
| Warning | FCA |
Licensing and Security of OliveCryptoTrading
As aforementioned, OliveCryptoTrading is an unregulated broker that's only claiming to be licensed by MFSA, BaFin, AMF, and CONSOB. After checking these respective databases, we can confirm this isn't true. 
Just in case, we have also checked the registers of some other major regulators like FCA, ASIC, CNMV, CBR, and FINRA but came up with nothing except a warning issued by FCA against OliveCryptoTrading.
Being licensed as a broker means they maintain standards in trading imposed by jurisdictional regulators. Such are beginning capital to ensure prolonged operation, the safety of clients' funds in segregated bank accounts, and other strict rules. 
Regulated brokers in the UK and EU have to comply with the MiFID rules to ensure the enhanced protection of investors. ESMA rules also apply to obligate brokers to provide transactional transparency. 
Since OliveCryptoTrading is operating without regulation and without complying with the mentioned rules of customer protection and transparency, this broker is absolutely not safe to invest with. 
OliveCryptoTrading Trading Platform Overview
The trading platform offered by OliveCryptoTrading is MetaTrader 5. This is an outstandingly functional platform developed in 2000 by MetaQuotes as a successor to the popular MetaTrader 4.
It is a user-friendly platform with customizable charts with numerous time frames, graphical objects, technical indicators, and scaling modes. 
The app can be downloaded from the OliveCryptoTrading website and it seems functional. 
However, since it is provided by a fraudulent broker, it isn't exactly the case that you can trust it not to be manipulatively used by the fraud. 
Deposits and Withdrawals Methods
OliveCryptoTrading supposedly accepts deposits made by credit/debit card, bank transfer, Skrill, and Neteller. Deposits are instant if made via credit cards and E-wallet, while it may take up to 2 business days for deposits via bank transfer to be processed. 
No further information about depositing is provided on the site. The Terms and Conditions state that to open an account an initial deposit of $500 or equivalent in EUR/GBP is required. 
As for the withdrawal of funds, the site persuades you that it only takes up to 1 business day to process a withdrawal. It is supposedly fee-free for credit card and bank transfers. The fee for Skrill and Neteller withdrawal is 2.9%.
How Is Fraud Set Up?
We have witnessed how misleading and illusory all the promises made by OliveCryptoTrading can be. Unsuspecting victims are dragged into the sophisticated scam by make-believe trading options and through manipulated platforms. 
Professional fraudsters are there to persistently convince investors to deposit money. As soon as they would like to withdraw, they would face ridiculous fees and unreachable conditions. 
Do not trust promises of easy money. Online trading comes with a certain risk. Better choose a regulated broker and trade safely. 
OliveCryptoTrading Summary
Please be advised of high caution when it comes to this broker. A scammer in disguise as a professional broker is sometimes hard to spot. 
If you are trying to decide on a broker, always be sure to run a check of the jurisdictional regulator's database. All the attractive trading conditions offered are in vain when a broker is operating without a license. 
The safest would be to just not invest when you have encountered a phony broker. It is better than taking any risks and losing funds. 
For all the victims of scams out there, we would appreciate it if you shared your experience here. There's no shame in it and it might be helpful for other beginner traders looking for the right broker. 
FAQs About OliveCryptoTrading Broker
Is OliveCryptoTrading a Regulated Broker?

No. Although it claims to be regulated by several financial entities, this broker is not actually licensed and regulated. 
Is My Money Safe with OliveCryptoTrading?

Since non-regulated brokers cannot guarantee the safety of clients' funds, your money is not safe with OliveCryptoTrading. 
Does OliveCryptoTrading Offer Demo Account?

There is a demo account type promoted on the site but no option to actually open