November 08, 2023
Reading Time:
4
min
OneUp Trader Review: Key Features, Pros, Cons and In-Depth Analysis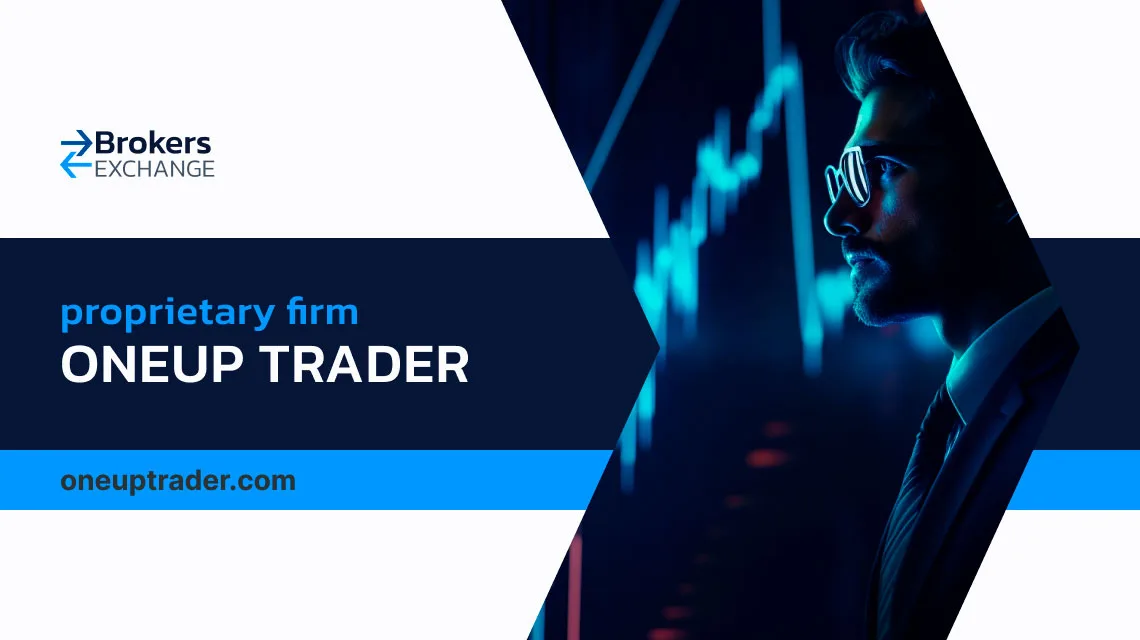 OneUpTrader is a company registered in the United States in 2016. Since then, they have been offering funded trading services all across the world. Most importantly, they are using regulatory disclaimers to protect themselves.
But even with that, there are many potential risks included in trading with One Up Trader. To find all the necessary information, make sure you read this OneUp Trader review carefully.
| | |
| --- | --- |
| Company Type | Prop firm |
| Legal name | N/A |
| Regulation | Unregulated |
| Registered in | US |
| Established | 2016 |
| Website | Oneuptrader.com |
| Financial Authorities Warnings | No official warnings |
| Contacts | Phone, e-mail, live chat |
| If a withdrawal is possible | Potential issues expected |
| Fees | $125-$650/month |
| If Active on Social Media: | Yes – Facebook, Instagram, Twitter, YouTube, TikTok |
| Investor Protection: | None |
| Activity areas | United States, Morocco, Germany, France, Canada |
| Main threats | Lack of transparency; no regulations; |
| Main perks | None |
How Does OneUp Trader Company Work?
OneUp Trader funding is practically based on trading with simulated and hypothetical markets. Therefore, you are not dealing with real funds. Consequently, the company doesn't need to be regulated, which is a huge downside.
In any case, with these simulations of trading in different markets, traders have to pass a free evaluation step. After that, they get a funded trading account, and the profit split is 90%. So, practically, the company gives you an insanely high amount of money, of course, a virtual one. Yet, you expect them to pay you off with real money based on your trading with virtual funds?
Traders Reviews
Surprisingly, the company has 825 comments on the Trustpilot platform. More importantly, the average rating is 4.7, while only 5% of the comments are negative. Yet, it might be that exactly those reveal a shocking truth.
Some traders reported that this company requires you to leave a comment before funding your account. So, it could be quite misleading. In any case, it is not something you should take for granted. To avoid becoming a victim of a scam, we suggest you check our Mtrade24 review for some general tips.
What Are The Pricing Plans?
After you complete the registration and OneUp Trader login steps, you can apply for a free 7-day free trial. This includes $100k of virtual funds on your funded account. But if you decide to take a step forward, you can choose one of five options.
The account types mainly differ in maximum contracts, profit target, and trailing drawdown. Apparently, all accounts include unlimited balance resets, $10k first profits for free, and 24/7 support. The options are:

$25k funding for $125/month

$50k funding for $150/month

$100k funding for $300/month

$150k funding for $350/month

$250k funding for $650/month
How Does Withdrawal Work?
The withdrawal is the trickiest part with OneUp prop firm. Let's first go through an example. For instance, you register for a $150k funded account. You are paying a monthly fee of $350. With a maximum of 15 contracts, you have to reach a $9k profit target. Upon reaching it, you get 90% of that profit, which equals $8.100, and the company gets $900. Does that make sense to you?
Not to mention, there are first $10k profits without a withdrawal fee, and you have unlimited balance resets. All in all, once you want to withdraw your profits, you can choose two options. Those are crypto and wire transfers. Apparently, they are processing the withdrawal on the same day without any fees. Also, keep in mind you must request at least $1.000 for a withdrawal.
What Platforms Can You Use?
Apparently, the company is offering a wide range of platform choices. The most popular one is NinjaTrader. Even though it's a highly popular platform, it can't be compared to cTrader or MetaTrader. Especially if you are trading with a regulated company. But if you read our Lincoln FX review, you might understand the importance of trusted software.
In any case, to test the features, we suggest you use the first OneUp Trader free trial. Besides the NinjaTrader, you can choose also:
QST

R-Trader

Scalp

Volfix

Trade Navigator and many more
How To Get In Touch With A Company?
On the positive side, the company provides 24/7 support. You can reach them via e-mail, which is the slowest option. Instead, you might choose live chat or phone line for faster support.
Yet, some traders reported many issues with their customer representatives. Not to mention the general OneUp Trader rules their agents were using for solving complaints.
General Conclusion
If you compare this company to any other investment firm, you will see all of its flaws. Not to mention, they are avoiding regulations with disclaimers about hypothetical trading. Therefore, all the profits and losses are hypothetical. But you are paying monthly fees with real money. Keep that in mind.
Instead, we suggest you find a reliable broker with transparent services and licenses. That's the only way to minimize risks in the trading nowadays. Another feature you might include in your trading practice is the AI Analysis Tool. Feel free to contact us for more tips and advice.
How Can I Make Money While Trading Online?
Generally speaking, prop trading is not the best way. Primarily due to regulatory oversight and the potential for problems. On top of that, there's no sense that someone gives you practically free funds. In any case, you should try Tier 1 licensed firms (FCA, BaFin, ASIC) and explore the options.
In combination with an AI Analysis Tool that could help you make the right trading choices. But most importantly, be in control of your funds and avoid third-party manipulations. Keep in mind that AI Analysis Tool is not one of those shady auto-trading software solutions. Instead, you are using AI to forecast market movement and get the best entry point in the trade.
To find out more details and try it out, our team is at your disposal. Feel free to book your first meeting completely free already today!
FAQ Section
How Long Has OneUp Trader Been in the Business?
The company has been operating since 2016. But it's better to trade with regulated firms and trusted technology like AI Analysis Tool. For more details, contact us.
What is the Minimum Withdrawal from OneUp Trader?
The minimum withdrawal amount is $1.000. If you experience any issues there, contact our experts for advice about safe trading advice and AI Analysis Tool introduction.
What is Proprietary Trading?
Prop trading in general involves trading on funded accounts. But very often, you are trading on hypothetical markets with virtual funds instead of real ones.