November 21, 2022
Reading Time:
4
min
OpoFinance Review: Is it Safe to Trade at Opofinance.com?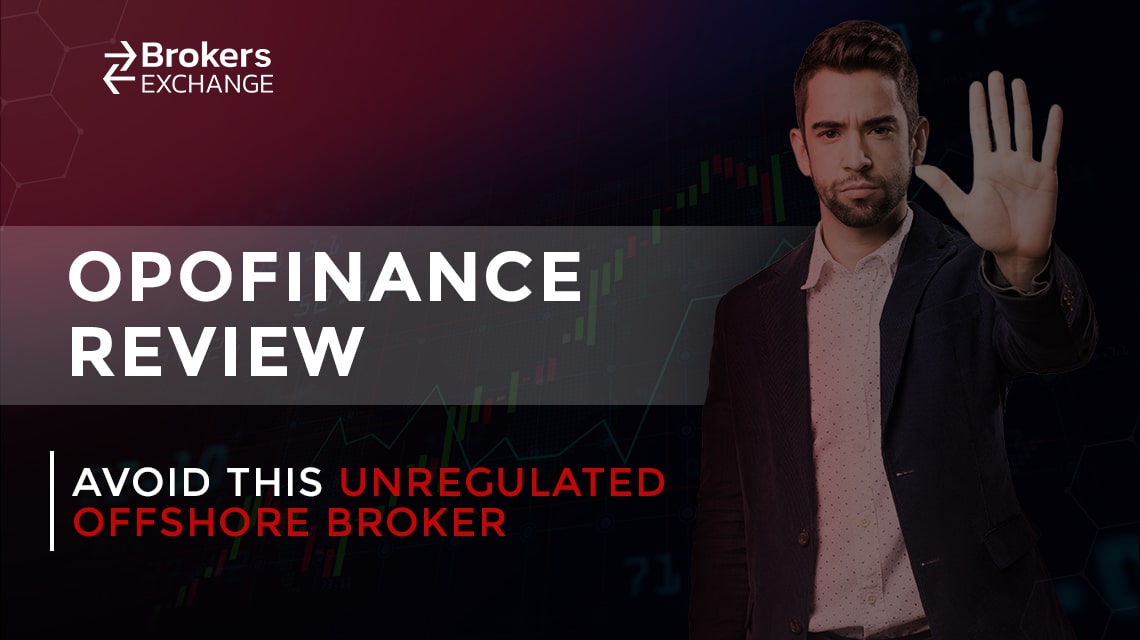 OpoFinance has a nicely done, professional-looking website with lots of information that make it look like we are doing business with a legitimate online financial trading company, but most of the information provided is in fact false.
The first dubious claim we came across while doing our research was that OpoFinance is a licensed multi-asset broker. Their site clearly states that the fraudulent broker operates with a license and even provides us with a license number. 
Further investigation revealed that they do hold a license from FINACOM which is an independent regulator located in Hong Kong. OpoFinance also has a license granted by Seychelles. Needless to say, both of these licenses are practically useless when it comes to investment and finance safety.
Another big red flag sitting on top of the mountain of lies told by OpoFinance is that they offer their clients leverage of up to 1:500. The impossible investment versus profit ratio is commonly offered by fraudsters such as this one.
| | |
| --- | --- |
| Website | OpoFinance |
| Address | CT House, Office 9D, Providence, Mahe Seychelles |
| Email | [email protected] |
| Phone | +35724267200 |
| Minimum Deposit | 100 |
| Leverage | 1:500 |
| Bonuses | N/A |
| Regulation | FINACOM, FSA |
| Warning | N/A |
Licensing and Security of OpoFinance
As stated above, even though OpoFinance's license data is easily found, such a license can't be found in the Financial Services Authority's registry. The company explicitly states that they have a registered license with the FSA. 
The fact that these scam brokers would openly provide false information on their official websites is a clear indication that this is a fraudulent project.
The illicit broker also lies about having a registered office in Seychelles. Though this is of course not true, it wouldn't even matter if it was true. The company claims to have its headquarters in one of the most infamous stock trading locations. 
Seychelles doesn't have clear and well-defined laws regulating these sorts of financial transactions, making the island a paradise not only for tourists but for scammers too.
The company then claims to be authorized by Saint Vincent and the Grenadines. They probably meant that they are licensed by the FSA of the SVG, but we're dealing with obvious scammers so oversights like these are to be expected. 
The fact of the matter is that SVG is another offshore banking haven where forex trading brokerage activities cannot be licensed.
Trading Platform Available at OpoFinance
Surprisingly enough, the company actually offers its users MetaTrader 4 and MetaTrader 5, which are indeed professional trading platforms used and beloved by most brokers nowadays. 
Both MetaTrader platforms are popular for being relatively user-friendly and jam-packed with useful trading tools. Having said this, the platform alone is not a good enough reason to invest with these scam brokers.
Many shady brokerages manage to acquire these platforms and offer them to their clients in hopes that giving access to these tools will make them look like legitimate forex providers. 
The thing is that the OpoFinance scam simply uses these platforms as another trick to attract unsuspecting victims. Don't risk your money trading with this fraudster, no matter how sweet the offer may sound.
OpoFinance Deposits and Withdrawals Methods
OpoFinance supposedly accepts payments through various channels, including Visa, MasterCard, Advcash, and UnionPay. The minimum deposit for the standard and ECN accounts is 100$, for the Social Trade account it is 200$, while the ECN-PRO account requires a minimum deposit of 5000$.
Information regarding money withdrawals is not available. To be more specific, the terms and conditions on their site state that certain conditions have to be met in order for their clients to be eligible for withdrawals, but the information about those conditions are nowhere to be found. 
The scammer also states that money withdrawals requested until 10 AM are processed on the same day while requests made after 10 AM will be processed on the following day. This is nothing more than another trick that is supposed to make you feel like you are dealing with a professional trading company and not an investment scam.
This Is How the Fraud Set Up?
How the fraud is perpetrated is not all that different compared to how other broker scams function. Getting the victim to make a deposit is done by a pattern of several steps. The first step, attention-grabbing, is done through savory ads and a professional-looking website. 
Once you leave your contact information, you start receiving various proposals regarding investments that you should make if you care about your money. 
The main goal of an investment scam is to get its victims to that first deposit, after that they usually notify their clients about some marginal profits that should make the clients want to invest more.
The moment when a client realizes that all is not well, and things are not going as planned, is the exact moment when the scammer will brake off all connection to them. At this point, the victims usually have no means of withdrawing their funds, and their money is gone for good.
OpoFinanceSummary
Most scam brokers remain undetected until a significant amount of complaints against the broker have been made. 
This is why we hope this OpoFinance review can help you realize what are some investment scam red flags that you should keep your eyes open for. 
Remember, doing research and informing yourself is of paramount importance when we talk about investment. Not informing yourself equates any investments that you make to gambling.
FAQs About OpoFinance Broker
Does OpoFinance Offer a Guarantee to Stop Loss?

OpoFinance doesn't offer a guarantee to stop loss according to its terms and conditions.
What Currency Pairs Does OpoFinance Offer?

Some of the currency pairs offered are AUD/JPD, AUD/USD, EUR/AUD, EUR/CAD, EUR/CHF, EUR/GBP, and EUR/USD. The rest of the list can be found on their website.
Is My Money Safe with OpoFinance?

Your money is not safe with OpoFinance, since they are an unlicensed broker which means that there is no legal regulation that can protect the end users.