July 01, 2023
Reading Time:
6
min
OspreyFX Review: Exploring Features, Trading Conditions, and More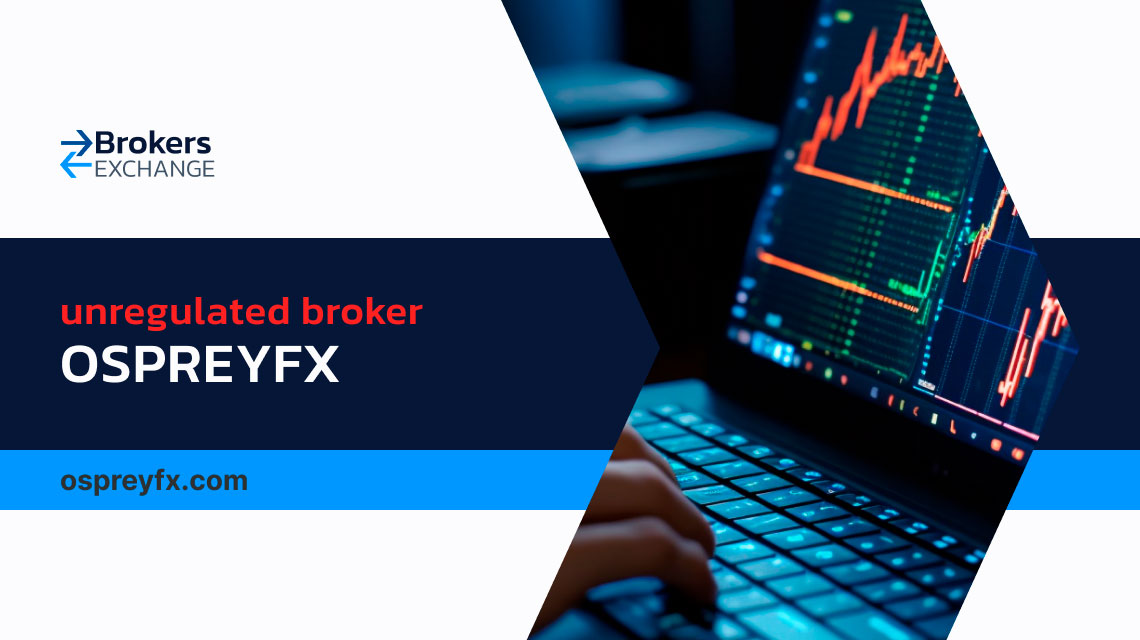 Considering their registration in St. Vincent and Grenadines we can't expect much from them. Especially after checking the comments of other traders.
But not to jump to conclusions we are analyzing all features of this offshore broker. Read this OspreyFX review carefully to find out if this broker is reliable or not.
Is OspreyFX a Legit Broker?
Since the broker operates worldwide even though they have a disclaimer about some restrictions, we are not sure about their legitimacy. Primarily because the broker operates in highly regulated countries.
Generally, if traders are satisfied with their services nobody would care. However, reviews are not positive and there is a lot of doubt about this broker.
Keep yourself protected at all times by analyzing multiple brokers. For that reason don't skip our DominionMarkets, Soltechx and Nash Markets reviews.
| | | |
| --- | --- | --- |
| | OspreyFX | Reliable Broker Must Have |
| Legal name: | Osprey Ltd | Transparently displayed in the disclaimer or legal documents |
| Regulation: | No regulations | Within your legal jurisdiction – local regulator |
| Registered in: | St. Vincent and Grenadines | Your country or the country whose license applies in your legal jurisdiction  |
| Established: | 2019 | The older the domain – the higher the possibility the company is trustworthy |
| Website: | Ospreyfx.com | Domain should be from local or international zones, no .xyz etc. |
| Financial Authorities Warnings: | N/A | None |
| Contacts: | Online contact form | Phone, email, social media, web form |
| If a withdrawal is possible: | Highly unlikely | Yes |
| Fees: | The $25 wire transfer withdrawal fee spreads from 0.4 pips | Transparent fees – list of spread and commissions |
| If Active on Social Media: | Yes – Facebook, Twitter, Instagram, Telegram | Often present on social media |
| Investor Protection: | Segregated bank accounts in Tier 1 banks (allegedly) | Compensation fund |
OspreyFX Regulation and Security
Financial Services Authority in SVG is the primary regulator in the country. Thus, they don't provide trading licenses anymore. Therefore, Ospreyfx broker should opt for licenses in countries where they mainly operate. Such as:

United States

Canada

United Kingdom

India

South Africa
Yet, the company doesn't have any Tier 1 licenses. Neither from CFTC, IIROC or the FCA. Even though the company claims to offer segregated bank accounts in top-tier banks it's questionable now. Simply because the company is not obligated by regulations to follow any rules.
OspreyFX Profile
The main feature advertised is OspreyFX funded account. This allows traders to compete and improve daily. Thus, the company is not licensed for such services and they offer bonuses.
On the positive side, the company offers trusted third-party software MT4 and MT5. Yet, the leverage is breaching many worldwide trusted regulations.
Trading platforms:

MT4, MT5 Web, TradeLocker

Account types:

Standard, Pro, VAR, Mini

Financial Instruments On Offer:

Forex (GBP/AUD, HKD/USD)

Commodities (Aluminium, Natural Gas)

Indices (US500, AU200)

Shares (BMW, Tesla)

Cryptos (BTC, ETH)

Maximum leverage:

1:500

Minimum Deposit:

$25

Commissions/bonuses:

Commission up to $8 per lot / Bonus funds available

Mobile app:

Yes

Desktop app:

Yes

Autotrading:

Yes

Demo account:

Available

Education or Extra tools:

Trading articles and basic forex calculators
OspreyFX Reviews: User Experience and Feedback
Only on Trustpilot, there is already more than 20% of negative feedback. Out of 91, that's quite a big number. Many traders reported issues with spreads, blown-up accounts and negative balances. All this combined doesn't bring a positive picture of the broker. On top of that, there are many complaints about OspreyFX customer service.
Not to mention withdrawal issues that few traders exposed. For this reason, is important to understand which brokers you can trust. That's why our team is there to advise you without any obligation or pressure. Simply informing you about trusted brokers and their protection with traders.
OspreyFx Deposit Methods and Withdraw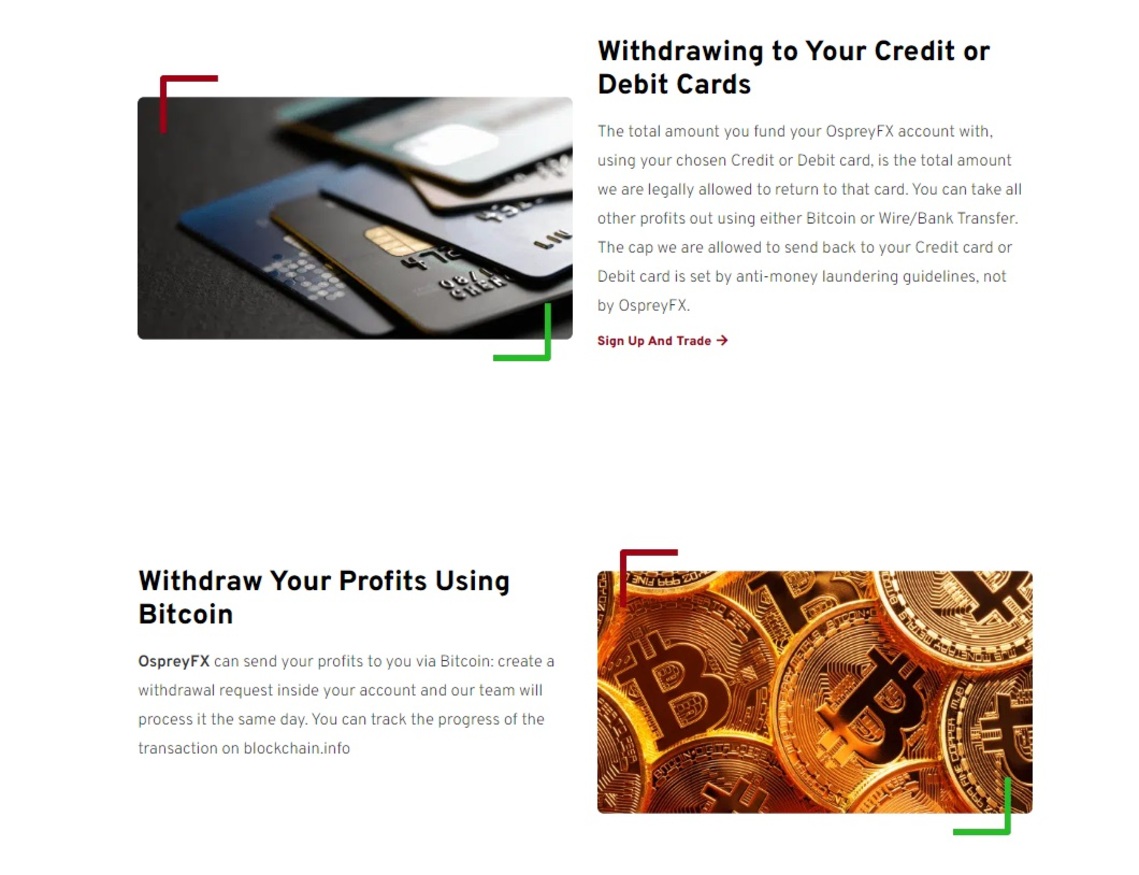 Even though they have numerous icons on the website, on the deposit page there are only two Ospreyfx deposit methods. You can choose:

Debit and Credit cards

Bitcoin
However, withdrawals can be done allegedly via wire transfer. Withdrawal processing time takes up to 5 business days. Plus additional 3 days to complete the transaction. However, broker can charge you additional money for whatever costs they come up with.
OspreyFX Account Types
Generally speaking, Ospreyfx account types are not classical. They don't seem designed to extort money from traders. However, there are many discrepancies and traders reported multiple spread issues.
Besides, none of the accounts have negative balance protection. Altogether with a leverage of 1:500, that's a recipe for a disaster.
Standard
The standard account comes with a commission of $7 per lot. But with spreads from 0.8, it might be an attractive offer. Yet, some traders are reporting manipulation with spread.
Pro
On the other hand, Ospreyfx commission with a Pro account is highest at $8. In exchange, you get spreads from 0.4. Thus, without regulation, those spreads can be the same as with any other account.
VAR
As contrary to regular accounts, there is a VAR account with zero commission. Yet, their advertised spreads start at 1.2 pips. But if the broker will meet the requirements, it's questionable.
Mini
Ospreyfx mini account is designed for tryouts. It gives you less tradeable assets and a low commission of $1. But if you will be caught in a scam, it's not worth it.
OspreyFX Demo Account
Generally speaking, demo accounts are just good to check the software and basic features. For trading, it doesn't bring a realistic picture. It's the same with the Ospreyfx demo account. Especially after checking Ospreyfx reviews that point out spread manipulation issues.
OspreyFX Funded Account
This is the biggest controversy of Ospreyfx broker. There are 4 different funded account types. For each, you get a certain amount of money and monthly targets to be reached. You can get up to $200K on the account.
Now, the broker claims it's trading without worries about losses. But if you don't reach the target you have to pay the fee. Thus, those fees are not revealed anywhere.
OspreyFX Trading Platforms
Trading software plays a key role in choosing a broker. Even though there is Ospreyfx MT4 and Ospreyfx MT5 software available, that doesn't make them reliable.
In general, the MT platform is more than enough for many traders. Yet, this broker highly promotes its other tools.
MetaTrader 4
Meta Trader 4 is the industry-leading software. It's available as a desktop app, web app and mobile app. With more than 10 million downloads on the play store, you can understand its popularity.
MT5 Web App
Besides the same apps for MT5, there is also an MT5 web app. With a few more advanced features some traders might choose it over anything else. Especially because of the Expert Advisor options that are upgraded here.
OtherTrading Tools

Another trading software highly promoted by the company is TradeLocker. It's a trading app with built-in TradingView with basic functionalities. Important to realize is that this software has less than 1.000 downloads on the Play Store.
Affiliate Program
Ospreyfx affiliate program is designed to bring more clients to the company. Thus, with their reviews, it's going to be extremely hard. There is also educational package to get you interested in the affiliate program.
You can use Affiliate Press Kit and eBooks to maximize the potential. Unknown commissions are paid every Friday according to the company.
Education and Training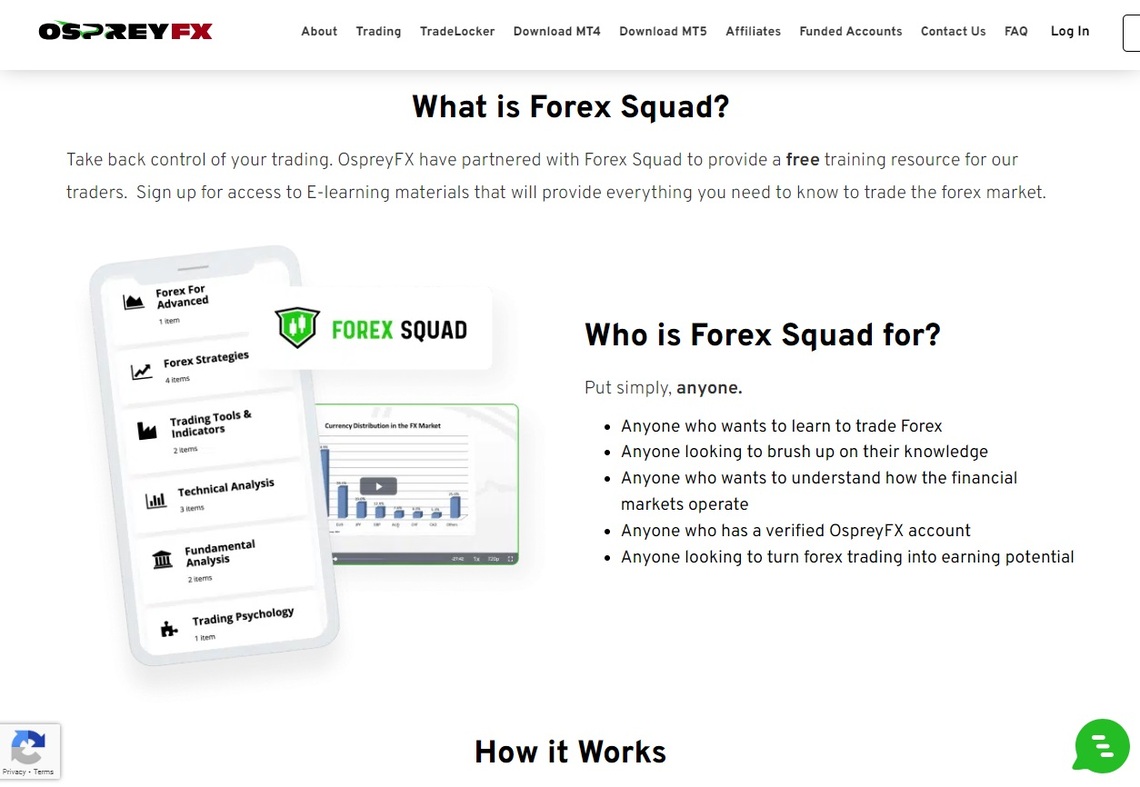 Ospreyfx offers an external training program. It's called Forex Squad and represents a free source. Thus, it's only e-learning material without any live sessions and programs.
Besides, you can read their articles about the markets. But also trading scams. What an irony.
OspreyFX Customer Service
Another key point is customer support. Which is in this case, quite a poor one. The only way to contact the broker is via online contact form. Afterward, you can hope for the best.
But without regulations, with offshore registration and multiple negative reviews, the chances of solving your problems are minimal. If they are any close to legitimate, they would give you a call center number.
Is OspreyFX Good For Beginners?
Definitely no. Primarily because of missing crucial protection for traders. Also, inexperienced traders would believe everything this broker has to say.
Practically, beginners would start hating this amazing trading world before they even started. On top of all, you can see from Ospreyfx reviews that the broker might be manipulative. That's exactly why they lure inexperienced traders in the end.
OspreyFX Pros and Cons
The only benefit of the company is the Meta Trader availability. Thus, there are many more downsides. The broker is missing crucial regulations and operates in several countries without authorization. There are no negative balance protection and compensation funds.
After all, the company has quite negative feedback from traders. Everything points out that you should find another broker before it's too late.
Conclusion on OspreyFX Broker
In general, even a newbie can realize the downsides of investing here. Unfortunately, they are attracted by fancy ads about quick money schemes.
To avoid such brokers and any kind of problems, you should find yourself a Tier 1 licensed one. Our team can help you filter those and tailor the offer exactly to your requirements. As a key fact, it won't cost you anything. So, what's the deal? Do you want to have a reliable and trusted broker by your side? Get in touch today to find your trusted broker!
FAQ Section
Is OspreyFX Regulated?
No. The broker doesn't have even a domestic license, not to mention Tier 1 licenses from trusted regulators.
How To Withdraw Money From OspreyFX?
The broker claims to process withdrawals via wire transfer, card transfers and crypto. But some traders reported multiple withdrawal issues.
What is the payout for OspreyFX funded account?
According to the company you keep 70% of the funds. But if they give you $200K for trading it doesn't make sense. Unless it costs you even more.
How much is OspreyFX withdrawal fee?
The withdrawal fee is only transparent with wire transfers and costs $25. Crypto transfers allegedly don't have fees while card transfer fees remain mysterious.