March 19, 2023
Reading Time:
5
min
Perlybit Review: The Truth About perlybit.com Brokerage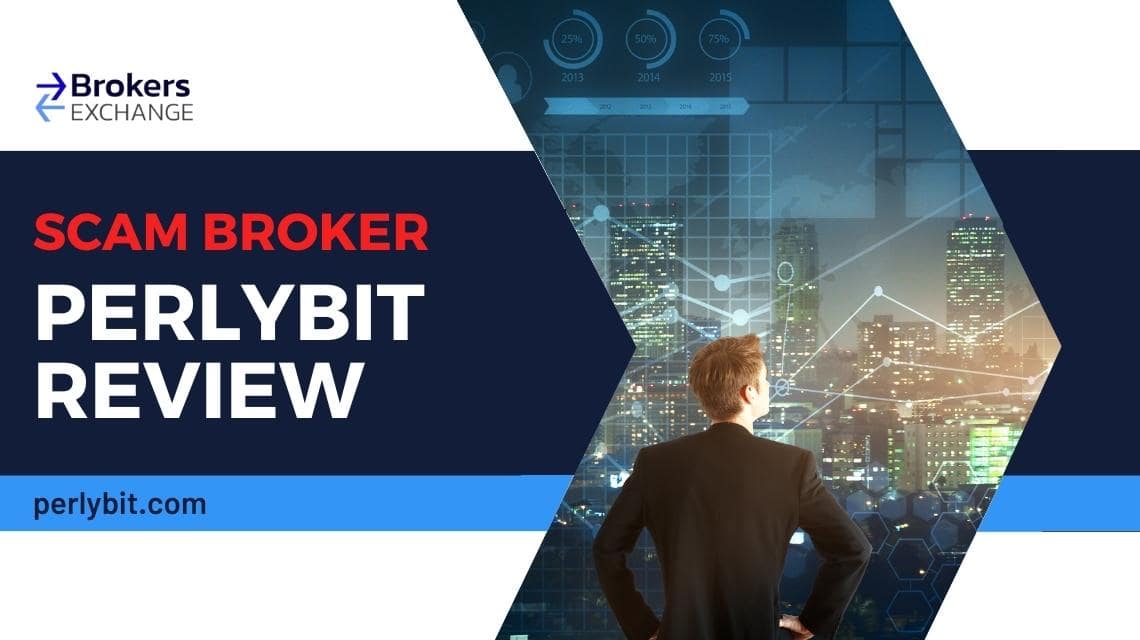 Perlybit Review, an anonymous US company, is supposedly behind Perlybit. While the website claims to be adhering to the US laws of online trading, nothing else confirms this firm's legitimacy. As if that isn't concerning enough, this company blocks every possible way of contacting or tracking them. All for the purpose of getting away with their cyber crimes easier. 
Clients at Perlybit should be greeted with super attractive trading conditions, an ultimate trading platform, and seamless deposits and withdrawals. The mentioned remains just a fake promise as Perlybit offers mediocre conditions that benefit no one except the scammer behind the site. 
If you don't believe us yet, read this Perlybit review and you'll understand just how threatening this fraud is to every crypto trader out there.
| | |
| --- | --- |
| Company | Finance LLP |
| Website | Perlybit.Com |
| Address | US |
| Email | N/A |
| Phone | N/A |
| Minimum Deposit | N/A |
| Leverage | Up to 1:100 |
| Bonuses | Referral and welcome bonus |
| Regulation | Unregulated  |
| Warning | N/A |
Is
Perlybit Legit? Regulation and Safety of Funds 
The answer to the question about safety and regulations at Perlybit is quite simple. The site is neither regulated nor safe for investing. But let us elaborate on that. 
Being one of the most heavily regulated zones in the financial sense, the US has developed clear and demanding licensing standards. The two leading financial institutions in the area – NFA and CFTC are very thorough and ruthless when it's to regulating brokerage activity. Because of scammers like Perlybit, the criteria is set very high. 
What we mean by this is that the companies that wish to be granted a license have to first invest an astonishing amount of capital – $20 000 000. And that is just the beginning. Customers' safety is ensured through segregated bank accounts, risk-reducing methods, and unquestionable transparency. 
As an opposite of EU and AU requirements, US brokers are allowed to offer bonuses and Perlybit offers some. However, an obvious move of breaking the US regulatory standards is the leverage that this company allows. 
This broker offers leverage up to 1:100, while regulated brokers in the area are restricted to trading with leverage of only 1:50. This isn't even the main problem with this company. Their disturbing lack of transparency is repellent and a huge red flag.
In conclusion to all of the aforementioned, Perlybit isn't listed in NFA members list as one of the reputable brokers with CFTC approval. Should be clear to you by now that this is another poser and not a genuine financial services provider.
Perlybit Trading Platform Overview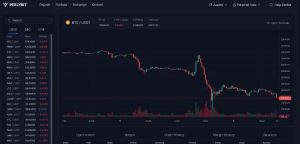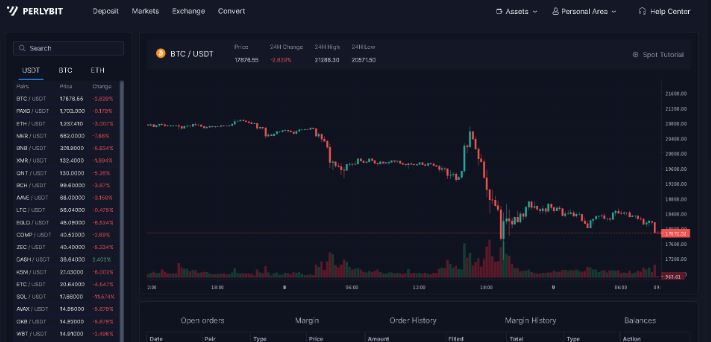 Everything Perlybit has to offer you to access world markets from and buy and sell financial instruments is a weak and inoperative web trader. It would be an insult to premium trading platforms to call the Perlybit terminal a trading software at all. 
Although you can quickly register an account and access the user area where the terminal is, you're better off not going there. It's painfully obvious that this distribution is a lousy attempt at copying the world's famous software. Perlybit terminal miserably fails at meeting even basic software requirements. 
Some primitive functions can't disguise the fact that this bogus software is missing all the advanced features that would allow traders to build a profitable trading strategy. 
Perlybit Welcome Bonus
As a means of interesting new clients in becoming their users, Perlybit offers certain bonuses. One of them is the first-time investment bonus. Otherwise referred to as the welcome bonus, this is a one-time reward added to the first deposit. 
Although this company claims to offer this bonus to all new investors, they're very imprecise about the conditions. For example, traders won't know how much that bonus amounts to until they register and accept it. 
A referral bonus is also mentioned and some instructions are given on the site, but again very shallow and insufficiently informative. 
Account Types Offered at Perlybit
Perlybit doesn't have a range of customized account types for every type of trader. The broker doesn't even disclose the features that their single account offers either. You are basically opening an account and you have no idea what it does or what it brings you. 
Since this company is so secretive about everything, we couldn't even get to the information about the deposit requirements, let alone other trading parameters. 
Demo accounts are not available so new users can only open live trading accounts. Perlybit forces you to immediately deposit funds if you intend to do anything. After that, there's no going back. 
Perlybit Funding Methods
Are you surprised that a crypto-focused scam forces crypto depositing only? Don't be. Commonly present in the scammer society, crypto funding is their favorite way of robbing people and remaining anonymous. The nature of crypto transfers makes them hardly trackable and basically irreversible. Because the crypto wallet doesn't have to be directly shown to the owner as an individual, crypto fraudsters easily get away with their crimes. 
What  Perlybit doesn't shy away from are the unreasonable fees that follow every withdrawal. However, it looks like Perlybit will slap on charges just because they feel like it. First, the broker will take 1% of your total trading profit. The supposed premium account costs 5% of your account balance and there's an additional 3% you pay for taxes. By this Perlybit means their services.   
How is Fraud Orchestrated?
Perlybit makes it somewhat hard to see through their intentions at first. All the promises of huge crypto returns disguise their rotten plans for manipulation and theft. But it is nothing we haven't already seen. It is just another textbook fraud that aims for the first deposit scam. 
Such lack of transparency can only imply huge deposit requirements being the main investment trap. Once they convince you to invest, the trap closes and you are forced to follow instructions and pay more to get out of it. 
Except that you can't just walk away. Your money is stuck and quickly devoured by the scamming machine that only asks for more. Problem is, you can't take back your funds due to unexplained reasons for your declined withdrawal request. 
Perlybit
Summary
Unreliable and dishonest, this firm is not the broker partner you need. Our Perlybit review shows that. Among many reasons why not to invest here, there isn't a single positive aspect or feature this broker could offer. Be cautious when dealing with swindlers, as attractive as their offers could be. Because that is exactly how they lure their victims. 
Outsmart the predator by keeping yourself informed and up to date with market happenings and the latest scam alerts. Leading regulators do their best to publish warnings on newly registered scams. 
You can use their sites to get the information you need in due time and before you make investment decisions that could cost you a fortune. In the end, you can always turn to us for advice, we are always at your disposal.
FAQs About
Perlybit
Broker
What Can I Trade with a Perlybit Broker?
Perlybit advertises crypto trading as their primary service, however, being a scam, they can hardly offer you a chance to trade anything for real at all.
What are the Available Methods of Withdrawal?
The only method that Perlybit allows you to attempt to withdraw funds through is crypto, the same is with depositing.
Is Perlybit Broker Regulated?
Definitely not. This company is completely anonymous and not regulated by CFTC and NFA, the jurisdictional institutions. They aren't regulated by any other entity either.