December 10, 2022
Reading Time:
3
min
Phoenix Invest Group Review: Who Is Behind This Broker?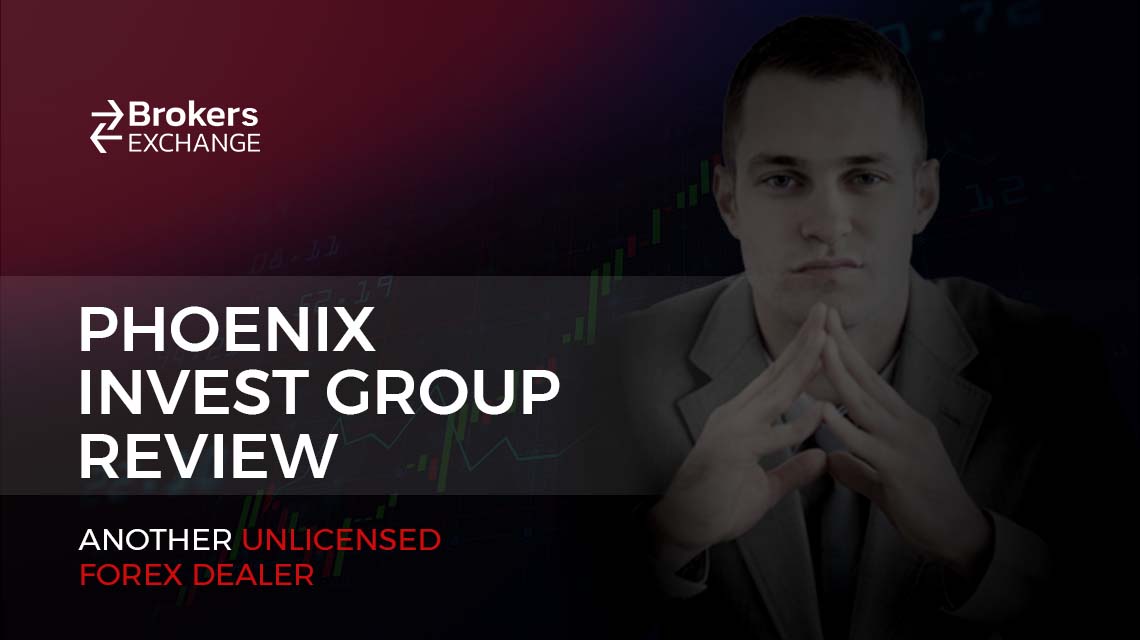 Phoenix Invest Group claims it's based in London, UK. The lack of relevant legal documentation on their website as well as the quick check of the FCA's register of licensed brokers confirms this is not true. 
FCA is one of the most reputable and strictest regulatory authorities in the UK and operating from London would require a valid license. The lack of such tells us that Phoenix Invest Group lied about its whereabouts, which is a huge red flag, besides its unregulated status. 
To make things even better, the number listed on this scam broker's website is of the New York State Department of Motor Vehicles, or DMV for short. 
| | |
| --- | --- |
| Company | Phoenix Invest Group |
| Website | IGPhoenix.Com |
| Address | 420 Lexington Ave #204064-66 Glentham Rd, London443 Little Collins Street |
| Email | [email protected] |
| Phone | 1-718-488-5710 |
| Minimum Deposit | $250 |
| Leverage | 1:200 |
| Bonuses | Yes |
| Regulation | Not regulated |
| Warning | N/A |
Licensing and Security of Phoenix Invest Group
Phoenix Invest Group claims to be a winner of 40 prestigious awards worldwide but has failed to provide a legitimate license and a comprehensive set of legal documents. The "About Us" page talks about transparency, their devotion to and focuses on ethical trading conditions, and yet, we couldn't get ahold of any proof they're legit. 
With that being said, it's safe to say Phoenix Invest Group will not offer any security when it comes to your investments, but rather it will steal your assets as soon as you deposit them. 
All regulated brokers are obligated to publicly share legal documentation as well as a legitimate license issued by the designated regulatory body in their jurisdiction.
Phoenix Invest Group Trading Platform Overview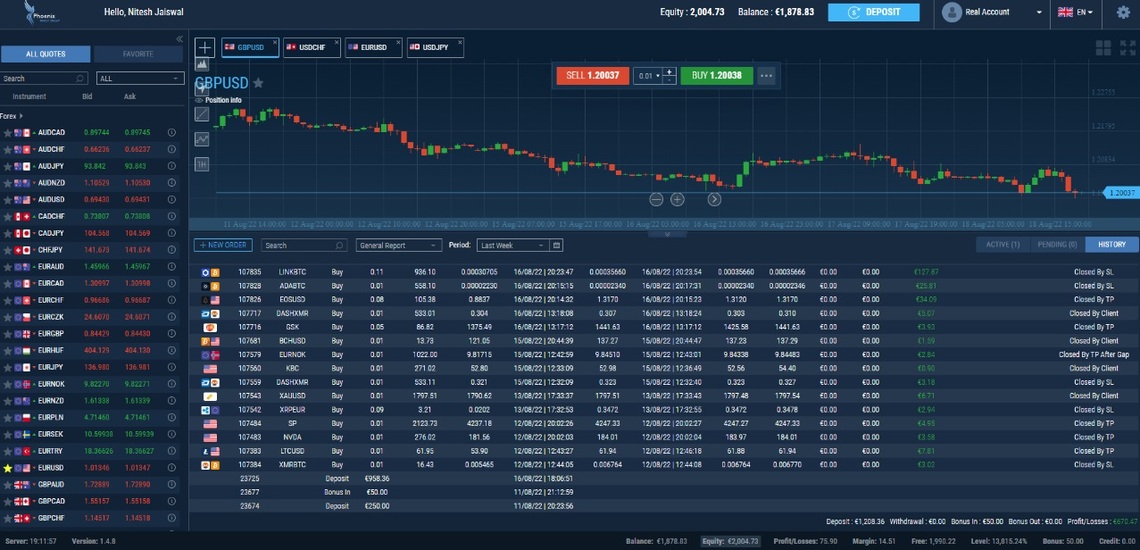 Once again, the trading platform offered by scammers like Phoenix Invest Group is nothing more than a simple platform with very limited functionalities. This platform is available on Windows OS and the web and it gives you access to some timeframes and some charting tools. 
It is very common for unregulated and offshore forex brokers to offer oversimplified trading platforms to their unsuspecting victims. 
Manipulation of trading platforms is also very common among scam brokers, so it doesn't really matter what software is provided, the whole point of schemes like this is to steal your money, not help you profit.
On the other hand, regulated and legit forex brokers offer their clients MT4 and MT5 trading platforms which are known for their wide variety of functions and constant development. 
Deposits and Withdrawals Methods
Although claiming that they accept most payment methods, the truth is that only paying with crypto can be done easily, while choosing to make a deposit with a card or via a bank transfer would be quite a hassle. 
The minimum deposit is $250, which is a lot more compared to the minimum deposits required by regulated brokers which can go as low as $10. There's no fee structure to be found on this scammer's website, and the same goes for their Terms and Conditions. 
Crypto is generally favored by scam brokers as cryptocurrencies are virtually untraceable. On the other hand, credit/debit cards work more to your advantage as it would be a lot easier for you to get your money back in case of fraud, as the chargeback option is pretty effective.
How Is Fraud Set Up?
Unlike regulated brokers, which are obligated to point out and be very clear about the risks trading brings, scam brokers tend to promise profit and put the risk factor aside. 
Getting rich in a short period of time and reassuring people that their platform and expertise are what separates them from others are ways used to trick them into investing. 
Attractive bonuses are also used to persuade people to make a deposit, as well as manipulating trading platforms to make it seem their assets are being traded, when in fact all the assets are long gone. 
On the other hand, usually, there are very high withdrawal fees, inactivity fees, and unachievable requirements which serve as a way to prevent people from getting their money back.
Phoenix Invest Group Summary
Phoenix Invest Group is just another unregulated scam broker. Providing false information and remaining anonymous is far from what a legitimate forex trader would do. 
With the website that doesn't contain any legal documents or Terms and Conditions, it's clear that one doesn't know what to expect from this Phoenix Invest Group until the registration is completed. 
It's crucial to think twice and conduct detailed research before taking any risk while investing your money. If, by any chance, you did get scammed, don't feel ashamed as scams can happen to anyone; we can assist you in reporting your scammer, so don't hesitate to reach out!
FAQs About Phoenix Invest Group Broker
Is Phoenix Invest Group a Regulated Broker?

Phoenix Invest Group is not a regulated broker and should be avoided. There are no legal documents or a legitimate license on this scammer's website. 
Is My Money Safe with Phoenix Invest Group?

Just like with any other unregulated forex brokerage, your money is not safe with Phoenix Invest Group.
Does Phoenix Invest Group Offer Demo Account?

There is a Trial account available, but you're required to make a $250 deposit.