March 07, 2023
Reading Time:
4
min
Primeinv Review – Facts About Primeinv.Co Broker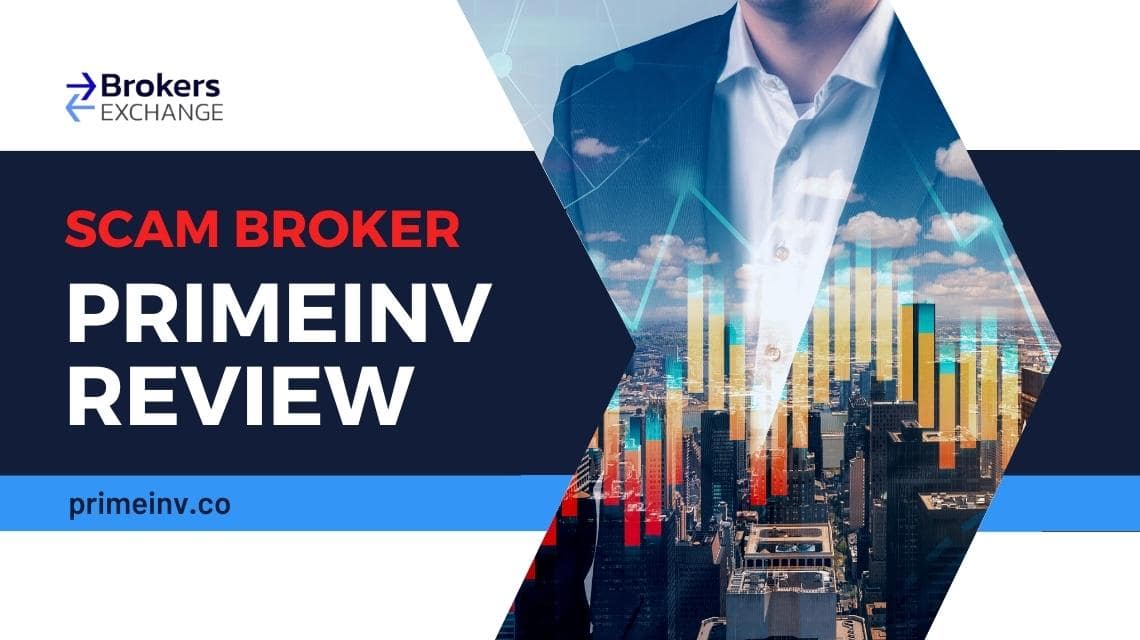 Another investment scam will be covered in this post. We created this Primeinv review to learn the truth about one of the frauds because the internet is not a secure environment and there are many active ones.
There is no regulated website, company, or location for Primeinv. There is no doubt that unethical conduct is taking place based on everything about them. Because the Primeinv scam is simply one of many, people should use caution when deciding where to invest and trade.
Company
Primeinv
Website
Primeinv.Co
Address
N/A
Email
[email protected]
Phone
+123 456 777
Minimum Deposit
$250
Leverage
up to 1: 4000
Bonuses
Yes
Regulation
No
Warning
CNMV

AFM 

Finma

FCA
Regulation and Fund Security at Primeinv
Since Primeinv is not licensed in any way, the broker is probably operating as a fraud. A license ensures that someone can be held responsible for a broker's wrongdoings. Primeinv makes no indication of the ownership or location of the business! This indicates that it's extremely easy for the company to simply take your money without providing you with any methods of retaliation. 
Due to the extremely competitive character of the Forex market, the dealer is also unable to guarantee that it won't fail. In actuality, the majority of offshore brokers are transient, and you may anticipate that they will fail and lose your money with them.
There is no need to invest in scam brokers unless you want to waste your money away aimlessly. In fact, by supporting their additional phony schemes, you would be doing them a huge service.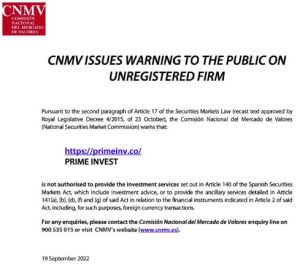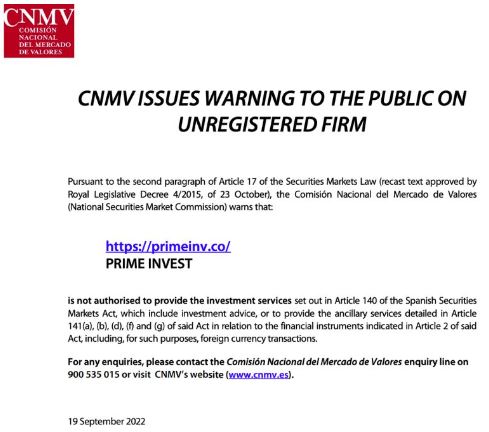 Trading Software Available at
Primeinv
Primeinv offers the most popular software utilized by scam brokers, WebTrader. There are only the simplest functionality and the software's designated manipulation component present. There isn't much else available outside graphical components and several chart kinds. 
Invest in brokerages that use upscale platforms like MetaTrader 4 and MetaTrader 5 as a solution.
Deposit and Withdrawal Methods
Primeinv states that it accepts deposits via Visa, Mastercard, Maestro and Wire Transfer, but in reality, they only take crypto payments. The user area states that a $250 minimum deposit is required. We advise our readers that investing in cryptocurrencies is extremely dangerous because they cannot be tracked. 
Consequently, paying here will be equivalent to throwing your money out the window. We obtained information regarding withdrawals from the Deposit and Withdrawal Policy. Prepare for some sketchy circumstances.
Wire transfer withdrawals cost $50, credit card withdrawals cost $35, and e-wallet withdrawals cost $25. Additionally, if the user requests a withdrawal before completing a 200x trading turnover of all of his deposited funds, a 10% fee will be assessed. For bank transfers, the minimum withdrawal is $250; for all other withdrawal methods, it is $100.
This payment information is utterly inaccurate. Think about the only deposit option, a Bitcoin wallet. Because they differ from the investment option, all other payment methods supported by the policy would be in violation of the law against financial fraud. In practice, users can only withdraw using the same payment method they used to invest, in this case, a BTC wallet. All other techniques are prohibited!
But the fact is that we anticipated Primeinv broker to provide dubious and wholly inappropriate payment terms. We won't keep droning on about lying to our readers. It's important to keep in mind that this is an investment scam and a risk for everyone.
How the Fraud Was Carried Out
Our favorite subject for discussion and explanation is how con artists manipulate people into participating in their expertly crafted schemes. They are trained experts in deceit and can typically approach practically anyone. They are masters of manipulation, so keep reading this Primeinv review to learn more about them.
Typically, an online advertisement serves as the initial point of contact before personal emails and phone conversations serve as the next step. They will use false promises and assertions to try to win your trust and win your allegiance at this point. If you are unfamiliar with how broker scams operate, they may go undetected. The people who run it have no ethics or limits and will do anything it takes to get you to invest.
Easy income is never an option, keep that in mind. People get hooked on it because these fraudsters and impersonators will let you get an investment payback at some point, but won't let you take it. This is a gimmick to make you continue their little game. When you come to the realization that something is off, it is often way too late. Scam brokers are gone at this point and so is your hard-earned income. 
If you are new to and inexperienced with the world of online trading or trading in general, we strongly advise you to seek expert advice. Primeinv scam is neither the first nor the last of its kind; sadly, this type of fraud is fairly widespread.
Primeinv
Summary
Primeinv is an unregistered foreign company that exists solely to steal your hard-earned money. Do not be fooled by it! This Primeinv review is intended to help readers understand what to expect from scam brokers, and it is most definitely not good.
As much as possible, stay away from platforms and businesses that aren't regulated.
FAQs About
Insta Primeinv
Is Primeinv a Regulated Broker?
Since Primeinv is unregulated, it shouldn't even be referred to as a broker in the traditional sense.
Is My Money Safe at Primeinv?
Not at all, no. The security of your money is not guaranteed by Primeinv broker.
What Is The Minimum Deposit at Primeinv?
According to Primeinv broker, a $250 minimum deposit is required, but it might differ depending on the account.