March 26, 2023
Reading Time:
5
min
PrimeOakmont Review: All About the PrimeOakmont.Com Broker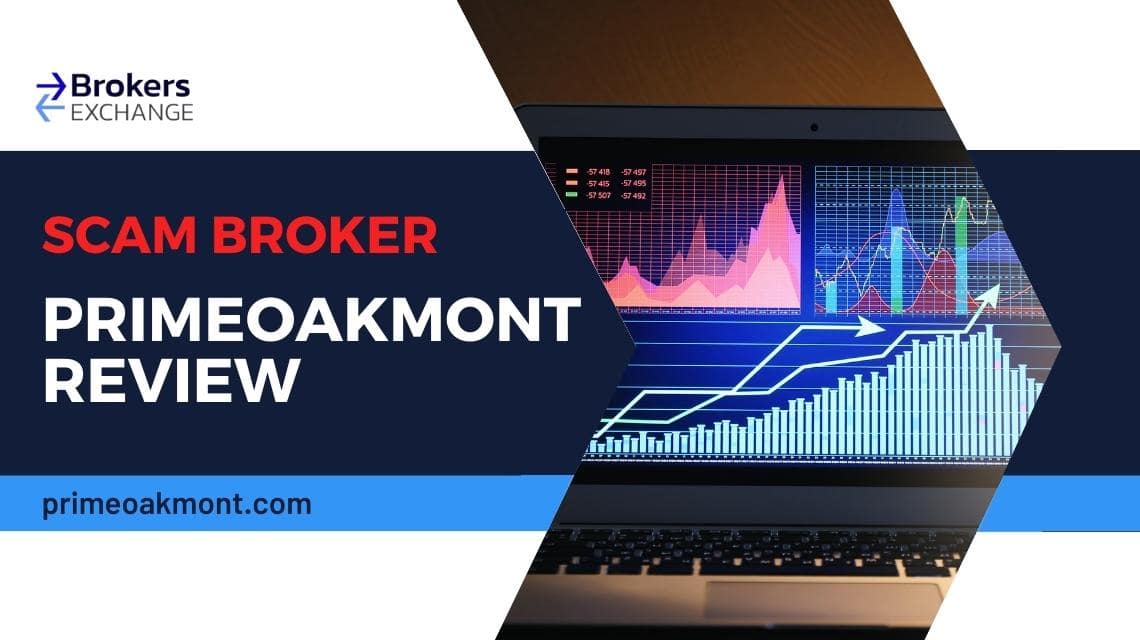 PrimeOakmont Review used to be a hornet's nest of scammers. PrimeOakmont broker first went online in January 2021 as a supposed cryptocurrency trading broker. There were many signs that this was a scam organization, but some people inadvertently fell for the trap.
PrimeOakmount used to be what we call an unregulated broker agency. In layman's terms, they pretended to offer highly specialized financial services, without anybody's approval. When it comes to online broking business, a license is a must.
Before the website was shut down sometime in October 2022, several warnings were posted by a number of Canadian financial regulatory agencies.
These are the warnings we have so far managed to find on these miscreants:
FCNB Warning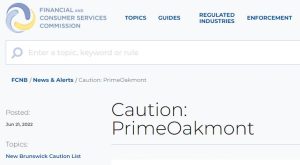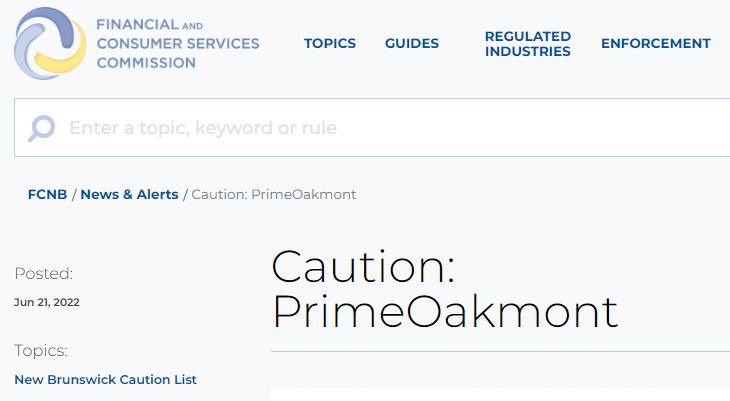 OSC Warning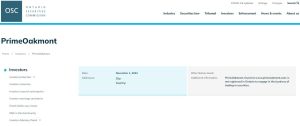 CSA Warning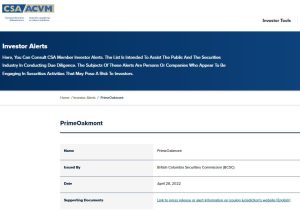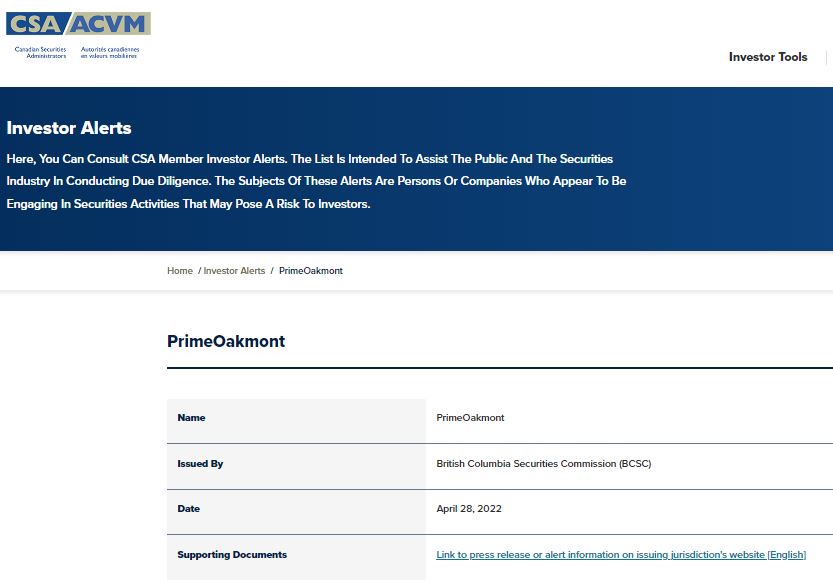 This is a likely cause for the site's shutdown. We will elaborate on these warnings in greater detail later.
Company

Prime Oakmont

Website

PrimeOakmont.Com

Address

Not available

Email
[email protected]
Phone

+44 129 8400035

+1 437 8370312

+48 222922188

Minimum Deposit

BTC 0.01 ~ €250

Leverage

1:1000

Bonuses

Claimed, not disclosed

Regulation

Unregulated

Warning

FCNB, CSA, BCSC, OCS
Should You Trust PrimeOakmont?
Regulation and Security
The fact that PrimeOakmont doesn't have any licenses has already marked them as dangerous. It is very important for clients to know what sets of rules and laws their broker must follow. Multiple Canadian regulatory entities have since posted warnings about the site, further cementing our suspicions.
These regional regulators all fall under the jurisdiction of IICOR, the main Canadian financial regulation entity. In order to acquire a trading license in Canada, a broker must satisfy a number of conditions:
Client's funds and company's deposited capital must be separated safely in segregated bank accounts

Maximum leverage allowed to brokers is 1:50

Negative balance protection is a required risk reduction measure; this prevents clients from losing more money than they have initially invested

All transactions of currency must be completely transparent and reported to the financial authority
Since PrimeOakmont breaks the leverage restriction by offering leverage of up to 1:1000, we can safely say they are not licensed by IIROC. The company might be licensed in another country, however.
Our staff has for this reason elected to check databases of other financial regulators worldwide. The search for PrimeOakmont with the UK's FCA, the US's SEC, and EU's CONSOB from Italy and CySEC from Cyprus returned no results.
Knowing this, and that there are outstanding warnings issued by Canadian authorities leads us to a singular conclusion – Prime Oakmonts is a dangerous entity and is not to be trusted with your money!
Trading Platform Available at PrimeOakmont
Some attention should be given to the trading platforms when choosing an online broker. Most prominent brokers will have well developed trading platforms of their own, with additional support for the more common software. In the case of PrimeOakmont, there is only one.
Web Trader by itself is not a bad platform. It allows for the most basic functions, which makes it a good backup platform. We should mention MetaTrader4 and Metatrader5 here. Advanced pieces of software like these allow for many other functions, such as advanced market analytics or trade automation.
PrimeOakmount only allows for Web Trader to be used because of the ease of data manipulation. The scammers will usually modify the information in such a way to encourage the victim into making additional deposits or withdrawals.
PrimeOakmont Account Types
A reliable way of recognizing these scam brokers is by account types offered. Licensed brokers will offer different accounts based on different charging methods and fees, or legal restrictions. Scammer's websites will only differentiate accounts based on the amount of deposited money.
Considering the PrimeOakmont website is not accessible anymore, not all information on account types is available at this time. What we can say for certain is that there used to be a vertical progression between accounts, depending on the amount deposited.
Here is what greeted the victims that decided to open an account with PrimeOakmont:
Mini – €250

Silver – €1,001

Gold – €5,001

Platinum – €50,001

Diamond – €100,001

VIP- €250,001 and above
The PrimeOakmont Deposit and Withdrawal Method
It stands to logic that a company that wishes to maximize their profits will strive to offer more than one payment method. Imagine going out to a convenience store and find out they don't accept Bank Cards. Though impractical, it's not all that strange. How about a store that charges only in Bitcoin?
What may seem strange to any customer is not at all strange to scammers. You see, Cryptocurrencies are notoriously difficult to track. Over the years, Crypto has been used for some very nefarious purposes. Some of these are drug and organ trafficking, and funding terrorist organizations.
Withdrawals are subject to some interesting conditions, as lined out by the scammers. Withdrawals are done through Bank Wire Transfers, and have a lot of hidden fees and charges. All this is done to discourage withdrawing from an account, of course.
How Is The Fraud Carried Out?
Many fraudulent brokerages attempt to attract their victims by mimicking their legitimate competition. One of the distinguishing features that make these sites more recognisable is the absence of any training tools or education. Customer support is usually unreachable, and account deposits are unusually high.
Since the accounts are founded by Crypto, little transaction information is archived. There are no chargeback options, like with E-Wallets or Bank Cards, so the person that had made the deposit has no safety net in case something goes wrong.
In the rare case a withdrawal is approved by this fraudulent group, it will be subject to hidden fees that make it uneconomical. All of this is outlined in the special terms and conditions that used to be displayed on the site.
PrimeOakmont
Summary
PrimeOakmont is a now defunct unregulated online broking scam. Scammers would accept deposits only in cryptocurrency, and show tailored data to their victims to encourage further spending.
Their behavior has attracted the attention of lawful financial regulators. These Canadian regulatory bodies, named FCNB, CSA, BCSC and OCS have issued warnings about the online scam that is PrimeOakmont.
There were many telltale signs this website was in fact a scam, and not a brokerage. Insanely high leverage, accounts that require high deposit amounts and a restrictive trading platform are just some of these signs. Stay clear of these dangerous swindlers!
FAQs About
PrimeOakmont
Broker
Is PrimeOakmont Broker Authorized?
PrimeOakmont is an unauthorized, non-regulated scam broker.
What Kinds of Assets Can I Trade with a PrimeOakmont Broker?
PrimeOakmont claims to specialize in Cryptocurrency, and this was the only instrument offered.
What are the PrimeOakmont Available Methods of Withdrawal?
Bank Wire Transfers are the only channel through which withdrawals are approved. They will be subject to some costly fees that will net a currency loss for a client, and protect the scammer.