March 02, 2023
Reading Time:
4
min
PrismCapital Review: Do Not Deal With This Scam Broker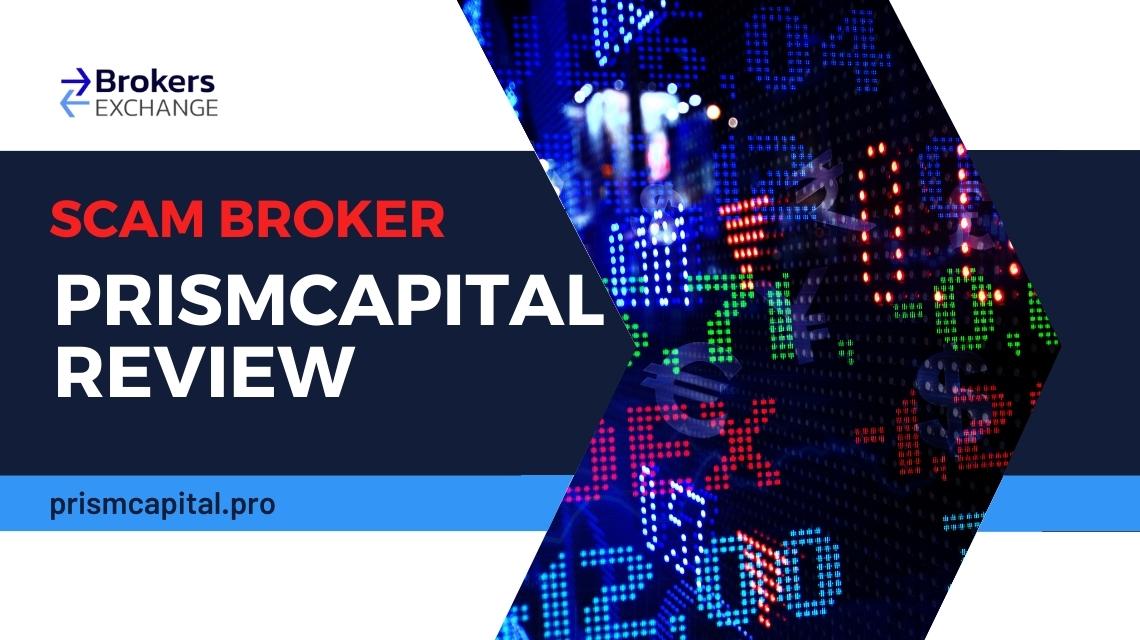 This PrismCapital review is here to give you an insight into more details about this trading scam. You should keep an eye out for this offshore broker. Also, you cannot expect anything other than the fact that your funds will be taken. 
Let's take a look at some interesting details about this scammy website.
| | |
| --- | --- |
| Company | Sanguine Solutions LLC |
| Website | PrismCapital.Pro |
| Address | St. Vincent and the Grenadines |
| Email | [email protected] |
| Phone | n/a |
| Minimum Deposit | $250 |
| Leverage | 1:20 – 1:100 |
| Bonuses | n/a |
| Regulation | No |
| Warning | No |
PrismCapital Regulation and Fund Security
The first thing you will notice is the popular offshore location – Saint Vincent and the Grenadines. It's all fake details here. You may know why by now. However, if you don't here's an explanation!
The major red flag is that SVG does not have an authorized forex regulator. Even off the record, there is no regulator. This indicates that all brokers incorporated there are not regulated locally. There are a number of them. Even so, less than one percent are legit. 
It is always better to invest in regulated companies than in illegal ones. It may not be easy to differentiate them from one another. However, there is a way to make the process much simpler. A key factor is checking the legitimacy of a regulatory or registration claim. If there is no data, you should close the site and move on to any EU, UK, US, or Australian broker.
Being regulated is not just a matter of easy permission to offer trading services. This goes without saying! It comes with many responsibilities, most of which are concerned with how the broker treats its clients. Wrongdoing either results in financial fines or in the total closure of the website in question.
PrismCapital Trading Software Overview
It's time to discuss the web trader that you can access on their web page. The platform is a popular one among fraudsters, and it's clear to see why. The design may be satisfactory, but the services are disappointing. 
Of course, many people can see some helpful elements, like price alerts, a live news feed, and pending orders. However, the fact that the platform is used only by fraudsters is a good enough sign that the trader is not worth it.
It's not advisable to use this scammy trading platform, by all means. There is too much trouble that comes along with it.
Note: Fake companies offer online trading services without any license or true location. There's also a lack of supervision on the part of the authorities. This makes them not only unsafe but risky too. 
Deposits and Withdrawals Procedure
The payment processing part is a bit tricky. There is only one type of deposit that the broker accepts: crypto assets. Similarly, its minimum deposit is $250. The average broker today is happy to open micro accounts for $10 at most, so this is too much to ask for.
It is a known fact that scammers incline toward crypto assets. That is because such transactions are much harder to trace. Yes, some legit brokers accept crypto assets like BTC. In spite of that, they offer a variety of transparent payment options as well.
Those are cards or e-wallets like Skrill, PayPal, or Advcash. Keep in mind that the easiest way for you to get a refund is if you paid with Visa or Mastercard.
How Is Fraud Carried Out?
Phony FX brokers utilize many deceitful approaches. There are withdrawal hardships and unsatisfactory reviews. In addition, you will see astronomical fees. These fees can repeatedly exceed 20%.
Be that as it may, they will charge a profit-sharing fee. Deceitful online companies will want to rob you before initiating a withdrawal. Know that this is effectively always the case!
Aside from that, there are always huge returns that they swear by. This is another common fraud strategy that you should keep in mind. These fraudsters promise backed-up returns. Trading with leveraged assets entails inevitable risks. Try not to disregard this!
Fraudulent brokers will tell you that profits are guaranteed. This is a major red flag. 
Make sure you trade only with legitimate brokers. Brokers who are regulated often come from the European Union, the United States, the United Kingdom, and Australia. They must post a message about the percentage of people who suffer losses at their venues.
If you get victimized by deception, you can do a few things. The most suitable action to take is to file a chargeback. Anyhow, this will be possible if the trader has paid via a card. That's why many scams get around taking card payments. 
Wire transfer deposits and crypto transactions are a bit more tricky to get back. The only option is to contact the bank or the exchange to sort things out if feasible. As well, always make sure to change your username and password. This is indispensable.
PrismCapital Summary
A general guideline is to review all companies before you engage in any transaction. Hopefully, this PrismCapital review provided all the necessary information as to why you should stay away from this broker. 
Do you intend to trade seriously? You can always choose a trustworthy, licensed broker. Simply take a look at the table that we listed in this article.
FAQs About PrismCapital Broker
How Secure is the PrismCapital Trading Platform?

PrismCapital's trading platform is not secure at all. Make sure that you avoid this broker scam.
Does PrismCapital offer Demo Account?

No. This fraudulent broker does not offer any training platform, there is only a live platform.
Are Payouts Subject to Taxes at PrismCapital?

Generally, all capital gains are subject to taxes. However, this broker scam doesn't give payouts.
How Secure is the PrismCapital Trading Platform?

PrismCapital trading platform is not secure at all. Make sure that you avoid this broker scam.