March 21, 2023
Reading Time:
4
min
ProfitLevel Review – Who Is Behind This Scam Broker?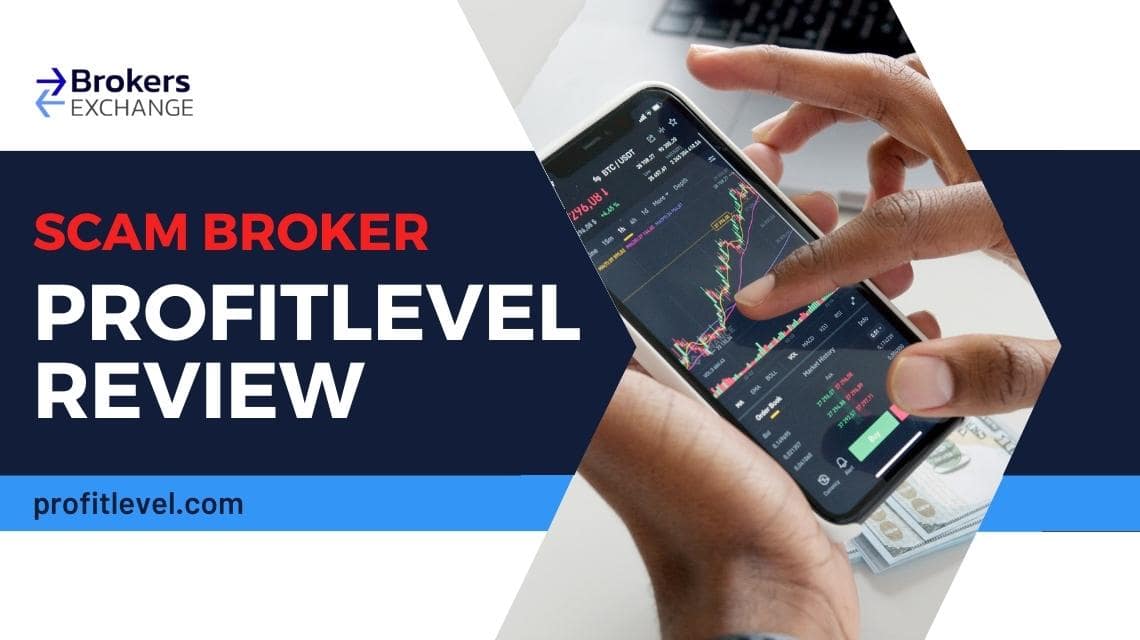 ProfitLevel is supposed to be a CySEC-regulated broker based in Cyprus. In their attempt to sound credible, the fake Cyprus address and license number are shown on the website. 
The license actually belongs to a firm called BCM Begin Capital Markets CY Ltd which is a regulated, legal entity. The only difference is that this firm has nothing to do with ProfitLevel or their previous domain levelprofil.com which is already shut down.
Quickly after the publication, the site went out of work. Now the fraud is here with a new domain that is the same as the old one, only slightly differently spelled. Still representing themselves as a legitimate broker, although they're just a clone, this agency is plain suspicious. Our ProfitLevel review shows that.
| | |
| --- | --- |
| Company | N/A |
| Website | ProfitLevel.Com |
| Address | Cyprus |
| Email | [email protected] |
| Phone | +357 25 123 307 |
| Minimum Deposit | $1.000 |
| Leverage | N/A |
| Bonuses | N/A |
| Regulation | Unregulated |
| Warning | CySEC |
Is
ProfitLevel
a Trustworthy Broker?
Regulation and Security
There's no easier way to put this except that ProfitLevel is an unregulated and completely anonymous defrauding company. Clones are a regular occurrence in the Forex world. 
These illicit agencies find it easier to just fake their company data than get a valid license. All they have to do is set up a site and misleadingly claim affiliation with regulated brokers or companies. That's exactly why this scammer was blacklisted by one of the top tier EEA regulators -CySEC.
CySEC is one of the most influential regulators in the region for a reason. Demanding nothing but the strictest and most secure business conducting, they have precise conditions that brokers have to meet. 
The first of them is placing customers' funds in segregated bank accounts so no one but the client has access to them. What's more, the regulator limits the leverage to 1:30 and introduces negative balance protection to make sure the customers are under lower risk of loss. Ultimately, all EU brokers also fall under ESMA regulation that enforces MiFID – a special set of rules designed to battle money laundering and lack of transparency.
As you see, there is no way a bogus broker like ProfitLevel could possibly be regulated. Especially because they were blacklisted by the same authority they claim to have a license from!  
Trading Platform Overview
Unusually for a common fraud, ProfitLevel allows traders to open a demo account. The quick registration takes you to the client area which ProfitLevel calls ''Myzone''. Here you can choose to either download the software or access the trading platform through your web browser. Since downloading anything a scammer offers is out of the question, we went to check the web trader. 
ProfitLevel doesn't lie about offering MT5. However, only a demo version of the software is available. ProfitLevel doesn't give traders the valid credentials to log in to their stand-alone trading server. 
That is because ProfitLevel doesn't have it and they offer a demo version of the software only to deceive the newcomers. Do not be fooled by a move like this one. You can download the MT5 demo from MetaQuotes site by yourself, without the help of this defrauder.  
ProfitLevel Trading Accounts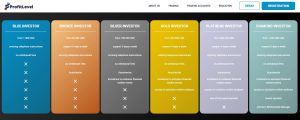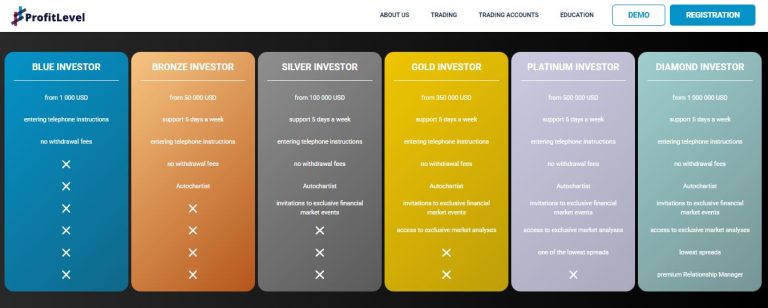 The types of trading accounts available at ProfitLevel are:
Blue investor – $1000

Bronze investor – $50 000

Silver investor – $100 000

Gold investor – $350 000

Platinum investor – $500 000

Diamond investor – $1 000 000
Registering a live account requires passing a knowledge test, and a painfully long verification process. This includes leaving your credit card info and we weren't in the mood to get robbed. 
One of the conditions was uploading an ID or a photo of your passport, too. ProfitLevel basically demands every single personal detail. A bit ironic coming from a completely anonymous financial services provider, don't you think?
A demo account takes a lot less time and effort to open. The registration is completed within several minutes and you can immediately start trading with virtual $100.000 on your account. On a demo version of the platform though. 
Funding Methods at ProfitLevel
Without fully completing the verification process, we weren't able to access the Myzone area and check the depositing methods available. At some point during the registration process ProfitLevel offers traders to choose between entering personal info for credit card transfers, bank wire transfers and E-wallets transfers. 
This unfortunately doesn't guarantee these funding methods to be available. It wouldn't be odd if ProfitLevel only accepted crypto depositing, as a means of keeping their anonymity. no Deposit and Withdrawal policy is also omitted from the site. Turns out we can only speculate how ProfitLevel performs transfers, what are the fees that follow and how long do withdrawals take. 
How The Scam Was Executed
Scam nowadays is a regular occurrence in the Forex world. Since digital trading was invented the thieves have only increased in numbers. Their strategies keep evolving too, as much as Forex tries to keep its world clean. Beginners in the whole online trading thing are especially vulnerable.
If you are a novice too, we advise you to read this ProfitLevel review carefully in its entirety. First things first, clones of regulated companies are hard to identify. 
ProfitLevel is one of them and they have carefully built their image on fake information. All the data is stolen from a legitimate company and this can sometimes confuse traders. 
Sadly, this isn't the only type of scam that could happen to just about anyone. There's plenty of different schemes and behind them all are anonymous firms or one-man-companies.
ProfitLevel 
Summary
This ProfitLevel review was meant for all traders regardless of their knowledge and experience that are interested in this broker. We sincerely hope you will reconsider your plans of investing here, and if you've already fallen victim to this swindler, it's still not too late. 
Please do not be ashamed of asking for help, whether from us or local authorities. The financial institution in your jurisdiction can help you retrieve your funds. We are always at your disposal if you need more information or concrete advice. 
Engaging in Forex trading already comes with a huge risk. Do not make things even harder for you by relying on the wrong partner on the market.
FAQs About
ProfitLevel
Broker
What Funding Methods Does ProfitLevel Accept?
ProfitLevel doesn't explicitly show what particular funding methods are accepted but credit cards, e-wallets and bank transfers are hinted at.
Is ProfitLevel a Trustworthy Broker?
Because ProfitLevel doesn't have a trading license and offers their services even though they were blacklisted by a major regulator, they are definitely not a trustworthy brokerage.
Is ProfitLevel Regulated?
No, they do take the identity of a regulated firm but it's just a facade. ProfitLevel is not a regulated company.