May 24, 2023
Reading Time:
4
min
ProsperityFX Review: All About This Broker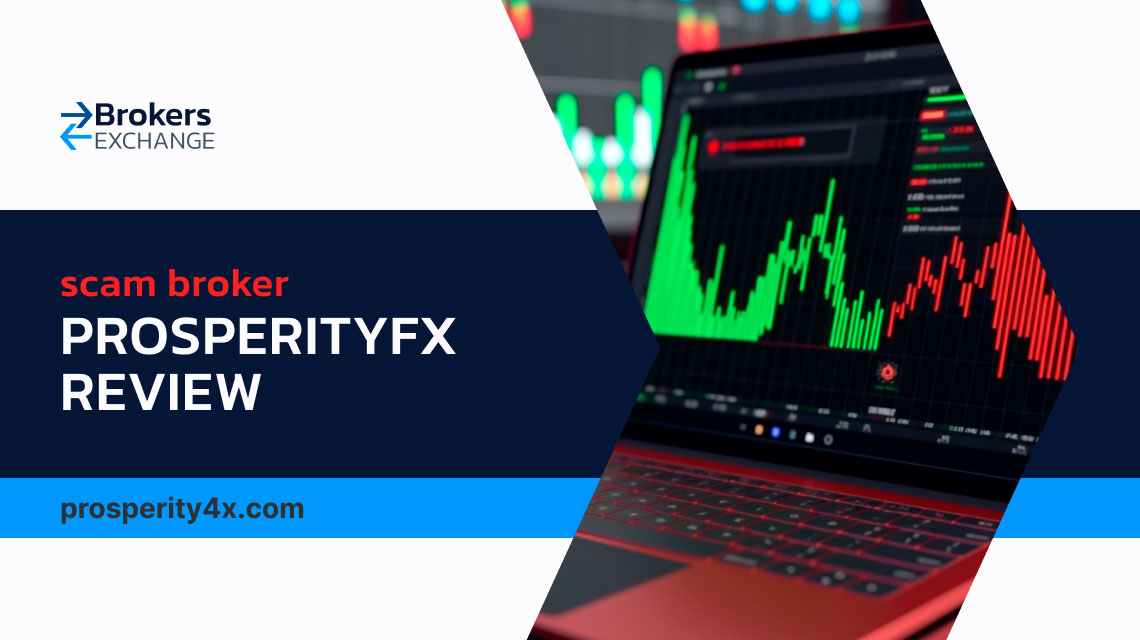 While the website looks exceptionally credible and it's easy to find information, we discovered that ProsperityFX failed to get any valid financial regulation. On top of that, after browsing their website a little bit more, we also couldn't manage to find any address, phone number or email on which you can reach this broker.

The only information that ProsperityFX has listed on their website is just a mention of the famous scam haven St. Vincent and Grenadines. In other words, they are just another investment scam.

 And that's why in this ProsperityFX review, we will bring you all the key details about this brokerage and why you should stay away.

| | |
| --- | --- |
| Company | Prosperity Inc. LLC |
| Regulation | Unregulated scam broker |
| Warning | CBR |
| Website | prosperity4x.com |
| Address | Saint Vincent and Grenadines  |
| Email | N/A |
| Phone | N/A |
| Minimum Deposit | $25 |
| Leverage | 1:500 |
| Bonuses | N/A |
Is ProsperityFX Trustworthy?
Regulation and Security
The ProsperityFX broker is run by the company of the same name from Saint Vincent and the Grenadines (SVG). This offshore domain is an immediate red flag when it comes to trading.

Mainly because the regulatory body of St. Vincent and Grenadines doesn't actually overlook any forex and CFD trading, which means you have no protection for your funds. On top of that, SVGFSA has stated on their website that the companies need to ask for the regulation in the country they actually operate from. Because of that, we advise you to find brokers that are actually regulated by Tier 1 regulators, such as FCA, BaFin, CONSOB, or CySEC.

This is because entities operating under the jurisdiction of the European Securities and Markets Authority (ESMA) provide excellent security and trading conditions. Clients get negative balance protection, compensation up to 20,000 EUR, leverage restriction at 1:30, and segregated funds.

All of this you will not have with the ProsperityFX broker as they are an offshore entity that holds no official regulation. Additionally, the broker also managed to gain an official warning from the Central Bank of Russia.

We also want to inform you that the broker Martyn Services is also a scam and you should stay away.

Trading Software Overview
We were surprised when we saw that this broker offers the world-renowned trading platform, MetaTrader4.

The platform is available in the web version, as well as an app for mobile and desktop devices. MetaTrader4 is one of the best software this industry has to offer.

This makes it very easy to use and makes it available on the go and at any time. Additionally, MetaTrader4 offers a wide range of features, including a variety of options for customization, multiple account usage, designing and implementing custom scripts for automated trading, and backtesting trade strategies.

ProsperityFX Account Types
ProsperityFX offers five different account types which include the following: 
Standard – $50

PRO – $500

Var – $250

Mini – $25

Islamic – $50
The minimum deposit is set to $25, which is actually very good. But just because they are asking for a little amount in the beginning it doesn't actually mean that they are good brokers.

You shouldn't forget the fact that they are unregulated and based offshore. The leverage cap at ProsperityFX is 1:500, which is extremely high and risky. The UK's FCA and ESMA imposed a restriction of 1:30 for retail clients. In the US, that limit is 1:50.

Another good thing that we have found is that this broker does offer a Demo account. This is a great way to test out the services the broker offers before depositing the real money.

Deposit and Withdrawal Method
It was not a surprise at all that this shady broker only allows deposits to be made via Bitcoin. This is in a true scam way done as many well-regulated brokers allow deposits via credit cards, PayPal, Skrill, and other payment methods with a guaranteed refund period.

ProsperityFX, however, doesn't actually want you to get your money back. They only want to get ahold of your funds and have no obligation to return them. Furthermore, any commissions are not disclosed.
All in all, this is a preferred deposit method scam brokers use, because once you deposit using crypto, the transaction is anonymous, irreversible and you will have a hard time getting a chargeback.

That's why it's best to find a good and reliable broker that will offer you many different deposit methods and that will be fully transparent with you. Additionally, withdrawals can be made using only Bitcoin, which means you will not be able to actually get one.

How the Scam Was Performed
We were not surprised to find out that this scam broker operates in the exact manner as many other cheap scams do. Usually, they will call anyone who left important personal details on the internet and try to persuade them into making a deposit. There will of course be many stories promising unrealistic investment returns just to get you to invest.
If they succeed in this and you make your first deposit, they will then call you all the time and ask you to put in more money in order to also make more profit. Do not believe anything these agents are telling you as it is just a mere lie.
Lastly, don't feel ashamed if you have ever fallen victim to these fraudsters, as this can happen to anyone. Be sure to file a complaint with your bank as soon as possible in order to get your money back. And reach out to us as we will help you report your scammer.
ProsperityFX
Summary
To no one's surprise, ProsperityFX is yet another offshore broker that failed to provide something as basic as their address. But that is of course not all as they haven't even mentioned their email or phone number so the only way to contact them is through their website if you do decide to "submit a ticket" as they put it.
In terms of regulation, there is nothing much to be said as this broker does not follow any, but they did manage to get an official warning from the Central Bank of Russia.
We would say they are fairly affordable for a scammer as they only require $25 for a minimum deposit, while most ask for at least $250. But of course that does not mean you should go ahead and work with this SVG-based lousy scam. 
FAQs About
ProsperityFX
Broker
Is My Money Safe with ProsperityFX?
Your money is not safe as ProsperityFX is just another scam broker that follows no regulations.
Does ProsperityFX Offer a Demo Account?
Yes, ProsperityFX does offer a demo account for potential traders, but we are unsure if it even functions properly.
How Long Does it Take to Withdraw from ProsperityFX?
According to the brokers website, the withdrawals should take between 3-5 business days.