March 09, 2023
Reading Time:
4
min
RaiseFX Review: Trading with RaiseFX.Com Is Risky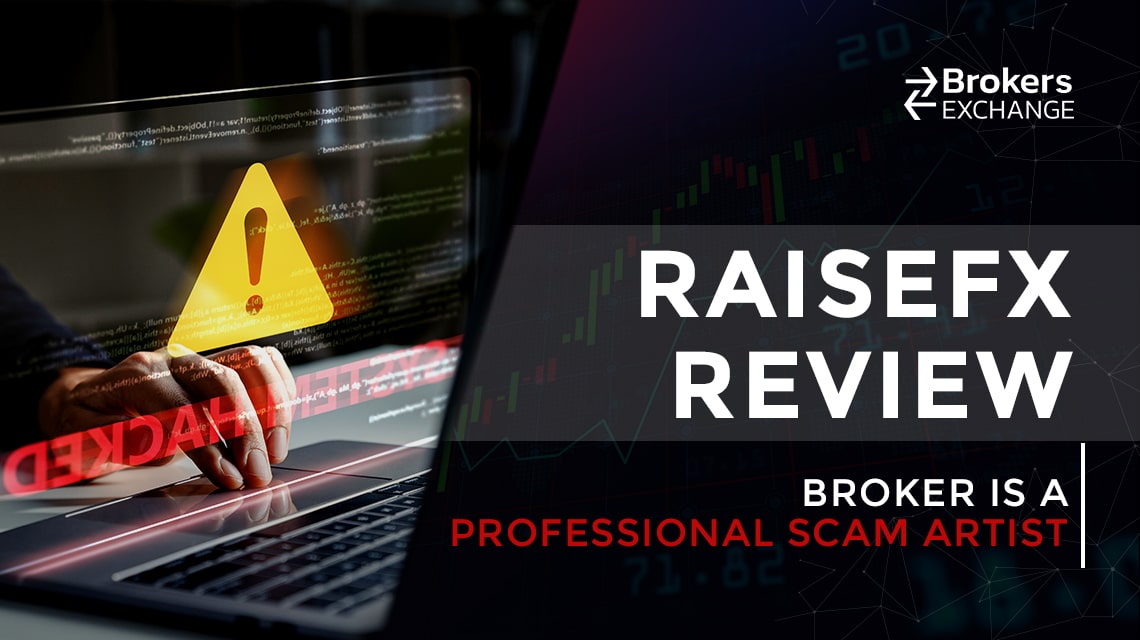 RaiseFX Review, Because it doesn't quite look like one, RaiseFX is one of the more sneaky unlicensed brokers. Although the company's attractive website and favorable trading terms may persuade you that it is a wonderful location to invest, it is actually lying about its licensing. 
This indicates that the company is not as well-regulated as it claims to be, as well as fact that it is unreliable because no one would intentionally lie about such a crucial matter. 
Of course, there are additional aspects of the company to take into account. Follow along with this RaiseFX review for more information about this case.
| | |
| --- | --- |
| Company | RaiseFX  |
| Website | RaiseFX.Com |
| Address | Timiryazev street, building 71, office 17, Almaty, 050060, Republic of Kazakhstan |
| Email | [email protected] |
| Phone | +44 20 45 79 80 75 |
| Minimum Deposit | 200 EUR |
| Leverage | 1:400 |
| Bonuses | N/A |
| Regulation | No |
| Warning | AMF |
RaiseFX Reliability – License and Fund Security
The regulatory status of a financial services business is the most crucial piece of information. RaiseGroup LLP, a business with its headquarters in Kazakhstan, owns RaiseFX. 
Perhaps this explains why RaiseFX's homepage states that the broker has "25 years of experience." However, this is false because the vendor is new. And maybe more significantly, RaiseFX is essentially an offshore broker. As in the European Union and the United Kingdom, Kazakhstan's financial centers do not have strong control, assurances of transparency, or security for client cash.
If you have made the decision to invest in financial products, you should employ the services of a registered agent headquartered in a country with stringent laws, especially if you are a beginner. Avoid scam brokers and unauthorized businesses.
Trading Platform at RaiseFX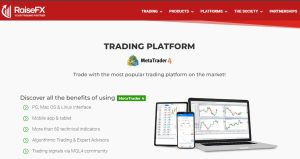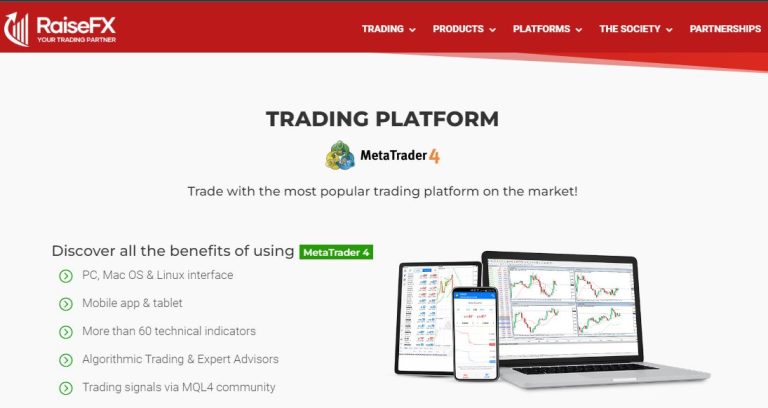 RaiseFX employs MetaTrader 4, which, before being replaced by MetaTrader 5, was the most widely used trading platform on the market for many years. 
These platforms have become the norm in the industry due to their extensive feature set, which includes a multitude of customization choices, support for numerous accounts, the ability to create and use unique scripts for automated trading, as well as the ability to backtest trading techniques.
RaiseFX does not, however, provide Virtual Private Servers or software add-ons and extensions that would enable automated trading to be independent of the trader's personal hardware. Regardless of the software they provide, this is a broker scam, and you should not indulge in investing. 
Products You Can Trade with RaiseFX
Owners of the scam broker RaiseFX account can trade more than 400 different products. Below is the list of some of them:
Forex: USD/GBP, EUR/CHF, AUD/CAD

Cryptocurrencies: Ripple, Litecoin, Bitcoin 

Commodities: silver, gold, crude oil

Indices: CAC40, EU50, ASX200
However it might be, only reputable brokerages can provide access to international markets and secure trading, not scam brokers.
RaiseFX Deposits and Withdrawals
RaiseFX accepts three different methods for making deposits. It is possible to use credit cards, wire transfers, and cryptocurrency assets. It is crucial to request a chargeback if the broker makes a mistake because it can be the only chance to get your money back. At the same time, as the other two forms of payment are final, you will only be able to obtain one if you have made a deposit using a credit card.
This is crucial to remember, especially given that the agent minimum deposit requirement is also 200 EUR. That is far more than the average – 10 EUR – and if you have deposited with the scam brokers, you risk losing it!
How is the Scam Performed?
The RaiseFX scam is only one of many, therefore it's important to understand how investment frauds may seem so you can spot them before it's too late.
The first tactic used by scam brokers is to entice you with alluring promises of enormous earnings and more than favorable trading circumstances on a website. Once they have you registered, they will begin contacting and emailing you to request a deposit. These folks are typically skilled and well-prepared for the job; it is their assignment to persuade you to invest and hand over your money.
The amount of money they require you to deposit will increase with time. At some point, you might even make a profit, but do not be fooled; when the time comes to withdraw your gains, you will realize it was all a sham. Investment scam operates in this manner.
Scam brokers will then invent justifications for delaying your withdrawal, and by the time you discover anything is off, the broker will have vanished with your money. RaiseFX is no exception.
RaiseFX Summary
As we draw to a close of this RaiseFX Review, we wish to underline the risk associated with making deposits and investments into unreliable and dubious enterprises.
Scam brokers typically have a very specific target market in mind, which consists of inexperienced traders and investors. When uncovered, they vanish after employing dishonest strategies and making up opportunities. Avoid using unregulated platforms and organizations as much as you can.
You may be able to get your money back if something similar occurs in some cases, so don't give up. We can help you by exposing your scammer.
FAQs About RaiseFX Broker
What Kinds of Accounts Does RaiseFX Have?
Only one account type is available from RaiseFX, and it can have a base currency of EUR, USD or GBP.
How is My Security Ensured When Using RaiseFX?
There is no insurance for your security with RaiseFX because this is a typical broker scam.
What Funding Methods Are Accepted at RaiseFX?
RaiseFX accepts VISA, Mastercard, WIRE transfer and cryptocurrency assets as funding methods.