December 02, 2022
Reading Time:
4
min
Ranytrade Review: Stay Away From Ranytrade.Com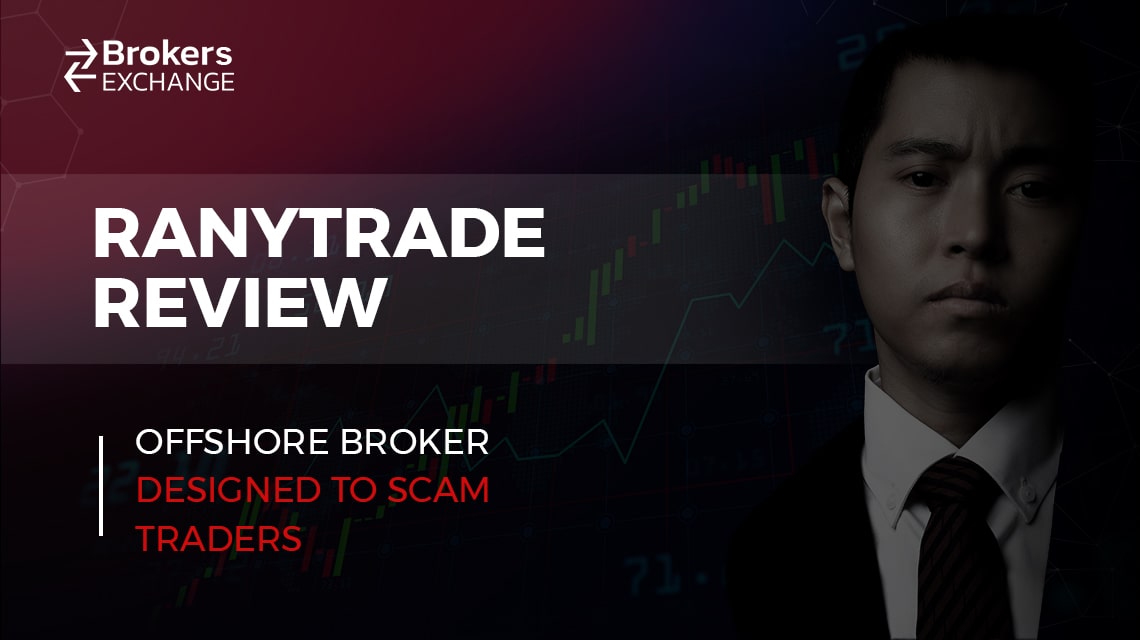 Ranytrade Review, There are many worrisome things that have come up during our research for this Ranytrade review, the first of those being the fact that the broker's website is not operational. 
Meaning that when a user goes to the website nothing comes up. This in itself presents the challenge that very little information about this broker is available. 
The next issue that we encounter is that this broker only accepts payments via cryptocurrency. While they do provide a few options in terms of which coins can be used to make a deposit, there is no option for any safer method of payment. 
Finally, we come to the fact that this broker takes anonymous brokerage to a whole new level as they do not even provide an address to which they are registered. 
This is taken a step further as the only way to contact Ranytrade is by leaving a message on their website which as we have mentioned is no longer functional.
| | |
| --- | --- |
| Company | Ranytrade |
| Website | Ranytrade.Com |
| Address | N/A |
| Email | N/A |
| Phone | N/A |
| Minimum Deposit | $1 |
| Leverage | N/A |
| Bonuses | N/A |
| Regulation | Not regulated  |
| Warning | N/A |
How Are You Protected at Ranytrade?
The short answer is you are not. The longer answer is, due to the fact that there is no information around this broker and the lack of anything resembling a license to operate as a forex broker, there is no agency that ensures the client's rights will be honored. 
This is a common issue with scam brokers. They do not meet the standards that regulators require in order to receive a license therefore they operate offshore where there is no regulatory body in charge of providing oversight for forex brokers. In the case of Ranytrade, they failed to even do this. 
Because the brokerage has taken their anonymity seriously there is nothing that indicates that the broker is capable of doing anything past receiving deposits from their victims. 
Trading Software Overview
From what we could find about this broker while they still had a functional website they offer a web-based trading platform. 
This is not necessarily an issue as there are many legitimate brokers with web-based trading platforms even though for more than 15 years platforms like MetaTrader4 have been the gold standard. 
This, however, is unlikely to be the case with this brokerage as they do nothing to substantiate their claim to legitimacy. 
Even though web-based traders can be decent they still have significant drawbacks in terms of capability when compared to platforms like the above-mentioned MetaTrader4-5. 
With MetaTrader4-5 clients are given a large variety of tools to choose from as well as a near-endless degree of customizability. This allows each trader to tailor their trading experience towards their personal preferences. 
When looking for a brokerage, clients should make sure that the broker provides a platform that suits their needs and that they are comfortable with. 
Whilst a more simplified web-based trader may sound appealing to those just starting out with trading, these platforms compare rather poorly to more comprehensive platforms such as MetaTrader4-5 or even cTrader.
Deposit and Withdrawal Procedure
Now we arrive at the biggest issue with scam brokers in recent years and that is their insistence on receiving payments solely in cryptocurrencies. In line with investment scam trends, this applies to Ranytrade as well. 
This brokerage provides their clients the option to pay in a variety of coins but gives no options for safe payment methods such as credit card or wire transfer. 
There are two massive issues with payments made via crypto, the first being that these payments are anonymous. This brings us to the 2nd reason this type of payment is dangerous. There is hardly a way to retrieve a payment made via cryptocurrency. 
With other payment options like credit cards, clients can in conjunction with their bank initiate a chargeback, a process that is used to retrieve their money if/when an issue arises. This is also true for wire transfers, the process is just called a recall. 
This Is How the Scam Carried Out?
Modern-day investment scams rely heavily on luring their clients in via social media ad campaigns. Once the client clicks on an ad they are presented with a get-rich scheme that seems far too good to pass up. 
This is how scammers get clients/ victims to sign up for their "services" and to make the initial deposit. 
The second part of the scam takes place on the deposit page of the scammer's website. Whilst most scam brokers claim to accept legitimate payment methods, they steer the victims towards making a payment in cryptocurrency. 
Once the payment is made victims usually get access to their accounts. Bringing us to the third part of the scam, where victims find out that the industry standard platform that was promised is nowhere to be found.
Instead, they are greeted with a barely functional web trader whom the "broker" has complete control over. 
Ranytrade Summary
All in all, this broker provides some of the worst trading conditions that we have seen so far. 
From openly requiring payments to be made in an unsafe way such as cryptocurrency to the fact that the broker's website is no longer operational there is nothing about Ranytrade that gives the indication that trading with them would be a good idea. 
Another issue that we have with this broker is that they are not regulated in any region. This means that clients/victims of this brokerage are completely unprotected as there is no oversight of the actions of this broker.
Ranytrade openly demonstrates predatory behavior by not disclosing any information about the brokerage whilst providing dismal trading conditions that would send any experienced trader running in the opposite direction. 
Overall we can not recommend that you even attempt to create an account with this broker. Due to all of the factors listed above, it is safe to conclude that this is just another in a long line of investment scams following the same blueprint. 
FAQs About Ranytrade Broker
Is my Money Safe with Ranytrade?

Absolutely not as payments are made via cryptocurrency and the broker has no legitimate regulatory oversight.
Is Ranytrade Legitimate Broker?

This broker is as far from legitimate as a brokerage can be, they do not even provide an address to which the brokerage is registered.
What Is The Minimum Deposit at Ranytrade?

The company requires an initial deposit of $1.