March 17, 2023
Reading Time:
5
min
RoboticsForex Review: Is CerusMarkets.Com Legit?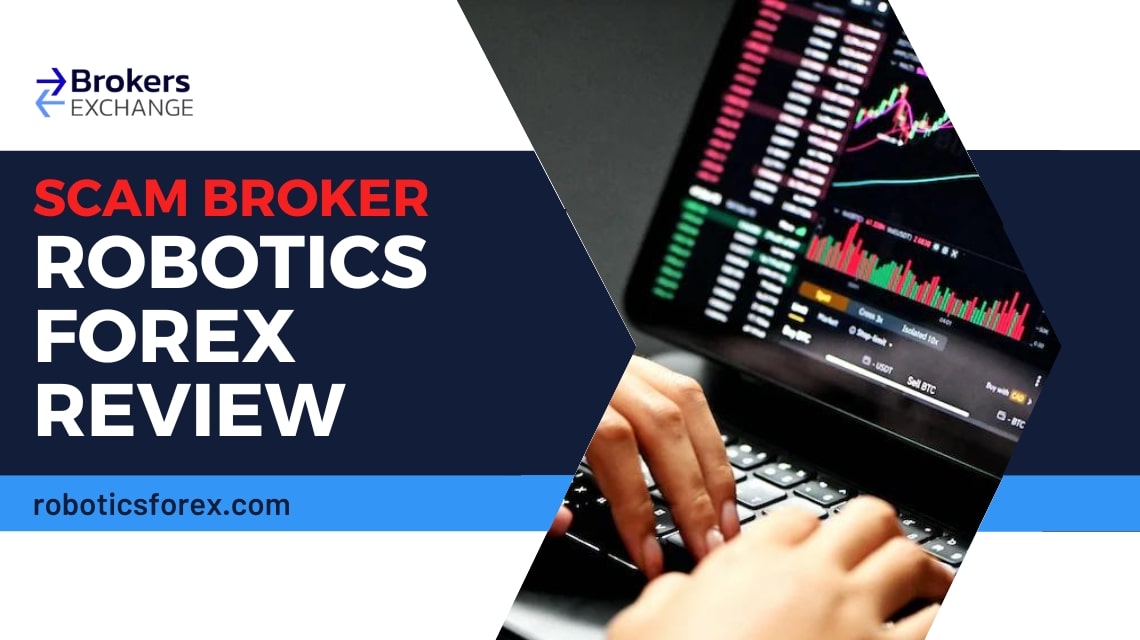 RoboticsForex is an online scam that pretends to be a Forex broker. It is an unlicensed and unregulated entity and is offering its services without authorization. This faux company claims to be based in Germany, but this is far from the truth. 
In reality, there is no company named RoboticsForex in Germany, or anywhere else for that matter. There is however a warning issued by a European financial regulator, CySEC from Cyprus.
We may view the warning in question by following the link below: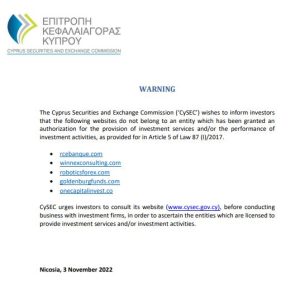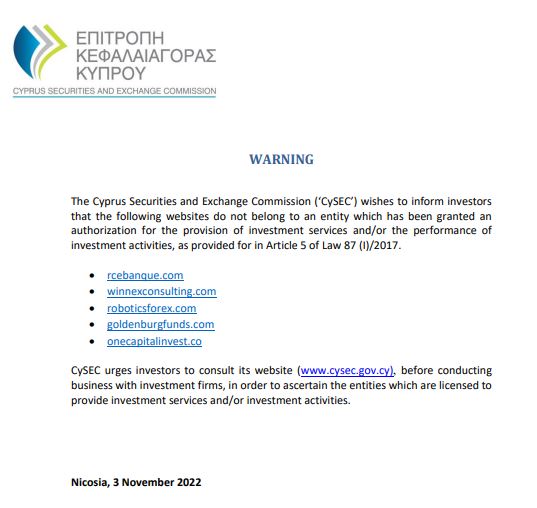 Veteran Forex retailers will recognize CySEC as one of the most reliable financial authorities on the globe. In this RoboticsForex Review, we will examine how and why an online broker would be placed on the blacklist of such a prominent agency.
| | |
| --- | --- |
| Company | Robotics Forex |
| Website | RoboticsForex.Com |
| Address | Wilhelmgasse 1/3 44712 Varel Germany |
| Email | [email protected] |
| Phone | +49487334427 |
| Minimum Deposit | $150 |
| Leverage | 1:100 |
| Bonuses | Yes |
| Regulation | Unregulated |
| Warning | CySEC |
RoboticsForex Reliability – Regulation and Security
If we were to believe the mail address that was posted on the Robotics Forex website, the company is based in Germany. Germany's financial regulator BaFin is held with great regard as what we call a Tier 1 Regulator in the industry. Of course, RoboticsForex is not based in Germany, it's just a lie used to attract victims to their scam.
It is easy to understand why the frauds would use these lies. Germany has one of the most stable economies on the planet and is well known for its high standard of living. It is not a coincidence that their financial authority BaFin has some very strict rules as to what is necessary to open a broking company.
In order for a company to offer broker services in Germany, it must first satisfy these conditions:
At least €730,000 of initial capital

A compensation scheme of €20,000 must be implemented

Leverage is restricted to 1:30

Bonuses are forbidden

Negative balance protection is required for clients

Client's and company funds must be in segregated bank accounts

All transactions must be transparent
Besides these, there are other rules that are dictated by the MiFid agreement, since Germany is part of the EEC.
Now that we have familiarized ourselves with these conditions, we can see some discrepancies with what RoboticsForex claims. The leverage on the RoboticsForex website is over the legal limit, at 1:100. 
They break another rule by offering a bonus with initial deposits, and later we will see how a segregated bank account rule is broken as well. This makes it quite unlikely BaFin would allow such a company to keep its broking license.
Luckily, it is easy enough to check with these authorities whether these claims are true or false. After checking the databases of German BaFin, as well as some other more prominent European regulators, namely FCA from the UK, CONSOB from Italy, and CySEC from Cyprus, we have found something interesting. Not only is RoboticsForex unlicensed, but there is also an outstanding warning about them being a fraud, issued by CySEC!
Training Platform Available at
RoboticsForex
As it is common with scam brokers, the only trading platform available at RoboticsForex is the simplest Web Trader. It is not a very bad platform by itself, but there are some limitations that it cannot overcome. Most reliable brokers will offer it only as a backup solution because of these limitations.
Besides the limited functionality of the platform, Web Trader is quite insecure and prone to data manipulation. We can see how RoboticsForex has done this by examining their trading charts. Positions on these charts move unrealistically high and low, even for markets as volatile as Forex.
Current industry-standard software for online speculation is developed by MetaQuotes and is known under the name Metatrader4 and Metatrader5. When new, this software redefined what online trade was with advanced market analytics tools, stop signals and other features.
It has undergone extensive incremental upgrades since the release and is now compatible with most automated trading solutions on the market.
RoboticsForex Account Types
RoboticsForex does not offer any demo account. We know this because no account grants access to any trading tools before a client makes a deposit. There also is no account segregation, and the scammers conceal this from their victims. Only after reading the Terms and Conditions does this become obvious.
Regulated brokers will have their account information prominently displayed on their webpage. Different accounts offer different services to the client, and these services will be of course charged differently. Some accounts are billed through spread, others through commission or swap.
RoboticsForex Deposits and Withdrawals
RoboticsForex only accepts one method of payment, and this is cryptocurrency transactions. This is a large red flag, and anybody who's already in an online business of any kind knows how dangerous Cryptocurrency transactions can be.
Sure, deposits are subject to some very pretty bonuses, but is it worth it? We have mentioned how accounts at RoboticsForex are not segregated, and this means that only the initial sum a victim has deposited belongs to them. All other funds, be it a bonus or a trading profit, belong to RoboticsForex as mentioned in their Terms and Conditions.
When the victim finally realizes what happened and wishes to withdraw, they will be greeted with a 20% withdrawal fee! This guarantees a financial loss, even if you manage to withdraw any money from an offline e-wallet these scammers are using!
Again, we should mention that a legitimate broker will offer many secure channels through which a client can update their account. These can be Bank Card Payments Bank Wire transfers or e-wallets.
How is the Fraud Delivered?
Frauds like RoboticsForex will usually attract their victims by offering unbelievably good numbers. In their case, this would be unusually high leverage. It goes as high as 1:100, compared to the usual 1:30 in the EU. The scammers also offer hefty bonuses and a guaranteed profit, which is ridiculous.
Most of the important information is obscured by the swindlers. Before actually funding the dreaded account, you won't have access to any utilities, even to the trading platform. RoboticsForex only accepts crypto payments, and the accounts are not segregated. If you add the data manipulation on their Web Trader platform into account, this can only guarantee losses!
When the victim finally realizes what they've gotten themself into, the scammers just pull the rug under their feet. Because of how difficult it is to track or trace Crypto when it changes hands, it has become a staple of dubious business deals. The money is as good as gone, and the scammers with it.
RoboticsForex
Summary
RoboticsForex is an illegal online broker that operates without authorization. Their predatory behavior is known to the agency named CySEC, which is the main financial regulator in Cyprus. CySEC has issued a warning about the antics of these frauds.
This predatory entity uses all the tricks in the book. Great promises are made on guaranteed profits, large leverage limits, and low spreads. Cryptocurrency transactions are the only funding method with this scam. The frauds use crypto's notorious untraceability to cover their tracks and get away with stealing.
FAQs About
RoboticsForex
Broker