November 24, 2022
Reading Time:
4
min
Royal Oak Investment Review: Do Not Deal With This Scam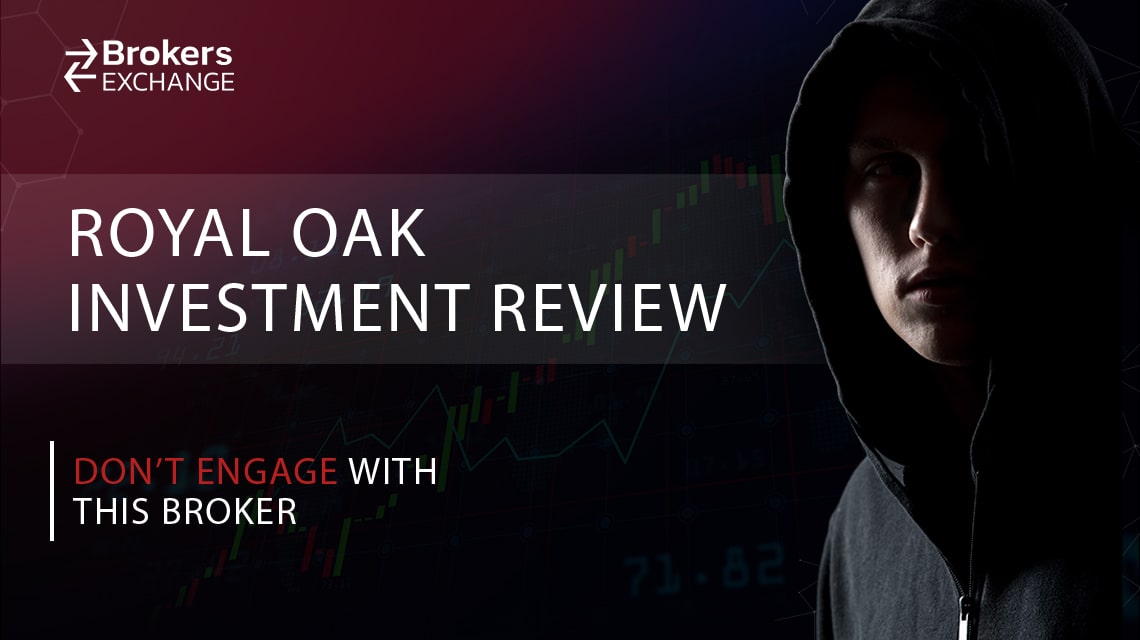 The website operated by Royal Oak Investment looks charming and professional, but after combing through it, we came to the conclusion that it lacks critical information needed by potential clients. 
The site vaguely mentions it is owned and operated by Royal Oak Investment but doesn't reveal any legal entities behind it. Parameters that should help keep the users' investment secure and under which they should trade are also poorly defined. Information regarding licenses is also not available.
While not providing any pertinent information, the shady brokerage does give enticing offers and access to an integrated trading platform. All of this clearly points toward a broker scam. Read the rest of our Royal Oak Investment review to discover the investment scam hiding under the glamorous surface of this fraudulent broker.
| | |
| --- | --- |
| Company                          | Royal Oak Investment |
| Website | Royaloakinvestment.com |
| Address | N/A |
| Email | [email protected]. |
| Phone | +18884472460 |
| Minimum Deposit | 250USD |
| Leverage | 1:400 |
| Bonuses | Available |
| Regulation | Unregulated |
| Warning | N/A |
Royal Oak Investment Reliability – License and Security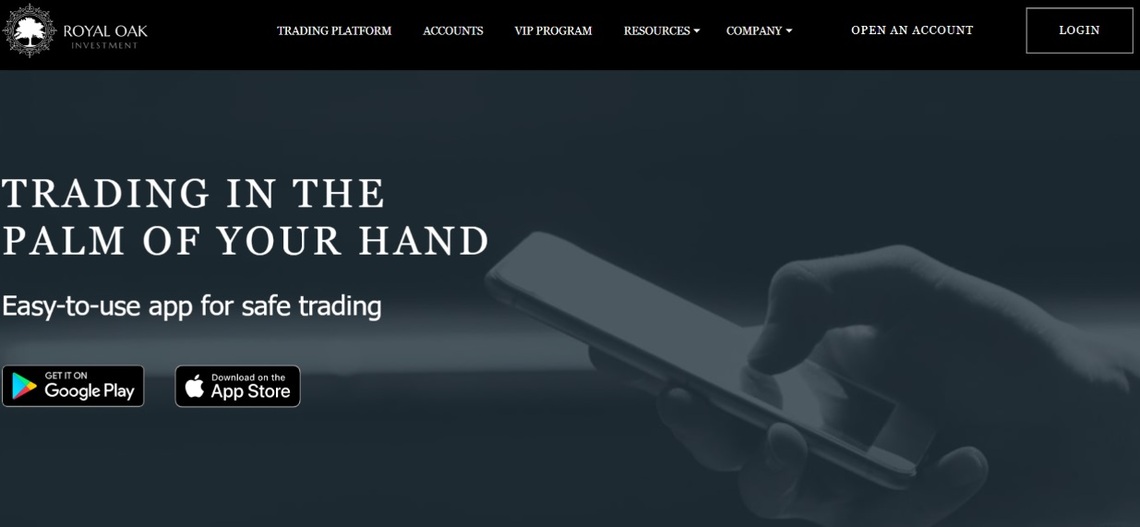 One of the clear signs of fraudulence is that Royal Oak Investment doesn't offer comprehensive information about who operates this company or the website itself. They remain practically anonymous. 
The only thing we could find was weak references to the company being owned and operated by Royal Oak Investment LTD and that it is regulated by Saint Vincent and the Grenadines. A quick search reveals that no company under such a name can be found in the SVG company registry.
From what we can tell, the scam broker operates without a license. Even if they were based in SVG, the FSA of SVG doesn't provide licenses to brokers and it doesn't oversee the companies involved in forex trading and similar activities. 
Furthermore, their terms and conditions actually refer to SVG as a regulatory body that is supposed to regulate the relationship between Royal Oak Investment and the user. This is an alarming sign and a clear indication that we are dealing with an investment scam.
Trading Software Available at Royal Oak Investment
Royal Oak Investment promises its users a unique and innovative platform that is integrated into its website. 
Their site actually does have an integrated trading platform but is far from unique and even further from innovative. In fact, the platform is a very basic trading tool that lacks various advanced options offered by professional trading platforms offered by legitimate brokers.
Having a trading platform doesn't guarantee anything though, and it definitely doesn't guarantee that you're actually doing business with a real broker. In fact, many scam brokers nowadays can get a hand on some sort of trading software, and some of them even manage to acquire professional trading platforms such as MetaTrader 4 or MetaTrader 5.
Royal Oak Investment Deposits and Withdrawals
The financial swindler accepts payments via credit cards, Bitcoin, and wire transfers. When you head over to the deposit section of their site, however, you find that there aren't any functional options, thus you are required to contact the support team or their manager through e-mail. The minimum deposit is 250USD which is unconventionally high for a brokerage.
If you request a withdrawal, you will have to pay a 1% transaction fee. Licensed Forex brokers rarely charge a transaction fee and even if they do, 1% is an outrageously high fee for said transaction. This company is clearly an unscrupulous broker trying to get your money any way they can.
Bonus and Promotion Offered at Royal Oak Investment
The Broker offers bonuses but these are subject to their trading terms and conditions which require the client to obtain a trading volume of 50 000 times its value. 
These are some really insane trading conditions but what is even crazier is that clients can't withdraw their bonus or any profits related to the bonus unless they satisfy the aforementioned conditions.
Requesting to fully or partially withdraw funds from the client's deposit also has some interesting outcomes. If the client withdraws under 20% of their deposit they will have to pay a withdrawal and request fee and their account balance will be determined by subtracting the withdrawal.
If the client request to withdraw a sum that is higher than 20% of their deposit, the bonus and any consequential profit shall be revoked. They will again, have to pay the withdrawal request fee.
All of these ridiculous requests and conditions only further reveal Royal Oak Investment to be nothing more than a bogus brokerage.
How Is the Fraud Carried Out?
The scam perpetrated by this broker is no different from what other scam brokers are doing. Victims are first lured in with mouth-watering ads which give the impression that real people are making some real money with the help of this broker.
After the would-be clients leave their contact information somewhere, the "sales representatives" will manipulate them until they make a deposit. If it seems like the client can deposit even more money, they will receive regular updates detailing how they're making huge financial gains, and how it would be a grave mistake to try and pull out now.
By the time clients realize that they have been scammed, their money is long gone. When trying to withdraw their money they will be met with the insane withdrawal conditions described above or alternatively the scam broker will simply stop replying to their victims.
Royal Oak Investment Summary
The Broker scam is just another fish in a vast sea of fraudulent brokers operating today. They are an unscrupulous broker who uses their clients only for their own personal well-being. 
Don't let yourself be fooled by anonymous swindler companies. Pay attention to the red flags that these fraudulent organizations usually wave and be careful. 
We hope that this review has provided you with some clear guidelines regarding how can you recognize a scam broker. If you still want to invest your money be sure not to do so through this company.
 FAQs About Royal Oak Investment Broker
Which Payment Methods Are Accepted at Royal Oak Investment?

Royal Oak Investment accepts payments through credit cards, wire transfers, and bitcoin.
Are Payouts Subject to Taxes at Royal Oak Investment?

Yes, Royal Oak Investment requires a 1% fee for transactions.
How Secure is Royal Oak Investment Trading Platform?

Royal Oak Investment is not a safe trading platform as they do not conform to any legal regulation.