December 13, 2022
Reading Time:
3
min
Sagicor Finance Review: Avoid Sagicor Finance at Any Cost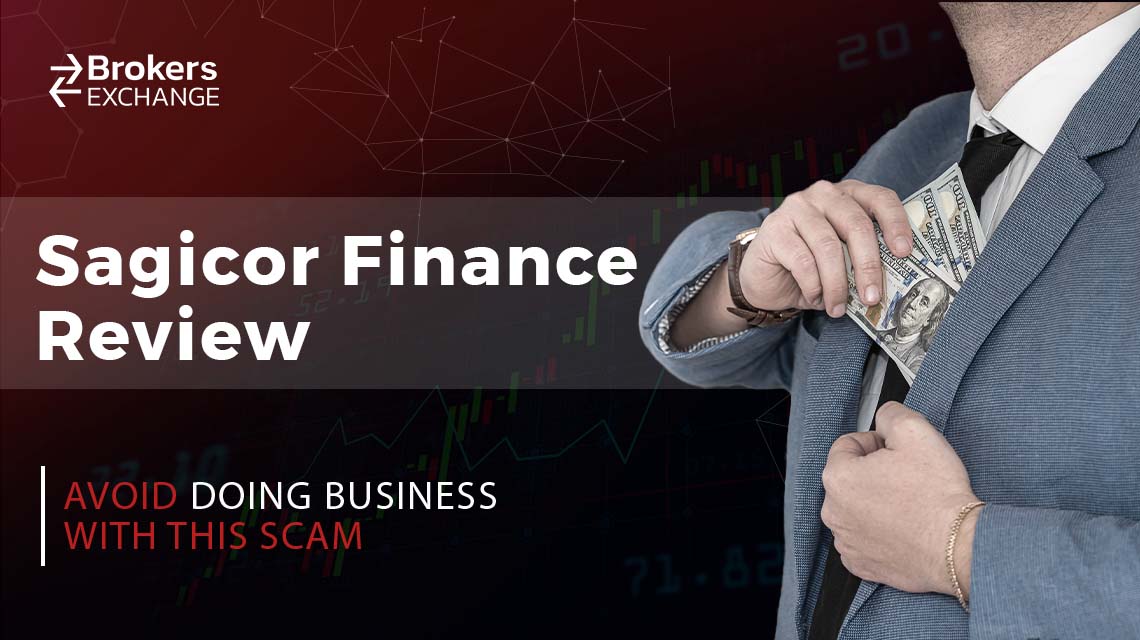 Sagicor Finance claims that the website is owned by Parity Group LLC., a company that's registered in the scammers' haven, Saint Vincent, and the Grenadines. 
While Parity Group LLC. is indeed registered in SVG, rest assured we're still dealing with a fraudulent brokerage here. 
There are many inconsistencies with this phony broker, such as Sagicor Finance's Terms and Conditions stating that all disputes between the client and the company will be taken to a court in Poland, out of all places. 
Keep reading our Sagicor Finance Review and we'll help you see what kind of unscrupulous brokerage we're dealing with here.
| | |
| --- | --- |
| Company | SagicorFinance |
| Website | SagicorFinance.Pro |
| Address | First floor, First ST Vincent Bank LTD Building, James Street, Kingstown, VC0100, SVG |
| Email | [email protected] |
| Phone | N/A |
| Minimum Deposit | $250 |
| Leverage | 1:200 |
| Bonuses | Yes |
| Regulation | Not regulated |
| Warning | N/A |
Sagicor Finance Regulation and Financial Security
As previously mentioned, Sagicor Finance belongs to a company that's registered in SVG, a notorious offshore zone that is home to many shell companies and scammers. 
The reason why SVG is a scammers' haven is that there are no regulatory bodies monitoring the broker market, which means that scammers can pretty much do whatever they want while remaining anonymous. 
On top of that, on Sagicor Finance's website, we could find any relevant information about its regulatory status as well as any legal documents regulated brokers are obligated to disclose.
This, along with the fact that Sagicor Finance is unregulated, should be more than enough to discourage you from investing with this shady broker.
Overview of Sagicor Finance Trading Platform 
Just like all the other scamming brokerages we came across so far, Sagicor Finance also promises a high-end, multifunctional, advanced trading platform to its users. In this case, specifically, a MetaTrader, although it's unclear whether it's MT4 or MT5. 
After registering though, you'll get access to a platform with very basic functionalities, which is also the case with the vast majority of other scam brokers. 
MT4 and MT5 have been the industry standard for over 15 years and are used by regulated brokers almost by default, and for good reason. 
Also, please note that there are scamming unregulated brokers actually offering MT trading platforms to their clients, which is why the top priority should always be checking their regulatory status first.
Payment and Funding Method
In Sagicor Finance's Terms and Conditions is stated that acceptable payment methods are: 
Bank/Wire transfer
Credit/Debit card
Any legitimate crypto e-wallet
The minimum deposit is $250 while the maximum is unlimited. In the same document, we found that Sagicor Finance can cancel a withdrawal request if there will be no sufficient funds left after withdrawal to secure an open trading account. 
It's also stated that non-deposited funds can't be withdrawn unless the trading volume doesn't reach 25x the deposited amount + the bonus. Regarding fees, apparently, only an inactivity fee could be charged, but the amount was not disclosed. 
How Does Fraud Implement?
Scammers like Sagicor Finance operate in pretty much the same way. The first step is to attract potential victims, have them open an account, and deposit their assets and as soon as the deposits are being made, the trouble starts. 
Phony brokers steal their victims' money by taking their deposits and then having them invest more by convincing them they've made huge profits. 
Manipulating trading software became a common practice among scammers, as well as denying and/or delaying withdrawal requests and setting unachievable requirements. 
Offshore scam brokers might be a bit more aggressive in a sense, as they remain completely anonymous, so tracing the scammers would be close to impossible. 
Sagicor Finance Summary
Sagicor Finance allegedly belongs to a company Parity Group LLC., registered in Saint Vincent and the Grenadines. 
On top of that, Sagicor Finance is not regulated by any relevant financial institution, there are no legal documents to be seen, and is almost completely anonymous. 
There are a lot of inconsistencies as well as anonymity, which is why we strongly advise you to avoid this unregulated offshore broker at all costs. 
And always think twice before investing your money with an online trading broker.
FAQs About Sagicor Finance Broker
Is Sagicor Finance a Good Broker for Beginners?

Sagicor Finance is a fraudulent brokerage, which means it's not good for anyone, regardless of the level. 
What Funding Methods Does Sagicor Finance Accept?

According to Sagicor Finance's Terms and Conditions, bank wire transfers, credit/debit cards, and crypto are accepted payment methods.
Which one is Better? MT4 or MT5 Platform?

MT5 is a more advanced version of MetaTrader as it offers more features and is constantly updated.