July 18, 2023
Reading Time:
4
min
See Why to Avoid This Broker in Our Foresight Unlimited Review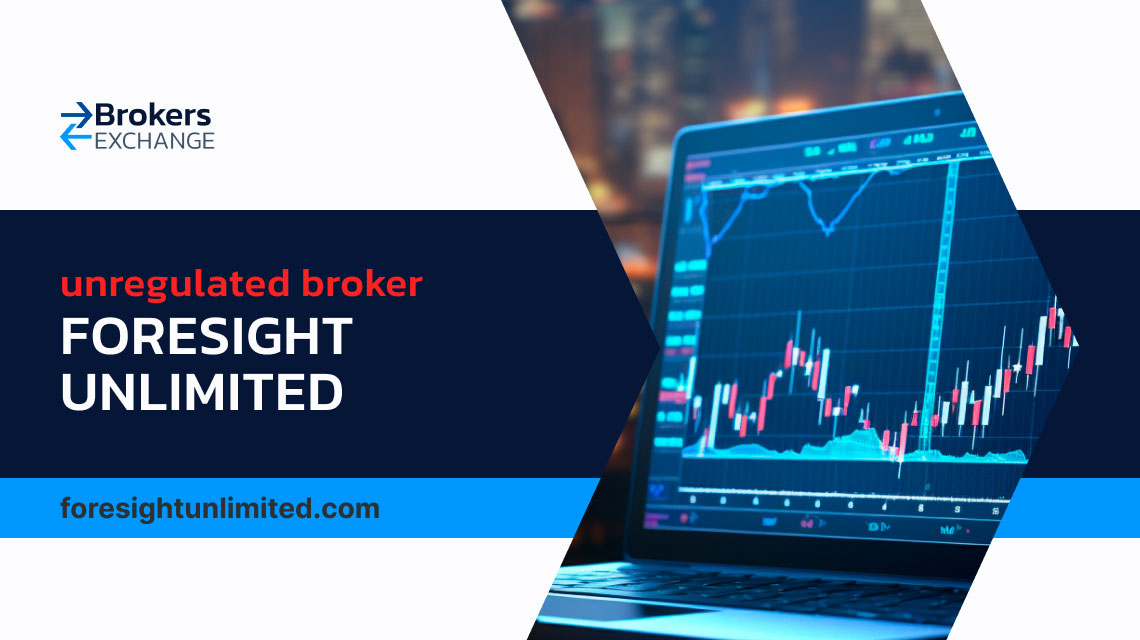 All things considered, Foresight Unlimited is a scam broker out to get your money. They gave us no evidence of a legitimate license and showed many other critical signs.
In our Foresight Unlimited Review, we will dive into why we believe this broker is a scammer and what lessons you can learn from them. There is no reason to keep you waiting any longer so let us start.
Broker name
Reliable Broker Must Have
Legal name:

Foresight Unlimited LTD

Transparently displayed in the disclaimer or legal documents

Regulation:

Unregulated

Within your legal jurisdiction – local regulator

Registered in:

Berkshire, UK

Your country or the country whose license applies in your legal jurisdiction 

Established:

N/A

The older the domain – the higher the possibility the company is trustworthy

Website:

foresightunlimited.com

Domain should be from local or international zones, no .xyz, etc.

Financial Authorities Warnings:

The Financial Commission

None

Contacts:
Email: [email protected]

Phone: +447462092389

Live chat

Phone, email, social media, web form

Is withdrawal possible:

Highly unlikely

Yes

Fees:

Hidden fees

Transparent fees – list of spread and commissions

If Active on Social Media:

No

Often present on social media

Investor Protection:

No

Compensation fund
Regulation Info
An absolute must-have for all brokers is a trading license. This is something you should always check first and if a broker does not have one, you do not have to waste more time going through their offer.
As you can already guess, Foresight Unlimited is NOT regulated. They are based in the UK, which would make them a part of the FCA regulatory framework. But when we checked their register, we found no traces of the broker.
Having a license from the CFTC, German, or Columbian regulators is invaluable, and since Foresight Unlimited does not have one, we highly suggest you avoid it.
And we are not the only ones who do. The Financial Commission issued a public warning against this scammer only days ago. Here, you can see it for yourself.
Foresight Unlimited Profile
Found on foresightunlimited com, this broker offers four account types:
Starter – £600

Premium – £2,000

Deluxe – £5,000

VIP – £10,000
As you can see, the minimum deposits are high, which is another sign of a scam. Conversely, you can open an account with a reliable broker for as little as $10. Foresight Unlimited did not say what leverage you can expect.
When it comes to the trading platform, the broker developed its proprietary platform that you can use on your PC or phone. However, we do not advise this, as nefarious brokers like Foresight Unlimited manipulate what you see on their platforms to trick you into believing you are making money.
Bonuses
Foresight Unlimited also has a referral program. The more people you refer to them, the higher the bonus percentage you get. Those vary between 8%, 6%, 4%, and 3%.
Trading platforms:

Proprietary platform

Account types:

Starter – £600

Premium – £2,000

Deluxe – £5,000

VIP – £10,000

Financial Instruments On Offer:

Forex (USD/GBP, EUR/USD, USD/JPY, etc.)

Crypto (Bitcoin, Ethereum, USDT, etc.)

Stock (Apple, Tesla, Coca-Cola, etc.)

Real-estate

Maximum leverage:

N/A

Minimum Deposit:

£600

Commissions/bonuses:

Yes (referral program)

Mobile app:

Yes

Desktop app:

Yes

Autotrading:

No

Demo account:

No

Education or Extra tools:

No
Is This Broker Safe?
The unequivocal answer to this question is NO! Foresight Unlimited does not have a trading license and cannot guarantee you any safety as a result. We encountered many warning signs, and an official financial body warned the public against them. Those reasons should be enough for you to avoid them at all costs.
You should only trade with brokers you can trust, and if you need help finding them, you should contact us today! We will fill you in on everything you need to know and find you the right broker, all free of charge.
Trader Reviews – Sharing Experiences
Being a vital part of every review, we were eager to see what Foresight Unlimited clients said about them. So naturally, we were very disappointed to find no reviews online.
But there is a lesson to be learned here, and the lesson is – do not do business with anonymous brokers. The chances are that everyone figured out the Foresight Unlimited Scam and did not invest since there are no reviews. And if we were to guess why the scam was uncovered, we would say the lack of a license and general anonymity.
How Does the Foresight Unlimited Platform Reach Clients and Who Are They?
Having no reviews to go on, we cannot say who the victims of Foresight Unlimited are. They are based in the UK, but many UK traders know what to look for in a broker. For this reason, we believe Foresight Unlimited targets less advanced countries where people are not so informed about regulations and other broker requirements.
Deposits and Withdrawal Methods
Foresight Unlimited accepts many payment methods, including:
Bitcoin

Litecoin

Ethereum

Tether

Skrill

PayPal

MoneyGram
The broker does not say anything about deposit or withdrawal fees. But since we are talking about a scammer, they will charge you a significant amount if they allow you to withdraw money, to begin with.
Reasons To Avoid This Company
There are many reasons to avoid Foresight Unlimited, but you should only need one – no regulation. No license means no security for you and your money, which makes this broker highly risky.
If you lost your money to the Foresight Unlimited Scam, there might be a way to get it back. You can contact us and tell us about your situation so we can try to think of a solution, but the most important thing is not to lose hope. 
Our Safe Trading Experts' Opinion of Foresight Unlimited
To conclude our Foresight Unlimited Review, this broker is a scammer, and you should not approach them in any capacity. They employ shady tactics to get your money, only to steal it as soon as you deposit it.
But there are ways to trade safely, you just need to find a reliable broker, and that is where we come in! Reach out to us, and we will consult with you about your wishes and give you tailor-made recommendations for free.
FAQ Section
Is Foresight Unlimited Trustworthy?
No, they are not. Foresight Unlimited operates without a license, so you cannot trust them.
How do I start forex trading?
The first step is to familiarize yourself with forex. Read on the subject, watch educational videos, and study the market. Next, you want to find a reliable broker, and we can assist you there. We will consult with you and make sure you make the right choice, all free of charge.
How can you help me choose the best forex or crypto broker?
The best thing we do for you is personalize the offer. We analyze your needs and skills and then make our suggestions based on that.