October 06, 2022
Reading Time:
3
min
SkyShell Trading Reviews – Who Is SkyShell Trading Broker?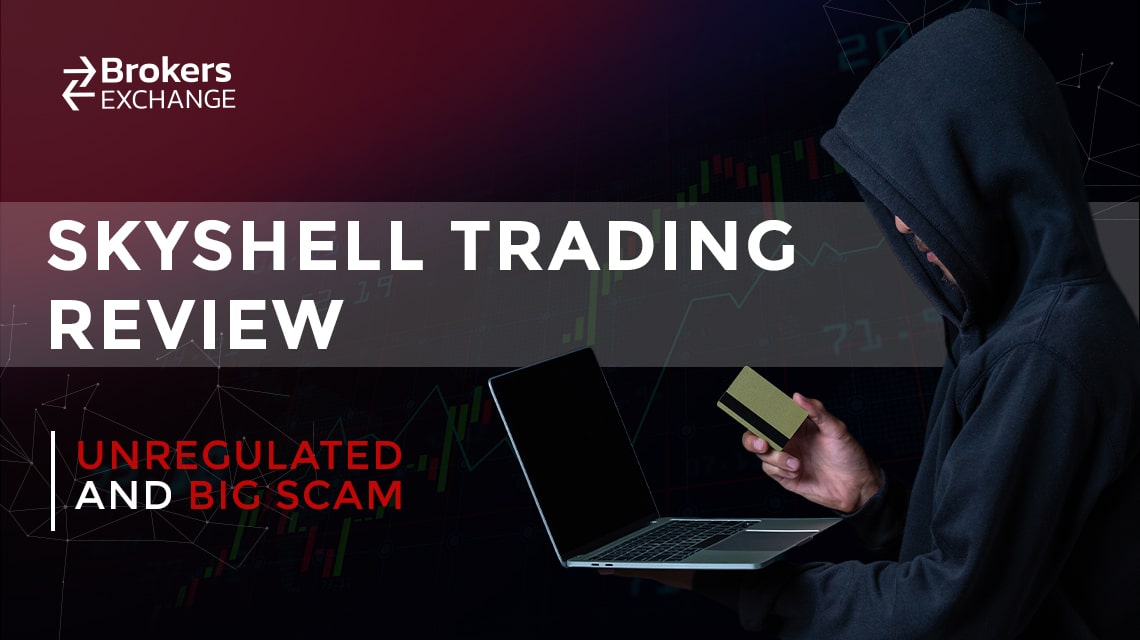 This SkyShell Trading review is less of a review and more of a blaring warning against depositing your funds with this scam broker. The brokerage displays every single warning sign of an investment scam.
From what we could find about them, they are based in the UK, or so they claim. This is not the only claim that SkyShell Trading has made. 
This broker also claims to be licensed by the FCA, but everything we have found suggests that these are just empty words of an investment scam.
As of the writing of this article, the broker's website is not operational. The FCA has even issued an official warning that this brokerage is an unlicensed clone of a legitimate FCA-regulated trading firm.
Contrarily, you should avoid doing business with dubious brokers like Globalswisspro, LondonEX, and Brokeragea.
| | |
| --- | --- |
| Company | SkyShellTrading |
| Website | SkyShellTrading.Com |
| Address | United Kingdom |
| Email | [email protected] |
| Phone | +447868740261 |
| Minimum Deposit | $100 |
| Leverage | N/A |
| Bonuses | N/A |
| Regulation | Not Regulated |
| Warning | FCA  |
Is SkyShell Trading License Regulated?
SkyShell Trading is as far from regulated as a brokerage can be. This broker does not even hold a license provided by an offshore regulatory agency. What they do have though is a fake license issued by the Financial Conduct Authority. 
This trading firm has gone about getting this fake license by cloning a brokerage that is actually licensed by the FCA. This means that they have actively gone out of their way in order to deceive potential clients by forging an FCA license. 
Prior to depositing funds with any broker, the first step investors should take is verifying that the brokerage does not have any active warnings out on regulatory agency websites. This is dependent on the investor's location. 
Overview of SkyShell Trading Platform
Generally, there is not too much to say about a scam broker that has not even bothered to set up an offshore entity. The SkyShell Trading firm does not currently have an operational website.
Even when they did have a website, what they lacked was a functional trading platform. This is not to say that some proprietary platforms that they built functioned poorly, but rather that the platform did not exist in the first place. 
Depositing and Withdrawing at SkyShell Trading
The minimum deposit that is required by this scam broker is $100. Deposits and withdrawals were possible through the following cryptocurrencies:
Of course, when a broker requires you to deposit using cryptocurrencies, the only virtually untraceable payment method, you can already conclude to stay away.
This Is How The Scam Is Performed 
Investment scams usually have a fairly straightforward process for getting to their victims. Generally, victims are approached via Facebook/Social Media ads.
Once an investor clicks on an ad they are required to leave an email before they are shown a "get rich quick" scheme-type video.
If this does not turn them they are then relentlessly berated via email with increasingly tempting offers. 
SkyShell Trading Summary
Providing a SkyShell Trading review has proved to be a difficult task due to the lack of information about this broker. The information that can be found is either very damning or just a bald-faced lie.
This is most obvious with the brokerage's counterfeit FCA license. Trading firms like SkyShell Trading are the reason that we recommend that investors search all the tier-one regulatory body's websites for warnings about the firms they are considering.
If one was to overlook all of the red flags we have listed, it should be noted that trading with this broker would be impossible. This is due to the fact that the brokerage does not provide a trading platform for clients to use.
This means that the website that this broker did have was only set up to receive deposits and that's about the only functionality made available by SkyShell Trading. Investors can also be safe by looking into using one of our recommended brokerages.
FAQs About SkyShell Trading Broker
What is SkyShell Trading's Minimum Deposit Amount?

The minimum deposit required by this scam broker is $100 USD.
What Are Deposit Options Available at SkyShell Trading?

The only available deposit option was a crypto wallet – BTC, ETH, and USDT.
What Kind of Trading Platforms Does SkyShell Trading Offer?

One of the biggest issues with this brokerage is that they do not provide clients with ANY trading platform.