March 20, 2023
Reading Time:
5
min
Smart Trade CFD Review: Fraud Behind SmartTrade-CFD.Com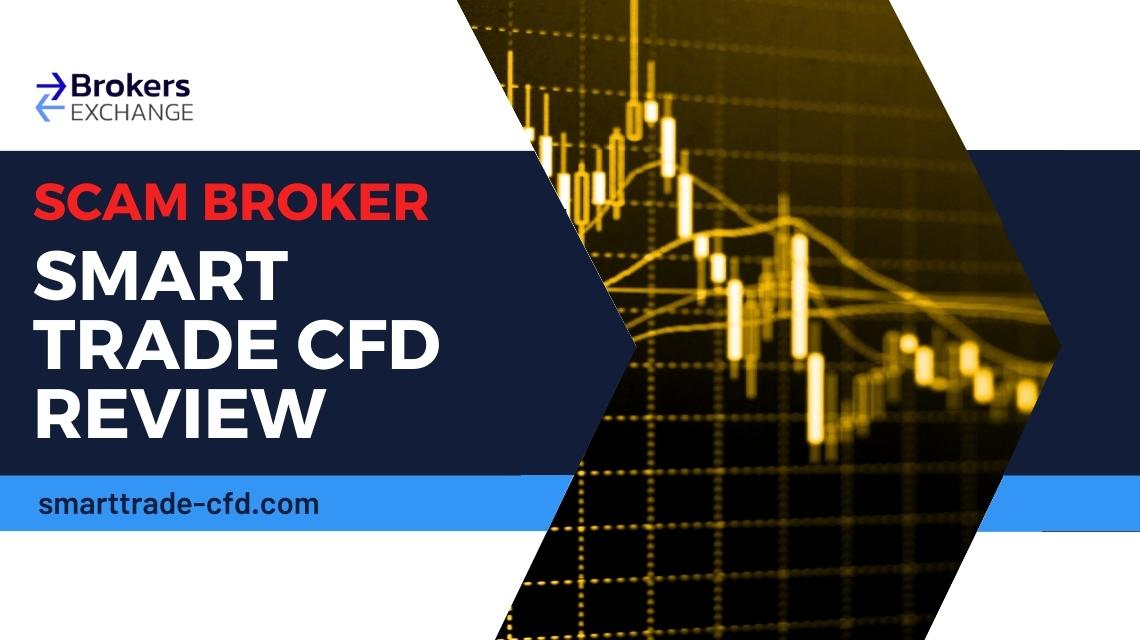 Smart Trade CFD Review, Such a well-designed and attractive website isn't something you see in common scammers. Usually faulty and defective with a lot of broken pages and non-functional links, the sites you most often run into basically scream scam. Smart Trade CFD has an interesting layout combined with just the information a novice trader falls for. 
Premium trading software, helpful customer service, account managing, low investing requirements, and similar statements is how Smart Trade CFD attracts customers. As soon as you start scratching the surface, you will find what you fear – Smart Trade CFD is nothing but an anonymous fraud. 
The company they claim to belong to is Vie Finance, a regulated investment firm that has nothing to do with this swindler. In fact, what confirmed our doubts was the warning we found by the Italian regulator.
For more disturbing info on this con, keep reading our Smart Trade CFD review. 
| | |
| --- | --- |
| Company | N/A |
| Website | SmartTrade-CFD.Com |
| Address | Estonia |
| Email | [email protected] |
| Phone | N/A |
| Minimum Deposit | $200 |
| Leverage | 1:1000 |
| Bonuses | N/A |
| Regulation | Unregulated/scam broker |
| Warning | CONSOB |
Is
Smart Trade CFD
a Reliable Broker? Regulation and Security
Judging from the misleading website information, Smart Trade CFD is supposed to be a brand by Vie Finance. This is a fully regulated investment firm from Greece that operates under different domains and isn't even remotely linked to this company. 
Next, the broker claims to be based in Estonia, which means they would at least have to be regulated by the Estonian financial authority – FSA. Although, as a licensed EU broker operating under the MiFID directive, they could still offer their services to Estonian traders. 
Either way, this broker doesn't appear in the EFSA register of authorized entities. They do not even show in any other database we checked, including FCA, FINRA, BaFin, CySEC, CNMV, and AMF. The only regulator that mentions this broker is the Italian CONSOB in the form of a warning. You can read more about it from the link we posted in the beginning of this review.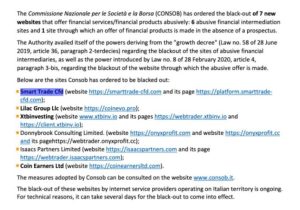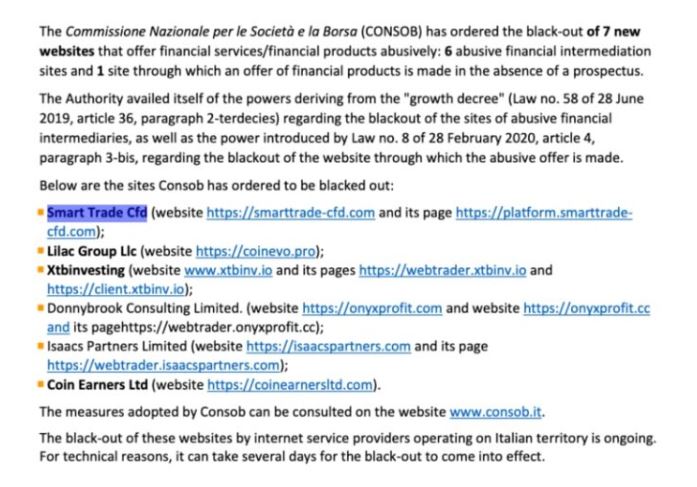 An EEA brokerage firm can only acquire a license after passing several stages of licensing. First off, they would have to invest at least 730 000 EUR to prove they're a serious company planning a long-term brokerage business. Furthermore, the highest security standards have to be implemented, including segregated bank accounts, leverage cap, negative balance protection, compensation scheme, and full transparency. 
Since Smart Trade CFD is a blacklisted scam, nothing they offer is of any use to traders. No money invested with this cyber thief will provide profit or a chance for success, so beware.  
Broker's Trading Platform Overview
Yet another suspicious website that doesn't allow access to their trading terminal of questionable existence. This company provides an option to register a new account, except that you can't. 
We know that makes zero sense but apparently, after registering, you can't log in to the client area with your credentials. It is unsure if this is a current glitch or if the site has been defective for a while now. 
What we know is that because of the issue, we couldn't get to the trading terminal to test its capabilities. As expected from a shady brokerage, no download links exist on the site and the only trader offered is the web-based one we couldn't even see. 
The most important element of your entire trading experience is certainly the software used for buying and selling of financial instruments. When its malfunctions or completely absent like in the case of Smart Trade CFD, you know the company isn't to be trusted. 
Account Types Available
With Smart Trade CFD, new traders are supposed to be able to pick among the three account types with the best service on the market. This bold claim is hardly true, especially with the costly registration and not-at-all-impressive service we've seen so far.
All in all, Smart Trade CFD offers the following account types:
Micro – $200

Standard – $1 000

Premium – $25 000
It's a bit strange that above the name of the account stands one amount as a deposit requirement while the description shows another sum. The more expensive accounts should bring better features and more possibilities. Unfortunately, Smart Trade CFD is a con artist that only specializes in deceiving clients and taking their money, not in offering competitive service. 
Funding Methods Available
Apparently, Smart Trade CFD only accepts deposits via credit and debit cards. This is not so bad as this method is probably the safest as it allows chargeback during the period of 540 days since the deposit. 
What is concerning is the fact that you're entering your credit card info on an anonymous third-party payment site. You're basically laying out your data for the scammers to take and misuse it. Being robbed in a matter of minutes is what basically happens when you pass your sensitive data into the wrong hands. 
Legal documentation that fully discloses the details of the deposit and withdrawal process is omitted from the website. Anything more we say about this is pure speculation. The following segment of this review explains how fraudsters abuse this to their benefit. 
How Does the Scam Implement?
The broker clearly only gives clients the information they want them to see. Although account opening is impossible at the present moment, we don't doubt the scammer has a decent number of traders that have registered here. 
The key to get the investors' trust is to play a friendly attitude with a lot of patience and helpful guidance throughout the trading journey. When the scam agent establishes a relationship of trust and affiliation, the convincing goes much easier. The customer is manipulated by the wrong statistics shown by the trading platform, which makes them invest more. 
Real problems start when the victim starts questioning the credibility of their broker and asks for withdrawal. The endless loop of more fees and charges goes on and on until the client loses the investment potential and the scammer loses their interest.
Smart Trade CFD
Summary
This Smart Trade CFD review unequivocally proves this firm to be a scammer. The data we've gathered and presented to you here is a result of a careful and detailed investigation. So if you're still in doubt, do not hesitate to ask us for more intel on this unscrupulous scheme. 
Considering that the site is still very much active, we advise caution, no matter how well-informed you are. 
Never stop researching and reading. Every single piece of information you obtain is one more step to safer trading. Scamming methods keep evolving and becoming more convincing. That is why every trader has to constantly keep working on their own education. 
Cyber theft can happen to anyone, so there's no shame in it. The point is to expand your knowledge and skill so you can successfully avoid it and we're here to offer you help along the way. 
FAQs About Smart Trade CFD Broker
Is Smart Trade CFD Regulated?
Smart Trade CFD is a completely unregulated firm that doesn't have a trading license or a certificate from any financial institution.
Is my Money Safe with Smart Trade CFD?
Unquestionably no, it isn't. No investment could possibly be safe with a scammer with the single purpose of robbing their victims.
Does Smart Trade CFD Offer a Demo Account?
No. If you're interested in trading at Smart Trade CFD, you would have to open a real account which we do not advise you to do.