July 04, 2023
Reading Time:
4
min
Social Media Hidden Dangers: Unveiling Instagram Forex Trading Scams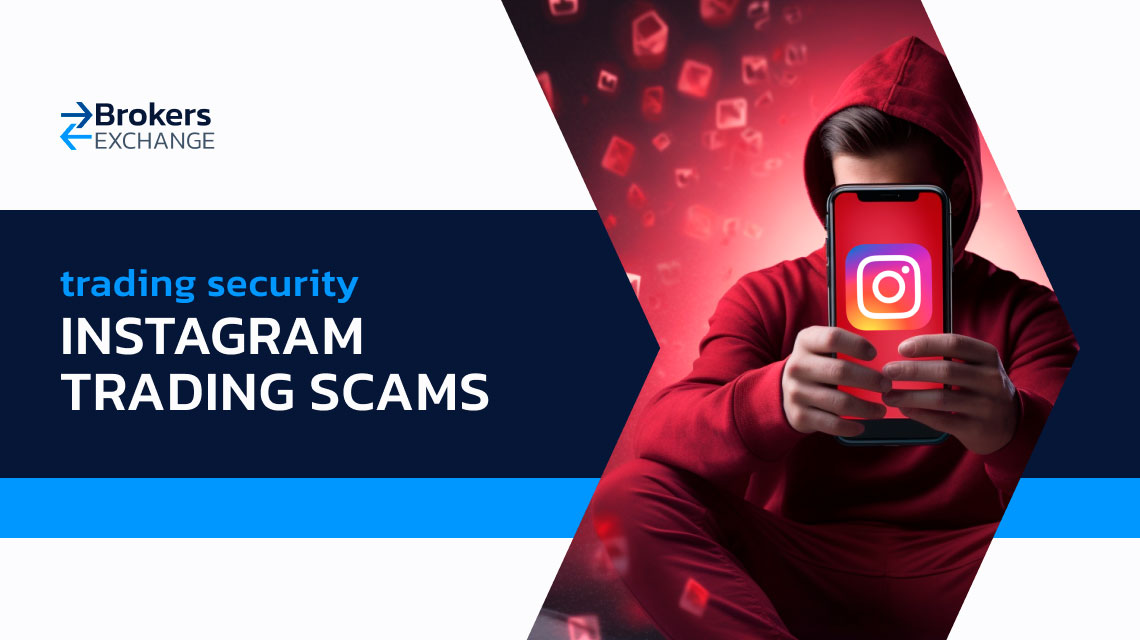 Forex scam Instagram is a common way for scam brokers to attract investors, so we need to be on the lookout for warning signs. Join us in exposing the forex trading scams on Instagram.
Instagram Traders Real or Fake? Trading Scam Schemes
Many people still ask a question: "Are Instagram forex traders legit"? Instagram has developed into an area for trading fraud, including signal sellers in the forex and cryptocurrency markets. Be wary of those who guarantee exceptional earnings yet frequently leave you disappointed. The fabrication of trader success and credibility stories is another warning indication. 
Before interacting with any trader on Instagram, look for respectable traders, get referrals from independent sources, and remain active on trustworthy forums like Instagram forex traders on Reddit. Keep in mind that your financial stability and well-being come first.
Finding Instagram Forex Scams
If you search fake forex traders Instagram, as they may deceive unsuspecting individuals with fraudulent practices and false promises. These warning signs will help you spot forex scams on the platform.
Unrealistic Promises: Avoid Instagram accounts that make promises of big profits that are assured to occur with no risk. Such guarantees are too good to be true and signal a possible con.
Pressure to Invest: Watch out for aggressive strategies that urge you into making an investment. Scammers may instill feelings of urgency in their victims to get them to make snap judgments. Spend some time carefully assessing any investing prospect.
Lack of Regulation: Determine whether the trader or platform is subject to reliable financial regulatory oversight. Legit forex investors on Instagram follow legal requirements to protect investors.
Poor Communication: If the trader or platform is unresponsive, or does not provide professional customer care, it may be a sign of a potential scam. Genuine brokers place high importance on communication with their customers.
Suspicious Reviews: Be wary of fake reviews and incomplete information. Genuine evaluations from reliable sources might offer insightful information about a trader or platform's reliability.
How to Report Forex Scams on Instagram?
If you engage with a crypto trader on Instagram and you notice they are a scam, it's crucial to report them. Here's a guide on how reporting scammers works:
Get info to support your report first. Take screenshots or make a note of any other pertinent details that exemplify the scammer's deceptive behavior.
At the scammer's Instagram profile, click the (…). Choose the "Report" option. After you have filled out all the required information, review your report before clicking "Submit". 
Consider blocking the scammer's account and stop any communication you have with them to protect yourself further. It's crucial to inform others about the scammer's account as well,  by documenting your experience on your personal Instagram account or by publishing content on other websites.
Real Reviews of Instagram Trading Scam Victims
Instagram forex scam victims share their experiences in an effort to spread awareness, get assistance, and bring scammers accountable.  The frequency of reviews varies, with some sharing immediately and others later. Victims educate potential victims in avoiding scams by sharing their stories. 
It's crucial to report a scam as soon as it occurs so that more scams can be prevented. Don't be embarrassed to report a scam, it can happen to anyone! 
Instagram Forex Traders Reddit – Sharing Reviews
Reddit has become a platform where traders gather to share their experiences and reviews of Instagram forex scams.
Instagram traders use quotes like or similar to:  "You can get rich within minutes", or "Escape the 9-5". No one can become rich within minutes. It takes both practice and time. 
There is a story about an Instagram trader who claimed he was making £110,000 a month and has been accused of duping more than 1,000 investors into losing nearly £4,000,000 in a Bahamas fund. Another commenter shared his own story of working for a Forex company. One fact, in particular, caught our attention:
9 months is the maximum amount of time that retail FX traders can lose everything.
Given how much money investors lose when trading leveraged FX, it makes sense that shady brokers are looking for new 'clients' who aren't knowledgeable investors.
How to Avoid Instagram Scams
It's risky to rely solely on someone's recommendations or promises when trying to avoid scams on Instagram. Take these steps to additionally protect yourself: 
Education: Educate yourself about forex trading rather so you'll be better able to identify potential scams and make wise trading decisions.
Regulated Brokers: They work under the eye of respectable financial regulators, which promotes transparency and safeguards the interests of investors. Look for brokers who are authorized by reputable authorities. 
Ready to take the next step? Contact us today and we will help you locate a reliable and secure broker within seconds. 
Safe Alternatives for Traders
To trade profitably and safely, adhere to the following:
 Understand the foundations of trading to recognize risks and make decisions.

Make sure your needs are met by a reputed broker who will also guarantee dependable service.

Brokers provide educational programs that will help you advance your knowledge and abilities.

Scammers frequently utilize offers that seem too good to be true, so be wary of them.

To avoid scams, think about speaking with reputable financial counselors or seasoned traders. Contact us today for more information. 
You may trade safely and improve your chances of success by following these tips. Never forget that finding a reliable broker is essential to your trading experience.
Getting All The Thoughts Together
Scams involving forex trading thrive on Instagram. Be wary of warning signs such as exaggerated claims, a lack of transparency, and unreliable credentials. Report a scammer's account to Instagram and the appropriate financial authorities if you come across them. Real victim testimonies promote awareness and provide assistance. 
Prioritize your own knowledge and pick licensed brokers with educational programs if you want to prevent scams. Free signals should be used with caution, and seek out expert counsel. To trade safely in the Instagram trading environment, remain alert, and educate yourself.
Exercise caution to avoid falling victim to a crypto scam on Instagram. Want a trustworthy broker on your side? Get in touch with us, and we'll recommend the top brokers to meet your unique requirements.
FAQ Section
Is there an investment scam on Instagram?
There are a couple Instagram scams reported. Instagram even has a warning published against scams and how you can protect yourself from them.
Are FX Traders on Instagram Real?
Forex trading scams on Instagram are common. When interacting with Instagram forex traders, you should exercise caution and do your homework because there may be a mix of real professionals and potential scammers.
How do I report a Forex Scammer on Instagram?