October 07, 2022
Reading Time:
4
min
StakingTrades Review – Who Is Behind Stakingtrades.com?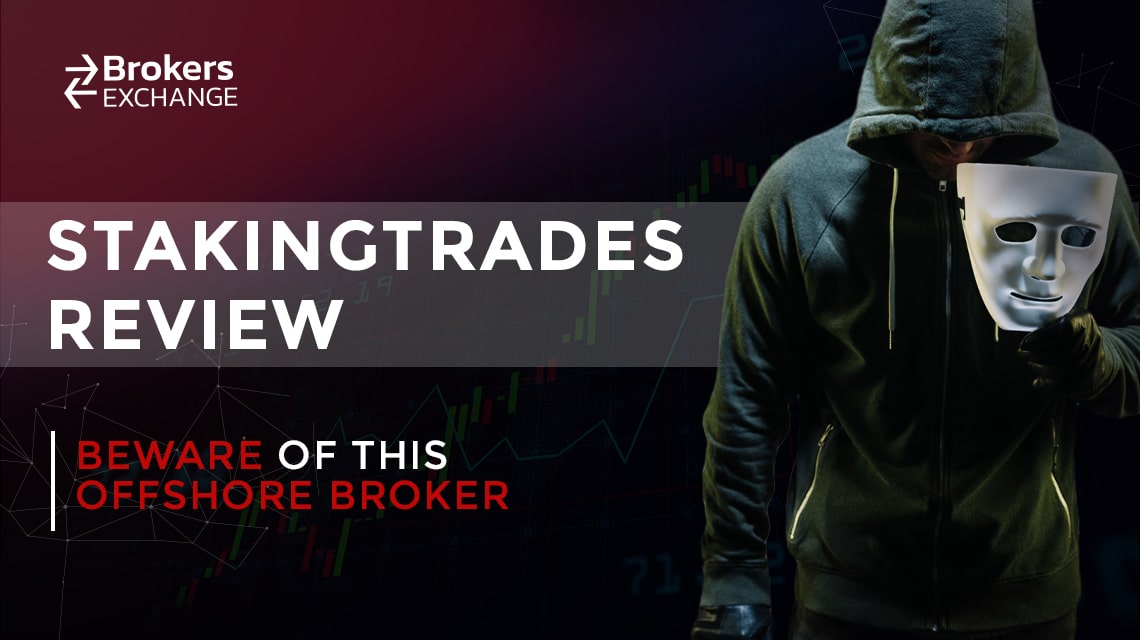 In a nutshell about StakingTrades, it's just one of the tons of scam brokers you need not bother with. It has no license, and plenty of legal troubles are associated with it.
As it goes with scammers, you can't make a withdrawal with StakingTrades due to its shady business practice. 
No financial market regulator oversees it, so, no security of funds. On top of legal issues, this brokerage offers poor trading conditions and inadequate trading software. Even it's not possible to access its webpage. 
We don't recommend this company at all. Be wary of any firm promising excessive returns for minimal risk. Continue reading our StakingTrades broker review to get detailed information about why you should stay away from this bogus broker.
Contrariwise, you should avoid doing business with suspicious brokers such as ProBinaryTradex. Esperio and Capitalcore.
| | |
| --- | --- |
| Company | StakingTrades (parent company STG Consult PLC) |
| Website | StakingTrade.com (inaccessible/closed website) |
| Address | Ireland (14 Upper O'Connell Street Upper, Dublin, D01 WP59, Ireland), Australia, Marshall Islands |
| Email | [email protected] |
| Phone | +353-12232697 |
| Minimum Deposit | 5,000 EUR |
| Leverage | 1:500 |
| Bonuses | Yes |
| Regulation | Unregulated |
| Warning | BaFin |
StakingTrades Regulation and Fund Security
Let's examine issues with this brokerage, one by one. It claims it has a branch in Ireland. Suppose it's true; it must be supervised by the Central bank of Ireland, which isn't the case. So, another false statement. 
Further, it reportedly adheres to British legislation. In this instance, it must be approved by the Financial Conduct Authority (FCA). And guess what, it isn't. Lastly, one StakingTrade office is allegedly in Australia. 
Ok, but to legally provide trading services in this country, a broker must be authorized by the Australian Securities and Investment Commission (ASIC). And yet again, it's the contrary. So, no regulations + fabrication of truth = SCAM!
Anyway, there is something the company doesn't lie about, which is that its HQ is in the Marshall Islands. However, it doesn't carry any weight since this jurisdiction is 1) offshore-based and hard to be scrutinized and 2) has a loose regulator. 
In plain English, anyone can set up a brokerage firm in the Marshall Islands and carry out online trading activities without hassle but with total privacy. Therefore, it's a top destination for phony brokers like StakingTrades.
In all, your investment is not safe with this unregulated company since there are no security mechanisms to guarantee business ethics and minimize associated risks.
Legit enterprises are governed by financial agencies, ensuring service quality and financial security through implementing risk management tools like negative balance protection, segregated accounts, and more.
StakingTrades Trading Software
Even if you succeed in opening its webpage (less likely since it seems out of order/unpublished), you will find it's nothing similar to a legitimate-looking website. Its manipulative trading software can't be matched with more powerful platforms like MT4 and MT5 utilized by competent companies. 
StakingTrades provides a low-level trading experience yielding no results. If you want the most out of trading, stick with reliable corporations offering proven MetaTrader4 and MetaTrader5 and use social trading, plenty of trading tools, and much more.
Deposit and Withdraw Methods For StakingTrades
When you go through the company information about deposits and withdrawals, things become weirder. Namely, the minimum requested deposit is 5,000 EUR. That's outrageous! Every genuine firm offers a minimum opening balance of as low as 1 USD plus lots of other benefits, including a demo account (which StakingTrades doesn't provide), lots of tradable assets, and excellent trading conditions, to name a few.
Suppose we ignore all risks involved and still talk about the offer of this illicit broker. Then let's see about the funding methods available. It says you can deposit money in its account using credit and debit cards and bank wire transfers. 
Ok, it sounds like other companies. This fraudulent broker can't wait to take your investment, so putting money is no issue. Problems come with drawing funds.
It's questionable whether you will ever be able to take out your money from StakingTrades. Suppose we neglect this risk for a moment and see what it says about the payoff. 
The company claims it doesn't charge any fees for withdrawals, which is doubtful considering it's an investment scam. Anyhow, don't risk money with this broker; it's much wiser to opt for many legitimate forex providers on the market.
How They Trick People Into Their Scams
Scams can happen to anyone! If you're beginning online trading or have dropped your guard, con artists will take advantage of this. A StakingTrades scam functions as any other hoax out there. First, they make a siren song enticing you with a lucrative, one-time investment opportunity. 
Either they approach you by spam emails or unsolicited phone calls, or you click on their appealing advertisement and leave your contact details. Either way, financial swindlers are persuasive and persistent in baiting potential victims. After they have your money, you will hardly see it again. 
They will try to obtain as much cash as possible from you by using many malicious tactics. For instance, they can ask for advance payment to let you draw funds from your account. Likewise, they always offer conditional bonuses, i.e., you must achieve unfeasible goals to claim a reward. 
For this reason, promotions are banned in the EU and other jurisdictions, and trustworthy brokers don't offer bonuses.
StakingTrades Summary
In our StakingTrades review, we have exposed yet another dishonest scam broker, pointing out how risky it's to trade with an unlicensed brokerage. Overall, StakingTrades is a fraudster that can be spotted from a mile away due to its poor website, inferior platforms, too high deposits, lack of licenses, and blatant lies. 
After all, the German Federal Financial Supervisory Authority (BaFin) has put this unauthorized broker (holding company STG Consult PLC) on a warning list. Buying and selling stocks are challenging, but illegal brokers make things more difficult. 
So, don't invest your money in online forex trading with any brokers unless you are 100% sure it's safe.
FAQs About StakingTrades Broker
What Is the StakingTrades Minimum Deposit?

StakingTrades requires a 5,000 EUR minimum deposit, which is outrageous and a clear sign of cyber fraud.
What Are StakingTrades' Deposit and Withdrawal Options?

StakingTrades isn't transparent and is inconsistent regarding funding means. Allegedly, it accepts credit/debit cards and wire transfers for deposits and withdrawals.
What Kind of Trading Platforms Does StakingTrades Offer?

StakingTrades provides its own substandard browser-based trading platform; it lacks industry-leading MT4 or MT5 and fails behind any serious forex providers.