March 11, 2023
Reading Time:
3
min
STB Markets Review: Find Out Why STBMarkets.Com Is a Scam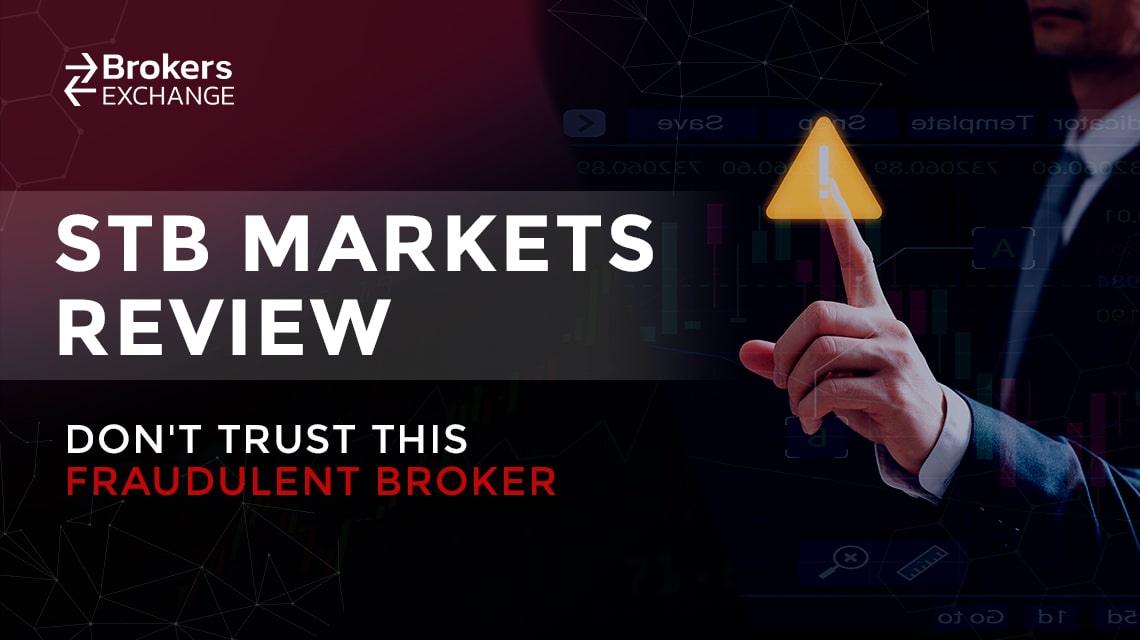 STB Markets Review, If we were to believe the STB Markets story, they would represent one of the biggest CFD trading sites around with the most competitive trading conditions. Supposedly prioritizing clients' interests and success, STB Markets helps their clients make best investment decisions. 
However, given this broker's illicit status and activities, getting involved with them would more likely be the worst investment decision you've ever made. 
London address and phone number for contact make it seem like this broker is operating from one of the most heavily regulated areas in the world. The downside to this is that STB Markets is not licensed by the UK financial authority – FCA. 
Overly attractive trading conditions such as spreads and leverage increased our existing suspicions. Therefore, we decided to assemble this STB Markets review and investigate this matter thoroughly. 
| | |
| --- | --- |
| Company | N/A |
| Website | STBMarkets.Com |
| Address | 177 Shaftesbury Avenue , London, WC2H 8JR |
| Email | N/A |
| Phone | +447418376781 |
| Minimum Deposit | $250 |
| Leverage | 1:100 |
| Bonuses | Available but not defined |
| Regulation | Unregulated |
| Warning | N/A |
STB Markets Funds Safety and Regulation
STB Markets doesn't even bother to mention regulations and licenses. Their website goes on and on about their exceptional service and life-time chance for trading success. 
We found it quite worrying how none of the legal documents could solidify these overly confident claims. So we decided to dig out all the dirt we could find on this shameless scammer.
Brokerage agencies with headquarters in the UK have to abide by the legal directive defined by the UK financial watchdog – FCA. With some of the strictest regulatory standards in the world, FCA is a top-tier regulator that is diligent and ruthless when it comes to the financial safety of UK traders. 
Every UK broker has to abide by the FCA criteria of funds safety by providing segregated bank accounts for storing the client's investments. 
A leverage cap of 1:30 and negative balance protection are planned to lower the investment risks as much as possible. In case of disputes or companies going bankrupt, clients have access to compensation funds and protection of the Financial Ombudsman. 
FCA regularly updates its register of brokers with certificates and STB Markets is not among them. Further checking told us that STB Markets is not present in other databases of regulated brokers that BaFin, CONSOB, CNMV, ASIC, NFA and CySEC keep. 
Clearly, this broker doesn't really intend to keep your funds safe and help you on your way to achieving your investment goals. 
Trading Software Overview
Undoubtedly, STB Markets provides a half-decent trading terminal with some crucial options such as customizing tools, order history and an economic calendar. Some basic indicators can be used as well, but the precise trading conditions can't be tested without depositing first. Unfortunately, we weren't exactly eager to risk investing with an unregulated broker without the appropriate trading permissions and certificate. 
If STB Markets were a regulated broker, their offer of trading platforms would include the most advanced industry distributions such as MT4, MT5 and cTrader. Trading wouldn't be limited to a single web platform. Every popular broker out there has versions of the trading terminal available across all platforms and devices. 
STB Markets Deposit and Withdrawal Process
What a shock it was to see a scammer enforcing crypto depositing. We've reviewed enough swindlers by now to notice a specific pattern they follow when it comes to funding methods. As with every other fake broker, STB Markets only allows deposits in Bitcoin, with a minimum deposit amount of $250. 
The Withdrawal section of the client area mentions other channels for money transactions which goes straight against any AML policy. 
STB Markets fails to specify how much processing the withdrawal requests costs but there's a frightening inactivity fee we have to mention. 
You see, if your account remains dormant for more than 30 days, a $50 fee applies by being directly deducted from your deposit. 
How Did This Brokerage Carry Out the Scam?
STB Markets is another unscrupulous cyber thief that desperately tries to attract customers using any means possible. 
Persuasive boiler room agents will take on the identities of famous forex experts to offer their superior services for a considerable amount of money. When convinced the stake is negligible compared to the potential gain, you will quickly invest. 
The worst problem is the bonuses. The dreadful credit you accept is bait to lure you into a trap you can hardly ever get out of. Bonuses aren't subject to withdrawals until a trading volume is reached. 
STB Markets that volume equals the amount divided by 4. This is practically impossible to reach so STB Markets will retract the bonus and your entire profit. Pretty unfair isn't it?
STB Markets Summary
Dangerous, cheating, and highly manipulative, STB Markets uses all kinds of scamming techniques to defraud clients. As our detailed report shows, they are far from regulated and licensed. 
The only goal STB Markets has is pushing you into risky investments to have a reason to justify robbing you. Our STB Markets review discusses that in detail, so we do hope you gained a good insight into what this illicit firm represents. 
If you've dealt with them before or have any experience related to unscrupulous offshore companies and similar, we encourage you to share it with our audience. Exchanging ideas and experiences might offer more help than you first expected.
FAQs About STB Markets Broker