October 18, 2023
Reading Time:
5
min
Stock Rover Review: How Can a Research Tool Help You Make Profits?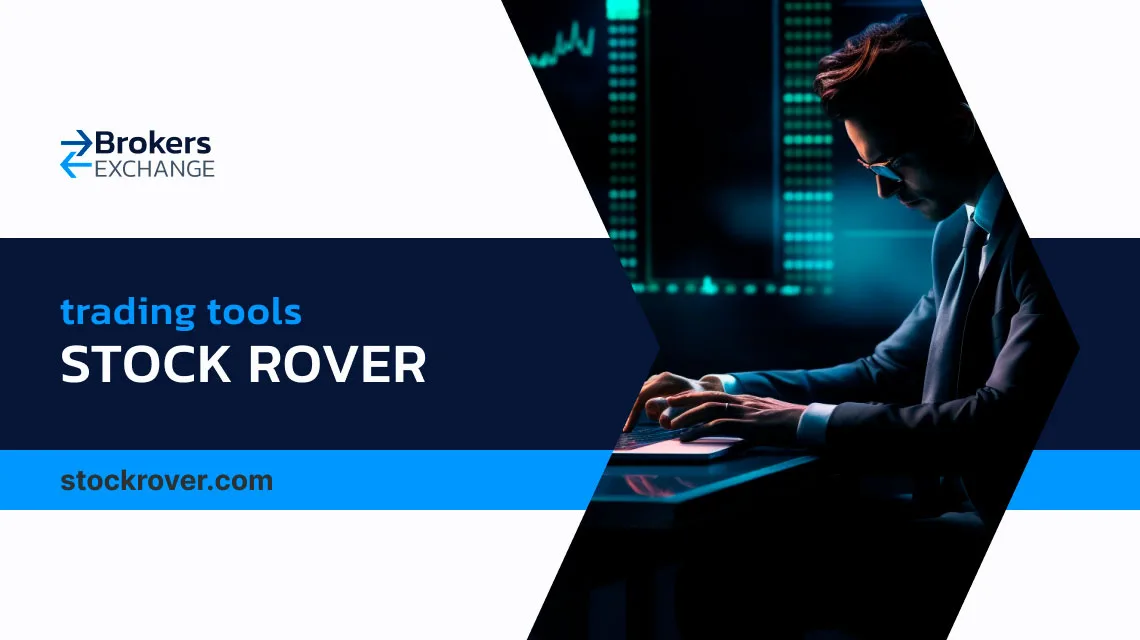 In this Stock Rover review, we are diving deep into the firm's operations, to see if they can help you start trading profitably. Tools are a vital addition in trading; finding a reliable one is crucial if you wish to succeed. Don't miss out on our Kot4x  review to learn who not to trade with. 
Stock Rover serves as a platform for analysis and a tool for investment research. It is intended to aid traders in screening, analyzing, and choosing investments all on one platform. This can benefit traders if the platform is right, so is this software the right choice? Keep reading to find out. 
Who Is Stock Rover?
Stock Rover is a research tool that connects with your brokerage account, analyzes your portfolio, and aids in asset class screening to find trading possibilities. Stock Rover can be a helpful tool to help you plan your investing strategy because of its robust range of research capabilities, particularly when used with reliable brokers. 
The firm was originally established in 2008 by software engineers Howard Reisman and Andrew Martin, however, it was not that popular and active until 2023. This Stock Rover review demonstrates a potent stock screening, research, and portfolio management service you will enjoy at all times.
Company Type
Trading Tools
Legal name
Stock Rover
Regulation
Not expected
Registered in

163 Bay State Drive, Braintree, MA 02184, US
695 Atlantic Avenue, 9th Floor, Boston, MA 02111, US
Cambridge Innovation Center, One Broadway, Cambridge, MA 02142, US
85 Merrimac Street, Portsmouth, NH 03801, US

Established
2023
Website
www.stockrover.com
Financial Authorities Warnings
Contacts
Fees

Essentials
$7.99 / month
$79.99 / year
$139.99 / 2 yr

Premium
$17.99 / month
$179.99 / year
$319.99 / 2 yr

Premium Plus
$27.99 / month
$279.99 / year
$479.99 / 2 yr

If Active on Social Media:
Yes
Investor Protection:
No
Activity areas
United States; India; United Kingdom; Canada; Germany
Main threats
High fees for paid subscriptions
Main perks
Free Trial
Stock Rover Profile
Stock Rover provides a wide range of capabilities, including stock screening, portfolio analysis, graphing, financial data analysis, and more. Users get access to a wealth of financial information and data, which can be useful for doing in-depth research on certain stocks, ETFs, and investment portfolios.
Investors and traders frequently use the Stock Rover login page to access the platform to monitor and evaluate their portfolios, find possible stock purchases, and analyze and track their assets. Users can utilize the platform to obtain a variety of metrics and data points that will aid them in making informed decisions. 
Both new and seasoned investors who want to streamline their research and analysis procedures can benefit from using this platform. You can profit from Stock Rover's high-quality tools and data whether you are a seasoned, day trader, or just getting started.
Trading Platform

Web-based

Account Types

Essentials, Premium, Premium Plus

Financial Instruments On Offer

Over 8,500 North American stocks
Plus 4,000 ETFs and 40,000 funds
5 years of detailed financial history
Powerful investment comparison
Customizable views and columns
Flexible stock screening
Comprehensive charting capabilities
Portfolio management
Brokerage integration
Watchlist tracking
Real-time text and email alerting
The Stock Rover Investment Library
Ad free experience
275+ financial metrics
Highly responsive support

Maximum leverage

N/A

Minimum Deposit

$7.99/month

Commissions/Bonuses

N/A

Mobile app

No

Desktop app

No

Autotrading

No

Demo account

Yes

Education or Extra tools

Blogs, FAQ, Videos
Is Stock Rover Safe To Trade With?
Stock Rover is largely a platform for research and analysis; it does not itself carry out trades. It offers resources and tools for financial data research, portfolio analysis, and stock screening. You should place your trades through a reputable and regulated brokerage or financial institution if you plan to utilize Stock Rover to research and choose stocks or investments. 
Your trades' safety would depend on the broker's regulatory standing and security measures. Always do your research before choosing a broker, and make sure they adhere to the essential legal requirements to safeguard your interests. Avoid brokers like HeinerFx, an allegedly UK-based broker. 
Traders Share Their Experiences
We were surprised to see that the platform is not reviewed on Trustpilot or Sitejabber, however, we did find a couple of helpful Reddit discussions. Several people expressed favorable thoughts about Stock Rover and its features. One trader mentioned that Stock Rover is very good, but is also complex and will take time to get used to and set up to your liking.
Happy traders, especially the ones on Reddit, indicate that the platform is reliable and not only on paper. They offer beneficial tools that can boost your chances of profits and we haven't heard anything unfavorable about the firm. We recommend this platform, especially to stock traders. 
Reasons You Should Enjoy This Company
There are several factors to consider as to why you might enjoy using this platform. We can't deny that they offer a wide range of features and tools for in-depth stock analysis, which is a valuable resource, especially for novice traders. The platform has a user-friendly interface, which makes it accessible to everyone. 
Additionally, Stock Rover has powerful screening capabilities that allow you to filter stocks based on your criteria. The firm has built a trusted reputation in the software industry, making it a reliable choice for everyone. They are also known for their accuracy in providing financial data and metrics. 
There are various reasons why you should choose this platform as your stock analyzer, however, whether or not you will enjoy this company depends only on you in the end. Make sure to do in-depth research before committing to make sure the platform will suit all of your preferences. 
Weighing the Pros and Cons
Pros
Cons

Great tools

Generates ratings and scores for stocks

Reports on over 7,000 stocks

Free trial 

Connects to over 1,000 brokerage platforms

Web-based platform

High fees

No research on cryptocurrency, forex, futures, or options

Annual fee for priority phone support

Lack of educational resources
Can I Make Money While Trading Online?
Becoming a successful trader depends on many things, including education level, strategy, tools you are using, awareness, and many more. Trading is a time-consuming process that costs money and you need to be prepared and aware of potential risks that come with it. 
Luckily, in this modern age, there are various tools you can subscribe to that can boost your chances of profiting. One such tool is Stock Rover and our AI Analysis Bot, and using them combined will make you unstoppable. 
AI.F collects data from charts, including past asset values and other information. It uses complex technical analysis to predict future price movements and then offers wise advice on whether to buy or sell. 
While success can't be guaranteed, we do guarantee the effectiveness of our platform. There is a free 14-day trial for the quickest 100 traders who reach out. You have a chance to step into the future of trading and experience it firsthand. 
FAQ Section
What Is Stock Rover?
Stock Rover is a piece of software that offers several capabilities for stock and investment research, such as portfolio analysis, stock screening, and financial data analysis.
What Are The Stock Rover Features?
Among the many features of Stock Rover are stock screening, portfolio tracking, graphing, financial data analysis, watchlists, and strong screening skills.
Is Stock Rover Reliable?
Many investors and traders rely on Stock Rover as a trustworthy and well-known financial software platform because of its extensive data and analysis capabilities.