April 29, 2023
Reading Time:
5
min
Syos Space Review: Is Syos-Space.Capital Reliable?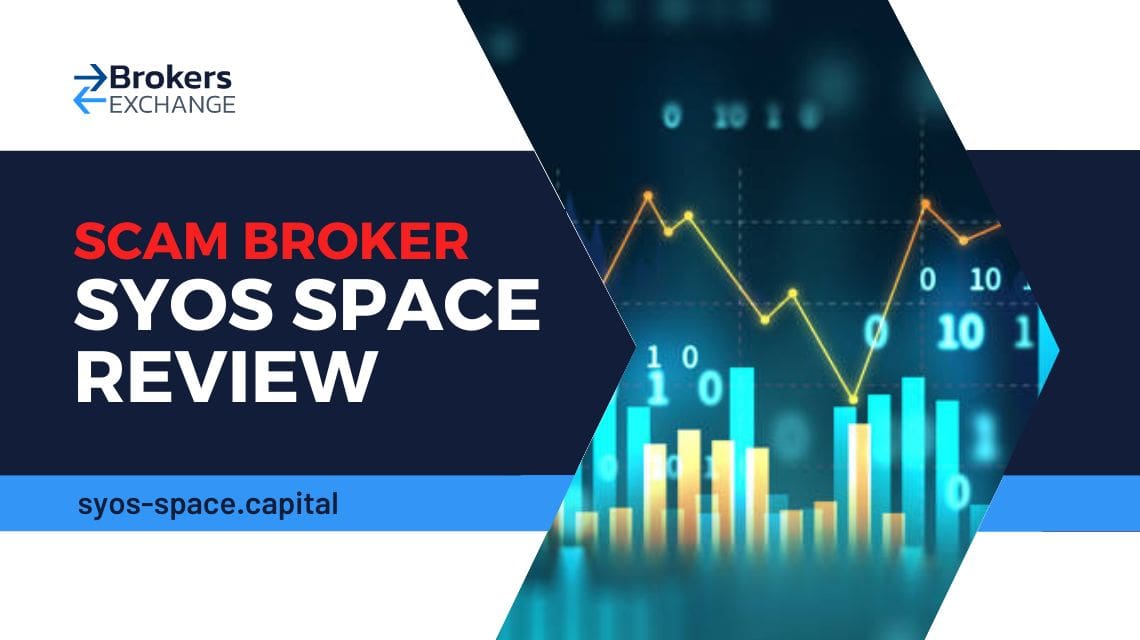 Syos Space Review, It is easy to cry wolf now that we know that Syos-Space. capital is a non-functional website. The website Syos Space used to operate did seem like a solid investment opportunity, so what gave it away? Find out more in the later sections of our Syos Space Review.
Before we start, however, we should mention that the FMA from Austria was the first to issue a warning about Syos Space being a scam, which was later forwarded by other regulators in the EU.
Austrian FMA: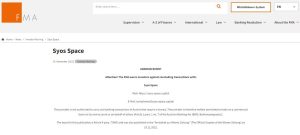 Belgian FSMA: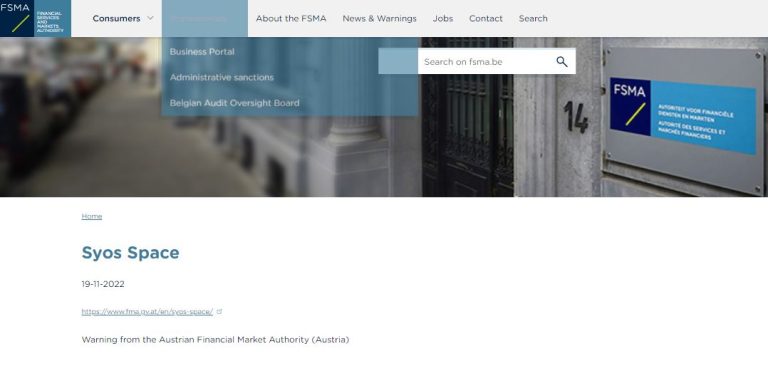 German BaFIN: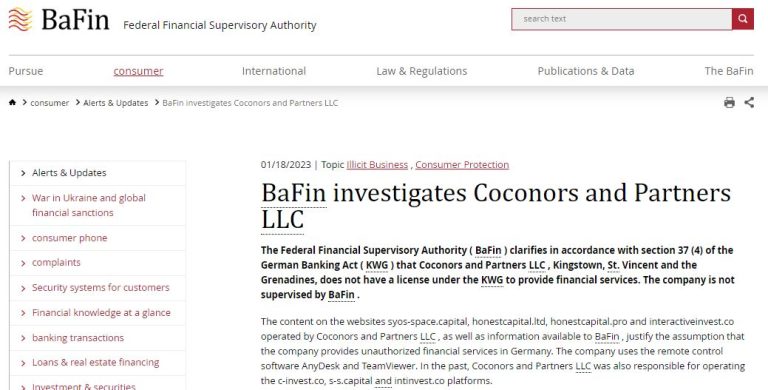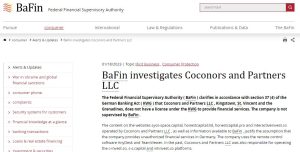 Furthermore, we highly recommend that you avoid the scam brokers Trubyx and Globe Invest Hub.
| | |
| --- | --- |
| Company | Coconors and Partners LLC |
| Regulation | Unregulated |
| Warning | FMA, FSMA, BaFIN, CNMV, FIN-FSA, CONSOB, FSC |
| Website | syos-space.capital |
| Address | SVG |
| Email | N/A |
| Phone | N/A |
| Minimum Deposit | $250 |
| Leverage | 1:100 |
| Bonuses | From 10% to 25% |
Syos Space Reliability – Regulation and Security
The unpredictable market of Forex and CFDs trading carries a significant risk to any investment. Not even professional traders are immune to losing money rapidly due to leverage, and other trading conditions. In order to protect the interests of the clients and minimize the risks, financial regulators have implemented a series of rules and safety nets.
Of course, with unregulated brokers like Syos Space, that do not have a trading license, none of these safeties exist. To understand what makes the risks greater with these entities, we should recall how financial supervisors in the EU regulate their brokers.
Here is what the financial framework in the EU requires before a broker would be eligible to trade:
Minimum capital of €730,000

Compensation fund of €20,000

Maximum leverage of 1:30

Negative balance protection

Segregated bank accounts

Full and regular transaction reports compliant with MiFID

Bonuses are not allowed
We can see that Syos Space did not adhere to these safety measures. When we tried to find more information on this faux broker in the registries of prominent financial regulators, what we found was warning upon warning about your space. capital site being a scam. These Regulators were BaFIN, FMA, FIN-FSA, FSMA, CNMV, CONSOB, and FSC.
Trading Platform Available at
Syos Space
For a company that leverages its entire business model on the perceived technological advancement, Syos Space has a very simple Web Trader for their main trading platform. The Web Trader is favored by scammers because the information it displays can easily be edited by the frauds to show unfavorable trading results.
Syos Space also allows for AI integration into their Web Trader. They advertise this software as something cutting-edge. Theoretically, it allows you to completely automate your trading experience. In reality, nobody can guarantee positive trading outcomes even with the most sophisticated supercomputing systems.
This subpar software solution is a far cry from the industry standard MT4 and MT5 software. When it comes to regulated brokers, they will almost always use at least one of these programs developed by Metaquotes. They are safe, secure, and easy-to-learn platforms that have been in exploitation for a long period of time.
Account Types Offered
The account types that Syos Space used to offer to their clients are telltale signs of a scam. These tiered accounts offer different "perks" to the clients, based on the amount of accumulated deposits. There are no demos, or Islamic accounts on offer.
Here are the account types, with some of the more interesting benefits on the list:
Start – starting deposit of $250, max order 15 lots

Bronze – $500 deposited, max order 20 lots

Silver – $1000 deposited, 10% welcome bonus

Gold – $5000 deposited, 10% welcome bonus, trading signals, max 25 lots

Platinum – $10000 deposited, 15% welcome bonus, trading signals, max 25 lots

Pro – $100000 deposited, 25% welcome bonus, trading signals, max 30 lots
The Arbitrage Bot is only available with Pro accounts. It can be approved with other account types on demand, the scammers say. As we doubt the quality of the bot in question, it certainly isn't worth the $100000 deposit.
| | | | | | | | |
| --- | --- | --- | --- | --- | --- | --- | --- |
| Broker | Syos Space | FXTM | OctaFX | FPMarkets | XM Broker | HFM | FBS Broker |
| Minimum Deposit | $250 | $10 | $100 | $100 | $5 | $5 | $100 |
Deposits and Withdrawals
The vast majority of the Syos Space website is now lost data. It was difficult to dig up the information relevant to the deposit and withdrawal methods. The most likely cause of this is that Syos Space only facilitated transactions through their Web Trader. This leads us to believe the scammers used only Crypto deposits, which is yet another common scamming strategy.
This also means that we can merely speculate on which withdrawal conditions or amenities this alleged broker used in the past. Judging from many negative first account reviews, the scammers simply denied all withdrawals and cut off communication.
How is the Fraud Delivered?
We have so far mentioned a couple of strategies that these unregulated brokers use, and here is how they would be put into practice. The frauds attract clients by offering competitive market conditions. They are very good in legal and financial parlance and seem to be a legitimate company.
Once the victim makes a deposit, they will be treated with a barely functional trading platform that doesn't even display actual market data. By doctoring this information, the client's deposits would be drained in a short period of time. This is further exacerbated by the Syos Space Arbitration Bot, and the scammers can simply claim malfunctioning technology. When a user tries to withdraw, the scammers simply stop all correspondence with the client.
Recommended Forex Brokers 
The inherent volatility of Forex and other markets has become a great source of income for those who can seize the opportunity. Over the years, many companies have become industry giants by providing their investors with excellent conditions.
With our recommended brokers, which we have outlined in our nifty little table, you will find some of the best deals around. Companies like OctaFX and FP Markets have excellent all-around regulation and incorporate tried and tested methods to improve your chances of success. Many regulated brokers use the renowned MT4 and MT5 trading software and allow their clients to start speculating with $100 or even less with their Micro and Cent accounts.
| | | | | |
| --- | --- | --- | --- | --- |
| Broker | Country | Rating | Min. Deposit | Website |
| FXTM Broker | Cyprus, UK, Mauritius | 4.5 | $10 | Forextime.Com |
| OctaFX Broker | Cyprus, SVG | 4.4 | $100 | OctaFX.Com |
| FP Markets Broker | Australia, Cyprus | 4.7 | $100 | FpMarkets.Com |
| XM Broker | Cyprus, Belize, Australia | 4.7 | $5 | XM.Com |
| HFM HF Markets Broker | Cyprus, UK, South Africa, UAE, Kenya | 4.3 | $5 | HFM.Com |
| FBS Broker | Cyprus, Belize, Marshall Islands | 4.85 | $100 | FBS.Com |
Syos Space
Summary
Syos-space. the capital was a scam known in as many as 7 different nations! It is an unregulated broker that offers a wide variety of trading instruments through a very rudimentary web trading platform. 
There are many first-hand reports of this being a fraud, through user testimonies. The website might now be defunct, but the danger is still present. Stay protected, and choose one of our recommended brokers instead.
FAQs About
Syos Space
Broker
Is My Money Safe With Syos Space?
The service Syos Space provides is not only unsafe, but your entire invested capital is also at risk!
Does Syos Space Offer a Demo Account?
Syos Space does not offer a demo account for its clients.
Is Syos Space a Trustworthy Broker?
Far from it, Syos Space is a known scam that has been blacklisted by 7 different regulators!