June 07, 2023
Reading Time:
4
min
Read Our Tierra 500 Review and Save Your Money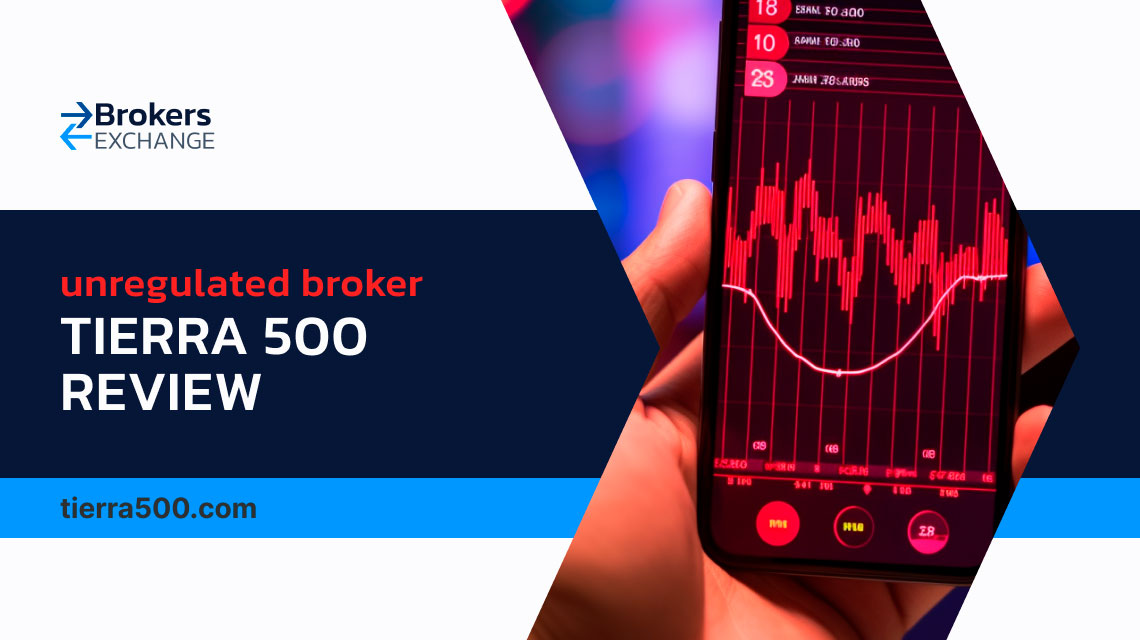 All signs point to Tierra 500 being a scam. We analyzed their license situation, trading platform and everything else traders want to know. You can read our conclusions in this Tierra 500 Review and see if you should trust them with your money. Spoiler alert – you should NOT!
| | |
| --- | --- |
| Company | Tierra Group Ltd |
| Regulation | No regulation/Scam broker |
| Warning | FMA, FSC, CNMV |
| Website | tierra500.com |
| Address | UK (allegedly) |
| Email | [email protected] |
| Phone | +442070971655 |
| Minimum Deposit | $250 |
| Leverage | 1:100 |
| Bonuses | 10-35% |
Tierra 500
Regulation and Safety of Funds
If you are looking for a reliable, trustworthy broker, you can pass on Tierra 500. Let us count the reasons.
Firstly, the broker claims to be based in the UK, but we could not find any evidence to support this. Their owner, Tierra 500 Ltd, was not in the official register of the UK companies, and there were no traces of Tierra 500 in the FCA (Financial Conduct Authority) either. Secondly, we can conclude this broker is unregulated based on their leverage and bonuses policy.
According to the ESMA, the maximum leverage is 1:30, which makes Tierra's leverage of 1:100 illegal. Moreover, all European authorities banned bonuses, while Tierra offers a 10-35% bonus on first deposits.
And like a cherry on top, several regulatory bodies issued public warnings against this broker. Austria's FMA was the first to do it, and Spanish CNMV and Bulgarian FSC soon followed suit.
Trading Platform Overview
Tierra's trading platform looks quite intricate but is essentially a WebTrader. We do not recommend doing business with a broker that offers this type of platform for several reasons.
The most important argument against web-based traders is their lack of trustworthiness. Owners of this software have complete authority over it, which means they can manipulate you into investing more after they show you incredible profits on your initial investment.
The other downside of software like Tierra's is its limited functionality. You can only use basic tools, charts and graphs, which cannot satisfy the needs of a majority of traders.
On the other hand, most legitimate brokers offer MT4 and MT5 software that has been an industry standard for years. Both of these platforms provide you with valuable tools so that you can unlock all the trading potential you have.
Tierra 500 Bonuses and Promotions
Tierra 500 gives bonuses for first-time deposits to each client. The amount depends on the account you open, ranging from 10 to 35% of the initial investment.
But as we stated above, bonuses are illegal in the ESMA framework where Tierra 500 operates, which is a sign this broker has malicious intentions. The best thing you can do is stay away from them.
Account Type Offered at Tierra 500
Tierra 500 is very generous in their account offer. Clients can choose between 7 types:
Basic – $250

Bronze – $10,000

Silver – $25,000

Gold – $50,000

Platinum – $100,000

Diamond – $250,000

VIP – $500,000
As with a lot of things in life, the more you give, the more you get. And so, with a heftier investment, you can expect higher leverage, a bigger return on investment (supposedly), bigger bonuses, etc.
However, this broker guarantees you a certain return on investment depending on the account you get, which is ILLEGAL! Also, Tierra 500 does not give you the option to trade risk-free with a Demo account, so the only option is to open a live trading account.
Funding Method Available
When it comes to funding, Tierra 500 accepts four payment methods:
Visa/MasterCard

Wire transfers

Bitcoin

eWallets
The minimum deposit is $250. The FAQ section also tells us that how fast you see the deposited funds in your account depends on the deposit method.
The previously mentioned situation also applies to withdrawing money. Though, we should note that Tierra requires you to verify your account with KYC standards before you make a withdrawal request.
The broker does not give us any concrete information about withdrawals and does not have a policy on how quickly you receive your money. This gives them wiggle room when you complain your money still has not arrived, which is a tactic many scammers use, so beware!
How is Fraud Orchestrated?
Tierra 500, Athens Markets, Vertex Markets and others target their victims in different ways. But they all follow well-established patterns you can pick up on early and avoid getting scammed.
Some scammers target your emotions. The best example of this scheme is social media scams when you get a text from a complete stranger flirting with you. This is suspicious on its own, but if they ask you for money, you can be sure they are swindlers.
Other scams involve fraudsters calling you until you finally relent and make a deposit. They usually give you a scenario that sounds too good to be true to get you to invest, and after you do, your options become very limited.
But whichever type you encounter, you should not stay idle. The least you can do is report the scammer, and if you had your money stolen and want to get it back, contact us for help.
Tierra 500
Summary
To wrap up, Tierra 500 is unregulated, and we advise you to skip this broker. They are up to no good and only want to steal your money.
But if you want to give trading a try, you have a lot of options. You can contact one of the brokers from the list we recommended or contact us for a personalized suggestion free of charge.
FAQs About
Tierra 500
Broker
What Can I Trade with a Tierra 500 Broker?
With Tierra 500, you can trade crypto, commodities, indices, shares and regular currency.
What are the Available Methods of Withdrawal?
There are four withdrawal methods – credit card, wire transfer, bitcoin, and eWallets.
Is Tierra 500 Broker Regulated?
No. Tierra 500 is not regulated and is therefore risky for business.