March 08, 2023
Reading Time:
4
min
Tradereview Review – Truth Behind Trdreview.Com Scam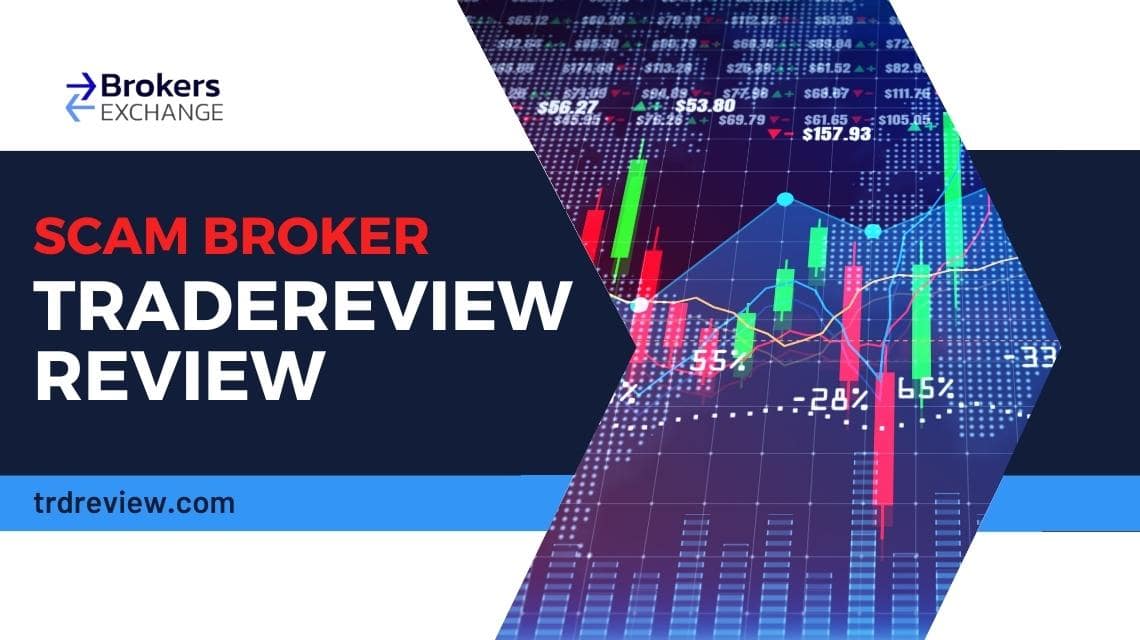 With ten offices spread across Europe and Asia and well over 300 employees, Tradereview broker claims to be a leading financial and technological company. However, given that the website lacks a valid forex license and appears to have been registered offshore, neither of these facts lend credibility to Tradereview.
Therefore, if you are still thinking about trading different forex pairs, cryptocurrencies, gold, oil, shares, indices, and futures on "the most powerful & convenient trading platform," as described in the presentation, think twice and read the following Tradereview Review.
Company
Tradereview
Website
Trdreview.Com
Address
Trust Company Complex, Ajeltake Road, Ajeltake Island, Majuro, Marshall Islands, MH96960
Email
[email protected]
Phone
Ireland: +35351571640

United Kingdom: +442030977303

Switzerland: +41225013228

Canada: +19052670411

Minimum Deposit
N/A
Leverage
200:1 / 300:1 / 400:1
Bonuses
Yes
Regulation
No
Warning
N/A
Tradereview Regulation and Security of Funds
Is Tradereview a regulated broker? No, it is not. The first thing to check on a forex broker's website is to see who is in charge legally, where they are located, and what kind of regulatory scrutiny they are subject to. Globalteers Ltd., a corporation situated in the Marshall Islands, owns and runs Tradereview.
This alone provides us with a good reason not to entrust this website with our funds. There isn't even a financial regulator in the offshore territory of the Marshall Islands. Additionally, the local statute permits company incorporation solely via the Internet. The Marshall Islands are a favorite base for scam brokers due to this absence of supervision and responsibility.
If you have made the decision to invest in financial products, you should employ the services of a registered broker headquartered in a country with stringent laws, especially if you are a beginner trader.
Tradereview Account Types Available
Three account types are available to you: Silver, Gold, and Platinum. Each provides greater leverage than the previous one. Strangely, no information was provided on the required deposits for each account. Your warning sign is here, ladies and gentlemen, Tradereview scam is hiding vital information.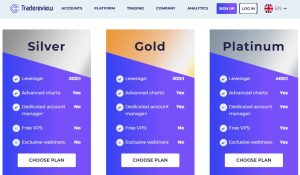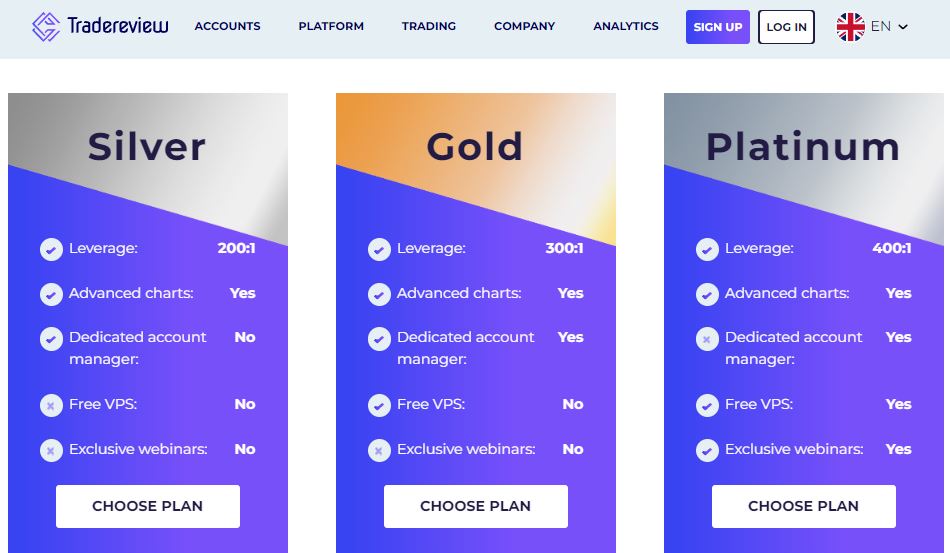 Tradereview Trading Instrument
Tradereview broker offers a good selection of trading instruments:
Even though this is the case customers should disregard all of this and avoid investing since they are scam brokers.
Tradereview Supported Trading Platform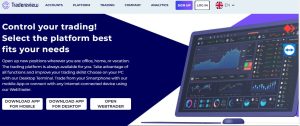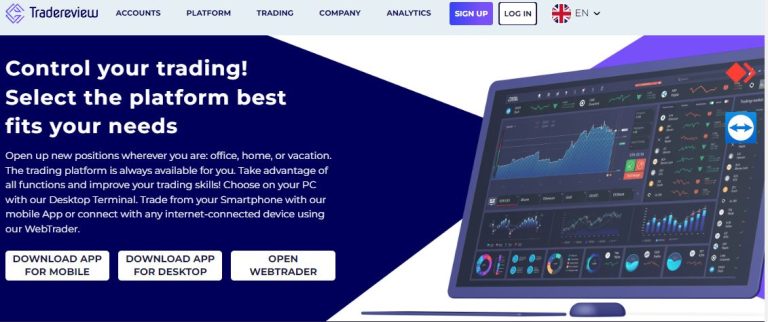 Tradereview broker asserts to provide three platforms as well as a guide for the WebTrader, one of them. A little something for everyone is very convenient. Right, it seems a little bit too wonderful to be true. Let's examine each of these platforms more closely.
WebTrader
WebTrader isn't anything spectacular, as you could have guessed. It lacks any cutting-edge equipment you would require for trading. It's not even close to being the "most effective and practical trading platform," as our scam brokers claimed. Additionally, there were no trading choices on this particular site. You are only able to make a deposit.
Platform For Desktop
Three paragraphs in this portion of the website essentially repeat the phrase "top trading platform." Even further, according to Tradereview, you have the "option to personalize charts utilizing chart studies and indicators." When you attempt to download it, the threat materializes. You will be informed that the installation file does not contain accurate publisher information.
Platform For Mobile
The mobile platform presumably combines the drawbacks of both the WebTrader and the Desktop platforms. Nothing about this is noteworthy. The con artist doesn't care if they provide you with a reliable platform; all they want is money.
AnyDesk and TeamViewer
This is where Tradereview ups the ante on the fraud. It is advised that you install the AnyDesk and TeamViewer programs. While there is nothing inherently wrong with these apps, it is simple for a trickster to use them to access your personal information on your device. Most likely, the fraudster will use charm to get you to download the apps.
Deposit and Withdrawal Options
The minimum deposit was not disclosed by Tradereview, as was already indicated. Bank transfers and Visa/MasterCard are accepted forms of payment. The minimum withdrawal amount is $50, and the policy governing it is, of course, loaded with murky language. The broker claims that there are no fees at all.
There are clauses in the Terms and Conditions that make withdrawing money extremely challenging and nearly impossible. After completing the minimum traded volume requirements, the withdrawal is permitted if the account has received a bonus. These standards are extremely strict. Every bonus offered by an investment scam is just another trick to steal your money.
How the Fraud Is Conducted
The following is typically how unlicensed forex brokers operate. To convince consumers to pay the initial minimum deposit, they will phone them and use every tactic at their disposal. They'll make promises such as, "We'll quadruple your initial deposit," or "You'll make $100 per day with ease" which seem too good to be true.
Please don't believe a word they say! It's an investment scam! After making the first deposit, users are moved to a "retention agent," a more cunning con artist, who will attempt to defraud them of more funds.
Tradereview Summary
As our Tradereview review comes to an end, we want to emphasize the risk involved with making deposits and investments into shady and suspicious companies.
Scam brokers frequently have novice investors and traders as their primary target market in mind. As much as possible, stay away from platforms and businesses that aren't regulated.
If something similar happens, keep trying since you might be able to get your money back in some circumstances. We can assist you by outing your con artist.
FAQs About Tradereview Broker
Is Tradereview Good for Beginners?
Tradereview broker is not good for anyone let alone a beginner trader. Avoid it.
What is The Funding Method at Tradereview?
Bank transfers and Visa/MasterCard are accepted forms of payment at Tradereview.
What Trading Instruments are Available at Tradereview?
Available trading instruments at Tradereview are - currency pairs, indices, metals, energies, futures, shares and SWAP.