April 30, 2023
Reading Time:
5
min
TradeSmart1 Review: Get More Information About This Broker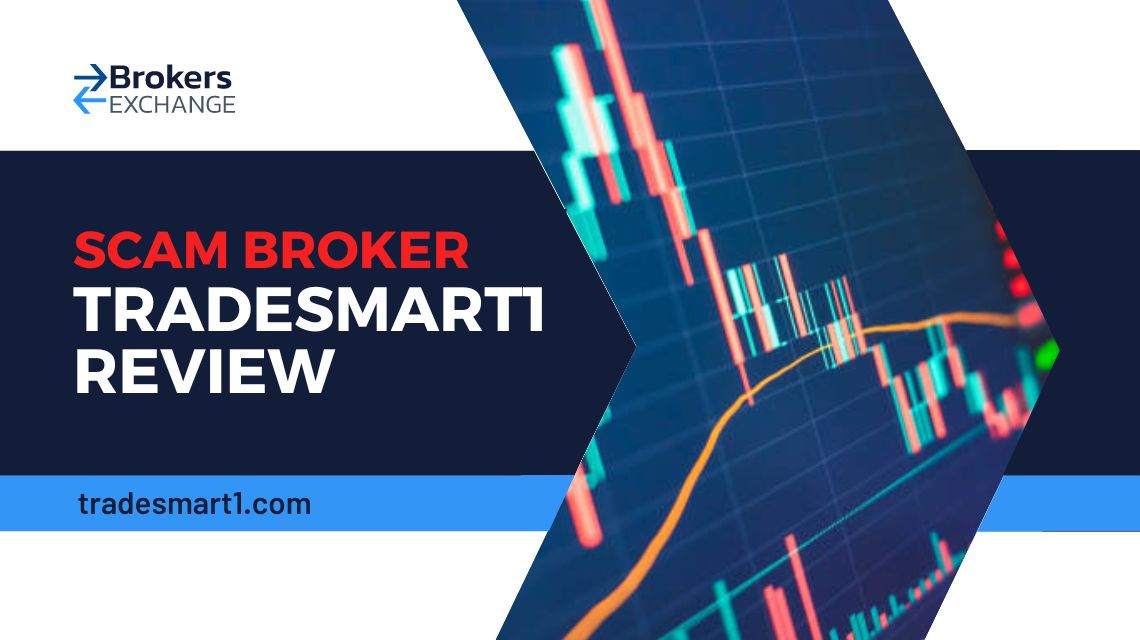 TradeSmart1 is one of those dubious firms with an elegant web presentation that conceals the truth so well you don't know where to start. To better cover their tracks and mislead customers they mention several locations as their residence. 
First, there's Cyprus in the contact info, then there's the UK at the beginning of the T&C doc and finally, there's Dominica listed as the country of the governing court. 
Whatever TradeSmart1 does to manipulate clients is in vain, as the official warnings from the authorities are there. And if we talk about scams, TradeSmart1 is the definition of it. Here are the warnings:
FSC Warning: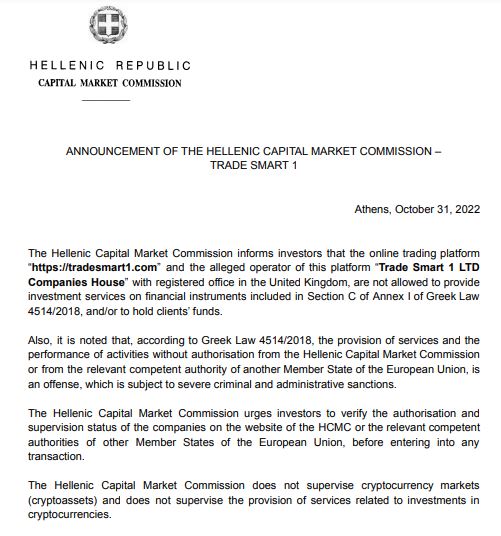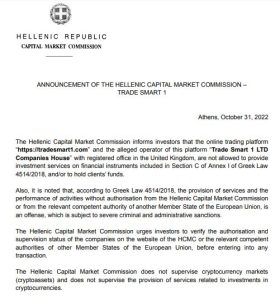 AFM Warning: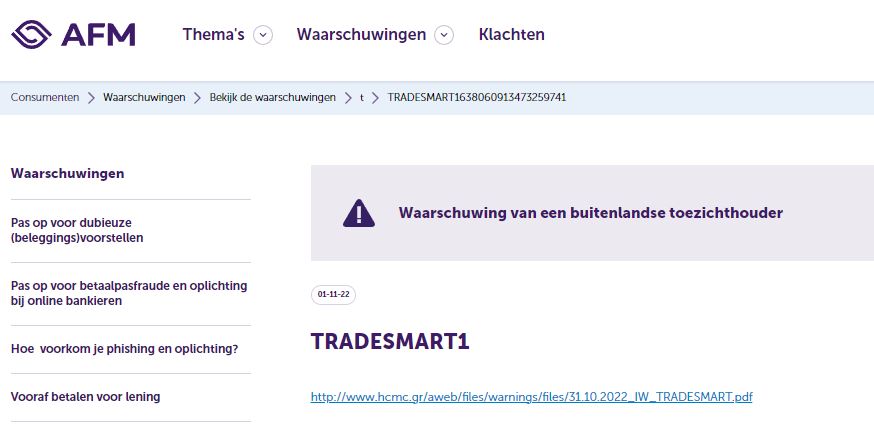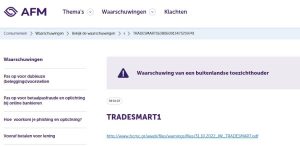 The truth is tucked away but our TradeSmart1 review reveals it, so keep reading to learn all this bogus broker hides from you.
Also, we recommend you not to invest in the fraudulent broker's Valuta Markets and IDealTrade.
| | |
| --- | --- |
| Company | Trade Smart 1 LTD |
| Regulation | Unregulated |
| Warning | FSC, CNMV, FSMA, HCMC, AFM |
| Website | TradeSmart1.com |
| Address | Cyprus/UK/Dominica |
| Email | N/A |
| Phone | N/A |
| Minimum Deposit | 250€ |
| Leverage | 1:200 |
| Bonuses | N/A |
TradeSmart1
Regulation and Security
TradeSmart1 seems like they're on a mission to get a warning against them from every EEA regulator. Starting from Greece, the warnings kept raining. Bulgaria, Netherlands, Spain, and Belgium have also alerted their traders not to do business with TradeSmart1.
Whether they're operating without a valid license, or they're straightforward scamming customers, TradeSmart1 became a well-known brokerage conduct in the worst possible way. It's a miracle their site is still operational after all the publications. Probably just a matter of time before the domain goes blank. 
In the meantime, we have to warn our audience too. A legitimate broker meets several regulatory standards that are mandatory in the EU. Firstly, they have to invest a sum of outstanding 730 000 EUR before applying for a license. 
Then they have to provide all the best security measures. Segregating clients' funds through separate bank accounts is how the deposits are kept safe from the broker abusing access to them. 
EEA is famous for allowing the leverage ratio to only go up to 1:30, while TradeSmart1 can offer you 1:200. Another risk-reduction measure is negative balance protection and this broker can't guarantee it. The lack of transparency is obvious and it's against every major licensing standard including ESMA and MiFID. The independent EU regulator has assembled additional rules for increased privacy and transaction reporting.
TradeSmart1, by breaking every single regulatory law could never obtain an EU license. Be very careful if they offer you their services. 
Broker's Trading Software Overview
As if an image is all that matters, all TradeSmart1 does is brag about having extraordinary trading conditions. The software which would allow any trading to be performed is missing from the site. And not only missing in the sense of being unreachable, but TradeSmart1 mentions none.
When we tried to sign up we couldn't even properly access the page as it kept saying the connection had timed out (error code 522). It implies the site page not even existing. Without the ability to register and get to the user menu, we couldn't access the platform. At that point, we started pondering whether TradeSmart1 has a functional trading terminal at all!  
Deposit and Withdrawal Process
TradeSmart1 pays zero attention to explaining how the funding of the live accounts works. As for withdrawals, credit cards and wire transfers supposedly work. But what TradeSmart1 does describe are at least some of the incurring fees. 
Account maintenance costs up to 10% of the total account balance. But that's different from the annual inactivity fee which is $50. And if traders decide to withdraw funds without performing any trades first, there's an additional 3% fee. Also, the client is the one that has to cover all the processing costs, conversion costs, and all other charges that happen upon deposits and withdrawals.
Account Types at TradeSmart1
In all their anonymity, TradeSmart1 is at least honest in terms of what their account types cost:
Silver – 250€

Gold – 5000€

Diamond – 40,000€

VIP – 100,000€
From trading signals to personalized spreads and a dedicated account manager, TradeSmart1 uses all the common lies to persuade you into buying their services. Extremely pricey at that, these account types are described almost like they do everything instead of you. Including grocery shopping. It's just all too good to be even close to the truth.
| | | | | | | | |
| --- | --- | --- | --- | --- | --- | --- | --- |
| Broker | TradeSmart1 | FXTM | OctaFX | FPMarkets | XM Broker | HFM | FBS Broker |
| Minimum Deposit | 250€ | $10 | $100 | $100 | $5 | $5 | $100 |
How Does the Scam Implement?
One thing is certain: TradeSmart1 has a fancy website that does leave a good impression. Until you face all the conditions and irrationality, along with the anonymity. You basically do not know who you're dealing with. At all. What you will be promised are some divine trading conditions and treatment worthy of the gods, but not an actual piece of truth. 
And it will all prolong for an indefinite time, or better said, as long as you're feeding them your money. If, in any case, you decide to be done with them and leave the shared, it won't be so simple. You will have to pay astronomical fees for every single move you make. From trying to withdraw funds to closing your trading account, TradeSmart1 changes everything. 
Recommended Forex Brokers
Being a top broker in the industry is not an easy task. Maintaining the user base requires constant improvement in all spheres, including service, pricing, and support. Our recommendations from the table below have been all very successful at it for decades. 
The tightest spreads, transparent pricing, comprehensive learning, and 24/7 support await you here. If any of these brokers have earned your attention, feel free to open Demo accounts. It will help you decide which one provides the service you exactly need. 
| | | | | |
| --- | --- | --- | --- | --- |
| Broker | Country | Rating | Min. Deposit | Website |
| FXTM Broker | Cyprus, UK, Mauritius | 4.5 | $10 | Forextime.Com |
| OctaFX Broker | Cyprus, SVG | 4.4 | $100 | OctaFX.Com |
| FP Markets Broker | Australia, Cyprus | 4.7 | $100 | FpMarkets.Com |
| XM Broker | Cyprus, Belize, Australia | 4.7 | $5 | XM.Com |
| HFM HF Markets Broker | Cyprus, UK, South Africa, UAE, Kenya | 4.3 | $5 | HfM.Com |
| FBS Broker | Cyprus, Belize, Marshall Islands | 4.85 | $100 | FBS.Com |
TradeSmart1
Summary
Notorious in half of Europe, TradeSmart1 is one of those bold scamming schemes that still shamelessly advertise their services. 
Hopefully, this TradeSmart1 review has provided enough info on this poser to help you avoid them for good. If, by any chance, you still need details on TradeSmart1, you can still contact us so we can exchange ideas. 
TradeSmart1 isn't the only fraudster out there. Financial predators are lurking in social networks for new victims constantly. So do not become their target and read this review before attempting any investment with them.
FAQs About
TradeSmart1
Broker
Is TradeSmart1 Regulated?
TradeSmart1 is not a regulated broker. They do not own a valid brokerage license and they do not appear in any database of regulated brokers.
Is My Money Safe with TradeSmart1?
This site doesn't follow the security measures that reputable brokers implement, so no, the deposits are not safe with this broker.
Does TradeSmart1 Offer a Demo Account?
The only account types described are live trading accounts. But the malfunction of the registration process didn't allow us to verify any of the info about the account's availability.