March 12, 2023
Reading Time:
6
min
Tradeview Review – All About Tradeview.Eu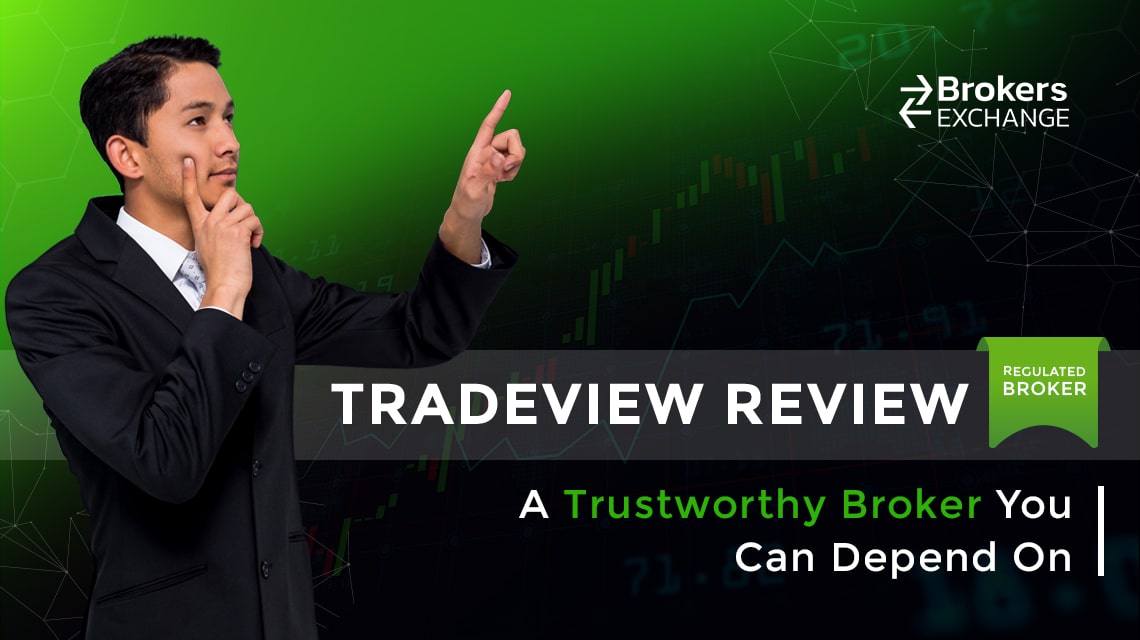 Tradeview was first established in 2004 as an idea to bring professional trading quality to retailers worldwide. The company has been an independent subsidiary of Rosenthal Collins Group LLC from 2007 thru 2009, when they became a separate entity.
Today, Tradeview's HQ is based in Malta, where they hold a trading license issued by MFSA. The company also possesses licenses issued in Caiman, Mauritius, and Labuan.
This broking company has strived to bring top level market execution and data to independent retailers. It made them early adopters of cutting edge technology such as Inovative Liquidity Connectors, Uphold integration and even social trading with TradeGATEHub.
Through this Tradeview review we hope to bring you insight into how top of the line technology shaped Tradeview into one of the best broking services on the market.
| Headquarters | Malta |
| --- | --- |
| Regulation | MFSA, CIMA, FSC, FSA |
| Platforms | MT4, MT5 |
| Instruments | Forex, Stocks, Indices, Futures, Metals, Energies, Cryptocurrencies |
| Demo Account | Yes |
| Minimum Deposit | $1 |
| EUR/USD Spread | 0.2 pips |
| Base Currencies | USD, EUR, GBP, JPY, CAD, AUD |
| Education | TradeGATEhub, Surf's Up, Tradeview Academy |
| Customer Support | 24/5 |
Tradeview Regulation and Security of Fund
So far, Tradeview has been licensed in 4 international jurisdictions. Regulatory bodies that have issued trading licenses to this broker include MFSA from Malta, CIMA from Caiman, FSC from Mauritius, and FSA from Labuan.
Malta's MFSA is a member of EBA, the European Banking Authority, ESMA (European Securities and Market Authority) as well as IOSCO (International Organization of Securities Commissions). Through MFSA, Tradeview is also bound to respect special MiFid conditions.
Malta is compliant with European trading regulations through Multilateral Memorandum of Understanding with other European regulatory Institutions. In this jurisdiction, a minimum of €730.000 is required for trading capital. Leverage for domestic clients is restricted to 1:30, and 1:50 leverage restriction for foreign investors is in effect.
Client's financial security is also assured through segregated bank accounts and up to €20.000 of compensation fund. Negative balance protection on client's accounts is obligatory, but bonuses are banned in the EU, unfortunately. All monetary transactions must be fully transparent in the EU as well.
CIMA, FSC, FSA are offshore regulators with similar legal conditions. Although not as strict as their EU counterparts, brokers who have been issued with licenses by these agencies are considered safe to trade.
Tradeview Available Account Types
Accounts are available for three different financial profiles. These are Individual, Joined and Corporate accounts.
Individual accounts permit one owner per account.

Joint accounts allow multiple persons to use a single trading account through TradeGATEhub network.

Corporate accounts allow for legal entities to own an account. Companies may use their own resources to trade assets on the market in this way.
Currently Tradeview is offering two account subtypes for forex trading. Both are ECN accounts, and are offered in MT4 and MT5 respectively.:
Innovative Liquidity Connector type 5 – Low spread from 0 pips, minimum deposit of $1000, leverage up to 1:30, commission of $2.5 per side.

Innovative Liquidity Connector type 7 – Low spread from 0 pips, minimum deposit of $1, leverage up to 1:30, commission of $3.5 per side.
All account types and subtypes are available as Demo accounts as well, for risk-free training and analysis.
Tradeview Leverage
One of the main financial elements involved in online trade, and broking in general is leverage. Leverage defines an investor's exposure to a particular financial instrument. In different parts of the world, financial regulators impose various restrictions on leverage ratio.
Depending on the region an investor with Tradeview is speculating, they may expect slight variation in leverage ratio numbers. Clients should always take note of the particular conditions they would start trading in.
In the EU region risk management restrictions allow for a maximum leverage of 1:30 for major forex pairs, and 1:20 for minor pairs. Commodities have a limited leverage of 1:10, while CFDs for stocks and ETFs are limited at 1:5.
The rules that apply in Malta are somewhat different, with major forex pairs having a leverage of 1:50. Other instruments have the same leverage numbers as in other parts of the EU.
Offshore clients may expect looser restrictions, allowing for higher leverage. These are usually 1:400 for currency pairs, 1:100 for commodities such as gold, and 1:10 for non-major indices. Cryptocurrency CFDs can have up to 1:5 leverage, while CFDs for stocks and ETFs range up to 1:5 as well.
Tradeview Trading Instrument
These are the groups of tradable assets available on Tradeview:
Major and minor Forex pairs (EUR/USD, USD/JPY, USD/CAD)

Stocks CFDs (Apple, Netflix, Starbucks and Tesla)

CFDs on ETFs (S&P 500, NASDAQ 100)

CFDs on Futures

Indices CFDs (ASX, DAX, FTSE, NASDAQ, Nikkei and SGX)

Metals CFDs (Gold, Silver)

Energies CFDs (Natural Gas, Brent Crude Oil)

Cryptocurrencies CFDs (Bitcoin, Ethereum, LiteCoin)
Regional leverage restrictions apply as mentioned before.
Deposits and Withdrawals at Tradeview
Funding your account at Tradeview is diverse and made easy by implementing multiple financial channels. Electronic payment (card, e-wallet) will be processed within 5 minutes. You can expect bank wire transactions to take up to 36 hours. 
Tradeview has made these funding methods available to
Card transfers (Visa, MasterCard, Maestro) – No deposit or withdrawal fees apply, transactions processed within 5min.

E-wallets (Skrill, Neteller, Perfect Money) – Deposits free of charge, withdrawal fees of 3% for Skrill and 1.5% for Neteller apply. Transactions within 5 minutes.

Bank wire transfers – Deposits are free of charge, withdrawal fees of $35 applies. Transactions within 36 hours. 

Cryptocurrencies (Bitcoin, Litecoin, Ethereum, Ripple, Tether) – Deposits and withdrawals are free of charge. Transactions within 5 minutes.
All transactions with Tradeview require verification. You may verify transactions through your account's dashboard.
Tradeview Trading Platform
Tradeview uses the most common trading platforms on the market, MetaTrader4 and MetaTrader5. Mentioned software is developed by MetaQuotes, and has become a kind of a standard in the industry.
Every modern online investor will instantly recognize MetaTrader 4. It is a well-known giant of the industry, first implemented in more than 15 years ago. The program offers  a charting package that is comprehensive and fully customizable, allowing for simple and quick market analysis, complete with multilingual support for its users.
For advanced users who wish to speculate on more than Forex, MetaTrader 5 is a valuable tool. It is an easy to use, high performance software that offers access to all US currency exchanges. Features such as one click trading, trading robots and copy trading tools are attractive to professionals as well as beginners.
Customer Support
The high quality of Tradeview's customer support is somewhat offset by the fact that they are only available 24/5. For some more complex issues and problems, this is further limited by the company's working hours. Contrary to the contemporary business practices, Tradeview offers no live chat option on their website.
All in all, customer support agents are highly professional and diligent, and are available through these discrete channels:
This broker has 6 regional offices, and has made their addresses public. The mentioned offices are in Malta (main office), the US, Cayman Islands, Malaysia, Columbia and Peru.
Education Available
Education materials are somewhat lacking when compared to other top tier brokers. That does not mean, however, that they are of poorer quality, but that the bar set by the competition is very high indeed.
Tradeview relies heavily on social networking to deliver their services. Through proprietary TradeGATEhub social network, much information pertaining to the market and prices is available. This is further expanded in Surf's Up social network, which deals almost exclusively with market speculation and coverage.
Tradeview Academy is where the knowledge is at. This network offers very good quality video courses, articles and webinars to Tradeview's clients who wish to gain or improve on their speculation skills. Some more advanced training courses, such as expert advisory, are not available, unfortunately.
Tradeview Overall Summary
Tradeview is a fully regulated and trusted broker with a dedicated client base. They hold multiple broking licenses and have a number of regional offices globally.
It is a trading environment that relies heavily on high technology, and social networking. You will find that these make for a more relaxed, up to date and easy experience when conducting business.
There are limitations, however, as the only accounts that are currently offered are spread-based, and only the 2 most popular platforms are available (MT4 and MT5). Even though the social networking aspect is reliable, education and customer support options are somewhat limited as well. 
FAQs About Tradeview Broker
Can I have a Demo and Live Account Working at the Same Time?
On a mobile phone this might prove challenging because of how smartphones work, but it is doable. This can be done easily on PC and MAC, though.
What Trading Platform Does Tradeview Offer?
Tradeview offers only the most popular platforms, MetaTrader4 and MetaTrader5. Both are world class reliable trading software.
What Is The Minimum Deposit at Tradeview?
For Innovative Liquidity Connector Type 7 minimum deposit is $1 For Innovative Liquidity Connector Type 5 minimum deposit is $1000
Is Tradeview a Safe Broker?
Tradeview is considered a safe broker that is compliant with multiple international regulatory standards.
Does Tradeview Offer Demo Account?
Yes, demo accounts are available with all Tradeview trading platforms.