June 30, 2023
Reading Time:
6
min
TradeZero Review: Exploring the Pros and Cons of this Online Broker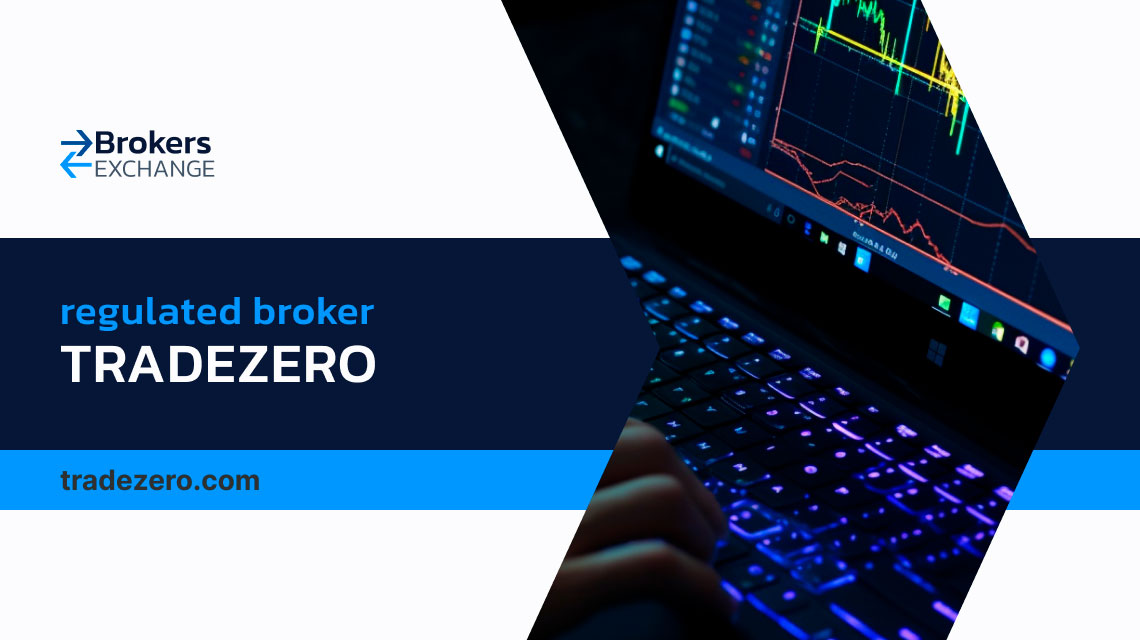 TradeZero broker is registered in the Bahamas but also in the United States. This way they can cover a wide range of countries.
Since 2015 they are establishing this trusted and reliable stocks and options trading business. But let's see the pros and cons of investing in this latest TradeZero review.
Is TradeZero a Legit Broker?
If you take a look at their both domains you will realize that both are completely transparent. But traders mostly wonder if TradeZero is legit because of an offshore entity.
Primarily, the broker has fully transparent ownership, address and contact information. On top of that, the broker is regulated. Yet, they were fined by the SEC.
TradeZero
Reliable Broker Must Have
Legal name:

TradeZero Inc.

Transparently displayed in the disclaimer or legal documents

Regulation:

SC Bahamas

Within your legal jurisdiction – local regulator

Registered in:

Bahamas

Your country or the country whose license applies in your legal jurisdiction 

Established:

2015

The older the domain – the higher the possibility the company is trustworthy

Website:

Tradezero.co, us.tradezero.co

Domain should be from local or international zones, no .xyz etc.

Financial Authorities Warnings:

N/A

None

Contacts:

Phone: +1-954-944-3885

E-mail: [email protected]
Live chat

Social media

Phone, email, social media, web form

If a withdrawal is possible:

Yes

Yes

Fees:

Up to $10 fees – transparent list

Transparent fees – list of spread and commissions

If Active on Social Media:

Yes – Facebook, Twitter, Instagram, Youtube

Often present on social media

Investor Protection:

Yes – Compensation fund

Compensation fund
 TradeZero Security and Regulation
On the positive side, the company provides compensation in case of bankruptcy. On the negative side, there is no negative balance protection here. TradeZero broker is regulated by the Securities Commission in the Bahamas. But also with FINRA in the US. Yet, they don't have any other Tier 1 licenses such as CFTC, FCA or IIROC.
Some regulations have more requirements than others. Therefore it's important to know what you can expect from each of those. Here's the mentioned SEC release for TradeZero deceiving customers. As can be seen, their customers mainly come from:
US

Canada

UK

Philippines

Saudi Arabia
TradeZero Profile
TradeZero paper trading is quite an attractive offer. With low leverage and transparent commission, it's easy to maintain your account.  
However, this broker is missing some interesting instrument classes. Important to realize is that TradeZero crypto trading is not available.
To know more about brokers, their security and their main features check our MultiBank Group, Ayondo and FxView reviews.
Trading platforms:

Proprietary platform

Account types:

Standard

Financial Instruments On Offer:

Stocks (Microsoft, Tesla)

Options

Maximum leverage:

1:6

Minimum Deposit:

$200

Commissions/bonuses:

Commissions up to 0.005$ per share / No bonuses

Mobile app:

Yes

Desktop app:

Yes

Autotrading:

No

Demo account:

Yes

Education or Extra tools:

Live sessions and on-demand videos
 

TradeZero Reviews: Examining User Opinions and Feedback

If you check TradeZero reviews you can mainly find positive feedback. Out of 2788 reviews on Trustpilot, there is almost 90% of reviews with the highest rating.

The only thing traders complain about is the trading costs. Even though the broker is transparent, for some it's too much. But also there are some worse complaints than that. But if those are fake or not you need a bit more understanding of the trading world. You can get a free consultation with our experts if you are interested to keep your money safe.   
TradeZero Deposits and Withdrawal Methods
As for the funding options, you can only choose between two options. Those are:

Debit and Credit cards

Wire transfers
Important to realize is that the broker charges a $25 deposit fee. Yet, many other Tier 1 regulated brokers have a 0% deposit fee. Not to mention the withdrawal fee that TradeZero charges of $50.  However, regardless of the funding method, TradeZero minimum deposit starts at $200.
Account Types Available At TradeZero
The main difference between the account types comes from the leverage. One way or another, there are many other fees and costs of investing here. Still, you can choose between free and paid orders.
Cash Account
A cash account means you are trading with leverage 1:1. Whatever you have on the balance, that's your capital. This is way easier for understanding and keeps your account at an optimal balance.
Margin Account
On the other hand, there is a margin account. You can get leverage up to 1:6 and practically borrow the money for trading.
For this type of trading, you just have to do a bit more calculations before investing your money. Luckily, you can check everything on a demo account first.
TradeZero Platforms Available for Trading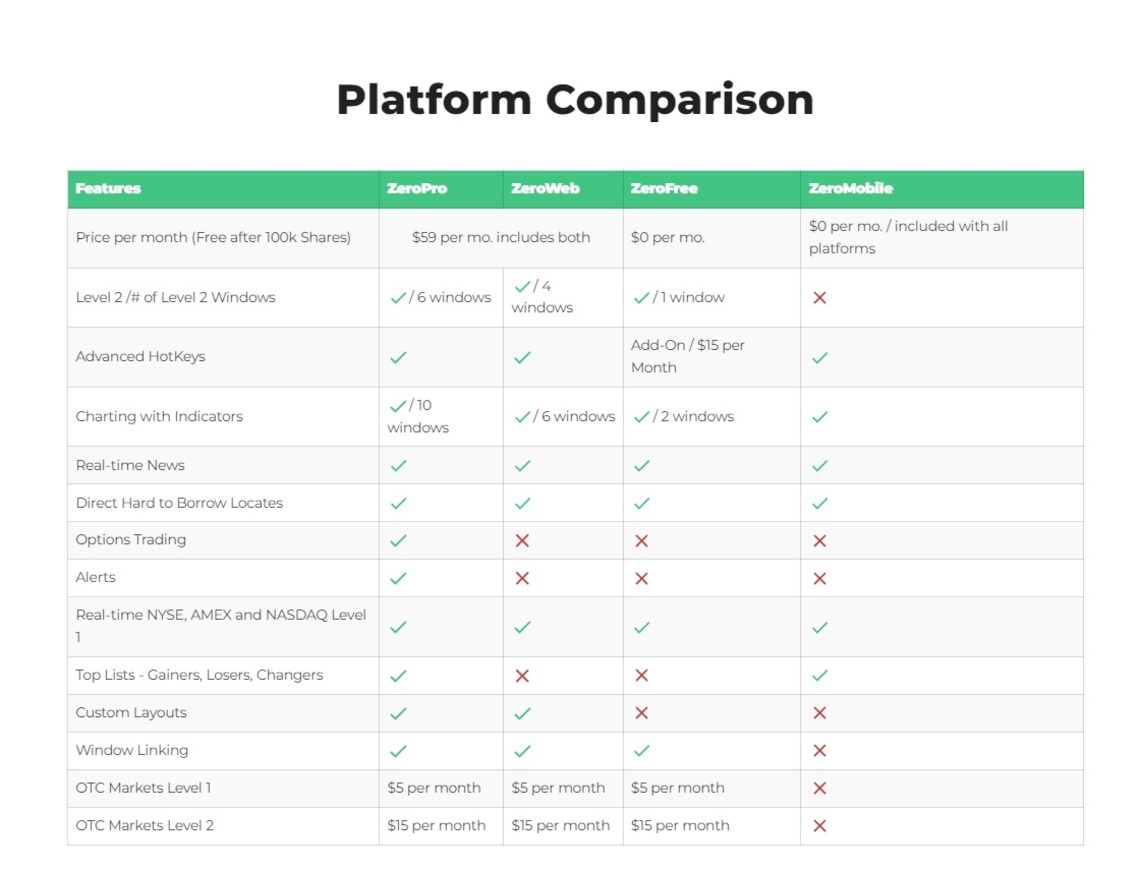 Every software provided by this broker is proprietary. Even though traders are generally suspicious of those, this broker earned multiple awards. Most importantly TradeZero client portal is very user friendly and gives you direct access to NYSE, NASDAQ and AMEX assets.
ZEROPRO
The features that define ZeroPro are speed and customization. This is a desktop version of the software allowing you to use multiple layouts for an optimal trading environment. But before you give it a go you can start a demo.
ZEROWEB
TradeZero web platform is the easiest option for those that are not fans of downloads. Practically, includes all the features of ZeroPro. Such as real-time charting, indicators, top lists and more. Yet, both options are missing automated and social trading.
ZEROFREE
Whether you are a newbie or active trader, this might be the solution for you. This is a web-based software that gives you live stock exchange feeds. However, you can upgrade it with add-ons and make it customized and more suitable to your needs.
ZeroMobile app
Important to realize is that TradeZero mobile app provides updated features and design.  With real-time data and easy portfolio management becomes the best options here. Moreover, it's available for any iOS and Android device.
TradeZero Referrals
Any broker doing business legitimately can easily grow a client's network. The best way is through a referral program. But also, trusted brokers quickly gain connections for promotions.
In this case, TradeZero's options to promote the broker are partnerships and referrals. But you have to understand the terms and conditions applied to the program.
Refer A Friend
Refer a friend program is self-explanatory. Depending on the amount that your referral deposits you get a certain percentage.
In this case, between $20 and $100. But for a $100 bonus, you have to make someone deposit more than $25.000. Have in mind that your rewards are in credits, but not cash bonuses.
Partnership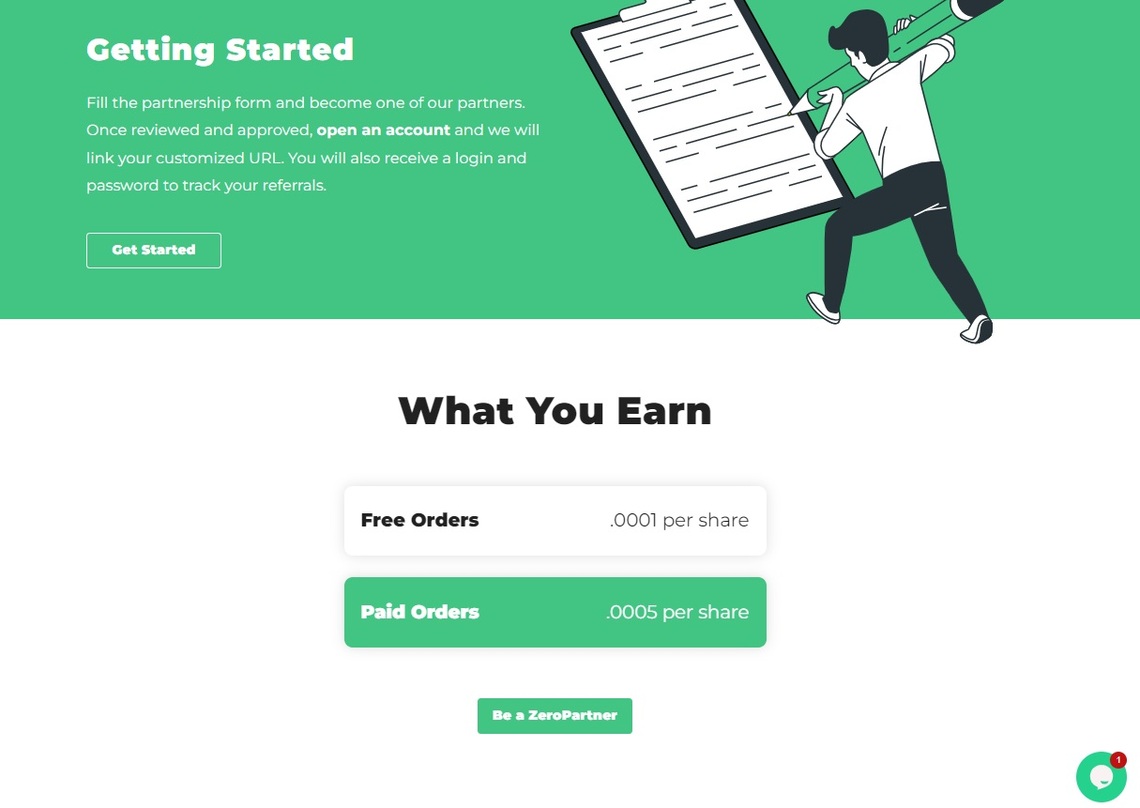 On the other hand, a partnership program is designed for businesses or individuals that are familiar with affiliate marketing. In this case, they promote the business and get a certain percentage per share. In this case between 0.0001 and 0.0005 per share.
Customer Service
Another key point of every brokerage is their customer support. On the positive side, TradeZero customer support is available 24/7. Quite important to have someone by your side if you need them at any time.
However, some traders were not satisfied with it. You can get in touch via phone, e-mail, live chat and online contact form.
Who Is TradeZero Recommended For?
TradeZero broker is suitable for both, novice and experienced traders. But generally the ones with higher buying power. The most attractive feature is direct access to TradeZero paper trading.
Yet, for traders that are looking for crypto investments and lower fees, this might not be the right choice.
TradeZero Pros and Cons
Generally, the main benefit of a US entity is its regulation. Even though, they had issues with the SEC. Nevertheless, the main advantage of this company is live stock market data and many positive reviews.
On the other hand, they are missing some important instrument classes and third-party software. Also, the offshore entity doesn't have such reputable regulations as the US entity. But it's better than nothing in any case.
Overall Summary of TradeZero Broker Review
In fact, many traders find this broker reliable and trusted. With fully transparent trading costs you know what you can expect. But that's exactly why some traders find it inappropriate for their pockets. Especially with $50 withdrawal fees.
Not all the details can fit into one review. Also, you should compare the broker with other options to define which one suits you the most. Our specialized team can assist you in broker analysis and filtering the best options. Ultimately, the decision is yours. Without any pressure or commitment, you can have your first consultation already today. Most importantly, free of charge. Get in touch now!
FAQ Section
What is the minimum account for TradeZero?
The minimum deposit requirement for any account type is $200. Thus, something different compared to other brokers is the $25 deposit fee.
Is TradeZero Good For Beginners?
With many educational tools, live sessions and demo accounts it's considered a good starting point. But you will miss some important tradeable instruments.
Can you day trade on TradeZero?
Day trading is one of the most attractive options because it expands your knowledge and balance daily. Luckily, you can do it with a TradeZero broker.
How do I open a TradeZero account?
Once you click "Open account" you'll be required to choose the entity. Consequently, you will fill out the form and fund your account. Of course, verification is expected.