July 03, 2023
Reading Time:
6
min
Tradovate Review: All You Need to Know About Tradovate.com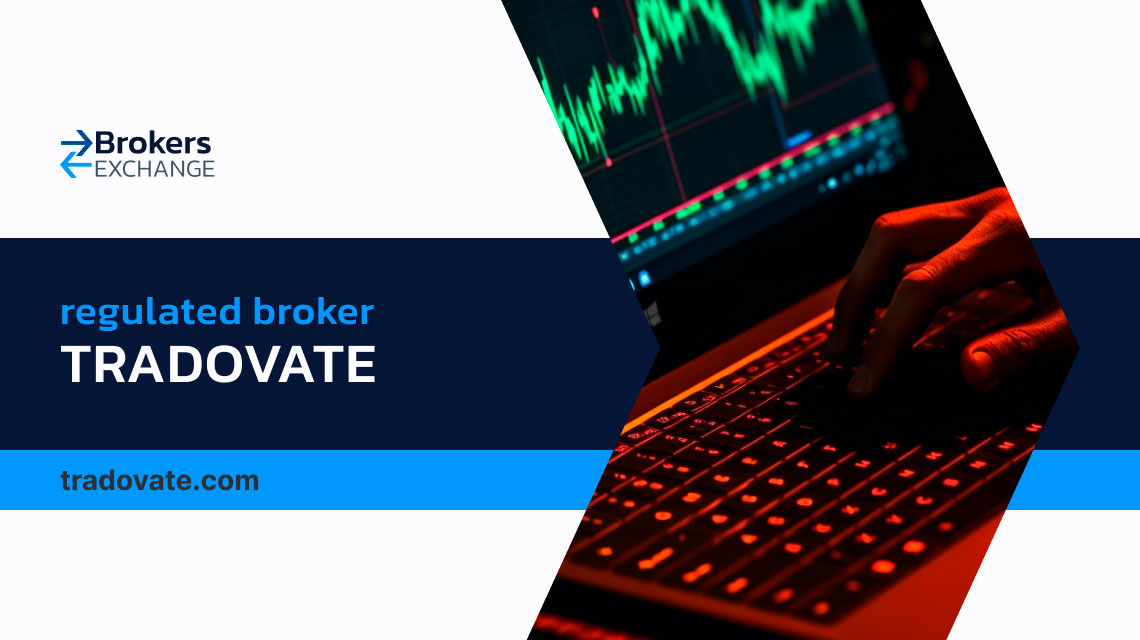 When selecting a broker, numerous factors need to be taken into account. Among many others, regulations, financial security, a low minimum deposit, and transparency are just a few. Because of this, it's crucial to read our Tradovate review and discover more. 
Who Is Tradovate Broker?
Tradovate is a regulated and secure business operating from 222 N. La Salle St., Suite 1450, Chicago, IL 60601. In addition to offering their clients protection, they also provide a variety of trading tools, a secure trading platform, and years of experience since they were founded in 2014. 
The broker is regulated by the NFA (National Futures Association) and registered with the CFTC (Commodity Futures Trading Commission). They were acquired by NinjaTrade, a well-known supplier of trading software and brokerage services, in 2022. Tradovate still has the reputation of a trustworthy broker organization today.   
Tradovate
Legal name:
Tradovate Holdings, LLC
Regulation:
Regulated by NFA and CFTC
Registered in
222 N La Salle St., Suite 1450, Chicago, IL 60601 
Established:
Established 2014/Launched 2015
Website:
https://www.tradovate.com/ 
Financial Authorities Warnings:
None
Contacts:
Phone: +1 (844) 283-3100, (312) 283-3100

Email: [email protected]

Live chat support 

If a withdrawal is possible:
Yes
Fees:
Exchange, clearing, and NFA fees
If Active on Social Media:
Yes
Investor Protection:
Yes
Is Tradovate Regulated? – Fund Safety
Tradovate is registered with the CFTC and subject to NFA ID 0484683 and 0309379 regulation. Regulations like NFA membership and CFTC registration are essential for a futures broker to operate in the United States. These regulatory bodies put laws and rules into practice to protect investors, maintain market integrity, and ensure honest and transparent trading activity.
As a result of being regulated, Tradovate must adhere to a number of regulatory standards, including those pertaining to customer protection, financial reporting, anti-money laundering (AML), and other requirements designed to protect traders' interests and preserve the integrity of the futures markets.
Furthermore, to assist traders in properly managing their positions, Tradovate offers risk management features and tools. This includes trailing stops, profit targets, stop-loss orders, and other risk-reduction measures.
Depending on the products the user trades, two different types of accounts are kept to separate funds. A customer may keep a foreign futures secured funds account for futures contracts listed on foreign boards of trade or a segregated funds account for futures contracts published on U.S. futures exchanges.
Tradovate Broker Profile
We can state with confidence that Tradovate is among the best brokers available. Investors are given security just by the fact that the company is regulated, transparent, and has a physical presence with its registered office in Chicago. 
Trading platforms:
Tradovate: Futures Trading
Account types:
Free, Monthly, Lifetime
Financial Instruments On Offer:

Commodities (Crude Oil Futures, Gold Futures, Natural Gas Futures)
Forex (EURUSD, GBPUSD, JPYUSD)
Equity Index futures (E-mini S&P 500, NASDAQ-100, DJIA)
Interest Rate futures (10-Year U.S. Treasury Note Futures, Eurodollar Futures, 30-Year U.S. Treasury Bond Futures)
Energy Futures (Heating Oil Futures, Natural Gas Futures, RBOB Gasoline Futures)
Agricultural Futures (Corn Futures, Soybean Futures, Wheat Futures)
Metals (Silver Futures, Copper Futures, Platinum Futures)

Maximum leverage:
N/A
Minimum Deposit:
No minimum amount
Commissions/bonuses:
$0.05 -$1.29/No bonuses
Mobile app:
Yes
Desktop app:
Yes
Autotrading:
Yes
Demo account:
Yes
Education or Extra tools:
Video Tutorials, Webinars, Trading Simulators, Third-Party Integrations
Tradovate Minimum Deposit
Since Tradovate has no minimum deposit requirement, it is suitable for both new and seasoned traders. As a result, people can begin trading futures contracts with a small initial deposit. Tradovate makes sure that traders can take part in the futures market without facing significant financial obstacles by keeping the minimum deposit requirement reasonable.
With the actions they are taking to give their clients protection, Tradovate continually amazes us. Even regulated brokers typically have a minimum deposit requirement of $50 to $100, but Tradovate is once again in the spotlight. 
Tradovate Fees and Commissions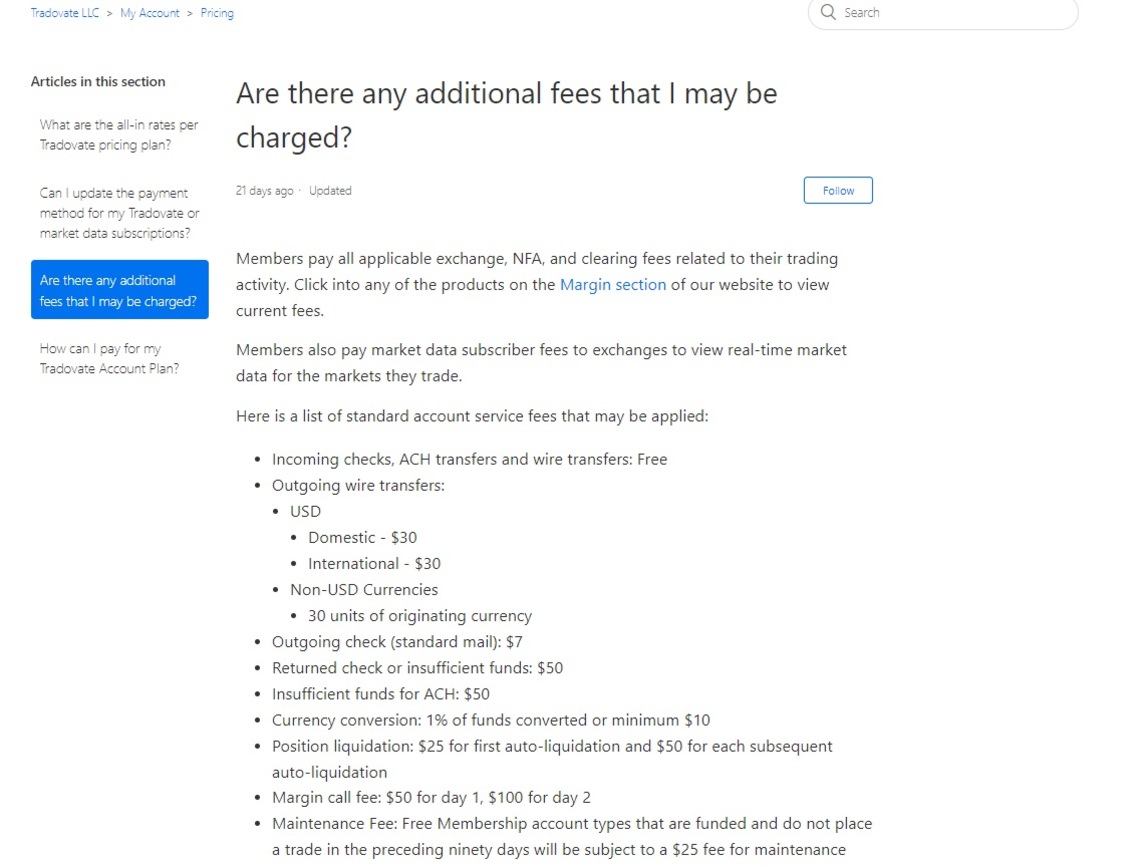 Tradovate charges a set membership fee and no commissions, as opposed to charging a fee for each contract you trade. You can make as many trades as you like without ever paying a per-trade commission. Standard exchange, NFA, and clearing costs are charged when you trade.
Use Tradovate membership Free for as long as you'd like if you'd prefer to pay as you go. You can upgrade to a commission-free membership with Tradovate whenever you're ready for further savings.
Due to Tradovate's commission structure, which guarantees clear pricing, traders can reliably control their expenses while taking part in the futures market. Traders can take advantage of Tradovate's margin offerings, which provide flexible options to amplify potential returns in the futures market.
Tradovate just continues to amaze us with its transparency and security. If you click here to visit their website, you may get a list of Tradovate margin rates and other fees. 
Tradovate Reviews – User Experience
Reviews are an essential aspect to consider when choosing a broker. They support the company's prior experiences and can alert you to any risks associated with trading with a brokerage firm. Tradovate reviews are excellent, as we had anticipated. 
Tradovate has 1,766 reviews in total, with 85% of them favorable. The remaining 15% of bad reviews are primarily concerned with software problems, such as app crashes, user and system errors, and poor customer service.
Although we may argue that Tradovate's platform needs to be updated to minimize problems, we can't dismiss the vast majority of good evaluations for the service. Check out our other reviews of XTB Broker and SVK Markets, or better yet, get in touch with us right away so we can assist you in locating a trustworthy broker.
Where Does a Tradovate Broker Find Customers?
Expert brokers create their own marketing strategies by generating interesting content that attracts people via social networks, advertisements, successful blogs, and other channels. In addition to reputation, reviews, and referrals are extremely effective tools for drawing in new customers.
A devoted customer base has been attracted to Tradovate because of its dedication to offering a reliable and user-friendly platform, as well as competitive pricing and open trading terms. The platform's traders value its user-friendly interface, adaptable charts, a wide selection of indicators, and drawing tools that let them perform in-depth technical analysis.
Before investing real money, traders can test and refine their methods in a simulated trading environment using Tradovate's paper trading feature. Even before NinjaTrade acquired them, Tradovate was a recognized brokerage firm. They are still respected and unquestionably among the best brokers available, which draws in additional clients. Tradovate's clients are coming from: 
United States

Canada

Australia

Germany

France
The fact that most of Tradovate's clients are from the US and are subject to NFA regulation wasn't surprising. It's crucial to remember that even though Tradovate provides a certain level of protection and is regulated, trading still has a risk. Finding a reliable source of information or conducting your own research may be challenging, so get in touch with us right away with no obligation.
Deposit and Withdrawal Methods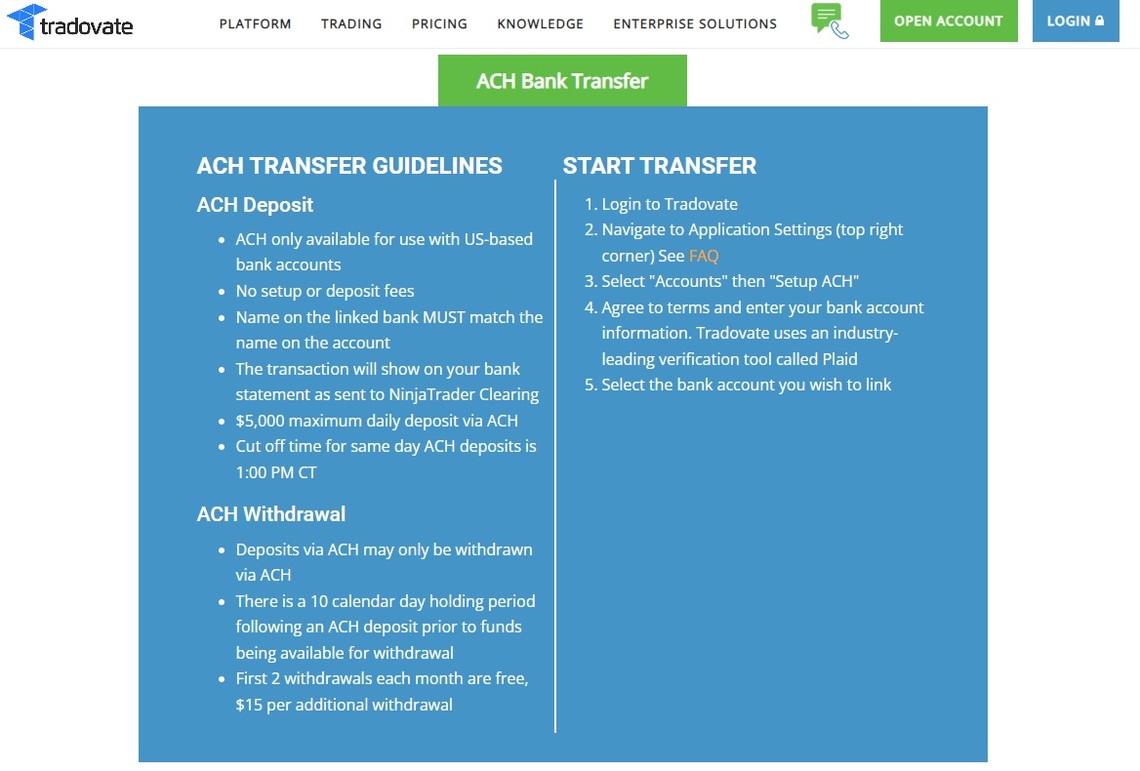 Your money can be deposited through an ACH, personal check, or wire transfer. If you choose personal checks, be prepared for an unlimited five-business-day hold; if you prefer ACH, you can anticipate a $5000 daily limit and a one-business-day delay. 
In order to start a withdrawal, complete the withdrawal form and click Confirm and Transfer. You have two withdrawal options: a wire transfer and a mail-order check. The following business day, checks will be mailed.
For domestic wire transfers, a $30.00 fee will be charged, and a $50.00 fee will be charged for international transfers, both in the currency of the recipient.
Our Safe Trading Experts' Final Words About Tradovate
With years of expertise under their belts, they receive numerous recommendations, have expanded their social media followings, and have developed a strong connection with their clients. Because of this connection, Tradovate is seen as trustworthy and safe for trading.
Furthermore, they offer a transparent view of their pricing structure and have no hidden fees. They are authorized, registered, and have a physical location. We looked hard for our Tradovate review but couldn't locate any warning signs. With competitive features, Tradovate offers accessible futures trading. We may come to the conclusion that this broker is among the better ones available and is secure.
FAQ Section
Is Tradovate a CFD broker?
No, Tradovate is not a broker of CFDs. Trading in futures is Tradovate's main area of expertise. They give traders a trading platform and other services to transact in futures contracts, which are standardized agreements to purchase or sell assets at a defined price and time in the future.
How to find the best forex broker?
By considering regulations, the trading platform, spreads and instruments that are offered, minimum deposit requirements, demo accounts, reviews from other traders, and the reputation of the broker in the industry. Please get in touch with us straight away so we can locate the most trustworthy broker for you.
How Can You Help Me Choose the Best Forex or Crypto Broker?
By supplying details on important things to consider, like legal compliance, the capabilities of trading platforms, and costs. It's critical to thoroughly weigh these factors and take into account your trading requirements before making a choice. To find out what to do next, contact us for a free consultation.