July 11, 2023
Reading Time:
5
min
Uncover the Tactics of This Scammer in Our CCFMarkets Review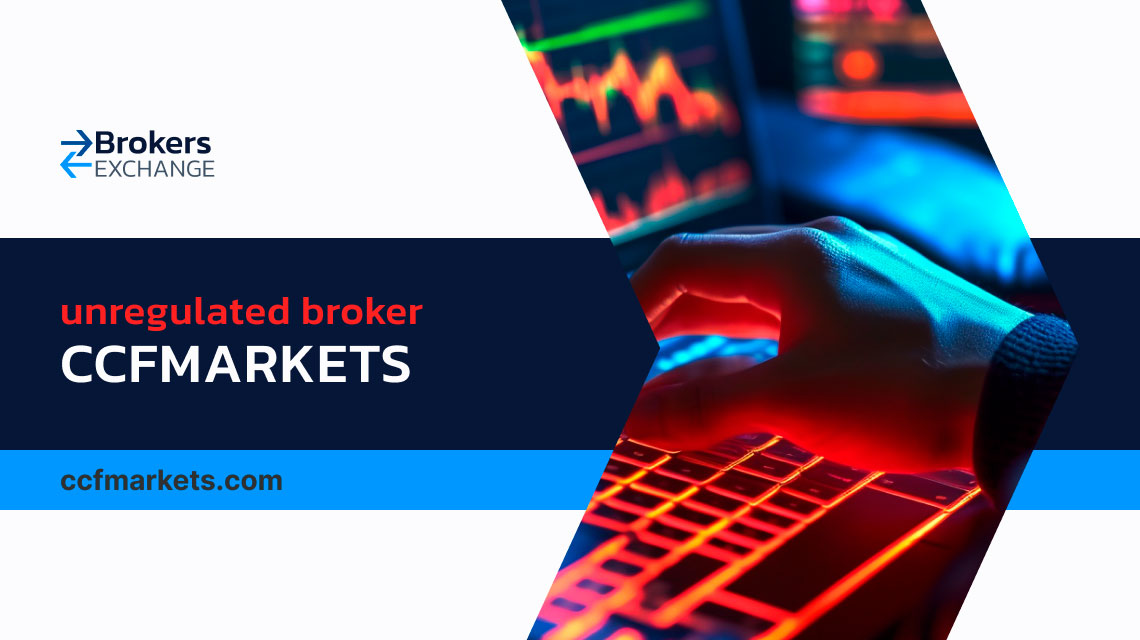 Not all scammers are equal. Some are more sophisticated in their tactics, and some will explicitly tell you what they are all about if you know where to look. CCF Markets falls into the second category.
In our CCFMarkets Review, we will take you through the process of unveiling this scammer so you can see how you can do that for other shady dealers. Let's start!
Who is CCFMarkets?
CCFMarkets is a broker registered in St. Vincent and the Grenadines (SVG). They work in the forex market but also offer other instruments you can find later in this review. The broker claims it has retail clients in over 170 countries and that they work with other companies and institutions as well. However, as the title of this review says, there is more than meets the eye here.
Broker name
Reliable Broker Must Have
Legal name:

CCF Markets

Transparently displayed in the disclaimer or legal documents

Regulation:

Unregulated

Within your legal jurisdiction – local regulator

Registered in:

St. Vincent and the Grenadines

Your country or the country whose license applies in your legal jurisdiction 

Established:

2023

The older the domain – the higher the possibility the company is trustworthy

Website:

ccfmarkets.com

Domain should be from local or international zones, no .xyz, etc.

Financial Authorities Warnings:

None

None

Contacts:

Email:

[email protected]

Live online chat

Phone, email, social media, web form

If a withdrawal is possible:

Highly unlikely

Yes

Fees:

No (allegedly)

Transparent fees – list of spread and commissions

If Active on Social Media:

No

Often present on social media

Investor Protection:

No

Compensation fund
Regulation Info
The first glaring problem is their country of registration. SVG is known as a scammer haven because of its regulatory framework. Namely, SVG does NOT regulate the forex market, so every broker that claims to be certified for those services is lying. That is precisely the case with CCF Markets, but their lies run even further.
The broker also claims to have an MSB license in the US, so we decided to check. Unsurprisingly, we could not find CCF Markets or any similar broker in the FinCEN register, only supporting our suspicion of them being scammers.
Having done all the necessary digging in official registers, we can confidently say CCFMarkets is a SCAM, and you should do everything to avoid them. A good idea is to invest with brokers with a license from the Australian and Pakistani regulators, which CCFMarkets does not.
CCFMarkets Profile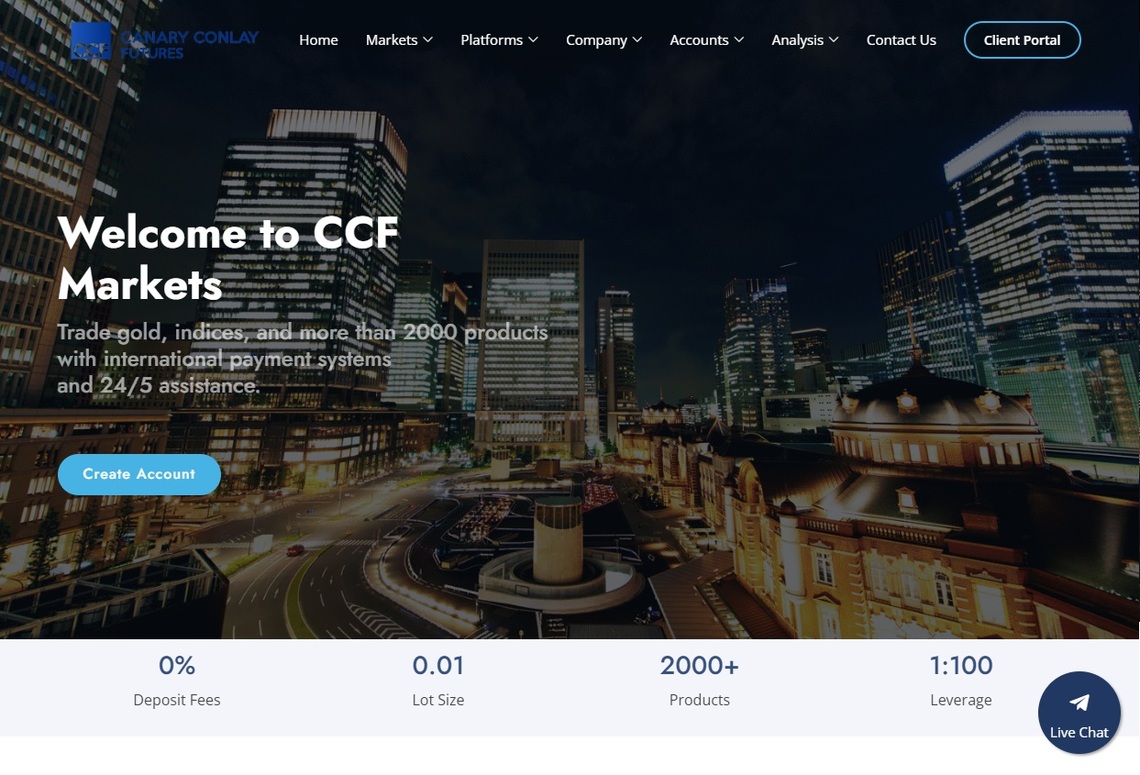 CCFMarkets discloses just enough information so you do not immediately suspect they are scammers, but if you as little as scratch the surface, you will see through their deception.
When it comes to the trading platforms on offer, clients can choose between the MT5 platform or a WebTrader developed by CCF Markets. The choice is easy in this case – MT5 wins every time, but do not let this fool you. Premium trading software or any other benefit cannot compensate for the lack of regulation!
The broker has only two account options – Professional Trading and VIP Trading. However, they did not even bother listing a minimum deposit for each, which you will never experience from a legitimate broker.
Their instrument list is also very bland. You can trade four types of assets, just like with any other low to mid-tier broker. The maximum leverage with CCF Markets is 1:100, and they also offer a free demo account, which you should not open.
Trading platforms:

WebTrader, MetaTrader 5

Account types:

Professional Trading

VIP Trading

Financial Instruments On Offer:

Indices (Nasdaq-100, S&p 500, etc.)

Shares (Apple, Tesla, Coca-Cola, etc.)

Metals (gold, silver, etc.)

Energy (oil, gas, coal, etc.)

Maximum leverage:

1:100

Minimum Deposit:

N/A

Commissions/bonuses:

No

Mobile app:

Yes

Desktop app:

Yes

Autotrading:

Yes

Demo account:

Yes

Education or Extra tools:

Yes
Is This Broker Safe?
No, CCF Markets is not safe; quite the opposite! If a broker does not have a license, and CCF Markets does not, they cannot guarantee your money will be safe.
Moreover, they claim to be in the business for a long time, amassing a large following and happy customers. However, when you check how old CCFMarkets.com is, you will see that the domain was created in 2023. You can already see that the list of lies keeps growing, and lying brokers are the most dangerous.
Trader Reviews – Sharing Experiences
For a company that allegedly exists forever, they have barely any reviews online. That is, of course, because they are completely new on the market, as detailed in the previous section.
The only reviews we could find were on the ProductReview website. One reviewer gave CCFMarkets one star saying: "They suspended my account after I tried to take all money back from them, and they rejected my withdrawals and accused me of trying to steal the money while it's my money I put in. Stay away from this broker!"
How Does the CCFMarkets Platform Reach Clients and Who Are They?
We know very little about the demographic CCFMarkets Scam targets. They do not have any social media presence, and not many people shared their experiences from which we could learn about their victims' profiles.
However, we can give you some general advice on how to stay safe. If a random person reaches out to you on social media wanting to start a romantic relationship, consider it a major red flag.
Additionally, do not trust brokers that ask you to install TeamViewer, AnyDesk, or similar remote desktop access apps. Scammers use these programs to access your personal information and clean out your bank account.
Deposits and Withdrawal Methods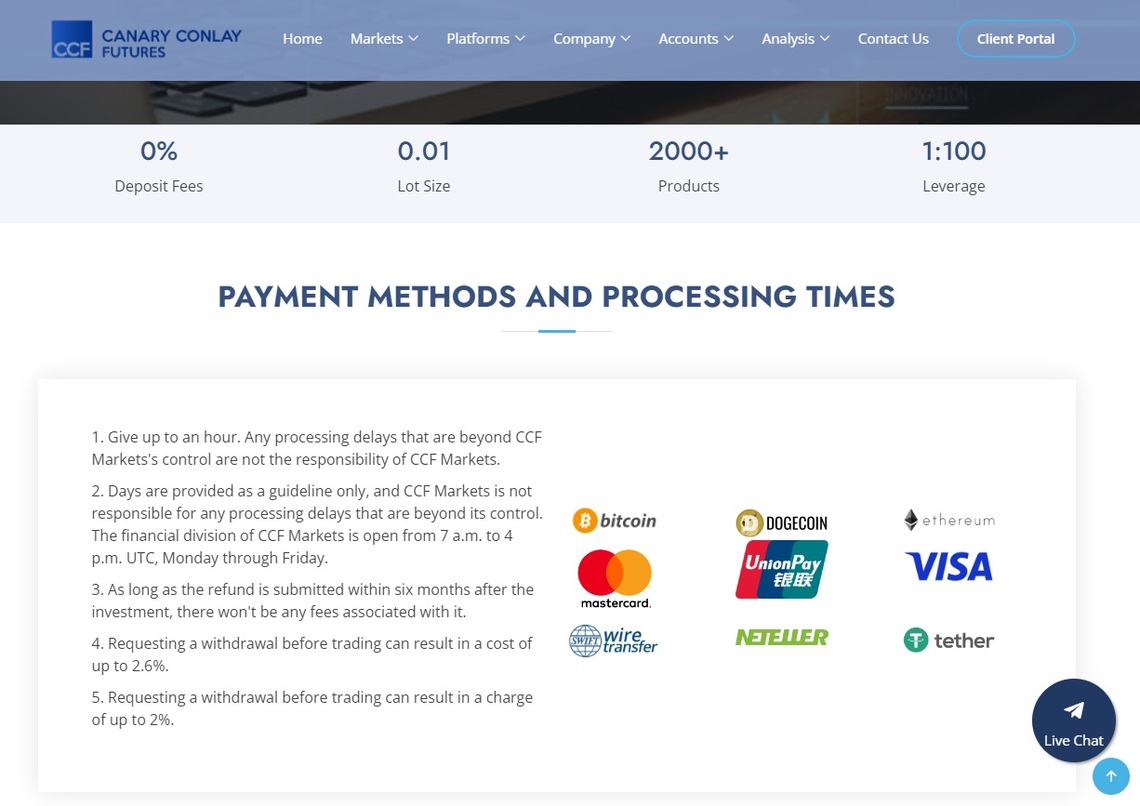 CCF Markets accepts many payment methods, including:
Debit/Credit cards

Wire transfers

Cryptocurrencies

UnionPay, etc.
They claim you can not only make deposits without any charges but also withdraw your money and not pay them any fee. This is almost certainly a lie, as no broker is this generous, and you always have to give them at least a small amount for withdrawals.
Reasons To Avoid This Company
There are many reasons to avoid CCFMarkets. In fact, there are no reasons you should engage with them at all. They do not have a legitimate license, lie constantly, and offer little information about anything else. This broker gets a do not approach label from us.
Our Safe Trading Experts' Opinion of CCF Markets
To conclude our CCFMarkets Review, we want to again advise you to stay away from this broker. They have shown us nothing to gain our trust and everything to doubt them.
But you do not need to abandon your trading dreams because of this scammer. There are many reliable brokers, and we can help you find them! Contact us now for free consultations, where we will work together to find the perfect broker for you!
FAQ Section
Are Funds Safe With CCFMarkets?
No, they are not. CCFMarkets does not have a legitimate license, and there is a strong chance they will steal your money as soon as they get it.
How do I start forex trading?
Our advice is to expand your forex knowledge first. Read up on the subject, watch educational videos, and study the market. Next, you want to find a reliable broker, and we can assist you with that. We will consult with you and make sure you make the right choice, all free of charge.
How can you help me choose the best forex or crypto broker?
The best thing we do for you is personalize the offer. We analyze your needs and skills and then make our suggestions based on that.