April 02, 2023
Reading Time:
4
min
Universal Wealth Group Review: Avoid This Broker at Any Cost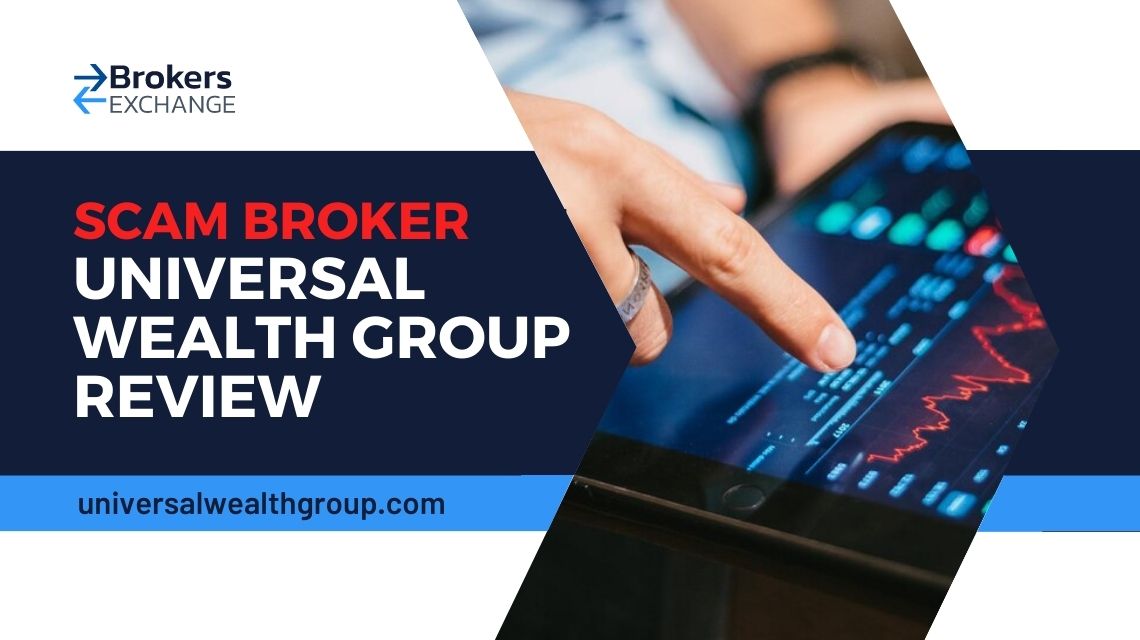 Universal Wealth Group says to be a well-known financial services business with a worldwide footprint and history, servicing well over 150 000 traders around the globe. 
What Universal Wealth Group does not say, however, is where their company is based and incorporated, what the company's actual name might be, and what license and authorization they might have.
In reality, it turns out that we are talking about a completely anonymous website, with no legit forex license and no credibility whatsoever. There are thousands of brokers like this out there, and every one of them is a scam. So please stay away from Universal Wealth Group brokers and others alike.
Furthermore, we highly recommend that you avoid the scam brokers TopTrade500, Nolxweb, and Quanta Trade.
| | |
| --- | --- |
| Company | Universal Wealth Group |
| Website | universalwealthgroup.com |
| Address | Estonia |
| Email | [email protected] |
| Phone | N/A |
| Minimum Deposit | $250 |
| Leverage | From 1:30 to 1:600 |
| Bonuses | N/A |
| Regulation | Unregulated |
| Warning | N/A |
Universal Wealth Group Financial Regulation and Safety 
The terms and conditions claim that the Estonian laws are what govern the broker but we have a very hard time believing this. First of all, Estonia as a jurisdiction is used a lot as a scapegoat by unlicensed brokers for reasons we are yet to discover. And second, there is no proof that the broker ever set foot there.
Speaking of the terms and conditions, they were brimming with very shady clauses. For instance, the indemnification one that completely absolves the broker from all the harm it will cause the user, or the non-deposit funds' provision stipulating that all profit gained from trading is not up for withdrawals.
We don't need any further information to know that Universal Wealth Group is unregulated, and can not be trusted. If you get tricked to register and fund a trading account with an unregulated broker, you simply risk losing all of your money, not because of bad trading decisions, but simply because you won't be allowed to withdraw even a single dollar. So the best way is to avoid them completely.
Overview of Universal Wealth Group Trading Platform 
Universal Wealth Group is offering a simple web-based platform, which they call ProWave. We cannot be impressed by this web trader because it is one of the most popular ones among the scammer entities, and is not that good either. 
It barely matches with other legit web traders, and the things it does are very shallow. Essentially, all such software's used to attract an audience's attention and to retain it for as long as possible. As long as it takes to solicit money from them. By the time the broker is done, it would have become obvious to all that this web trader is pretty much redundant. 
Just bear in mind that the absence of professional trading software like for example the industry standard MetaTrader4 and MetaTrader5 is yet another clear sign that you are dealing with a scam. 
Payment and Funding Method 
The minimum deposit requirement at Universal Wealth Group is 250 USD, which is more or less what most brokers would ask for anyway. As for the payment methods available, the logos of VISA and Mastercard are visible on the website, but unfortunately, we were not able to confirm that credit and debit cards are accepted for real. 
Moreover, there are withdrawal fees. $50 for wire transfers, $35 for card withdrawals, $25 for e-wallets, and a 10% charge applied to all accounts that have not reached a 200x turnover before the issuance of a withdrawal request.
This policy is a very popular one, basically copied and pasted by hundreds of brokers in the past. And it rarely differs from scammer to scammer.
How Does Fraud Work?
You know you are being scammed, but how does the scam work exactly? Scams have surprisingly little evolved over the past decades since their inception. It's the same principle being rendered through different sites and by a plethora of different agents.
The core remains the same. The broker tries to grab the client's attention either by advertising false profit gains or by directly contacting the user, who is the vastness of the internet let his guard down at some point and either provided an email or a phone number to some now forgotten source.
Should the user get contacted or fall for the ads he or she will be shown to the website of the investment fraud and promptly be pushed to invest, either by sweet-talking representatives of the scam or by the account manager which is also the one that keeps the whole thing in check.
The ultimate goal is to compel the user to invest once, and after that, the trap is fully shut. The client already lost money, and any further investments are a bonus to the broker. All withdrawals will not be available, and even if the broker seems to be keeping a straight face, it's all part of the scheme.
Sometimes the users will get a small teasing taste of profit, just so they are motivated to invest more. But after that one time is when most clients realize that something is wrong.
Universal Wealth Group Summary
In this Universal Wealth Group broker review, we tried to warn you about this online trading scam and the many tactics they use to scam people. Doing proper research is a must if you are new to the world of trading because many phony brokers pop up overnight. 
Don't get played by the fairytales they are going to tell you and be careful with making any investments. And be sure to read as many reviews as possible because there will always be many complaints about the broker if they are untrustworthy.
FAQs About
Universal Wealth Group
Broker
Is Universal Wealth Group a Good Broker for Beginners?
No, because it is a scam broker.
What Funding Methods Does Universal Wealth Group Accept?
They accept Visa and Master Card.
Does Universal Wealth Group Charge Any Deposit or Withdrawal Fees?
They charge $50 for wire transfers, $35 for card withdrawals, $25 for e-wallets, and a 10% charge applied to all accounts that have not reached a 200x turnover before the issuance of a withdrawal request.